Hello, and thank you for visiting my site. I hope that you'll return often and always find something of interest about my world and what inspires me to pick up a pen. (This is a figure of speech, unfortunately. My handwriting is terrible!) Here's what I've been up to recently...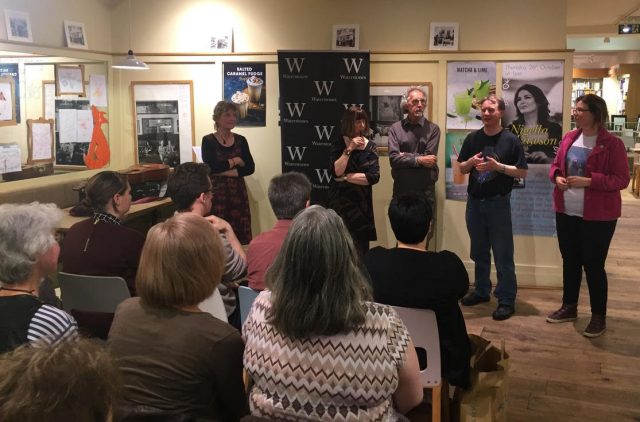 It's always a pleasure to take part in a literary event with friends and here I am in Waterstones cafe with fellow members of York Writers. We were all gratified to see more people in attendance than seats available! Left to right in the photograph are Toni Bunnell (who organised the evening), yours truly, John Walford, Andy Humphrey and Sarah Dixon. Some of us plan meticulously, whilst others take a more 'seat of the pants' approach and we all write in different genres. Toni, a well known local folk singer, provided a musical accompaniment to her reading from The Nameless Children. John explained his own approach to writing and read a story from his Time Machine collection. Andy, a seasoned performance poet, barely glimpsed at the text as he read from Satires and A Long Way to Fall. Sarah read the opening chapter of her children's book Alfie Slider and shared both her motivation for writing it and how she had succeeded in getting it into print. They all fielded questions from the audience too.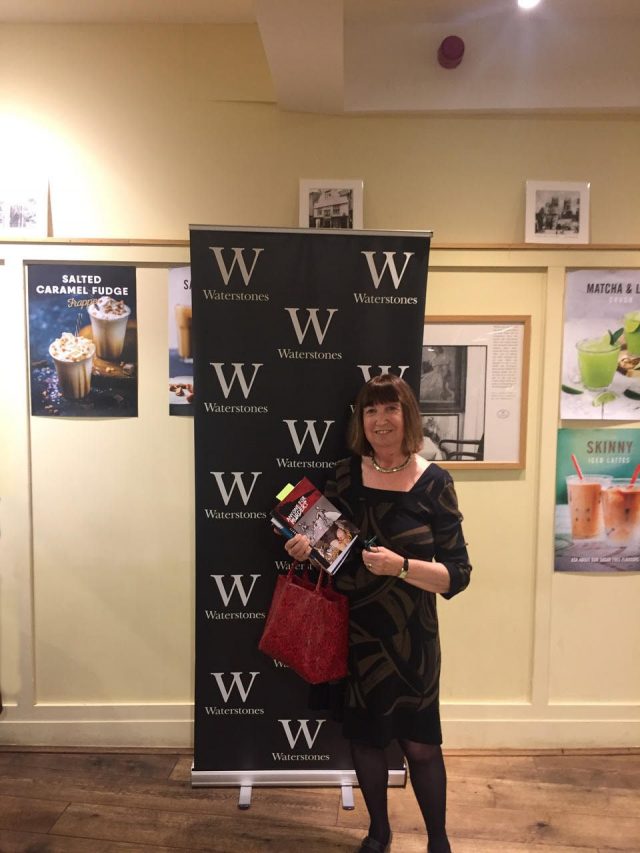 Toni had allotted us fifteen minutes each, which gave me time to read a couple of stories from my Anyone For Murder? collection. I'd deliberately chosen two of the more lighthearted tales and it was good to hear the audience laughing. Only in the right places, I'm glad to say!
20 September, 2017 - Make the first comment on this story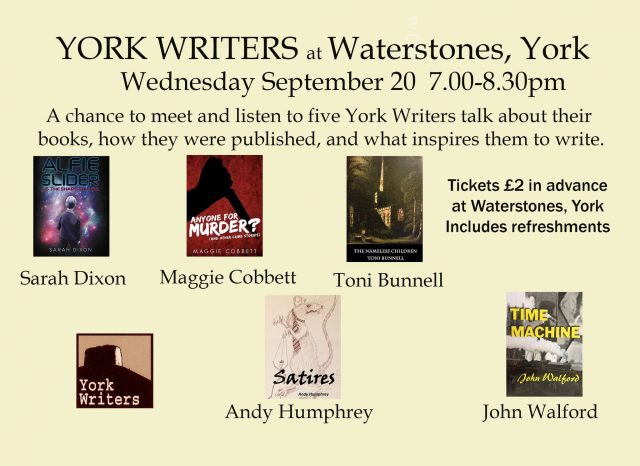 This is the first of a number of events in which I'm taking part this autumn. Do come along to Waterstones if you possibly can. It would be good to see rows of friendly faces!
11 September, 2017 - Make the first comment on this story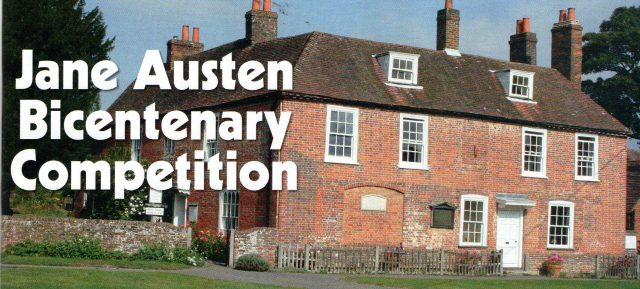 Many congratulations to Julie Noble, who won a weekend in Austen country for her 500-word alternative ending to 'Emma'.
I chose 'Pride and Prejudice' and am proud to discover that my entry was shortlisted. If you'd like to read it, go to 'Stories and Poetry' and see what I dreamed up for Mary, the ugly duckling amongst the Bennet sisters.
4 September, 2017 - Make the first comment on this story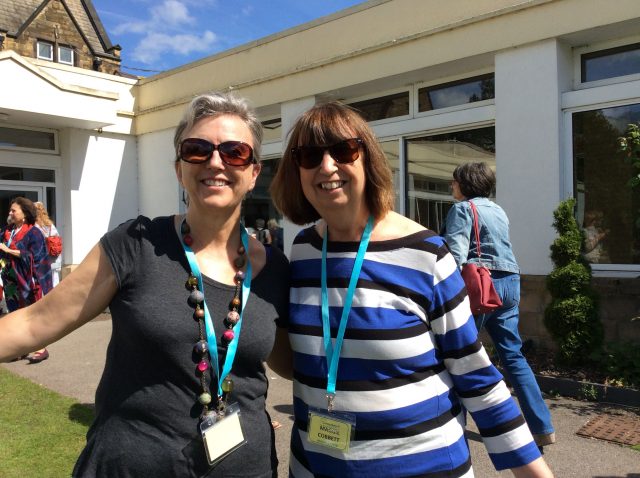 This was my 12th year at the Writers' Summer School, generally just known as 'Swanwick'. Why? Because it takes place each August in the Hayes Conference Centre, which is located in the Derbyshire village of Swanwick. My friend Cathy Grimmer was the Chairman this year and, with the help of her committee, did an excellent job. Nearly 300 writers were present during the week and almost a third were first timers.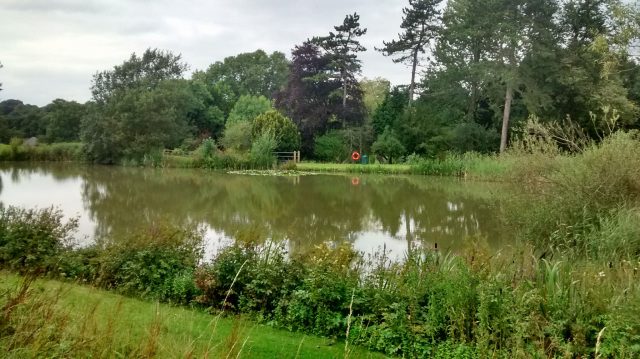 The former gentleman's residence has well kept and extensive grounds, including two lakes. The swans are no longer there, but there are plenty of fish. No swimming allowed, unfortunately.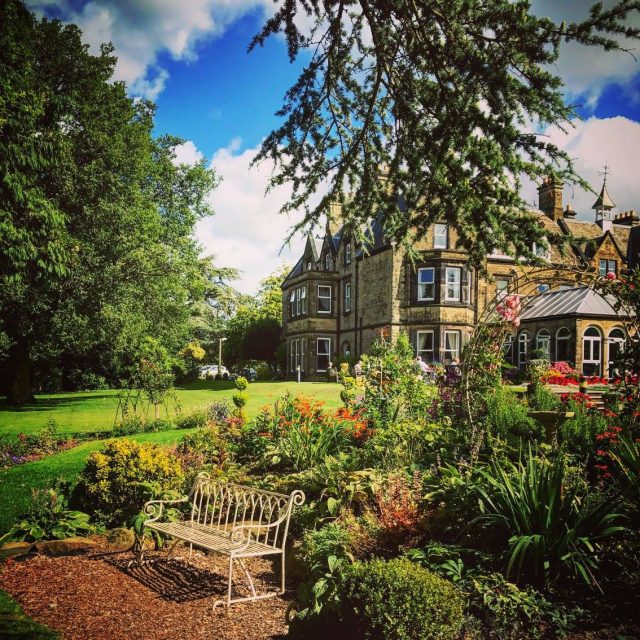 Anyone wishing for solitude can generally find some.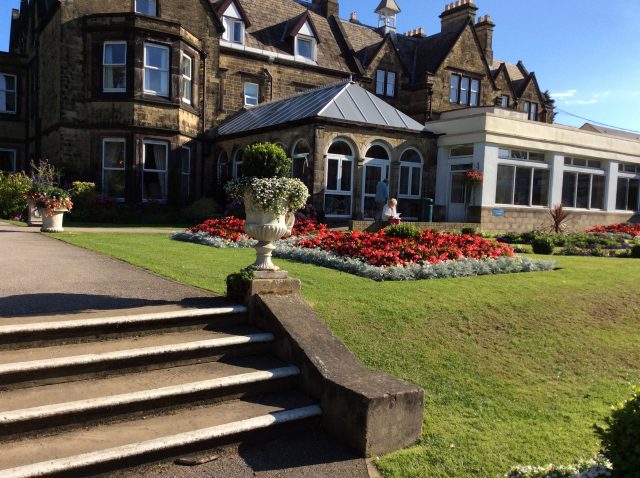 The area around the Main House, though, is generally thronged with writers in between sessions. We are, after all, there to work and learn. There's no need to sign up for courses in advance and dipping in and out is allowed. This year, I attended part or all of the following: Writing Popular Fiction with Sue Moorcroft, both Script Writing and Life Writing (memoir) with Paul Dodgson, Short Stories with Della Galton, The Swanwick Standard (photo journalism) with Simon Hall, Writing Intimate Scenes with Liz Hurst, Grammar (and punctuation) with Geoff Parkes and Writing for Competitions with Ingrid Jendrzejewski.
Most evenings saw a speaker: Derbyshire crime writer Stephen Booth kicked us off and was followed by Sophie Hannah, doyenne of psychological crime fiction, children's author Cathy Cassidy and the Golden Egg Academy's Imogen Cooper. New for this year was 'In Conversation With…' in which Simon Hall grilled authors Sue Moorcroft, Jon Mayhew and Steve Hartley.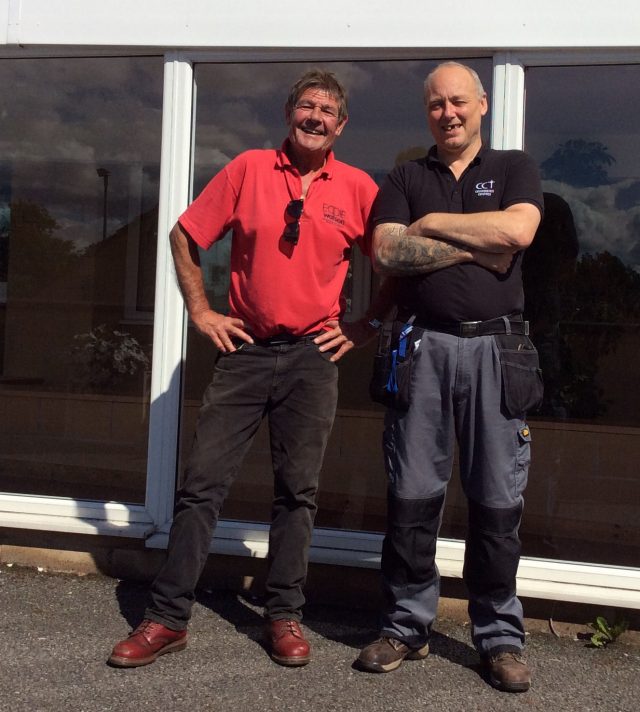 These two gallant gentlemen, window cleaner Eddie and head porter Steve agreed to be interviewed for my article in the Swanwick Standard. I chanced upon them when I was taking a break from heading a 'Procrastination Free Day' session and they provided me with a mine of information. My other 'duties' this year included being an 'ambassador' with the brief to look after new Swanwickers (White Badgers), run one of the guided tours of the site with Veronica Bright, co-host a dinner table on the first evening with Julia Pattison and the Prose Open Mic with Jennifer Wilson.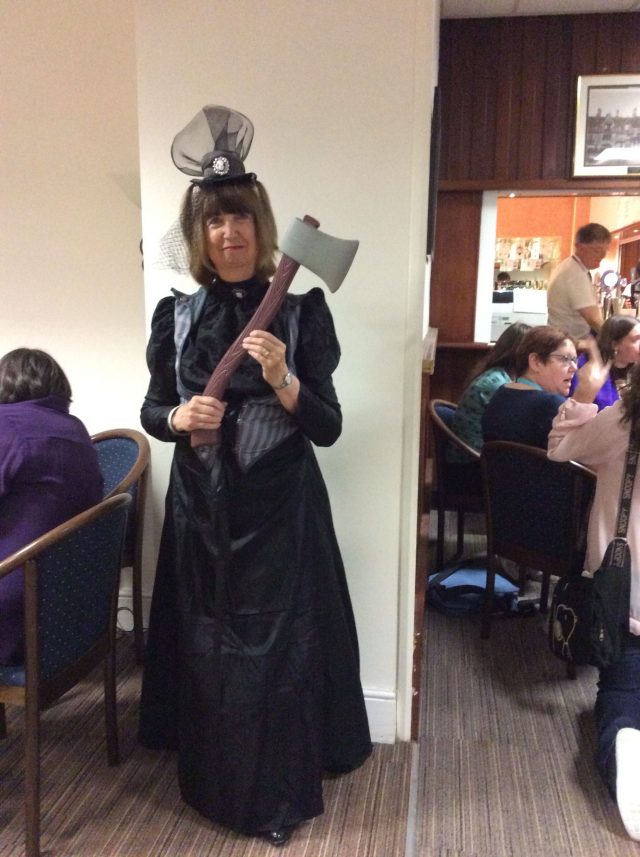 That overlapped the Wild Wild West disco and, with no time to change in between, I helped Jen to run a tight ship (in my case, in a very tight costume). Participants, apart from the winners of the short story and writing for children competitions, were limited to five minutes each and I had an egg timer as well as my axe! Other entertainments include the Poetry Open Mic, Buskers' Night and Swanwick Page to Stage performances.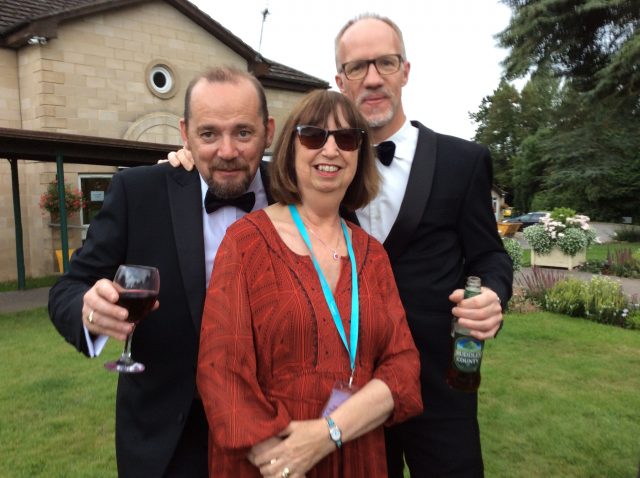 All too soon it was the last full day. The conscientious amongst us attended the AGM and everyone assembled on the lawn for the annual Dregs Party. That's always an occasion for donning whatever finery could be squeezed into the luggage and polishing off left over drinks and/or snacks before going in for dinner.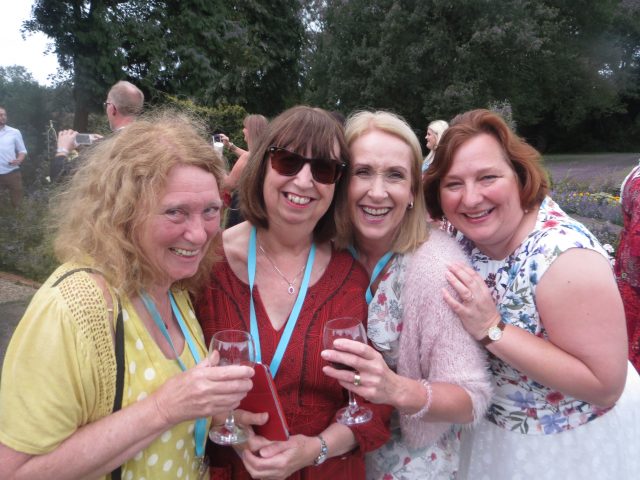 Cameras clicked the whole time and many hugs were exchanged with friends old and new. Only the hilarious Swanwick Awards and Farewell remained, with another farewell the following morning as those departing by coach were waved off by the rest of us.
So, that's it. Next year is the 70th anniversary of the Writers' Summer School. Early booking from 1st February 2018 is strongly advised. If you'd like to join us, keep an eye on the website: www.swanwickwritersschool.org.uk
Here I am being interviewed. Skip to the two minute mark. When you've finished, don't forget to take a look at the photo gallery underneath.
19 August, 2017 - There are 2 comments on this story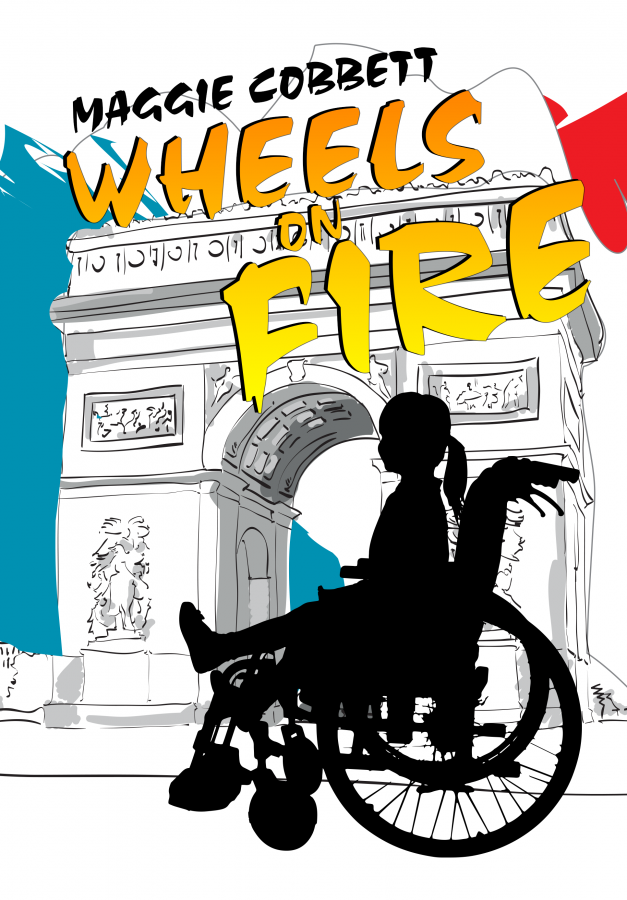 It's always exciting to bring out a new book and this one is hot off the press, so to speak. As a veteran of many school trips abroad, most of them to France (although Germany may well provide a future setting), it was inevitable that some of my own experiences and those of my colleagues will have crept into the story. However, the character of Karen (Kaz) Russell, wheelchair bound after the accident that has killed her mother, popped ready made into my mind. Furious that no one in authority seems to care enough to pursue the driver responsible, Kaz decides to take matters into her own hands and the school trip to Paris will provide the ideal opportunity.
I hope that the book will appeal to the 10-13 age group and also strike a chord with their teachers. Comments and reviews will be very welcome.
4 August, 2017 - Make the first comment on this story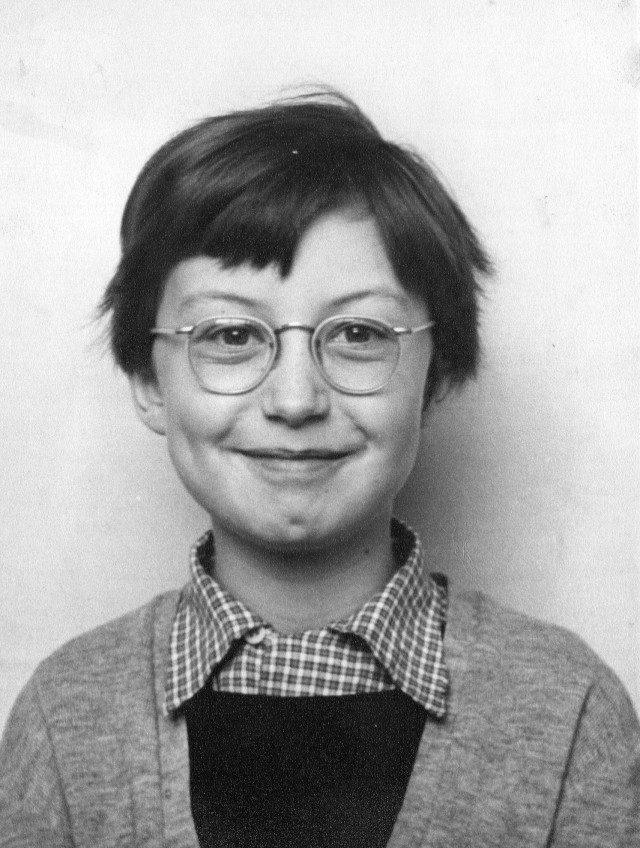 I've been on an emotional roller coaster since my last post. Out of the blue came a series of visual disturbances that I convinced myself were TIAs (transient ischaemic attacks or mini strokes). They took the form of a shimmering effect around anything I happened to be looking at and lasted for several minutes each time. Always a reluctant patient, I put off seeking medical advice until frogmarched down to the practice. The G.P. took my self diagnosis seriously and gave me emergency treatment until it became apparent that I had no other stroke related symptoms. She then sent me off for an immediate eye test. BINGO! To cut a very long story short – and I've had neurological and ophthalmological tests since to make sure – it appears that my eye muscles were under severe strain from out of date spectacles. That had led to a condition called 'migraine with aura'.
Have you ever heard of that? I hadn't. To me, migraine was just a very bad headache and I had had no pain at all. Much better informed now, I'm anxious to spread the word that migraine can manifest itself in a variety of different ways, many of them alarming.
Born with good vision, I came down with scarlet fever whilst still at primary school and have been shortsighted ever since. National Health issue spectacles – brown frames for boys and pink for girls – had metal earpieces that dug in all year round and made the backs of my ears particularly sore in winter. Even when my parents paid for more attractive frames, I still hated wearing the things and they spent more time in my pocket than on my nose. Which child – at least until the arrival of Harry Potter – has ever wanted to be a Speccy Four-Eyes? As a teenager, I worried that 'boys don't make passes at girls who wear glasses' and so was even less likely to be seen out in them. This persisted through university and into my twenties, when I invested in prescription sun glasses and contact lenses. As often as not, though, I wore neither and only clapped my ordinary spectacles onto my nose when I thought no one was looking. I wasn't shortsighted enough to bump into things and just bumbled around seeing everything out of focus.
I'll be truthful. Even now, I'm not happy at the prospect of wearing my new specs more or less full time. However, I've been advised that I should and I'll just have to get used to the idea. After all, it's a small price to pay for being given a new lease of life. Vanity may at last have given way to common sense. At least, I hope so.
3 August, 2017 - Make the first comment on this story
Check Out My eBooks
Blog Categories
Links
Live From Twitter