Hello, and thank you for visiting my site. I hope that you'll return often and always find something of interest about my world and what inspires me to pick up a pen. (This is a figure of speech, unfortunately. My handwriting is terrible!) Here's what I've been up to recently...
Delighted to see this. I've been a subscriber to this invaluable magazine for many a long year.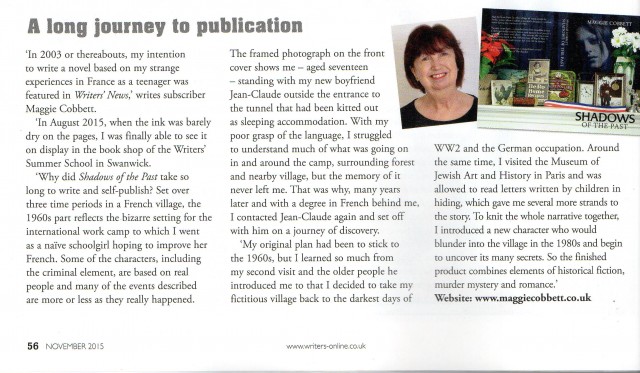 28 September, 2015 - There is one comment on this story
I went along to a talk by Princess Michael of Kent without much idea of what to expect. Her account of life in early 15th century France, as described in her Anjou trilogy, was fascinating and I was very impressed with the graceful way in which she handled problems with her laptop and the sound system.
HRH's approach to taking questions from the audience was an interesting one, though. At the end of her talk, even when prompted by one of the organisers, she declined to answer any there and then but said that they'd be welcome from individuals as she signed their books!
I suspect that non-royal authors might have met with a dusty response to that.
23 September, 2015 - There are 2 comments on this story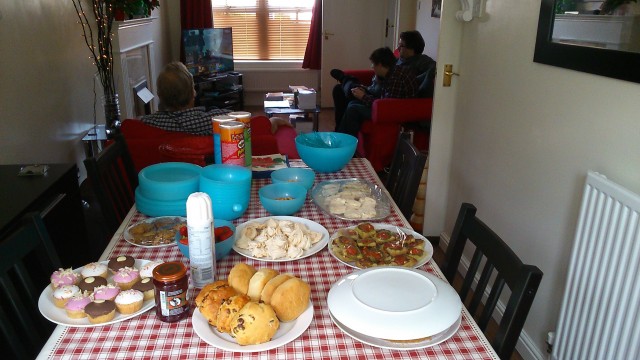 The venue this time was my elder son's house for an afternoon 'do'.  The original plan had been to lay out the refreshments picnic style in the garden (hence the blue plastic plates etc.), but dark clouds were looming over York as we arrived with a carload, so we thought discretion the better part of valour. The Cobbett men, having done their bit earlier on, found time for some displacement activity whilst I added the finishing touches.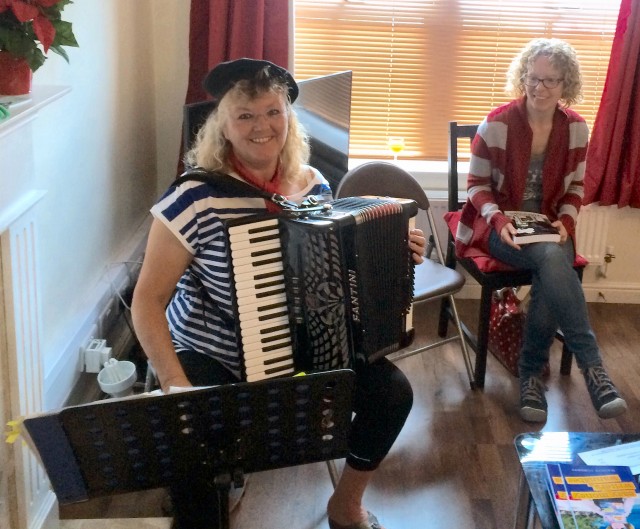 Among the guests were fellow writers and salsa dancers, some devotees of both activities. On a different occasion, we might have pushed back the furniture and practised a few moves. Well, Susan does have tango numbers in her repertoire!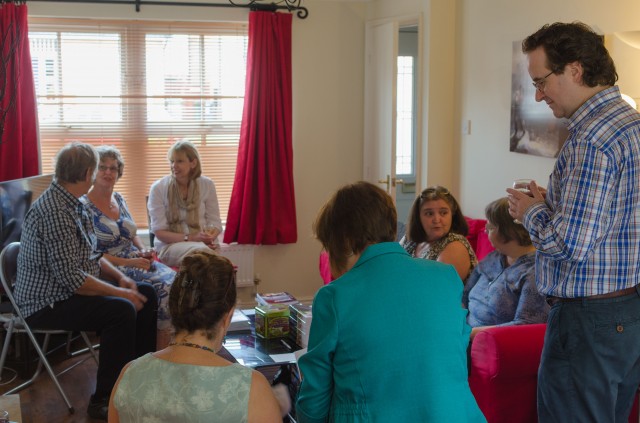 However, literature was the thing that afternoon. I read a couple of extracts from the novel and explained the background to those who hadn't heard all about it before.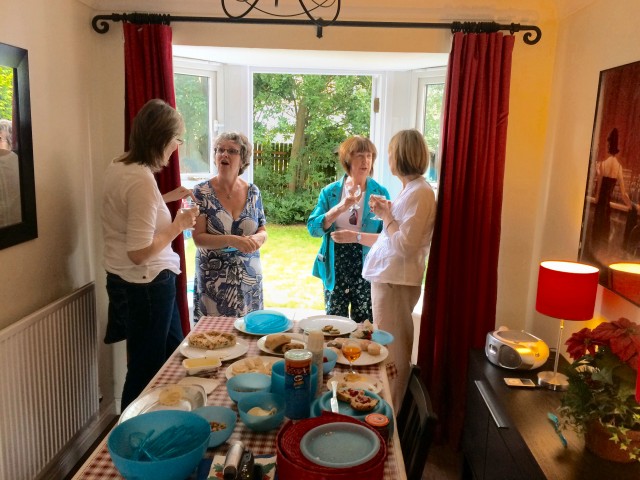 It was good to welcome people who hadn't seen each other for a while and to make some introductions.
The rain held off and allowed the party to spill out into the garden.
For more photographs of the afternoon's proceedings, please click on the images below. The quality is variable with some images being stills taken from the video.
30 August, 2015 - There are 2 comments on this story
There must be something special about an author's first book launch. Although Shadows of the Past isn't my first published work, it's my first novel and has been a real labour of love.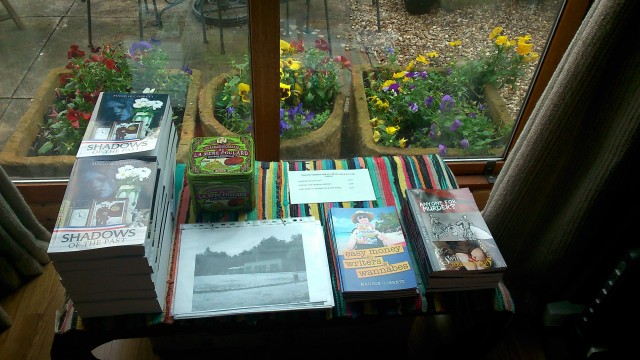 The sun was still shining when I was 'setting out my stall' and, although the heavens opened later and some guests had to battle through a ferocious storm to get home again, nothing could dampen my mood. Many people have asked me about the inspiration for the story, parts of which are more or less autobiographical, and the selection of photographs in the centre of the table was there for them to browse through.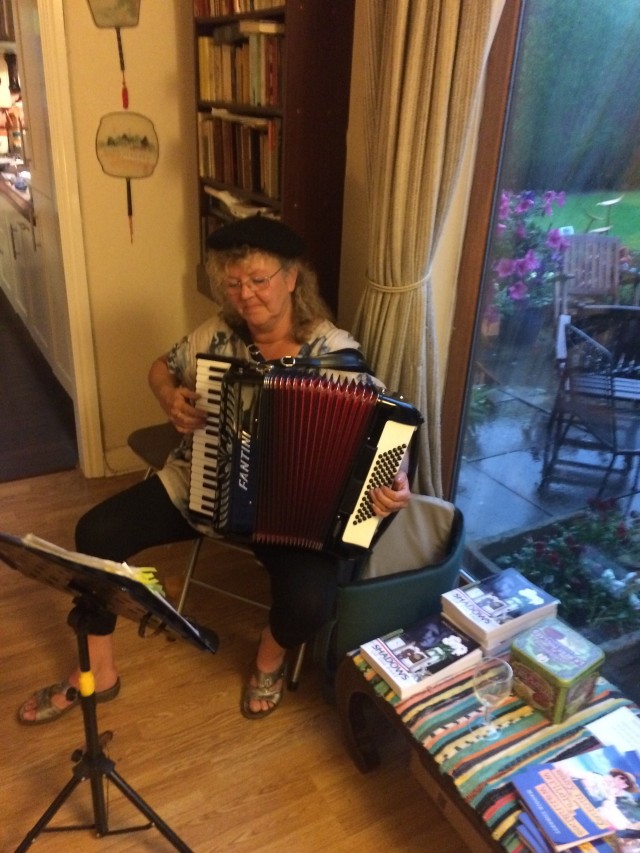 By an amazing stroke of luck, I met Susan again at Swanwick a couple of weeks ago and invited her along, upon which she offered to bring her accordion and play some French bal de musette numbers to enhance the atmosphere. As a better wordsmith than I am a cook, I'm also indebted to my good friends Cathy and Sue for providing most of the wonderful food.
People from many different threads of my life came together and some were astounded to discover that they had me as a mutual friend. The quality of the photographs below is variable – my roving photographer was also host, barman and general factotum and didn't manage to capture everyone – but they will give you some idea of the proceedings. Some of them are stills taken from the video he was trying to make at the same time. To guests who dropped in for a while and left before he picked up his camera or arrived after exhaustion set in, I can only apologise.
23 August, 2015 - Make the first comment on this story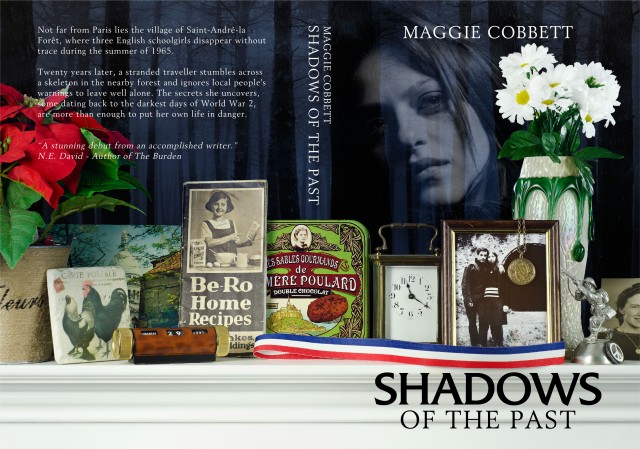 Knowing that my first book launch is only three days away (Saturday, 22nd August from 5 p.m.) reminds me of the panic that always set in when my flatmates and I in Manchester were about to throw a party during our student days. Would no one turn up and we'd be left to languish alone amongst the refreshments we'd lashed out on? Would everyone we knew turn up and there wouldn't be enough to go round or even room to stand comfortably? (Well, we did once have 200 people in our flat!)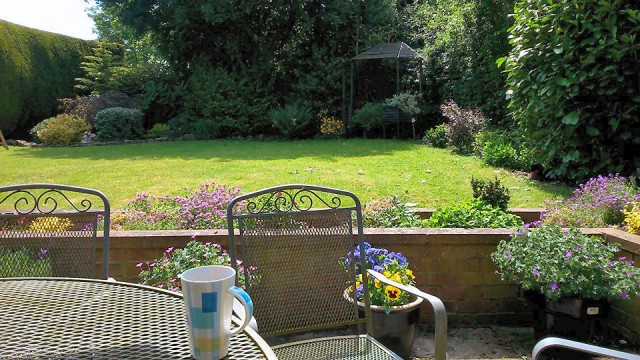 The weather wasn't a factor in those days, but now it is. Our garden is quite a picture at the moment and I'm hoping to see a crowd of people enjoying it on Saturday. I've even arranged to borrow extra outdoor furniture from the neighbours. However, as natives of our 'green and pleasant land' know only too well, we pay a price for all that greenness. I once took part in an 'erotic drama'* called Natasha, filmed a few miles away from here, and have never forgotten its Indian director ranting and raving every time we were rained off. It was August, for heaven's sake, wasn't it! Yes, but this was North Yorkshire, not Bombay.
Anyway, Que sera, sera as the song goes. There will be refreshments, there will be music and there will be a hopeful author with a pile of books to sign. Please come along and join me!
*In case you're wondering, 'my' scenes were neither erotic nor particularly dramatic. I was part of the church congregation of 'Little Haven' (actually Birstwith) and had a badly sprained ankle at the time, which made it difficult to run for cover each time the heavens opened during the church picnic scene. Richard Lintern, who played the vicar, was very kind and almost carried me at times. If you'd like to know more about this ghastly film, which went straight to video – I have a copy somewhere – you can see the trailer on You Tube: https://www.youtube.com/watch?v=TJkv67-vRY4
19 August, 2015 - Make the first comment on this story
All good things must come to an end, unfortunately. Courses wound up and the AGM held, it was time for the jollifications to begin.
Rain threatened and the Dregs party had to be held indoors instead of on the lawn, but the Buskers band kept us all entertained. I'm slightly to the right of centre and enjoying a glass of wine.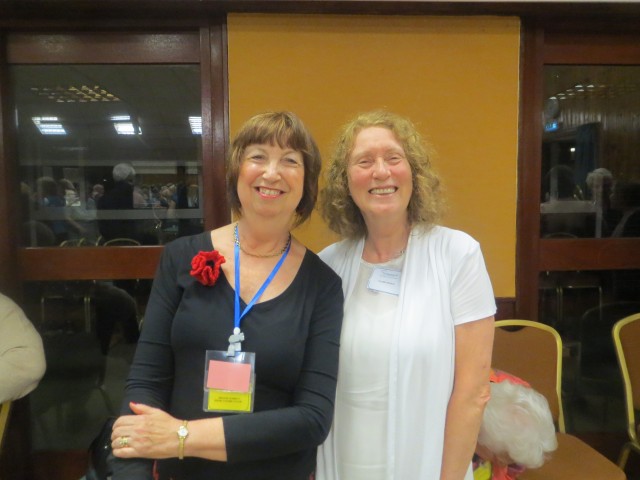 It was time to dress for the occasion and I think the smiles say it all.
After dinner, it was time for Swanwick's own version of 'Romeo and Juliet', written by our newest committee member, Phil Collins. The sight of Romeo (Chairman Michael O'Byrne) in baggy pants and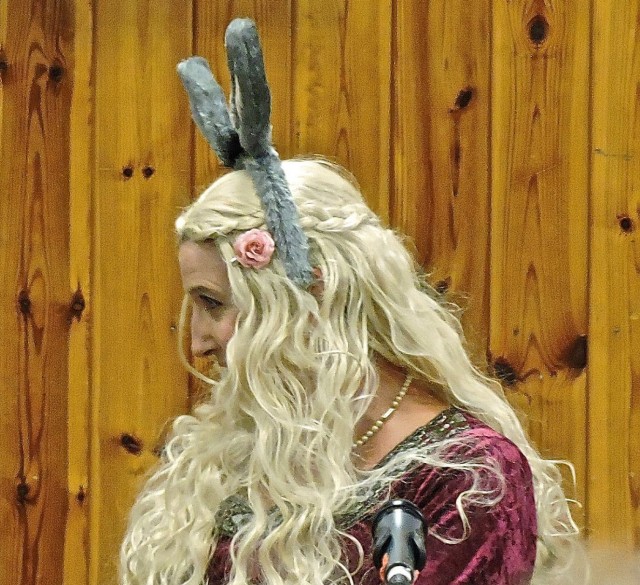 Juliet (Cathy Grimmer in an impossible wig and speaking throughout in a squeaky lisp), the sword fight and dramatic deaths of Mercutio (Ben Scott) and Thibault (Simon Hall) will remain with me for a long time. The audience was divided into Montague and Capulet camps and whipped to a frenzy by Phil on one side of the stage and John Lamont on the other. Hilarious! The evening finished, as ever, with Auld Lang Syne and the many Scots among us ensured that we performed it correctly; not a trace of 'for the sake of' and no crossing hands until the second verse!
13 August, 2015 - Make the first comment on this story
Check Out My eBooks
Blog Categories
Links
Live From Twitter