Hello, and thank you for visiting my site. I hope that you'll return often and always find something of interest about my world and what inspires me to pick up a pen. (This is a figure of speech, unfortunately. My handwriting is terrible!) Here's what I've been up to recently...
The last course I attended this year was Robin de Jongh's session on Online eBook Marketing, from which I learnt the importance of aiming for a niche. Robin stressed that, with the ever increasing number of books and websites appearing each year, the road to success involves a careful study of the potential audience as well as the competition. I can well believe that, as my only non-fiction book so far, Easy Money For Writers And Wannabes, continues to outsell any of my short story collections. At the AGM, it was good to see two of my friends enjoying success. Cathy Grimmer of Ripon Writers' Group was elected to the 2015 committee and Julia Pattison won the raffle for a free place at Swanwick next year. Hearty congratulations to both ladies!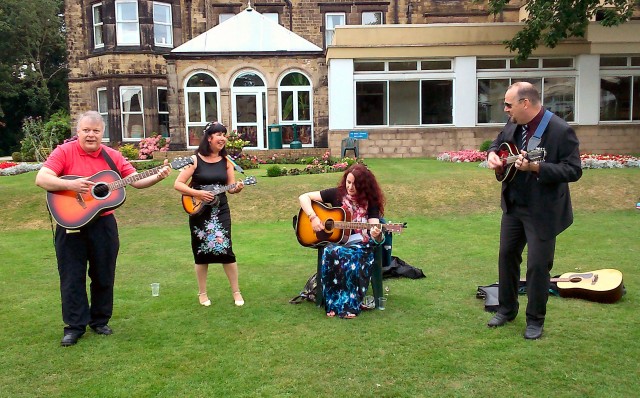 The traditional Dregs Party (an opportunity to contribute any drinks and snacks bought but not consumed during the week) took place on the lawn and was enlivened by a final performance by some of our Swanwick buskers.

No musician myself, I'm a great admirer of those who can play and sing, so you might be able to pick me out in the middle of the audience. Shortly afterwards, we all piled into the bar and then dinner to fortify ourselves (yet again!) for the evening ahead.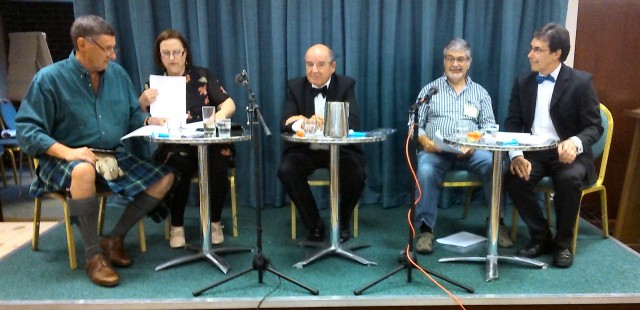 I should have known that we weren't in for a serious attempt at 'I'm sorry, I haven't a clue' when everyone in the audience was handed a kazoo. No show would be complete without musical numbers, but the panellists' faces when confronted by our renditions of The William Tell Overture and the theme tune from EastEnders were a sight to behold. From left to right, John Lamont, Lesley Deschner, Michael O'Byrne, Mike Berry and Phil Collins did their best against a background of rising hysteria.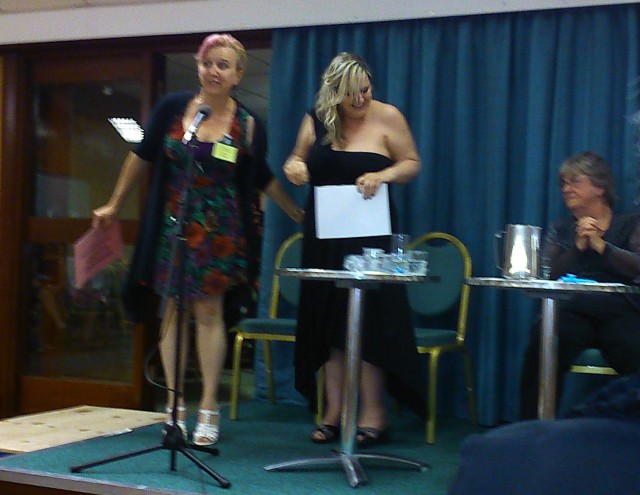 Cathy Grimmer was overwhelmed to have been voted Best Actress for her performance in 'Requiem', her own play, but the honour was very well deserved. Phil Collins won the Best Play award for the third year running. Will anyone beat him in 2015, I wonder! John Lamont – the handsome chap in the kilt (for those of my readers who don't know him) – led us in the singing of Auld Lang Syne and then it was off to the bar for a few farewell drinks before packing and bed. I can't believe it's all over for another year but look forward to keeping in touch with everyone until we reassemble next summer. Swanwick 2015 will take place from 8th to 14th August and it can't come soon enough for me!
15 August, 2014 - There are 2 comments on this story
By the middle of each Swanwick week, the late nights and early mornings start to catch up with me and this year has been no exception. However, Tuesday is traditionally a more relaxing day. There used to be an organised outing, but in recent years we've tended to 'do our own thing' and take the opportunity to explore some of the nearby National Trust properties. However, a full day out wasn't possible this year if I was to attend the Derbyshire Police Forensics Team's presentation.
This, once some technical hitches were sorted out, was well worth the sacrifice. Yet to serve on a jury (except as an extra on Emmerdale), I was relieved to learn from Jim Smith, ACSI Manager Forensic Investigation Unit of the Derbyshire Constabulary, that the police now have at their disposal a software package designed to spare jurors from gruelling photographic images while still giving them all the necessary facts. What was shown was horrific enough, though, and I take my hat off to people who can calmly investigate murder scenes, especially the very gory ones and those where the body has been lying around for a long time.
Time being limited, we spent a couple of hours at Denby Pottery in the afternoon and I'd very much like to go again with a few more hours at my disposal. As well as shopping opportunities, there are craft room and factory tours on offer, a cosy restaurant and 'Pottery Beach', where children can play in the sand and enjoy music and other entertainment. (There are even deckchairs for their weary parents!) However, an invitation to Joy and Shirley's party beckoned and very convivial it was too. We were unaware then of a disaster brewing in a Lakeside bedroom close by. Suffice it to say that trying to cram in too many guests for a private drinks party can lead to trouble. The gentleman in whose room the incident occurred was later to immortalise the event in song: The Man Who Broke The Bed In Swanwick Lakeside and hopes that it might add to his manly reputation!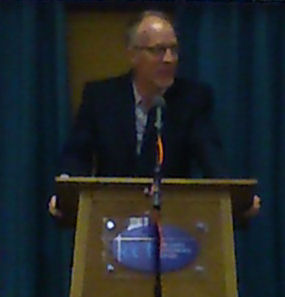 Our evening speaker, crime writer and TV reporter Simon Hall brought the house down with some of his anecdotes. I particularly enjoyed the one about an outside broadcast on road kill, where Simon found himself having to use the hand dryer of a Little Chef to defrost a frozen otter, much to the horror of the manager.
Buskers' Night, once again organised by Mark Iveson, was a real showcase of Swanwick talent with both well seasoned and new performers giving it their all.  One of the latter group was fellow Ripon Writers' Group member Cathy Grimmer, whose unaccompanied rendition of  'Somewhere that's green' from Little Shop of Horrors and her own parody 'Glad to be Grey' was very well received. I'm sure that the event could have gone on for at least another hour, had it not been for the need to consider people trying to sleep in the rooms above. Every conference has its owls and its larks, after all, although some Swanwickers do attempt to burn the candle at both ends, as witness their empty chairs or pallid faces at breakfast.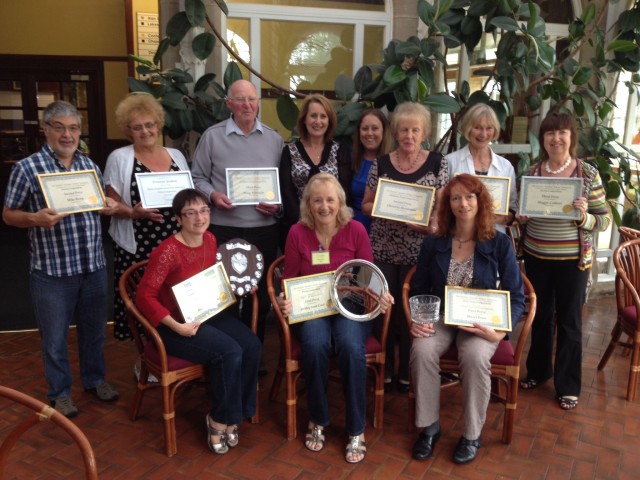 Wednesday saw the annual photo call; Swanwick competition prize winners lined up with representatives from Writers' News. I was delighted to be included for my poem Commemorated In Stained Glass, (which can be read on this website).
Sometimes called upon to give talks about my writing or my television work, I thought that Michael O'Byrne and John Lamont's two part course on public speaking would be ideal for me and so it was. Laced with self deprecating humour, as one would expect from those two, it was nevertheless packed with a great deal of solid information – the DONT'S being just as (or even more) useful than the DOS.
Guest speakers David and Hilary Crystal gave us new insights into places in Britain which have helped to shape the English language and then the dais was cleared for the eagerly anticipated Swanwick Page to Swanwick Stage performances.
Of the many striking images of the evening, I think that Simon Hall, stripped to the essentials for his role in Phil Collins's play, will linger longest in the memory of most of the ladies present! Most of the plays, written in advance and workshopped during the week were humorous, but you could have heard a pin drop during Cathy Grimmer's poignant Requiem. In between were some improvisations, including one performed by some young writers from the Top Write scheme, and all thoroughly deserved their applause.
It's no wonder that I'm tired, because I couldn't go to bed without joining in with the late night ceilidh. There weren't many of us there, but what we lacked in numbers we certainly made up for in enthusiasm!
14 August, 2014 - There are 2 comments on this story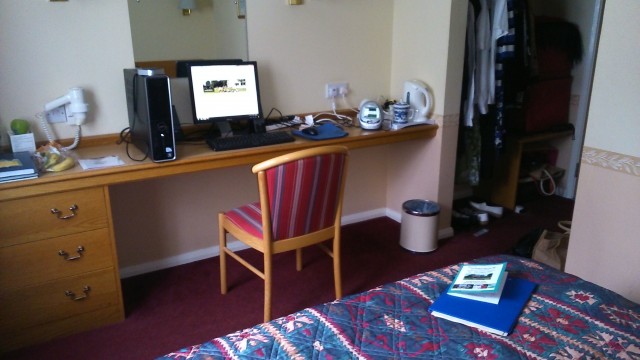 My room in Lakeside is now looking as tidy as ever it will during my stay!
The good news is that every single copy of Easy Money For Writers And Wannabes that I brought along to sell has been snapped up. I don't even have one for myself at the moment, because I've had to part with the proof copy! However, the omnibus edition of my short story collections is still available in the Book Room. (Both books are featured on Amazon and can be downloaded to Kindle etc. or ordered as print editions.)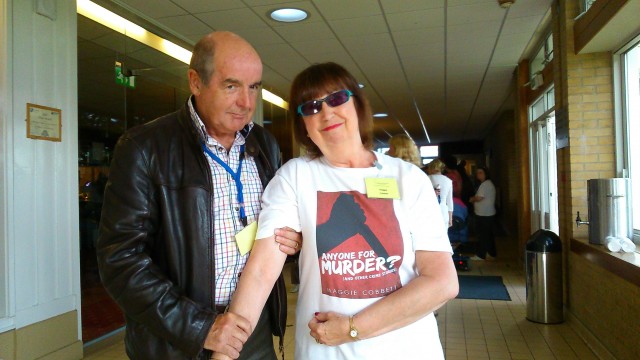 I hope that my promotional T-shirt for the short story collections will work its magic* if it doesn't really get me arrested! The lovely Michael O'Byrne, our Vice Chairman this year, is a retired chief constable after all!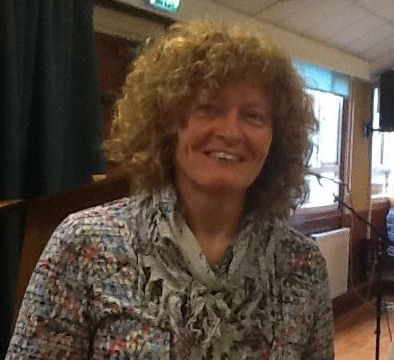 My head is bursting with useful information at the moment, much of it gained from 'official' sources – Shirley Blair's excellent two part course on writing for The People's Friend and Karin Bachmann's afternoon session on using Twitter to better effect – plus a large number of hints and anecdotes from fellow Swanwickers encountered at breakfast, morning tea break (with biscuits), lunch, afternoon tea (with cake), dinner and all those times in between. It would take a will of iron to lose weight at The Hayes!
Did I mention magic earlier on? Maybe my appearance at the Wizard of Oz themed disco will do the trick! Mark Iveson, DJ for the evening, certainly kept us all moving!
11 August, 2014 - Make the first comment on this story
It's that time of year again when hundreds of writers of all levels of experience head for a small village in Derbyshire. The Writers' Summer School is now in its 66th year, and this is my ninth consecutive attendance.
The Hayes Conference Centre in Swanwick is an excellent venue and writers are given full rein to mingle and promote their wares, as you can see in the photo above! (I wasn't mingling just then, but I've been mingling for England the rest of the time and shall continue to do so!)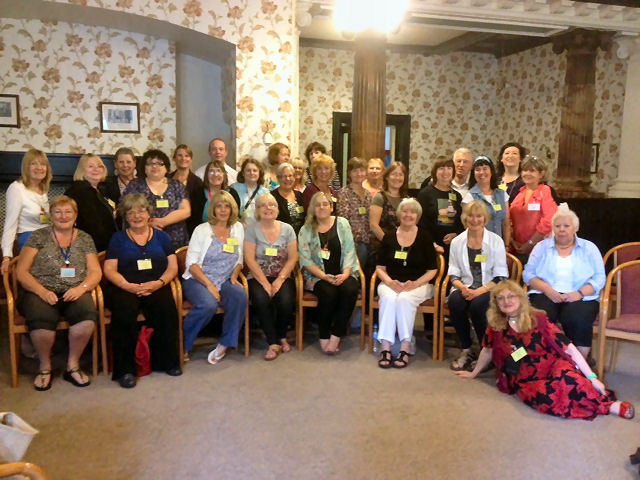 The School rises like Brigadoon each August and disappears far too quickly a week later, but opportunities for keeping in touch throughout the year have never been better. Most of the Swanwick Facebook group got together yesterday afternoon to put names to faces and many of us are also in the habit of tweeting to #swanwick66. If you look hard, you'll spot me standing fifth from the right and wearing my other promotional T-shirt – this time for Easy Money For Writers And Wannabes. While I've been very happy to sign copies of the paperback available from our very own Swanwick book shop, it's been interesting to note a spike in sales of the electronic version as well over the last couple of days, so the publicity seems to be paying off. I'm indebted for the photograph to fellow long time Swanwicker Angela Lansbury, seated on the carpet. Thank you, Angela!
So, what else have I been doing since I arrived on Saturday afternoon? Catching up with old friends and making new ones is always top of the agenda, but I've also been along to  listen to the evening speakers – writer, broadcaster and historian Christopher Lee (no vampire connections) on Saturday and Shirley Blair, fiction editor of The People's Friend last night. I found Christopher's talk quite depressing. After reeling off a list of his own contacts and literary achievements which, to be fair, are extremely impressive, he told us that he wouldn't encourage anyone to be a writer these days, much less marry one. That was capped by the observation that more people are writing books these days than reading (or buying?) them! (There's some disagreement among those present at the talk as to what he actually said.)  Fortunately, Shirley Blair was much more positive. Her magazine buys more short stories than any other as well as serials and pocket novels and I know from personal experience how encouraging Shirley and her team are, both to new and long term writers for TPF.  The information given during her two part course today will, I'm sure, be invaluable.
I've listened to Della Galton's words of wisdom on Writing for Competitions and Xanthe Wells on The Novel as well as attending a very useful session with Kate McCormick to refresh my memory about the usefulness of Scrivener. (Note to self: must get back down to that as soon as I pick up the threads of my novel in progress.)
Yesterday evening finished for me – not really a late night disco person – with a very touching tribute to all those who suffered during WWI.  The indefatigable Joyce Ward and her team had put together a programme of music, poetry and prose to tug at anyone's heartstrings. Particularly poignant were the many photographs flashed up onto the wall behind the performers. Despite the cheerful rendition of Pack Up Your Troubles that finished the show, those young faces will haunt me for a long time to come. News stories from the Middle East and elsewhere are increasingly horrific these days and it really does seem that – to quote from someone whose names eludes me at the moment – if history teaches us anything, it's that it teaches us nothing!
11 August, 2014 - Make the first comment on this story
Remembering two of my mother's half brothers today.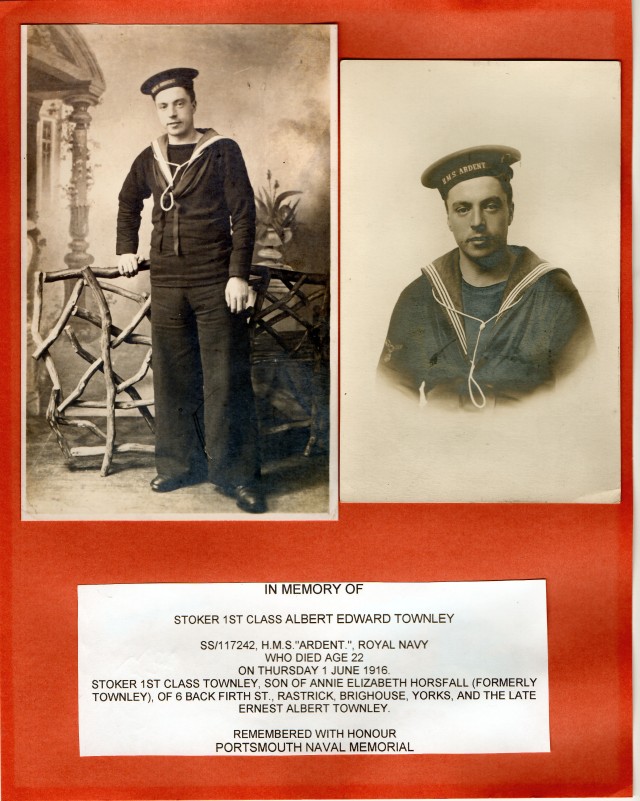 Uncle Albert, aged 22, was killed during the Battle of Jutland. Mum was only eight when the news of his death reached the family but remembered very clearly how their mother went temporarily insane from grief and never really got over it. As well as being remembered on the Portsmouth Naval Memorial, Uncle Albert's name appears in the York Book of Heroes held at York Minster and twice on the war memorial in Rydings Park, Brighouse. On one side he appears under his own name and on another as Albert Edward HORSFALL, the surname of his stepfather. I don't – and probably never shall – know all the ins and outs of that part of our family history, but I believe that bad feeling between the two of them led to Albert's moving out to live with relatives of his mother's in York.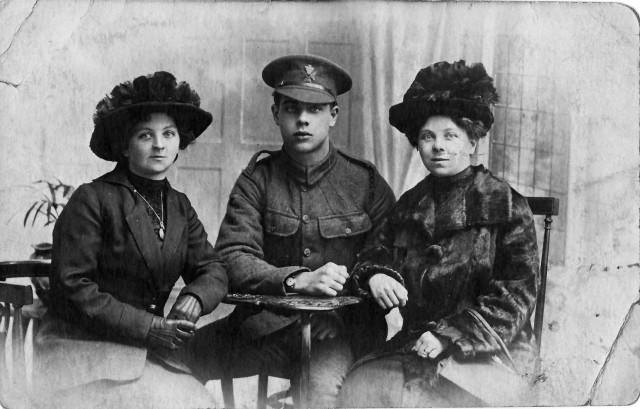 George Manuel Horsfall, born to my grandfather's first wife, a Spanish lady, served in the trenches while still under age, was badly wounded by shrapnel but lived on into his 90s. He never fully recovered the use of one of his arms but that didn't stop him, amongst other things, from running a chicken farm and later working as a gardener for a well known actor. Uncle George and his wife Louise, shown above on their wedding day, had a long and happy marriage.
4 August, 2014 - Make the first comment on this story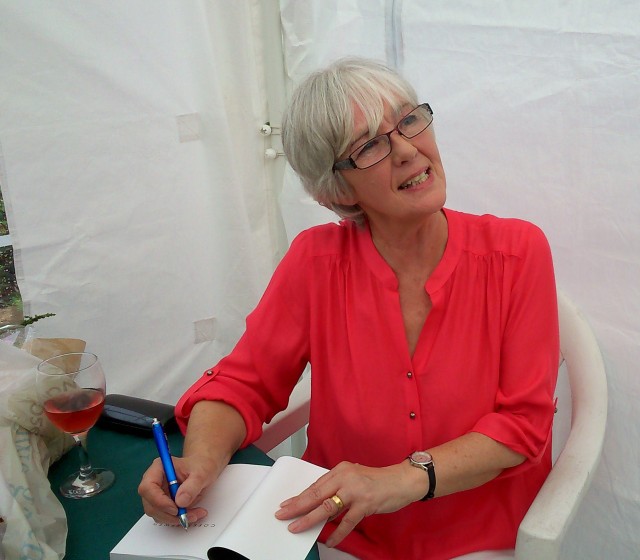 This afternoon saw the official launch of Pamela Theophilus's new book Corkscrewed and I was very happy to go along to support a fellow member of York Writers. Pam writes under her maiden name and may be more familiar to many as Pamela Gardner.
With sunshine and showers definitely being the order of the day, a sizeable crowd enjoyed the shelter of the marquee thoughtfully provided as well as a goodly range of refreshments. The glass of Prosecco pressed into my hand by Pam's husband as I queued to have my copy signed was very well received too.
Hic! To quote from the blurb, " Who would have thought there could be so much excitement to be had from corkscrews!" I look forward to reading Pam's story and finding out how a boy's unusual collection will shape his future life.
Corkscrewed is available from Amazon in print or as an e-book.
2 August, 2014 - Make the first comment on this story
Check Out My eBooks
Blog Categories
Links
Live From Twitter