Hello, and thank you for visiting my site. I hope that you'll return often and always find something of interest about my world and what inspires me to pick up a pen. (This is a figure of speech, unfortunately. My handwriting is terrible!) Here's what I've been up to recently...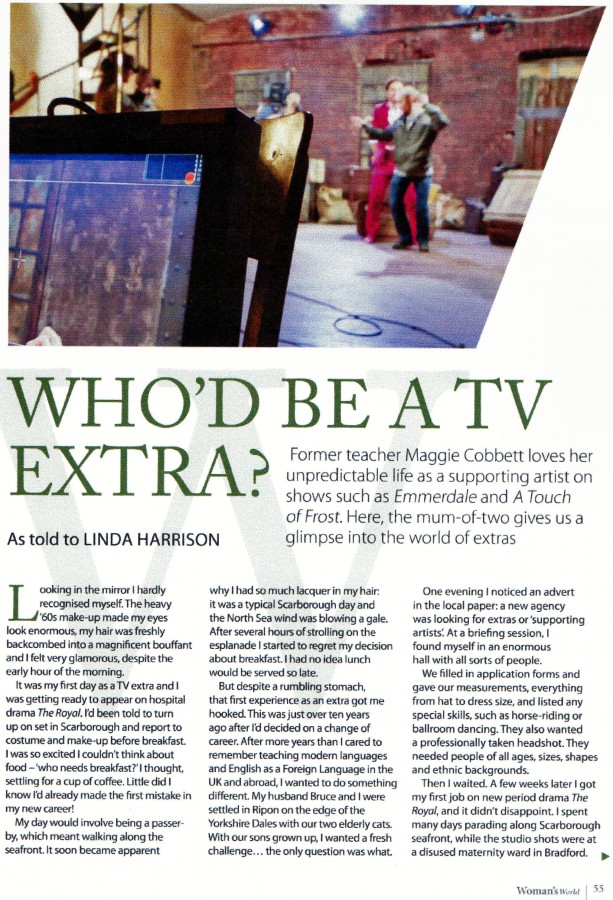 I was recently interviewed for Woman's World, the annual of the National Federation of Women's Institutes, by freelance journalist Linda Harrison.
The interview touched on my writing, but the main focus was on my television work over the years. If you'd like to learn more about what's involved in being an 'extra', please go to  http://www.tenalpsebooks.com/ww14/index.html
7 March, 2014 - Make the first comment on this story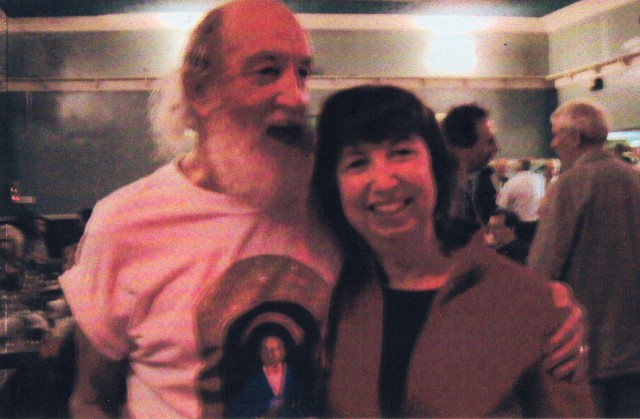 It's a couple of years at least since I last heard Ed O'Donnell play his trombone and sing, but my admiration for his musicianship goes all the way back to when I was seventeen and in the Sixth form at Lawnswood High School in Leeds. The sessions he ran on Friday nights at 'Casey's' in Woodhouse Street were legendary and not to be missed for anything. My friends and I were intrigued by the fact that this former Bevin Boy now had a 'day job' posing as a life model for students at Leeds Art College and sketches of him in all his glory were to be found all over the place. However, and more importantly, I not only learned to appreciate his style of playing but also to dance to it and it was because of Ed and his New Orleans Jazzmen that I made a pilgrimage to the Big Easy. The hours I spent in Preservation Hall were amongst the happiest of my life. Moving on another five or six years, I was at a party somewhere on the Rhine when I was accosted by a German girl called Renate who was very excited to find out that I came from Leeds. All she wanted to know was if I knew Ed O'Donnell and, having established that I did, she went on to enthuse about him all evening.
Ed died in his sleep last month at the ripe old age of 89 and it was very fitting that his funeral today featured a New Orleans style parade band made up of old colleagues. They led the cortege from the gates of Lawnswood Cemetery to the chapel and played for the many mourners assembled there. Some alterations were going on nearby, but the construction workers stopped what they were doing and removed their hard hats. The rain stopped on cue and the sun came out just in time for Ed to be carried inside.  As a requiem mass had already been held at Our Lady of Lourdes, the service was a short one, which was a blessing for everyone unable to find a seat.
I wish that I'd been able to go on to the wake, but duty called me elsewhere. However, I'm sure that the afternoon celebration of Ed's long life, during which he ran his own band for more than six decades, was a memorable one. His wife Anne and daughters Frances and Kate would be left in no doubt of how much Ed was loved and admired.
NB This video clip from the Yorkshire Post website has just come to my attention: http://www.yorkshirepost.co.uk/news/main-topics/local-stories/video-fond-farewell-to-leeds-jazz-legend-1-6476733
4 March, 2014 - Make the first comment on this story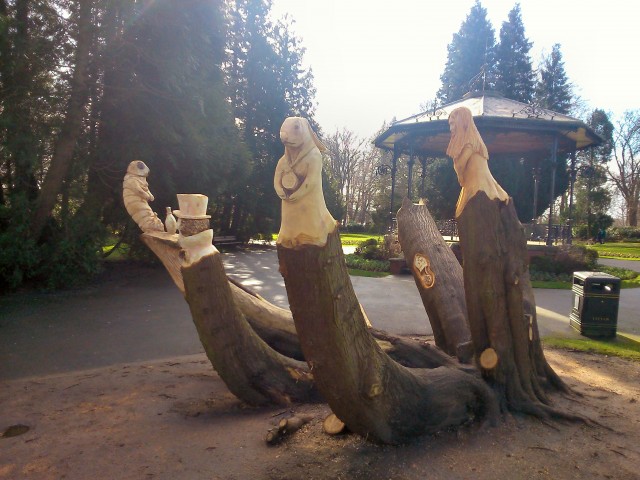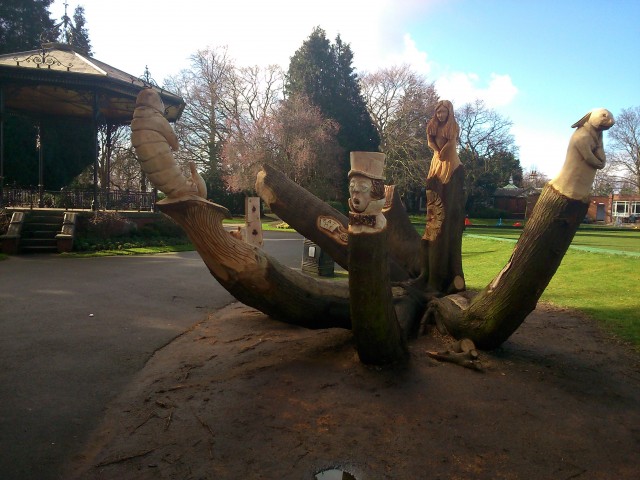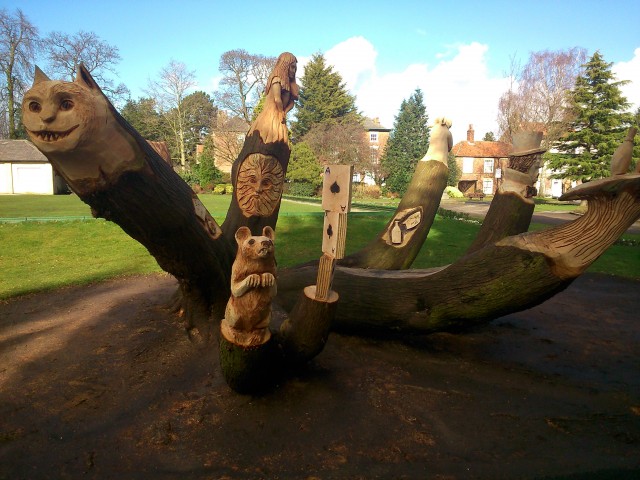 As a tribute to the children's classic, chainsaw sculptor Mick Burns has created a wonderful installation in the Spa Gardens and I do hope that it will escape further damage by vandals who probably don't have a creative bone in their own bodies. The Caterpillar lost its head and the White Rabbit its nose a few weeks ago in an overnight attack, but the talented Mr Burns has replaced them and added some more figures. The Cheshire Cat is my favourite, but you can also see the Mad Hatter, the Queen of Hearts and the Dormouse as well as a set of playing cards. So why are they in Ripon, you might wonder.
Recent events in our little North Yorkshire city, where the latest large sinkhole opened up earlier this month and partially swallowed a 100 year old property, caused a flurry in the media and have put paid – for the time being at least – to any ideas of building housing on the adjacent land. Subsidence due to gypsum, the raw material of plaster of Paris, is nothing new to Riponians. If water flows through the bedrock fast enough, gypsum dissolves 100 times faster than limestone and greatly increases the risk of collapse of the ground above. Close to the River Ure, for example, a garage was swallowed up in 1997 by a hole six metres deep. In the previous century, a collapse in that same area resulted in a hole twenty metres deep. That one and others would certainly have been known to the author of Alice in Wonderland.
The father of Charles Lutwidge Dodgson, better known as Lewis Carroll, was at one time a canon of Ripon Cathedral and his family, who stayed at the nearby Old Hall, would have seen at first hand the destruction caused by sudden and dramatic collapses. Alice's long fall down a deep hole at the beginning of the story really can be seen as the stuff of nightmares!
On a more cheerful note, visitors to Ripon Cathedral can still view medieval carvings with which the author must have been familiar. On the misericords behind the choir stalls, one of these shows a griffon hunting one unfortunate rabbit while another seeks refuge down a hole. Did they, together with the sinkholes, inspire Lewis Carroll to write his famous story? I suppose we shall never know for sure, but we Riponians, whether by birth or adoption, like to think so.
28 February, 2014 - Make the first comment on this story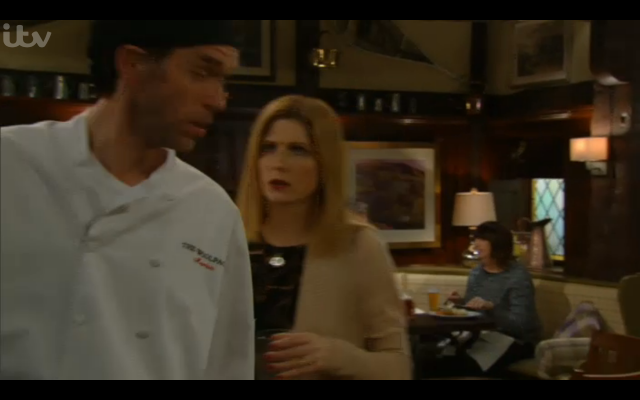 A recently screened episode of Emmerdale included an attempt by barmaid Bernice (Samantha Giles) to get rid of the huge number of sausages she'd ordered in a failed attempt to win over a handsome local supplier.
It was, therefore, no coincidence that I was served a large Cumberland sausage and a dollop of mash to enjoy with my drink in the Woolpack.  Freshly cooked and appetising, it posed no problem to my dining partner, and even inspired envy in the other extra who was directed to join us. (It's a shame that you can't see either of them in the screenshot.)
However, it's been many a long day since I ate meat and I also loathe mashed potatoes. So, I reluctantly poked at the sausage and pushed the mash around the plate. Urged by my partner to make it more convincing, I actually raised a forkful of mash to my lips but, especially as it had been in contact with the dreaded sausage, allowed it no further. If only I'd been able to hand the whole plateful over to the chap who would have enjoyed it (!), but it's not the place of an extra to improvise. We did several takes and my performance, such as it was, aroused no criticism from the powers that be, so I assumed that it had passed muster.
What goes around comes around, as they say. I'm not allowed to divulge forthcoming story lines, of course, but what I can tell you is that I took part in a scene this week that involved a plate of delicious cakes. Just about to choose one and sink my teeth into it, I was whisked away to sit elsewhere with nothing but a mug of lukewarm coffee in front of me. Nemesis, perhaps?
2 February, 2014 - There are 4 comments on this story
Curious to see what would happen if I offered one of my eBooks as a freebie over the weekend, I was delighted with the uptake by readers in most parts of the Amazon network.
For those of you unsure of how many areas said network covers, here is a list in the order in which they appear on the Amazon Kindle Direct Publishing website: Amazon.com, Amazon.co.uk, Amazon.de, Amazon.fr, Amazon.es, Amazon.it, Amazon.co.jp, Amazon.in, Amazon.ca, Amazon .br, Amazon.mx and Amazon.au.
The only countries from which there was no response were Japan, Mexico and India, which is disappointing. Could it be that no one over there enjoys murder stories? Somehow, I rather doubt that and think it more likely that the free offer was never brought to the attention of the millions who speak and/or are studying English. I'd be very grateful for any advice about how to interest them in my current books and those in the pipeline.
29 January, 2014 - There are 2 comments on this story
This was the theme at Ripon Writers' Group this week and I found that I had plenty to be glad about. Below is a random selection: 
After a couple of years of drama, disappointments and upheaval, our elder son is now happily settled in York. I shall miss my visits to Bath, but that is more than compensated for by having him much closer at hand – and not just to solve my technical problems!
Our twelve year old ex-feral cats have just been for their annual jabs and been given a clean bill of health. The vet weighed them and, once he'd navigated his way through all the fur, assured us that Tom – three times the size of his sister Tabitha -  really isn't overweight. He's just a BIG cat.
The Smartphone I was given for my birthday last month is gradually becoming less of a mystery. I still don't understand all its functions by a long chalk, but at least I can send and receive coherent messages (since I was shown how to turn off predictive texting), get onto gmail and Facebook, take photographs and – oh yes – even make calls. (My trusty old phone was confiscated to stop me from giving up on the new one at the first hurdle and going back to it.)
I'm still several years younger than Mary Wesley was when she had her first novel published and became 'an overnight success', so I can continue to live in hope.
Sales of the eBooks I brought out last year have inevitably begun to dwindle, but The Little Ripon Bookshop is now stocking copies of the paperback.
It's good to see RWG in the safe hands of a new committee, which has given me more time to pursue my own writing. I'm working on several new projects and hope to bring them to completion before the end of the year. Watch this space!
I've been given a whiteboard for my study and I'm finding it very useful. Gone are the days of jotting down notes on the backs of envelopes and promptly losing them.
My Scrabble rating on Facebook has gone up to 3rd amongst my dozen or so regular opponents. Playing regularly has certainly increased my vocabulary, although I still shake my head at some of the words that are allowed in the on line version.
The Spanish 'self help' group I joined when it first began continues to flourish and Thursday mornings have become a high spot of my week.
I've given up swimming, which I've always loathed but convinced myself was good for me. After years of crawling reluctantly out of bed on dark mornings and waiting outside the Ripon Spa Baths for the doors to open at 7 a.m., I now snuggle happily under our duvet until I actually want to get up. Emmerdale days are the exception to that, but then working in the studios or out at the village is something that I still enjoy.
22 January, 2014 - There are 2 comments on this story
Check Out My eBooks
Blog Categories
Links
Live From Twitter