Hello, and thank you for visiting my site. I hope that you'll return often and always find something of interest about my world and what inspires me to pick up a pen. (This is a figure of speech, unfortunately. My handwriting is terrible!) Here's what I've been up to recently...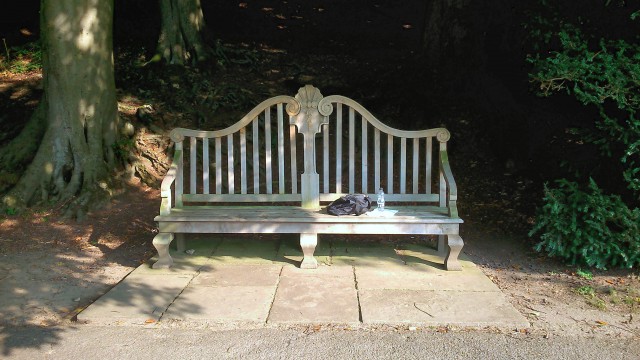 Where have the last couple of months gone? It seems only last week that I was having tea on the lawn with my Swanwick friends and visiting York Maze before the maize was harvested. Now we're in mid-October.There's a lot to be said for this time of year, especially when living in a glorious part of the world like North Yorkshire. I consider myself particularly fortunate to have Fountains Abbey/Studley Royal on the doorstep. When Antonia Hodgson was researching her novel A Death At Fountains Abbey, she had to rent a cottage. I live a four mile drive away – less if I choose to walk and cut through the fields – and have my favourite bench. There is nowhere better to sit, pen in hand, when wrestling with a tricky piece of writing.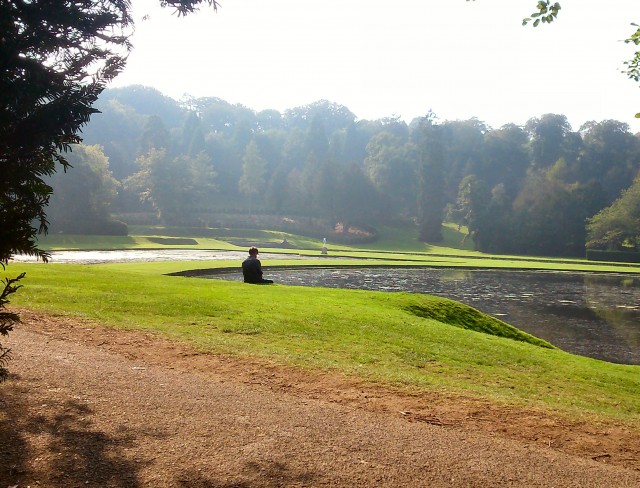 The trees had just started to turn when another solitary soul and I took up temporary residence by the Moon Pond in the Water Gardens. By now the autumn foliage will be glorious and I plan to return very soon.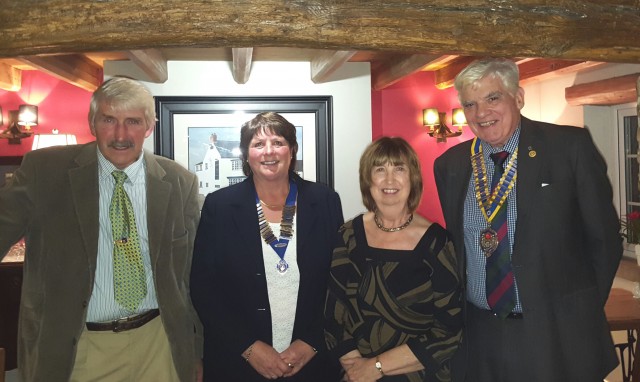 Different aspects of my life came together when I was asked to speak to the Rotary Club of Ripon Rowels about what makes working as a television/film extra an ideal job for a writer. The answer to that question is twofold; the inspiration I get from all the interesting people I meet and plenty of time to write during the long hours waiting to be called onto the set.
In common with many writers known to me, I find promoting my books harder work than writing them in the first place. However, last Sunday I was doing just that at the Ryedale Book Festival in Malton.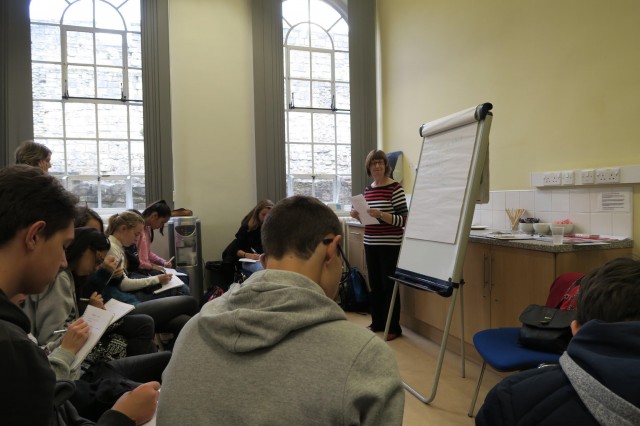 Another aspect of a writer's life can – and maybe should – be passing on expertise to others. I've run workshops for adults before but this creative writing session for visiting French pupils was the first time for many years that I've taken on a group of teenagers. I'm very happy to report that they were a great bunch of young people and everything went swimmingly!
13 October, 2016 - Make the first comment on this story
As soon as August comes round, it's time to start packing! The Writers' Summer School has just chalked up its 68th year at The Hayes Conference Centre in Swanwick, Derbyshire.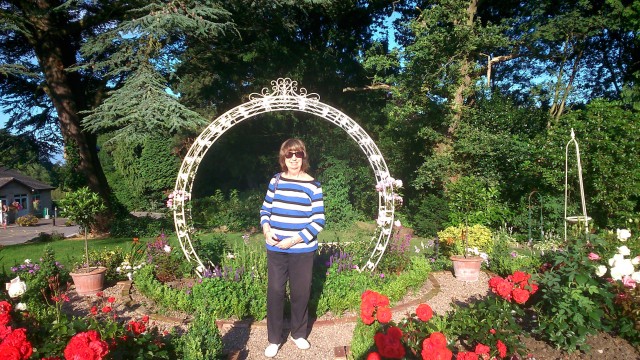 I arrived on a sunny afternoon to find the gardens looking even more magnificent than ever. This former gentleman's residence hosts conferences all year round, although I doubt if many make such enthusiastic use of the bar as do 200+ writers!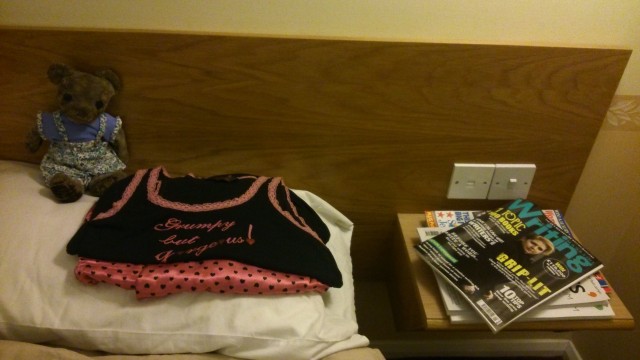 My room in Lakeside was very comfortable with all mod cons.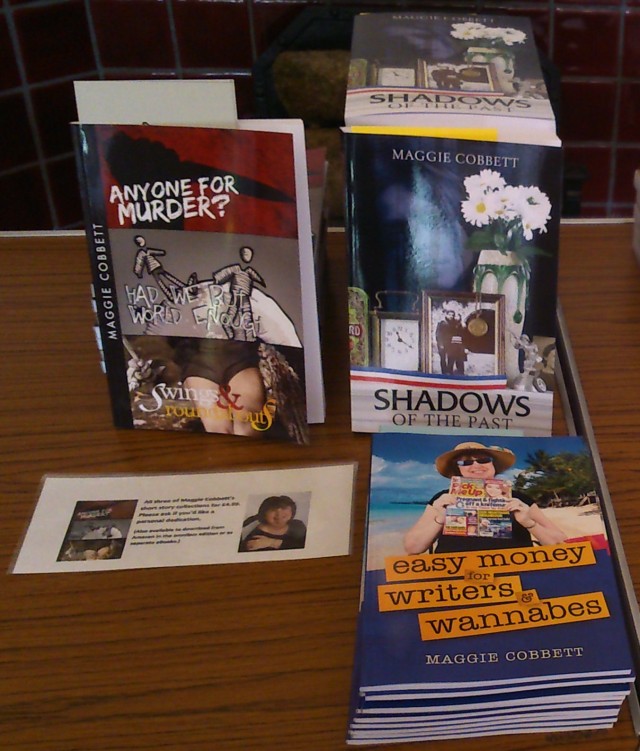 Having gone down a day early with one of the committee members, I pitched in where I could and spent a lot of time helping to set up the Book Shop. It filled up rapidly as delegates arrived and logging everything in wasn't as easy as I'd thought. I was very happy to hand over to more experienced volunteers, whose team leader was unable to attend this year.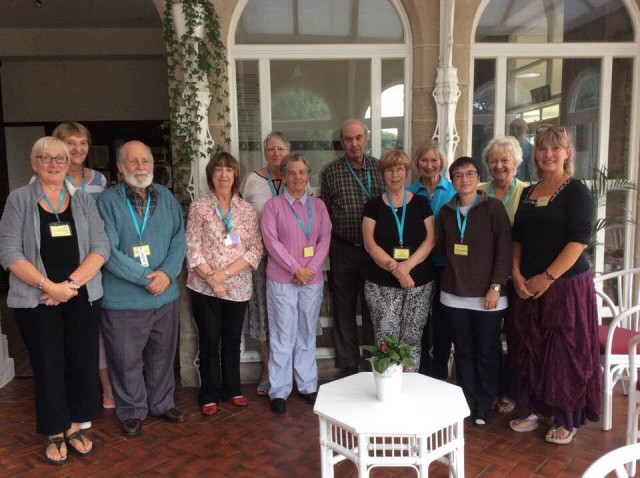 My efforts did qualify me for the photo call later in the week, though.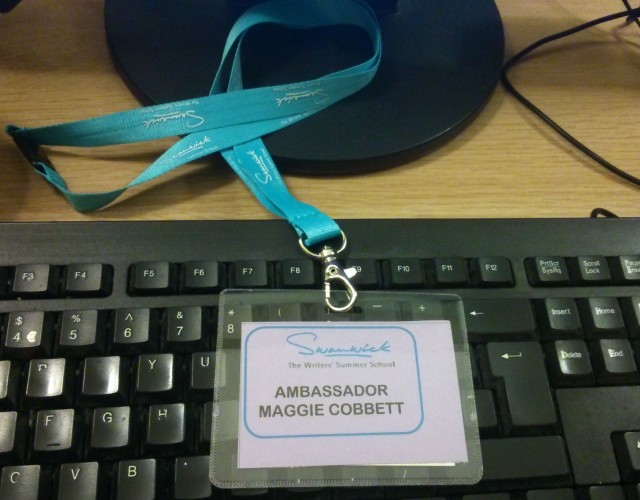 Another thing that I was very happy to do was to join the team of Swanwick Ambassadors again this year. Our role is to help new Swanwickers find their feet, firstly through the 'White Badgers' Reception' and then by hosting  special tables at the first evening's dinner. This gives them the opportunity to ask anything they like and to get to know us and each other. I'd have been very grateful for such a scheme when I made my first appearance in 2006. Not a shrinking violet by any means, I still found facing a sea of strange faces and not knowing where to sit quite daunting.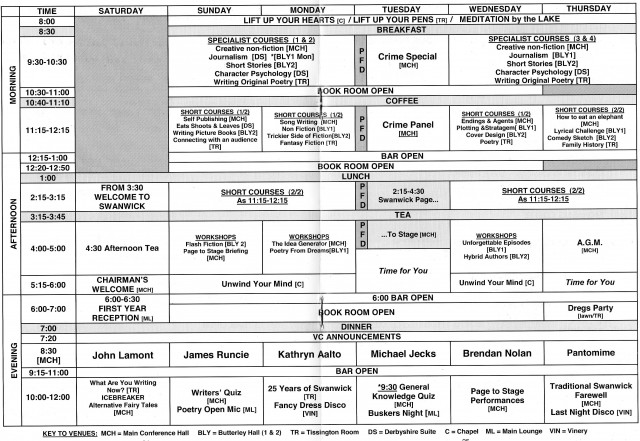 So much socialising goes on that it's easy to forget at times that we – most of us, at any rate – are here to work, but the choice of specialist courses was as wide as ever. I don't rush around as much as I did the first couple of years, but I enjoyed learning more about writing short stories (Linda Lewis), flash fiction (Veronica Bright), plotting and stratagem (Michael Jecks) and the trickier side of fiction (Sue Moorcroft). I also took part in the 'procrastination free' sessions offered in the middle of the week – voluntary incarceration in one of the lecture rooms with nothing to do but get on with my next project. My own contribution to the programme this year was a modest one. I ran a one hour session on the Wednesday afternoon. It focussed on turning an unforgettable episode into a novel, using the development of my own Shadows of the Past as a starting point.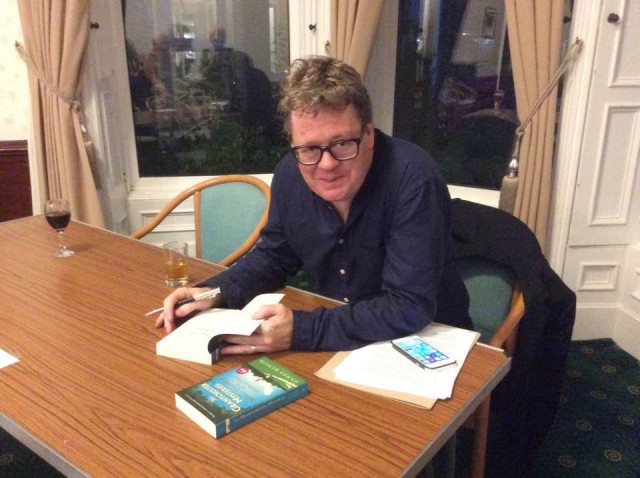 The evenings saw speakers – John Lamont, James Runcie (pictured above), Kathryn Aalto, Michael Jecks and Brendan Nolan – followed by a variety of activities to suit most tastes.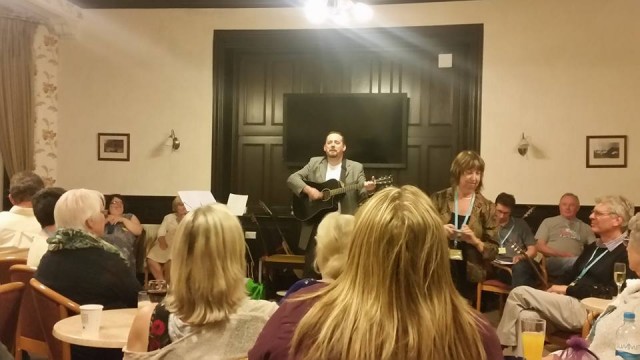 There were discussions, quizzes, drama improvisations, discos, poetry open mic and Mark Iveson's very popular buskers' evening. I'm no singer, but I took a few photos on Mark's behalf whilst he was performing. None of the entertainment was compulsory, of course, but the Swanwickers who chose to perform did an excellent job and the fancy dress disco was a sight for sore eyes.
My own costume was rather a last minute thought and came from an excellent local shop called Jolly Jesters. As the theme of the disco was Heroes and Villains, I thought Lady Macbeth quite appropriate!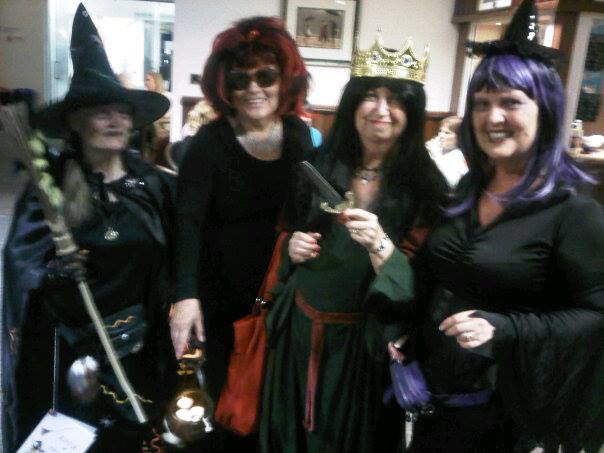 Macbeth himself wasn't present, but it didn't take long to find the three witches!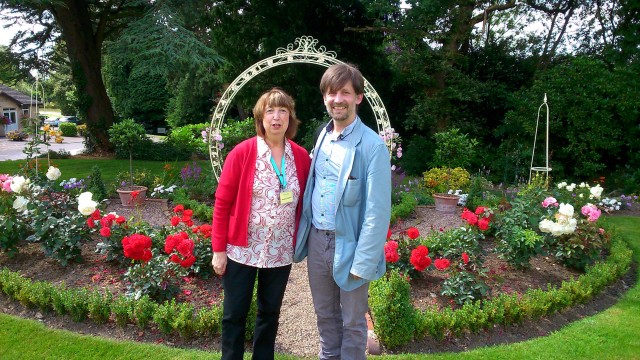 As a long term subscriber to Writing Magazine/Writers' News, I always enjoy catching up with editor Jonathan Telfer and his team.
It's often said of Swanwick that it rises through the mists like Brigadoon and then disappears for another year. All too soon, it was time for the AGM, Dregs Party on the lawn and final dinner. A good time had definitely been had by all, even before the hilarious Battle of Writer's Block which preceded the singing of Auld Lang Syne. With Simon Hall aka The TV Detective in the lead as a desperate author plagued by doubt, his glamorous granny and a scheming agent, how could it fail to bring the house down? Backed up by a multi-talented group of actors, singers and musicians, it was certainly a show to remember.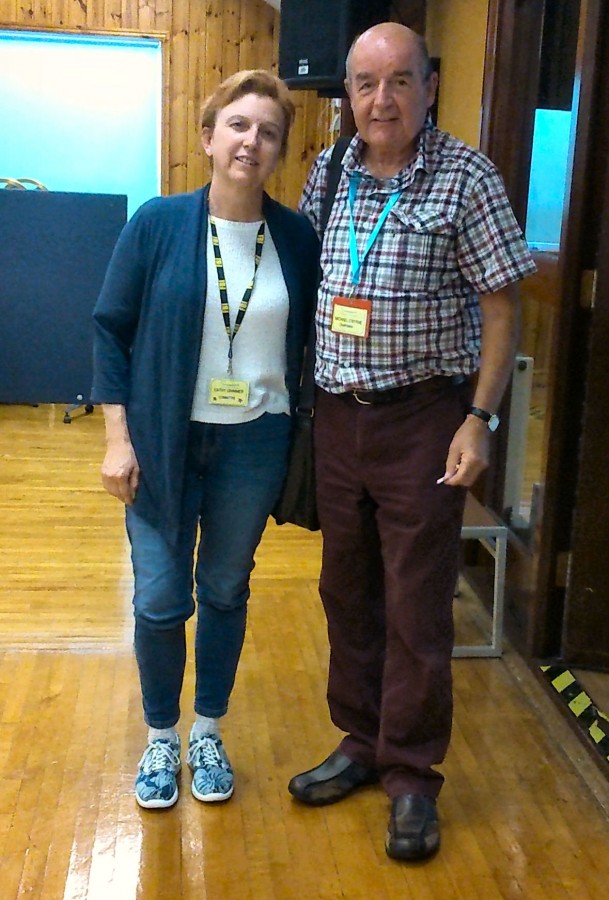 All I can say in conclusion is ROLL ON NEXT YEAR.  The new committee, chaired by fellow Ripon Writers' group member Cathy Grimmer, (seen above with outgoing chairman Michael O'Byrne), is already at work to make sure that the programme is at least as good and maybe even better than this year's has been.
Swanwick 2017 will run from 12th to 17th August, with bookings open in the New Year.
14 August, 2016 - There are 2 comments on this story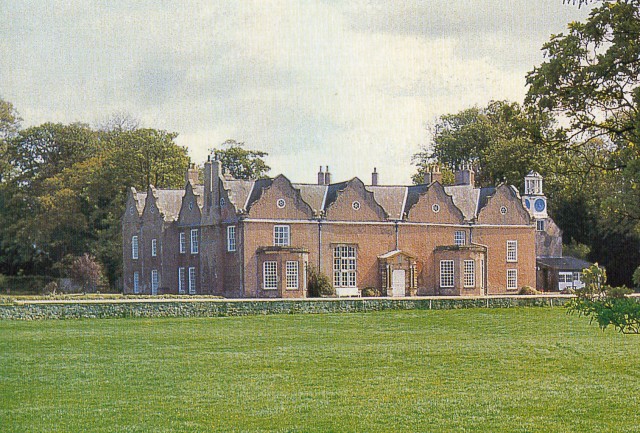 I first read Jane Eyre when I was twelve years old and wished for a long time that I hadn't. However, my nightmares about the criminally insane Bertha prowling around while the rest of the household slept faded eventually and allowed me to appreciate the story as a whole. If I discount the improbable coincidence of Jane's flight from Thornfield landing her on the doorstep of previously unknown cousins, this is my favourite Brontë novel. That is why I jumped at the opportunity last week to tour the 'gentleman's residence' believed to have been at least in part the model for Mr Rochester's house. Norton Conyers has been owned by the Graham family almost continuously since 1624 and Charlotte, who paid a visit in 1839, would certainly have been told the legend of Mad Mary, an unfortunate relative confined to an attic during the previous century.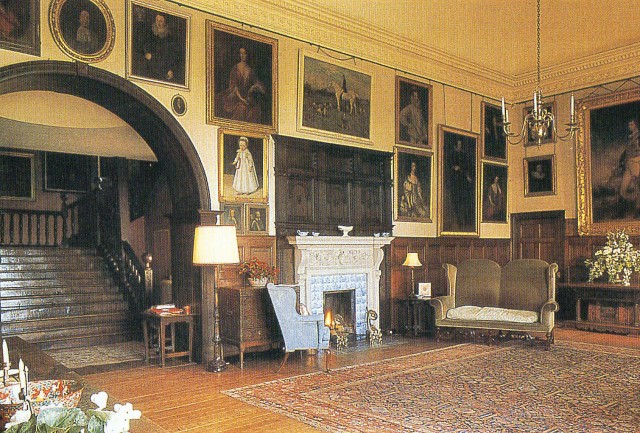 The discovery of a major infestation of death watch beetle led to this 'gentleman's manor house' being closed to the public for many years. On the day of my visit, Sir James, the 11th baronet, and Lady Graham gathered us all together in the hall (shown above) for a talk on the repair and restoration programme. They even handed round specimens of the offending insects – in plastic boxes, I'm glad to say – and fragments of wood that they had chewed. Disappointment was to follow when we were told that the fragility of the floors had put the attics out of bounds to visitors. The most we were allowed was a glimpse through a door on the gloomy first floor landing of a narrow staircase leading up to what had been the servants' sleeping quarters. In use when Charlotte visited, it had been blocked up and its rediscovery in 2004 sparked interest worldwide. A photograph on display in the hall showed a sparsely furnished and cheerless garret at the very far end of the attic floor.
There was plenty more to see, including fine furniture, pictures, porcelain, 16th century painted boards and rare examples of 18th century wallpaper but, even on a fine summer's day, I found the general atmosphere of the place oppressive. Standing on the landing and again in the dark panelled King James bedroom – while still Duke of York, the future James II and his wife are supposed to have spent one November night at Norton Conyers in 1679 – it wasn't hard for me to imagine how sinister the house would have seemed without benefit of electric lighting. I was very glad to emerge into the sunshine and gather my thoughts in the glorious walled garden.
20 July, 2016 - Make the first comment on this story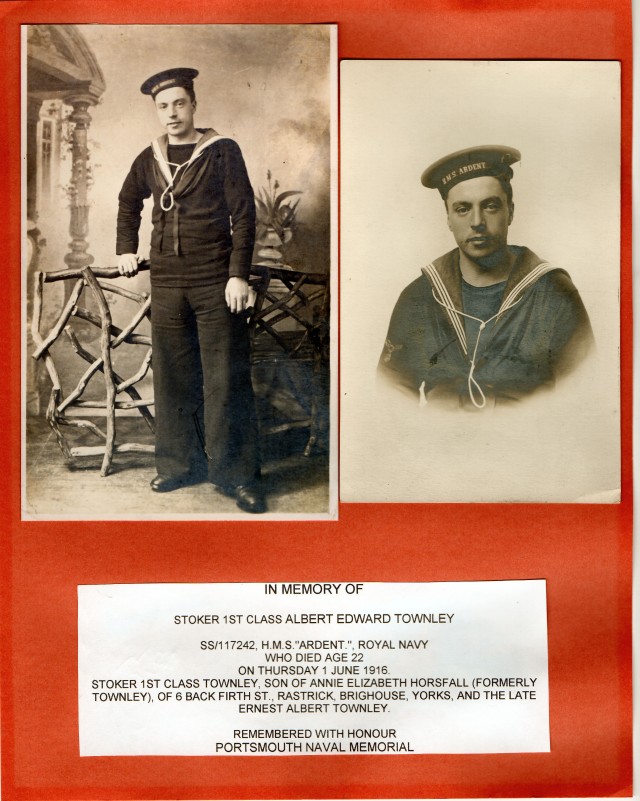 My maternal grandmother was luckier than many women of her generation in that only one of her sons lost his life during the Great War. All the same, she nearly went out of her mind when the sad news arrived about her first born and she never really recovered from it. According to my mother, who was only nine at the time, she grieved for Albert for the rest of her life and never ceased to blame Admiral Sir John Jellicoe for his death and that of so many other British sailors.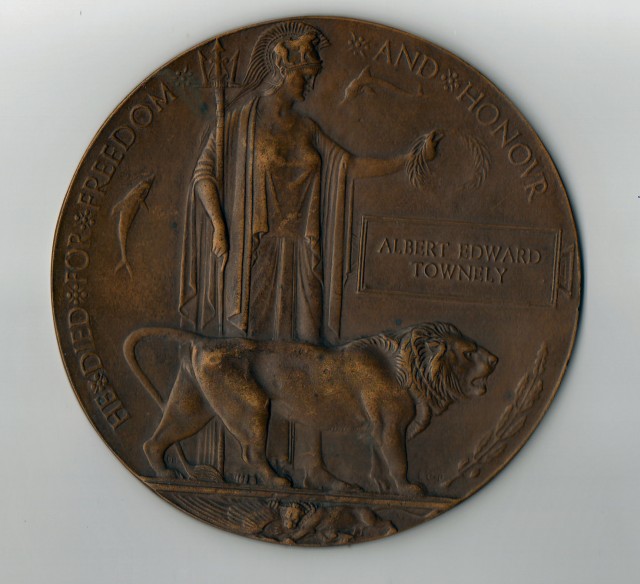 The fact that his surname was misspelled on the bronze plaque she received afterwards only served to add insult to injury and it's a wonder that she kept it. Many families threw their 'Dead Man's Penny' away in disgust. However, both it and the memory of Albert have been passed down the family and will continue to be so. His name is included on the war memorial in Brighouse, the King's Book of York Heroes, which can be seen in the crypt of the Minster, and also on the Portsmouth Naval Memorial.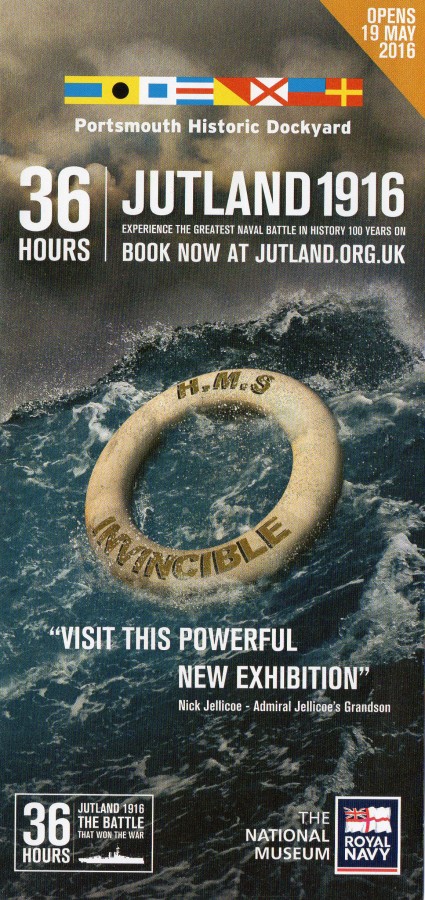 I set off for the centenary exhibition knowing that I would be deeply moved by the suffering of the thousands of men and boys killed and injured during the biggest and bloodiest battle in naval history. Just like my grandmother, I would find myself in tears wondering whether Albert had been blown up on board his ship or drowned in the North Sea. What I didn't expect to feel was sympathy for Admiral Jellicoe and Vice Admiral Sir David Beatty. Much has been written since about their tactical mistakes and willingness to sacrifice safety for speed, but hindsight is a wonderful thing. It's only fair to remember that this was the first major battle at sea since Nelson's victory at Trafalgar. In 1916, the ships were much further apart and yet signalling was still largely done with flags and lamps.  During the film shows, which had commentary from serving crews played over original footage, it became clear that mist and then the smoke of battle made it very difficult for much of the time to see what was going on.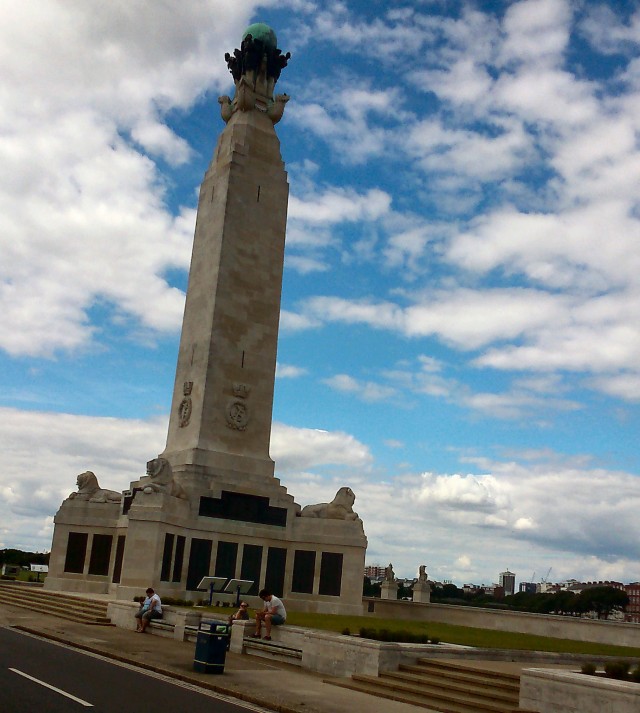 It was dull and very windy by the time I made my way to the memorial and I apologise for the poor quality of the photograph.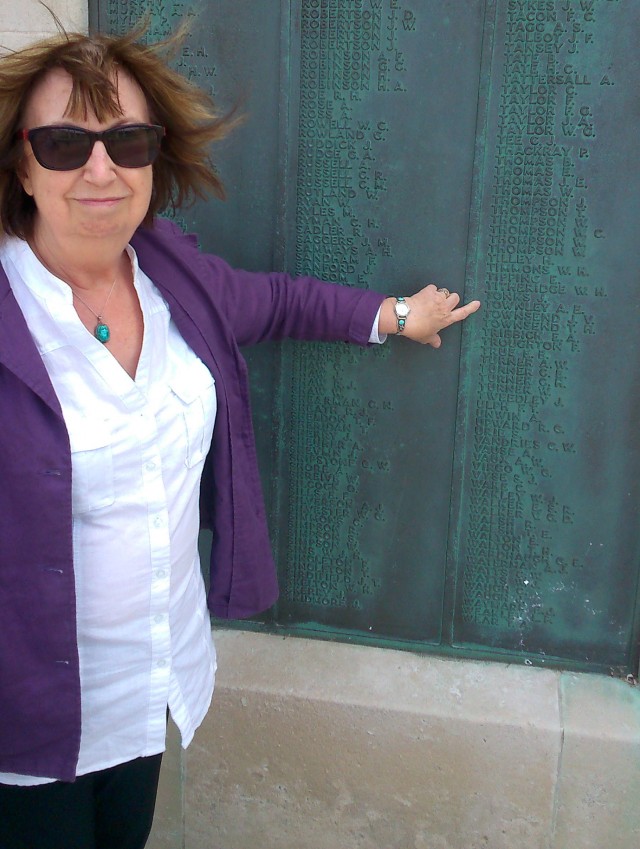 Touching Albert's name amongst those of around 10 000 sailors lost during WW1 was a very poignant moment. My grandmother would have been pleased to know that, here at least, his surname is spelled correctly.
At best, the Battle of Jutland was a draw. The British lost far more men and ships, but the German High Seas Fleet never again challenged the Royal Navy in the North Sea. I hope that my poor grandmother derived a little comfort from that.
15 July, 2016 - Make the first comment on this story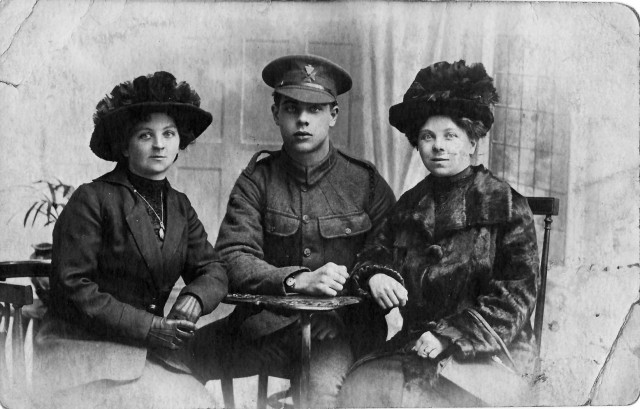 Who could fail to be moved by today's commemoration of the Battle of the Somme? Watching the coverage from the Thiepval memorial, I was blinking back tears and it seemed to me at one point that Prince Harry was doing the same. Maybe he just had something in his eye? I'll never know, of course, but how could he or anyone else present fail to be moved? Added to the million men killed or wounded in this bloodiest of battles were countless civilians who also suffered, including a whole generation of women left to carry on alone. One such was my music teacher, Miss Maud Denby, to whose home I trudged once a week for lessons. A faded photograph of the fiancé she had lost, forever young, stood in pride of place on the piano.
My Uncle George, pictured above on his wedding day, was one of the 'lucky' ones who survived to tell the tale. Having lied about his age, as so many eager youngsters did, he found himself in France at the age of sixteen. Family legend has it that his father interceded and had him brought home. Having experienced the horrors of trench warfare at first hand, Uncle George was apparently far less keen to go back when he was conscripted two years later. He had to, though, having first insisted on marrying his sweetheart Louie.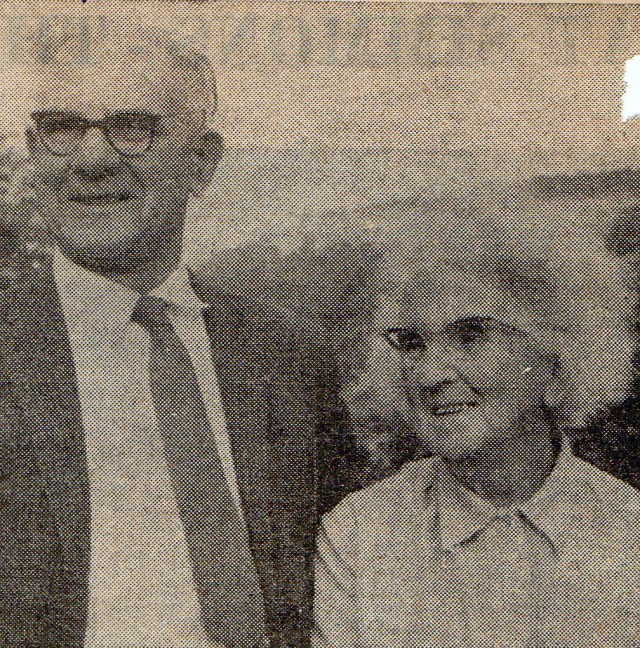 Injured by a piece of shrapnel that left him with a deep groove in the side of his chest and a useless right arm, he lived into his nineties and had many a tale to tell about his wartime experiences. The cutting above shows him with Louie on their Golden Wedding day.

Less fortunate was the young husband of one of my great-aunts, seen above posing with a Lewis gun shortly before being sent to the front. David Robert Davidson's name is inscribed on the Thiepval Memorial. Sent up from a London workhouse in the early 1900s to toil on the Yorkshire coalface as a pit boy, he later married a widow ten years his senior to provide some security in the shape of his army pension for her and her three small daughters. Killed at the age of twenty-one and only a few months after their marriage, he will always be honoured by our family. I have written about David before, and you can read more about him by scrolling through my website to the post I wrote on Remembrance Day 1914.
In conclusion, I should just like to add how grateful I am that my own two boys were born at a time when conscription was a thing of the past. We once went to Albert in northern France to see the remains of the trenches and none of us could believe how close together the British and German front lines had been. Also hard to take were the ages on the thousands of headstones in the war cemeteries. Old men have always sent young men into battle and, a hundred years later, I have to wonder anew, 'When will we ever learn?"
1 July, 2016 - Make the first comment on this story
I'm delighted to have the Star Letter in the latest issue of Writing Magazine (June 2016), because it was inspired by one of my favourite pursuits and I enjoyed the research that followed this particular find. As a regular browser in libraries and second hand bookshops, I've come across all kinds of weird and wonderful things being used as bookmarks. The odd five pound note is a welcome discovery; a withered slice of bacon not so much. Not many have intrigued me as much as an airmail letter penned almost fifty years ago by a poet and playwright few may have heard of these days.
The hardest thing was to decipher his writing, particularly his surname, but all went well as soon as I'd achieved that. Men by the name of Robert Brady are certainly not in short supply on the Internet, but I only found one Robert K Brady to fit the bill. Head of the British Council in Colombo, Ceylon (the present day Sri Lanka) in the 1960s, Robert KILIAN Brady had already seen his poetry published by the Fortune Press, whose other writers included Philip Larkin and Dylan Thomas.
As he was stationed in Malta throughout World War Two, it is hardly surprising that death is a recurring theme in R.K.Brady's poetry. The following extract from a piece written in St Paul's Bay in 1940 has stuck in my mind.
The long white finger
Of searchlights points the way where danger lies;
And still they linger –
The sea, the foe, the skies!
Also to his credit is a 1948 collection entitled Pulp in Bosnia, which went into three editions.

There is no mention of his poetry in the friendly letter written to a Miss Elizabeth White of Belsize Park  in 1967. He does tell her, however, that he has written a play about Mary Queen of Scots and that it has gone down well with local amateur groups. I was able to discover that Mary Stewart went into five editions.
If anyone connected with R.K.Brady or Miss White happens to come across this posting and gets in touch with me, I'll be more than happy to forward this sample of what may have been a regular correspondence. Had it contained anything potentially embarrassing, I should not, of course have exploited it. A prolific writer of letters myself before the arrival of email, I do wonder how many of my own may be out there to discover! If any do turn up, I can only hope that the finders will be equally discreet. Which of us hasn't penned letters we later regret, whether out of anger or passion, sometimes both?
1 May, 2016 - There is one comment on this story
Check Out My eBooks
Blog Categories
Links
Live From Twitter