Hello, and thank you for visiting my site. I hope that you'll return often and always find something of interest about my world and what inspires me to pick up a pen. (This is a figure of speech, unfortunately. My handwriting is terrible!) Here's what I've been up to recently...

The evening started so well! Thanks to the power of Sat Nav, finding the venue – the Drax Sports & Social Club – in daylight was a breeze. Well, it was apart from discovering that the post code we'd been given was the same as the one for the adjacent power station. However, common sense prevailed and we soon found ourselves tapping our feet to that irresistible salsa beat. The Humba Rumba team and Mambo con Rumbo combined to make it a night to remember. Many of our friends from Strictly Salsa and the Wetherby Engine Shed were there and we danced our socks off.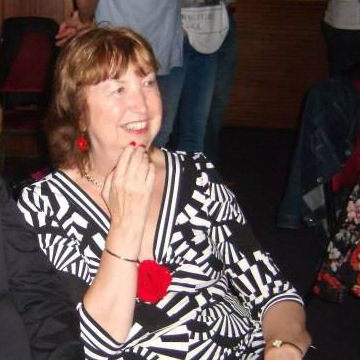 Sweaty conditions are inevitable on such a crowded dance floor and frequent trips to the bar are a necessity. That said, salseros aren't a very boozy bunch – everyone wants to get the complicated footwork and general styling right – and my tipple of choice on dance nights is J20, the orange and passion fruit variety.
Thank goodness for that! The return journey was in the dark, of course, and somewhere on the outskirts of York I missed a right hand turning. The Sat Nav recalibrated itself, but I started to lose the plot. The instructions always seemed to come slightly too late – or way too early – for me to grasp exactly which turning the bland voice intended me to take or, indeed, to identify it in time. So it was that, after much dithering, I was very grateful to find myself at last on familiar ground. The traffic lights at the end of Nunnery Lane were red and, as I pulled up, I became aware of another light, blue and flashing, behind me.
'Just an ambulance,' I remarked to my companion. 'I wonder why it isn't overtaking.' The answer came when my door was suddenly wrenched open and I was ordered to switch off the engine, hand over my keys and get out of the car. It was a fair cop. The young policeman informed me that the erratic nature of my driving had caught his attention and I could well see why. At that time on a Saturday night, far too many drivers lurch out of pubs and clubs and set off for home in their cars.
I told him truthfully that I'd consumed only soft drinks all evening and I think he was disposed to believe me, but nevertheless a breathalyser was produced and I blew into it as hard as I could. Result ZERO. His manner had been polite and pleasant all along and became even more so after that. Pausing only to ask me where I was heading and seek advice on the best route for me from his partner, a female officer called Jo, he sent me on my way.
It could all have been so different if I had been drinking alcohol and I'm very grateful to my father (a driving instructor) who made me promise never to consume as much as a wine gum before sitting behind the wheel of any motor vehicle. Thanks, Dad!
As a writer, I treasure every experience, and I suspect that a character in one of my short stories will soon be undergoing something very similar. Whether it turns out well or badly will remain to be seen!
22 September, 2014 - There is one comment on this story
If there's anything more useful than belonging to one writers' group, it's belonging to two. Double the inspiration, double the friendship and double the networking opportunities!
As a long standing member of Ripon Writers' Group, I retired to the back benches last year after nine years in various roles on the committee. I'm still finding my feet in York Writers, but I like what I've seen so far. The two groups have similar aims – to encourage and improve writing in all its forms – but different ways of going about it. Therein lies the interest.
As a spin off from my regular trips to York, I also sometimes take part in The Speakers' Corner, held on the second Wednesday evening of each month at the Golden Ball on Cromwell Road. There's generally a guest performer – this month it was Teeside writer and folk singer Sarah Dennis – and then the floor is open to anyone who wishes to sign up for a slot.  Depending on the numbers attending, the five minute limit for each contribution is flexible and sometimes there's the opportunity for a second round.
As well as being a regular attender at meetings in Ripon and York, I enjoy visiting other writers' groups from time to time – as an adjudicator, to give a talk or simply as a guest. Please let me know if you'd like me to visit yours!
20 September, 2014 - Make the first comment on this story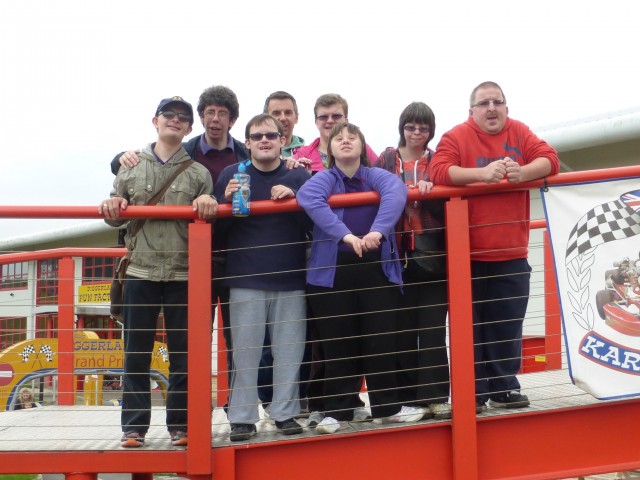 Today was divided into two very different sections, the first of which was complete joy. In my role as committee member of the Ripon Activity Project (RAP), I accompanied a large group to Diggerland on the outskirts of Castleford. The slogan 'Muddy Good Fun' is, I think, a very apt one and the faces of the members enticed out of the restaurant to have their photograph taken say it all.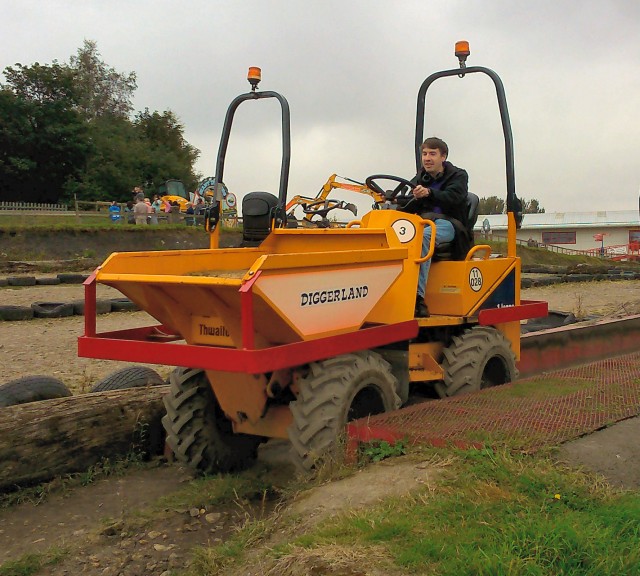 Fortunately, the day was a mild and dry one, so the fun was only as muddy as everyone cared to make it, but the opportunity to drive full sized equipment was eagerly seized upon.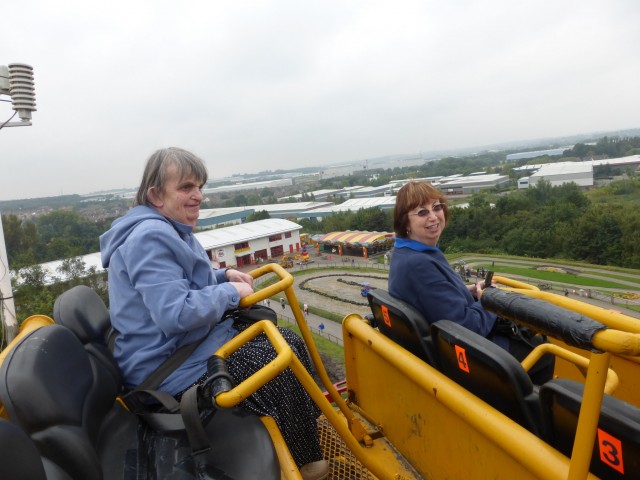 The less agile (or intrepid) amongst us could go up in the Sky Shuttle and view the proceedings from above!
Having waved off the rest of our group and, as it was only a few miles away, I took the opportunity to drive over to St Peter's in Hartshead. It has wonderful views over the West Yorkshire countryside, parts of it date back to Norman times and it has connections with Chartists, Luddites, the Brontes and even Robin Hood. However, that's not why I wanted to visit that little church.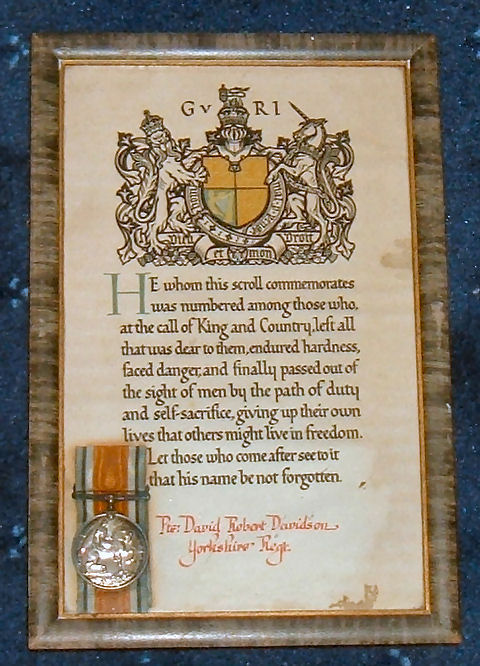 In 1916, a war widow aged 30 walked down that path to her second wedding. The bridegroom was David Robert Davidson, a local man ten years her junior, who wanted her to have the right to his army pension, should he also not survive. That was his way of looking after the family – for there were also three little daughters – of James Barker Burrows, who had been his friend.  Little is known about David's earlier life, but it appears that he had been a workhouse child, separated from his brother and sister and sent north to work in the mines. The marriage was to be a very short one, as David was killed in action in 1917. He's commemorated on the Arras memorial and also remembered now amongst the men of Hartshead who marched off to the Great War. His bride was my Great-Aunt Cissie.
In 1919, she and her daughters went across to the USA to join family members in Ohio and later moved to California, but they took David's photograph and medal with them and always remembered him with great affection. (As far as I can ascertain, he is the young soldier on the right hand side of the photograph behind the Lewis gun.) On the death of the last of that generation, both items returned to the UK and they are being kept as a sacred trust by one of my cousins until – if ever – a blood relative of David's come forward to claim them.

I wrote up this part of my family history for Down Your Way magazine and it appeared in the issue dated March 2011, but I'm very well aware that there are details missing and hope very much one day to be able to fill in the gaps.
13 September, 2014 - Make the first comment on this story
The last course I attended this year was Robin de Jongh's session on Online eBook Marketing, from which I learnt the importance of aiming for a niche. Robin stressed that, with the ever increasing number of books and websites appearing each year, the road to success involves a careful study of the potential audience as well as the competition. I can well believe that, as my only non-fiction book so far, Easy Money For Writers And Wannabes, continues to outsell any of my short story collections. At the AGM, it was good to see two of my friends enjoying success. Cathy Grimmer of Ripon Writers' Group was elected to the 2015 committee and Julia Pattison won the raffle for a free place at Swanwick next year. Hearty congratulations to both ladies!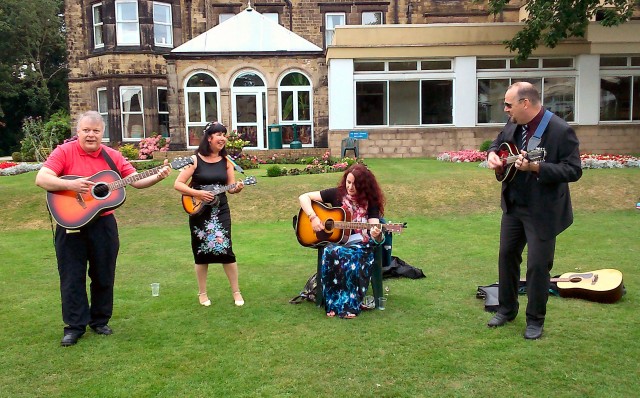 The traditional Dregs Party (an opportunity to contribute any drinks and snacks bought but not consumed during the week) took place on the lawn and was enlivened by a final performance by some of our Swanwick buskers.

No musician myself, I'm a great admirer of those who can play and sing, so you might be able to pick me out in the middle of the audience. Shortly afterwards, we all piled into the bar and then dinner to fortify ourselves (yet again!) for the evening ahead.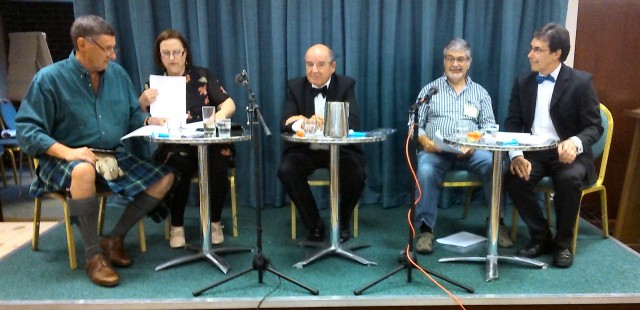 I should have known that we weren't in for a serious attempt at 'I'm sorry, I haven't a clue' when everyone in the audience was handed a kazoo. No show would be complete without musical numbers, but the panellists' faces when confronted by our renditions of The William Tell Overture and the theme tune from EastEnders were a sight to behold. From left to right, John Lamont, Lesley Deschner, Michael O'Byrne, Mike Berry and Phil Collins did their best against a background of rising hysteria.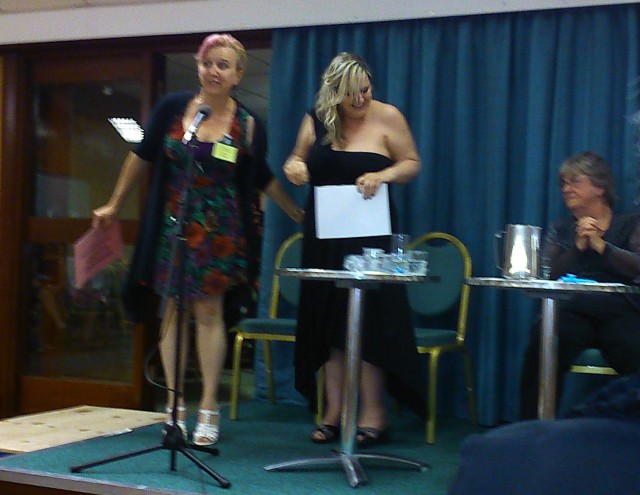 Cathy Grimmer was overwhelmed to have been voted Best Actress for her performance in 'Requiem', her own play, but the honour was very well deserved. Phil Collins won the Best Play award for the third year running. Will anyone beat him in 2015, I wonder! John Lamont – the handsome chap in the kilt (for those of my readers who don't know him) – led us in the singing of Auld Lang Syne and then it was off to the bar for a few farewell drinks before packing and bed. I can't believe it's all over for another year but look forward to keeping in touch with everyone until we reassemble next summer. Swanwick 2015 will take place from 8th to 14th August and it can't come soon enough for me!
15 August, 2014 - There are 2 comments on this story
By the middle of each Swanwick week, the late nights and early mornings start to catch up with me and this year has been no exception. However, Tuesday is traditionally a more relaxing day. There used to be an organised outing, but in recent years we've tended to 'do our own thing' and take the opportunity to explore some of the nearby National Trust properties. However, a full day out wasn't possible this year if I was to attend the Derbyshire Police Forensics Team's presentation.
This, once some technical hitches were sorted out, was well worth the sacrifice. Yet to serve on a jury (except as an extra on Emmerdale), I was relieved to learn from Jim Smith, ACSI Manager Forensic Investigation Unit of the Derbyshire Constabulary, that the police now have at their disposal a software package designed to spare jurors from gruelling photographic images while still giving them all the necessary facts. What was shown was horrific enough, though, and I take my hat off to people who can calmly investigate murder scenes, especially the very gory ones and those where the body has been lying around for a long time.
Time being limited, we spent a couple of hours at Denby Pottery in the afternoon and I'd very much like to go again with a few more hours at my disposal. As well as shopping opportunities, there are craft room and factory tours on offer, a cosy restaurant and 'Pottery Beach', where children can play in the sand and enjoy music and other entertainment. (There are even deckchairs for their weary parents!) However, an invitation to Joy and Shirley's party beckoned and very convivial it was too. We were unaware then of a disaster brewing in a Lakeside bedroom close by. Suffice it to say that trying to cram in too many guests for a private drinks party can lead to trouble. The gentleman in whose room the incident occurred was later to immortalise the event in song: The Man Who Broke The Bed In Swanwick Lakeside and hopes that it might add to his manly reputation!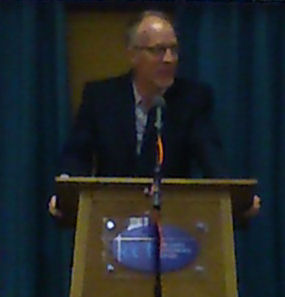 Our evening speaker, crime writer and TV reporter Simon Hall brought the house down with some of his anecdotes. I particularly enjoyed the one about an outside broadcast on road kill, where Simon found himself having to use the hand dryer of a Little Chef to defrost a frozen otter, much to the horror of the manager.
Buskers' Night, once again organised by Mark Iveson, was a real showcase of Swanwick talent with both well seasoned and new performers giving it their all.  One of the latter group was fellow Ripon Writers' Group member Cathy Grimmer, whose unaccompanied rendition of  'Somewhere that's green' from Little Shop of Horrors and her own parody 'Glad to be Grey' was very well received. I'm sure that the event could have gone on for at least another hour, had it not been for the need to consider people trying to sleep in the rooms above. Every conference has its owls and its larks, after all, although some Swanwickers do attempt to burn the candle at both ends, as witness their empty chairs or pallid faces at breakfast.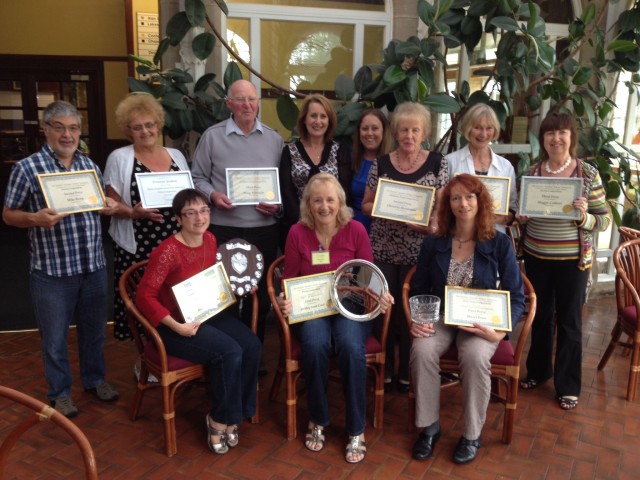 Wednesday saw the annual photo call; Swanwick competition prize winners lined up with representatives from Writers' News. I was delighted to be included for my poem Commemorated In Stained Glass, (which can be read on this website).
Sometimes called upon to give talks about my writing or my television work, I thought that Michael O'Byrne and John Lamont's two part course on public speaking would be ideal for me and so it was. Laced with self deprecating humour, as one would expect from those two, it was nevertheless packed with a great deal of solid information – the DONT'S being just as (or even more) useful than the DOS.
Guest speakers David and Hilary Crystal gave us new insights into places in Britain which have helped to shape the English language and then the dais was cleared for the eagerly anticipated Swanwick Page to Swanwick Stage performances.
Of the many striking images of the evening, I think that Simon Hall, stripped to the essentials for his role in Phil Collins's play, will linger longest in the memory of most of the ladies present! Most of the plays, written in advance and workshopped during the week were humorous, but you could have heard a pin drop during Cathy Grimmer's poignant Requiem. In between were some improvisations, including one performed by some young writers from the Top Write scheme, and all thoroughly deserved their applause.
It's no wonder that I'm tired, because I couldn't go to bed without joining in with the late night ceilidh. There weren't many of us there, but what we lacked in numbers we certainly made up for in enthusiasm!
14 August, 2014 - There are 2 comments on this story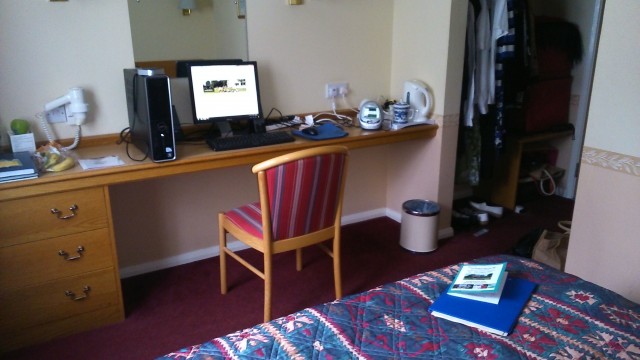 My room in Lakeside is now looking as tidy as ever it will during my stay!
The good news is that every single copy of Easy Money For Writers And Wannabes that I brought along to sell has been snapped up. I don't even have one for myself at the moment, because I've had to part with the proof copy! However, the omnibus edition of my short story collections is still available in the Book Room. (Both books are featured on Amazon and can be downloaded to Kindle etc. or ordered as print editions.)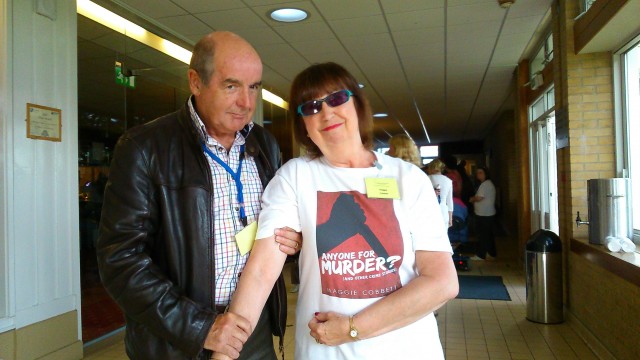 I hope that my promotional T-shirt for the short story collections will work its magic* if it doesn't really get me arrested! The lovely Michael O'Byrne, our Vice Chairman this year, is a retired chief constable after all!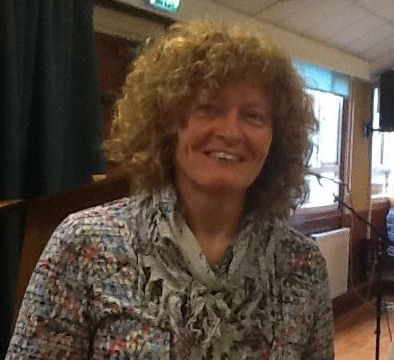 My head is bursting with useful information at the moment, much of it gained from 'official' sources – Shirley Blair's excellent two part course on writing for The People's Friend and Karin Bachmann's afternoon session on using Twitter to better effect – plus a large number of hints and anecdotes from fellow Swanwickers encountered at breakfast, morning tea break (with biscuits), lunch, afternoon tea (with cake), dinner and all those times in between. It would take a will of iron to lose weight at The Hayes!
Did I mention magic earlier on? Maybe my appearance at the Wizard of Oz themed disco will do the trick! Mark Iveson, DJ for the evening, certainly kept us all moving!
11 August, 2014 - Make the first comment on this story
Check Out My eBooks
Blog Categories
Links
Live From Twitter