Hello, and thank you for visiting my site. I hope that you'll return often and always find something of interest about my world and what inspires me to pick up a pen. (This is a figure of speech, unfortunately. My handwriting is terrible!) Here's what I've been up to recently...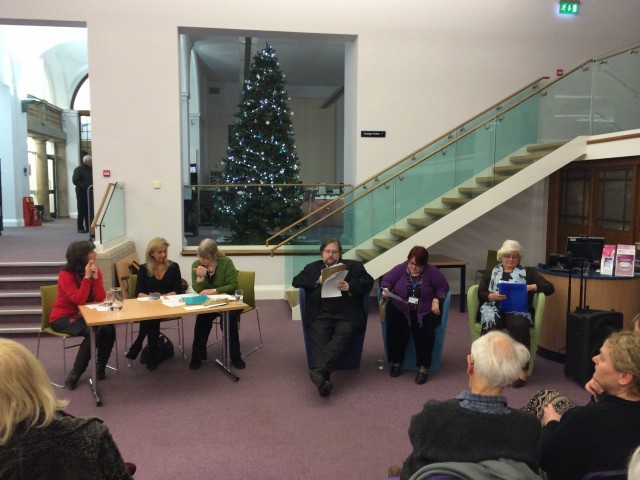 I was very pleased to have one of my stories chosen for inclusion at this event organised by the Friends of Harrogate Library (FOHL), not least because it gave me the opportunity to take a look round the newly refurbished premises. These are now of a very high standard and a real asset to the town.
Unsure of the procedure, I'd taken a copy of my story along but was agreeably surprised to find a team of readers (shown on the right of the photograph) waiting to entertain the audience. It was a rare treat to sit back and enjoy listening to someone else's interpretation of my words and Harrogate Library's Noelle (could a name have been more appropriate for a reading at this time of year?), seated in the middle of the trio, did them full justice – even the foreign phrases!
The interval refreshments, including my first mince pie this year, were delicious, the wine flowed freely and I was able to catch up with some friends I hadn't seen for a while. All in all (although my story didn't win this time round*), it was a very enjoyable evening.
*A slightly different version won a recent RWG competition. See http://www.riponwriters.co.uk/
7 December, 2013 - Make the first comment on this story
As a long term volunteer for RAP, a social group for adults with learning and/or physical disabilities, I was very happy to write the article below for our local newspaper. The limitations of an A4 scanner have led to its being split into two.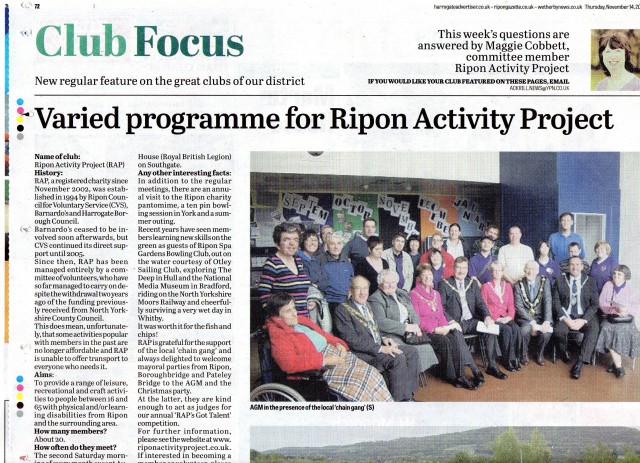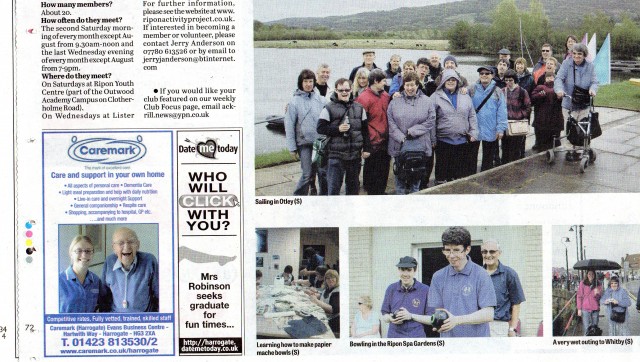 16 November, 2013 - Make the first comment on this story
After nine years on the committee of Ripon Writers' Group, three as Secretary, three as Vice Chair and the last three as Chair, tonight's AGM has finally allowed me to retire to the back benches. This doesn't mean, of course, that I shall cease to be an active member and I'll continue to keep the website up to date for the foreseeable future.
A new challenge has already come my way in the shape of an invitation from Erewash Writers to feature in one of their regular competitions. Open to entrants worldwide, it's for flash fiction and I've been allowed to choose the theme – carpe diem with a twist - as well as act as judge.  Full details can be obtained from http://erewashwriterscompetition.weebly.com/2014-flash-fiction-with-maggie-cobbett.html
12 November, 2013 - Make the first comment on this story
Today was a good example of that. I was on the minibus ferrying our happy band of extras out to the village when the two minute silence fell and it was good to see that everyone observed it.
As episodes are always filmed several weeks ahead, the set was bedecked with Christmas lights and a pretty sight it was too. The weather, however, is still quite mild and it wasn't until darkness fell and the warm glow provided by the vegetable balti at lunchtime had receded that I was glad of my winter coat, scarf and gloves.
I was paired with Derek, a gentleman I'd never met before, who turned out to be a former member of The Rockin' Berries and still very active in the music field. Derek had been everywhere and met everyone, including some of the idols of my youth. As we paraded up and down the village street and in and out of the Woolpack, he had many an interesting tale to tell about his glory days. Not all of those tales were repeatable, but you can get the gist from http://www.derekjason.com/about.htm
11 November, 2013 - Make the first comment on this story
During my time as Chair of Ripon Writers' Group, I've always been keen to liaise with other groups in the local area and was delighted to see members from Harrogate, Knaresborough, Leeds, Nidderdale and York at our 'Literary Allsorts' event in June. Over the years, I've spoken to, adjudicated for and taken part in events run by several of these groups.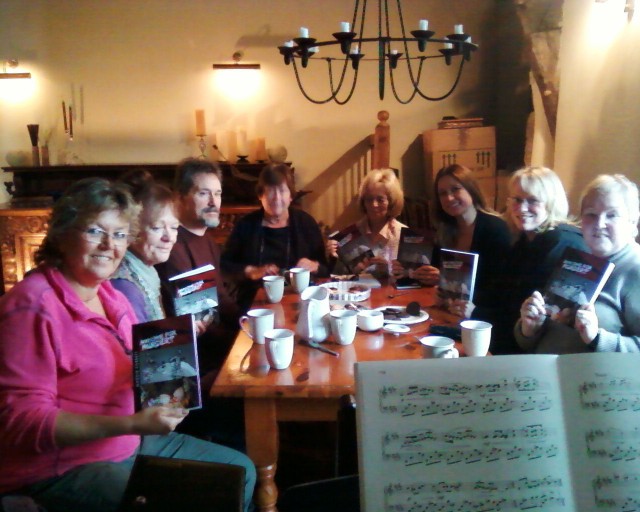 This morning, I took up an invitation to drive over to Pateley Bridge in the heart of Nidderdale and give a talk about my published work to a very clued up and receptive group of fellow writers. I can only hope that they enjoyed the morning as much as I did. My only regret is that, despite an array of delicious food laid out before us, I found so much to say that even my coffee remained half drunk.
People who know me well will realise that this is far from being unusual!
6 November, 2013 - Make the first comment on this story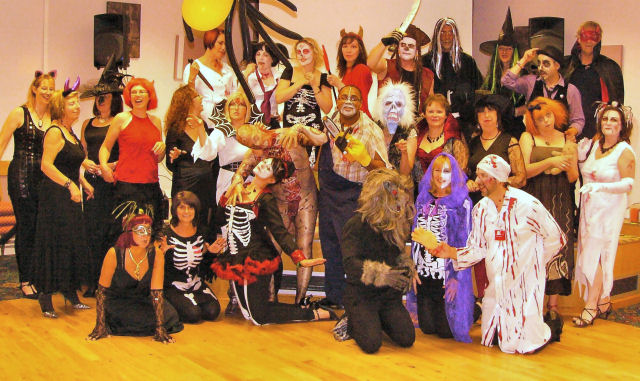 With Halloween upon us, sales of broad brimmed, generally black, tall and pointed hats have reached their annual peak. Mine was worn proudly at Strictly Salsa's annual spooky bash, at least until it got in the way of my partners' arms as they spun me round.
Have you ever wondered, though, how such hats acquired their evil reputation? Until the Middle Ages, illustrations showed 'witches' bare headed or wearing a variety of headgear current at the time. Heretics condemned by the Christian Church had long been made to wear conical hats* and yet there was a short period during the 15th century when the shape was all the rage in London.  By the time the fashion spread out to rural areas, though, it had already been dropped by city dwellers and became something only country people, particularly women, would wear. These were often highly respected members of the community who gathered herbs for healing and maybe it was they who added a broad brim for practical reasons. Unfortunately, the Church continued to associate pointed hats with the horns of the Devil and many a 'wise woman' found herself accused of using 'black arts' and branded a witch. Chased, ridiculed, ostracised and murdered after trials in which they had no hope of being found innocent, this was one of the darkest periods of our history. Maybe that is why the Puritans and even the notorious Witchfinder General, Matthew Hopkins, who also had a penchant for tall hats, were careful to choose the flat crowned variety.
The statutory offence of witchcraft, punishable by death, was repealed in 1736 but fear of witches persisted long afterwards and was exacerbated by the many artists who portrayed them as old crones in pointed hats. From the stories of the Brothers Grimm to Disney cartoons, the image persists. (As an aside, my first memory of a witch's hat was neither of these but a ride that pre-dates modern health and safety regulations. We hung on for grim death as it whirled us round a couple of feet or so above the rough concrete surface of the playground – a far cry from today's vulcanised rubber. Nor did the thing have rounded corners and everything covered in plastic. Sharp edges abounded, the chains were orange with rust and there was always the possibility of our being flung off at high speed when older children spun the ring round the central pole as fast as they could.)
Terry Pratchett's hilarious Discworld novels wouldn't keep anyone awake at night (unless determined to finish his latest one), but his wizards and witches are generally devotees of the 'pointy' hat, as Terry puts it. In this extract from Wyrd Sisters, which has more than a little in common with Macbeth, he writes: As Granny Weatherwax says, she wears the Hat because 'What's the point in being a witch if no one can tell?'  The Hat says it all.
*These may have been predecessors of the notorious dunce's cap, although some believe that this was originally a learning device. The idea of an apex or point representing the pinnacle of knowledge is common to many societies, and and a 13th century philosopher by the name of John Duns Scotus believed that the hat would funnel learning down to the learner.
31 October, 2013 - Make the first comment on this story
Check Out My eBooks
Blog Categories
Links
Live From Twitter