Hello, and thank you for visiting my site. I hope that you'll return often and always find something of interest about my world and what inspires me to pick up a pen. (This is a figure of speech, unfortunately. My handwriting is terrible!) Here's what I've been up to recently...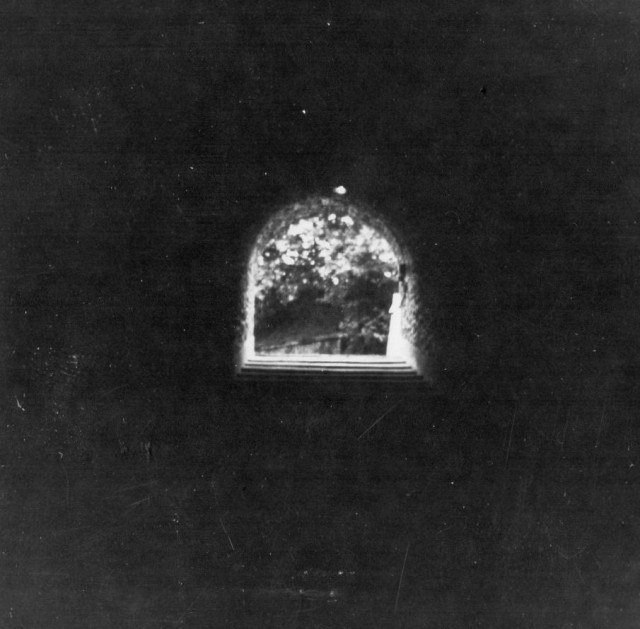 That phrase is quite appropriate, given the setting for the novel I've been working on for such a long time. Scroll down through a couple of posts to see the same opening from the other end! Both are crucial to the story.
Copy & line editing are now going on and the cover design being worked on. Before the start of summer, I hope to have the finished product 'out there' and will be holding a couple of launch parties to celebrate the fruition of such a long term project. No invitations needed. When the details are finalised, everyone will be welcome!
7 May, 2015 - There are 3 comments on this story
The work on my novel continues and I'm close to finishing the third – and maybe final draft. Still struggling a little with the ending, though, and weighing up the suggestions given by fellow members of York Writers' NSG (Novelists' Support Group). There will be launches in both Ripon and York. Watch this space!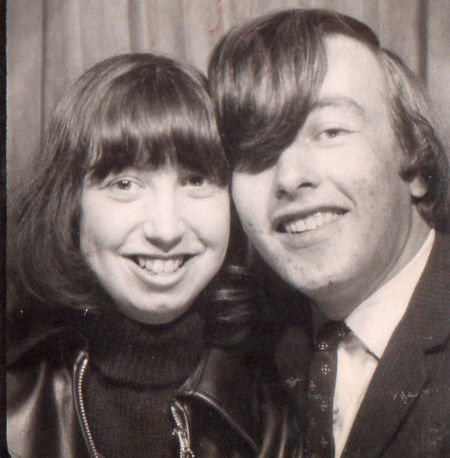 There hasn't been a lot of time for other projects, although a piece I wrote for Ripon Writers' Group's 'Blast From the Past' competition went down well and I've just revamped it as a feature for Down Your Way. It's about my time as a Saturday girl in Woolworth's and has inspired me to dig out some (very) old photographs of myself during those years. Wasn't I cute! If the article meets with editor Kev's approval, it should be appearing round about September/October.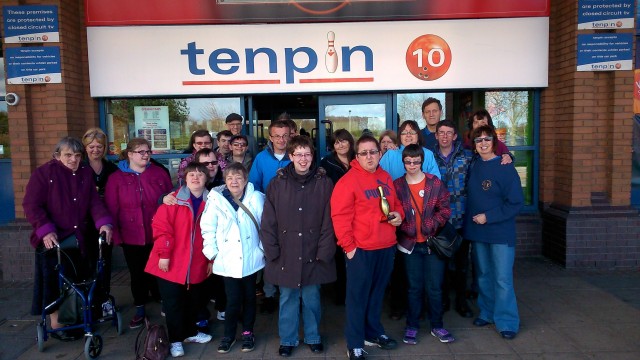 In between times, salsa, voluntary work with the Ripon Activity Project (RAP) and paid work at the Emmerdale studios continue. No new dance or studio photographs to upload, but Ten Pin Bowling at Clifton Moor was enjoyed by one and all.
Ah, well. Back to work now!
19 April, 2015 - Make the first comment on this story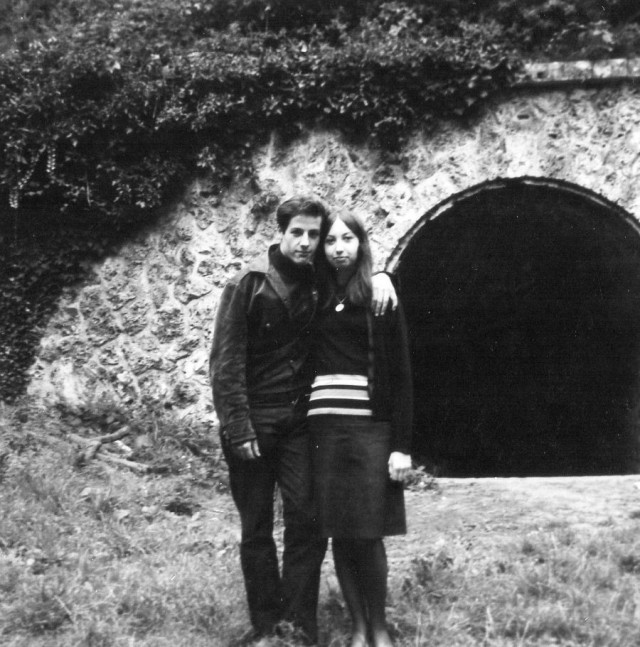 Regular visitors to my website have probably been wondering why there have been no postings so far this year. This isn't because of inertia on my part – far from it – but because I'm determined to get my novel (working title Shadows Of The Past) finished before the summer.
This story, partially based on my own experiences in France when I was only 17, has been long in the telling. I began work on it over ten years ago and it has been through many drafts and very significant changes. Now that I've made some firm decisions about its form – the content was never in doubt – it's all systems go!
The one thing I regret, is that my dear friend Jean-Claude Quehan, seen with me in the photograph above, passed away a while ago and will never see the finished product. He knew about it, though, and was highly amused to be cast as the saviour of the female character upon whose uncertain fate much of the story hinges.
To what extent are the events depicted autobiographical? Well, Jean-Claude and I lived through some of them together certainly, but I haven't been afraid to use artistic licence in a way I think would have made him chuckle. He helped me with my research into the history of the area in which the story is set and many of the characters have been inspired by real people, although they won't be slavishly depicted.
24 January, 2015 - There are 8 comments on this story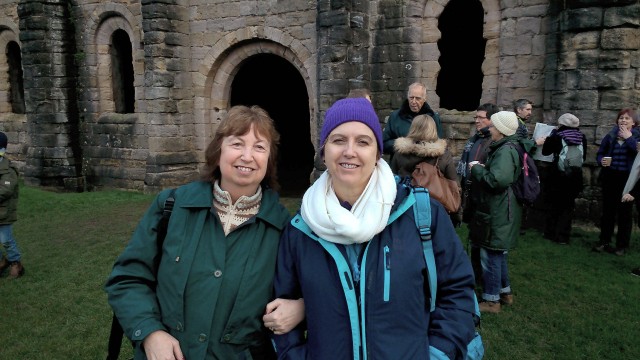 Although sitting firmly on the fence as regards religion, I do enjoy taking part in some of our local customs and the annual pilgrimage from Ripon Cathedral to the ruins of Fountains Abbey on Boxing Day morning is one of them. It follows in the footsteps of a group of Cistercian monks who walked from the Cathedral on 26th December 1132 to found the Abbey. Led this year by the Dean of Ripon, Bishop of Knaresborough and other clergy, hundreds of walkers, many with dogs in tow, followed the cross on a four mile walk, mainly across fields and via the deer park of Studley Royal to the gates of the Fountains estate. The National Trust waives the normal entry charge on this one day of the year and a carol service in the cellarium, the only part of the Abbey still to have a roof, is always held at midday. Refreshments – including mulled wine – are served beforehand and the atmosphere is very cheery.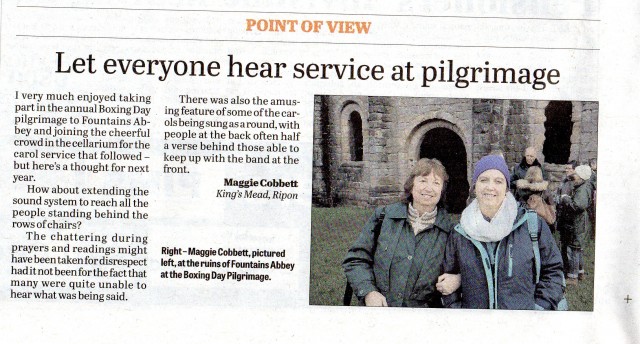 The sound system leaves much to be desired, though, hence this letter to the Ripon Gazette!
On New Year's Eve, I attended the Watchnight service at the Cathedral and joined the throng milling up Kirkgate to the Market Place to see in the New Year. When I first moved to Ripon, the congregation was equipped with flaming torches. Unfortunately, health and safety concerns did away with those many years ago. After a brief period with glow sticks, someone came up with the idea of a small candle in a cardboard holder, to be lit during the singing of O Come All Ye Faithful. Unfortunately, it was windy this year and most of the candles, including mine, were extinguished as soon as their bearers stepped out of the west door.
However, spirits were high as well wrapped up church goers merged with scantily clad revellers in the Market Place. From the balcony of the Town Hall, the Mayor, Dean and Bishop wished us all the best for the New Year and – just before the chimes of midnight – our Hornblower, George Pickles, sounded the old Ripon horn for the last time in 2014. An excellent firework display followed and then – as Samuel Pepys would have said – to bed.
2 January, 2015 - Make the first comment on this story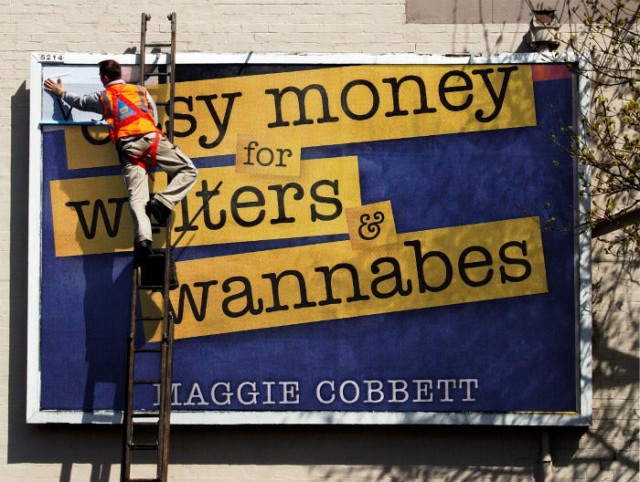 Well, I hope that this chap's hard work will pay off for me!
15 December, 2014 - Make the first comment on this story
Great gifts, food and wine will instil
A feeling of warmth and good will,
But don't overdo it,
Or by Jove you'll rue it
When you see your credit card bill.
This has been a  week full of Christmas events of different kinds and without much time for writing, although I did manage to pen a seasonal limerick or two for the Ripon Writers' Group party. My favourite one is above!
Held at The Old Deanery, the event centred around a three course set menu, although I only had two courses. The  only vegetarian main dish on offer was a Quorn terrine, tasty and so satisfying that I hardly had room for the Bailey's cheesecake that followed. With less room for manoeuvre than in our previous venue, the options for other activities were limited, but the wine flowed and the quiz, 'Who Am I?' game in masks and especially composed Christmas poems and limericks were fun.  You can read more about the party and see all the photographs by clicking on the link to your right.
I was back at The Old Deanery for lunch on Thursday with friends from my weekly Spanish group and had exactly the same meal, although without the wine. That was just as well, because almost immediately afterwards I was on my way to the West Yorkshire Playhouse for a performance of 'White Christmas' starring Darren Day. It was an excellent show and how much more seasonal can you get!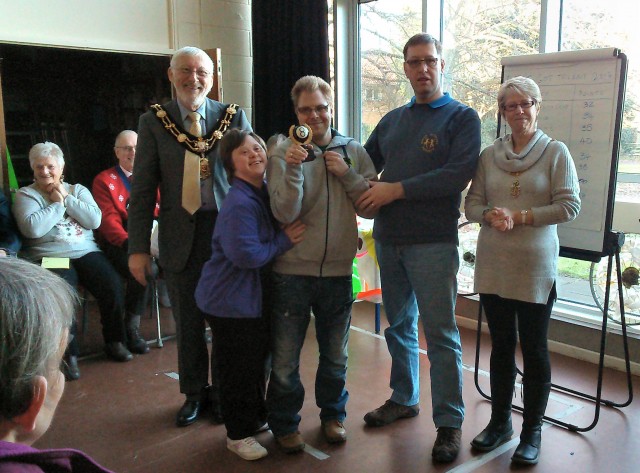 Saturday morning saw me at quite a different event. For well over ten years I've been a committee member of the Ripon Activity Project, a social group for adults with learning disabilities, and each December sees a Christmas party that runs along well oiled lines. Our council grant was withdrawn a few years ago, so we can't offer as much to members as we used to, but we're very grateful for the ongoing support of our local mayors. You can read more about that party too and see all the photographs by clicking on the link to your right.
Next week, I'll be putting on my dancing shoes!
14 December, 2014 - Make the first comment on this story
Check Out My eBooks
Blog Categories
Links
Live From Twitter