Hello, and thank you for visiting my site. I hope that you'll return often and always find something of interest about my world and what inspires me to pick up a pen. (This is a figure of speech, unfortunately. My handwriting is terrible!) Here's what I've been up to recently...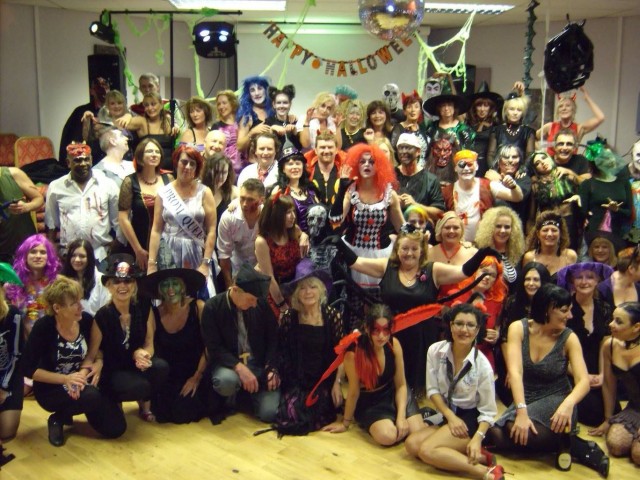 What a week this has been! It began last Friday evening with the traditional Strictly Salsa party to celebrate Halloween. The costumes get better every year and 2015 saw as gruesome a bunch of individuals as you'd ever hope to meet – or not! See if you can spot me.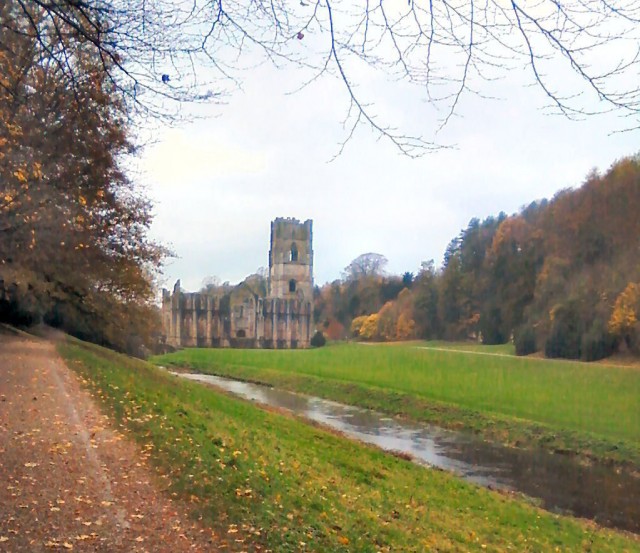 The weekend was family time with a visiting cousin and her husband from the other side of the Pennines. Fountains Abbey beckoned and we hoofed it all the way from the Visitors' Centre car park to the far end of the Seven Bridges Walk – and back. The following day was devoted to a whistle stop tour of Ripon and they're looking forward to getting to know our little city better on their next visit.
Tuesday saw me with a friend at the Bowes Museum in Barnard Castle to attend the Yves Saint Laurent exhibition. It was fabulous, but I was even more captivated by the 18th century musical automaton of the Silver Swan. The crowd that gathered round to see it in action – only once a day now at 2 p.m. – was proof that I'm not alone in that. The whole performance only lasts about 30 seconds or so but is very well worth the wait.
To quote from the Museum's website:
How The Silver Swan Works
The swan is life-size and is controlled by three separate clockwork mechanisms. The Silver Swan rests on a stream made of twisted glass rods interspersed with silver fish. When the mechanism is wound up, the glass rods rotate, the music begins, and the Swan twists its head to the left and right and appears to preen its back. It then appears to sight a fish in the water below and bends down to catch it, which it then swallows as the music stops and it resumes its upright position.
6 November, 2015 - Make the first comment on this story
Photograph: Copyright D.C.Thomson
Many Yorkshire based writers have been frustrated by the fact that 'how to' workshops run by popular magazines are generally based hundreds of miles away from their homes. Well, Thursday 22nd October was serendipity for some of us. The People's Friend came to York.
From 10 o'clock in the morning until half past four in the afternoon, the time just whizzed by. We were greeted by Fiction Editor Shirley Blair who spoke at length about how to write a story suitable for TPF and laid many misconceptions to rest. She explained how the magazine, while remaining family friendly, aims to reflects life as it is today, albeit with the edges rubbed off. While its stories will never be edgy or risqué, they will continue to push the boundaries. Prolific writer Kate Blackadder shared with us how she finds inspiration and structures her stories.
With its weekly magazine, fiction specials and annual, TPF accepts 600 stories a year, far more than any other magazine, and every one is carefully considered. Feedback always aims to be constructive and that has certainly been my experience.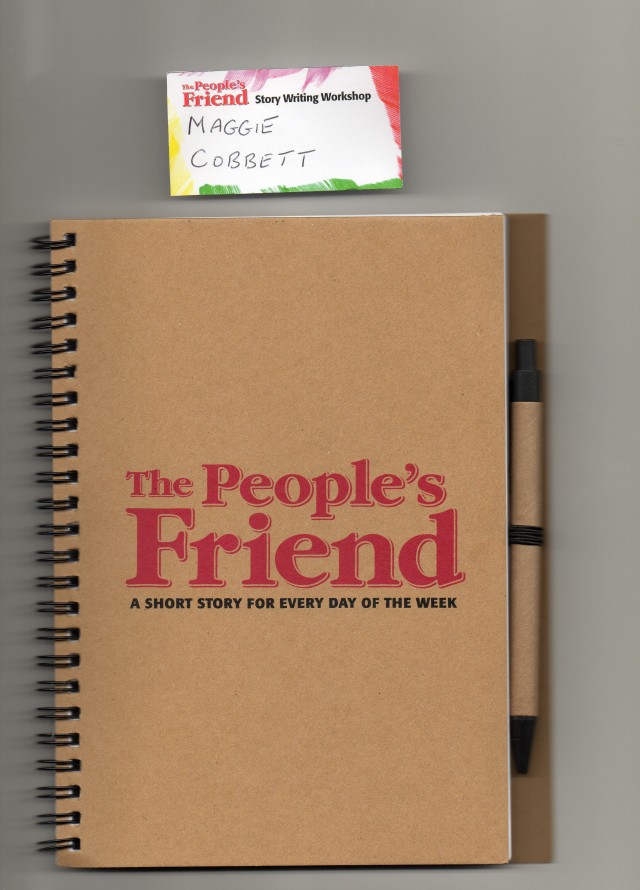 Both ladies set us exercises and the whole room was buzzing with ideas as we scribbled furiously in our new notebooks. By the time I left, I had at least half a dozen ideas in my head for plots and could hardly wait to get back home to my computer. Thank you, Shirley and Kate, for a most stimulating day.
I can't finish this post without saying how much I enjoyed meeting so many fellow writers, none of whom were known to me 'in the flesh' before. Networking is always a pleasure and I'm sure that we'll keep in touch.
26 October, 2015 - Make the first comment on this story
With most of my focus lately being on my first novel, short stories have taken something of a back seat. However, this thinly disguised account of my one and only ride in a hot air balloon is in the latest Fiction Special (No. 113) issued by The People's Friend.
11 October, 2015 - Make the first comment on this story
It's always an honour to appear as a guest on another writer's blog and I was particularly pleased to accept Iain Pattison's invitation.
Our paths first crossed when  Iain, as a highly respected competition judge, was a main speaker at the Writers' Summer School (Swanwick). I now know him also as a prolific writer of short stories who can never resist a good (or even a bad) pun.
Iain asked me to write about my recent transition from short story writer to novelist and TO MAKE IT FUNNY. I hope that I've fulfilled my brief  with 'From a hundred-metre dash to a marathon', but you can judge for yourself by cutting and pasting  http://www.iainpattison.co.uk/give-a-warm-welcome-to-my-first-guest-blogger/#more-469
It begins with a few of Iain's own words:
I'm off on holiday – what, I hear you cry, another one! And it's not that I don't trust you, but I'm wary of leaving my blog unguarded for just any passing scribbler to wander into and start posting. So good friend Maggie Cobbett has offered to keep an eye on the place and water the dogs and take the plants for a walk.Thanks Maggie – help yourself to anything in the fridge, but I'd avoid the cheese. It wasn't that colour when we bought it!
In this guest blog she talks about the challenges of making the leap from short story writer to debut novelist and reveals how a rather bizarre teenage holiday in France provided her with loads of memorable, if slightly disturbing, material. Over to you, Maggie…
8 October, 2015 - Make the first comment on this story
A website dedicated to people 'of a certain age' has offered me the opportunity to share the origins of my recently published novel with its members.  By cutting and pasting the address below, you will be able to read what I have written about it and see some previously unpublished photographs:
http://www.oapschat.co.uk/10-lifestyle/hobbies/714-shadows-of-the-past
In return for this opportunity, I have been more than happy to donate a signed copy of Shadows of the Past as a raffle prize and very much hope that the winner enjoys it.
6 October, 2015 - Make the first comment on this story
Delighted to see this. I've been a subscriber to this invaluable magazine for many a long year.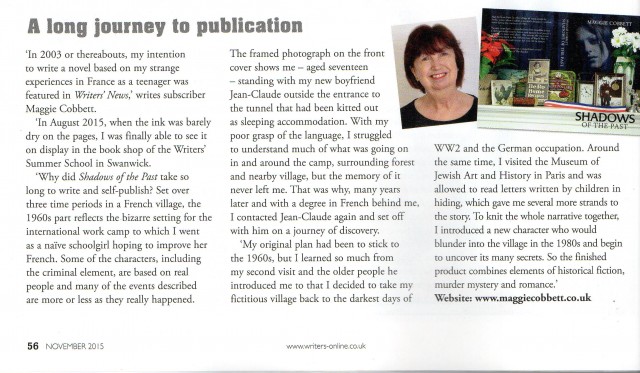 28 September, 2015 - There are 2 comments on this story
Check Out My eBooks
Blog Categories
Links
Live From Twitter