Hello, and thank you for visiting my site. I hope that you'll return often and always find something of interest about my world and what inspires me to pick up a pen. (This is a figure of speech, unfortunately. My handwriting is terrible!) Here's what I've been up to recently...
I was at St Peter's Church in Hartshead, West Yorkshire, this year for a very special reason. Amongst the many names on the plaque commemorating the dead of WW1 is that of David Robert Davidson, a London workhouse boy sent up to Yorkshire to toil in the mines. His name, together with all those listed on the memorial inside the church, is read out each Remembrance Sunday before the two minutes' silence.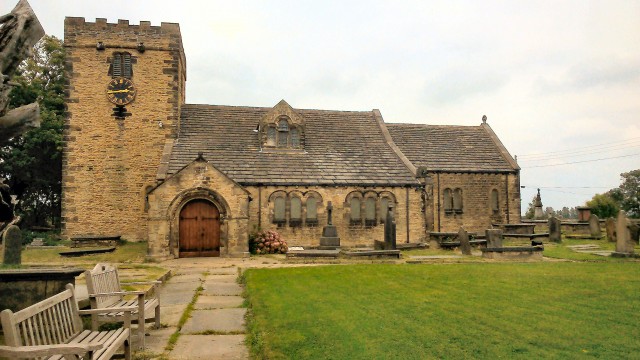 In 1916, in that same little old church where Patrick Bronte once preached, David married the widow of a friend. She was much older than he, but David was determined to give her and three small children the security of his army pension, should he not survive.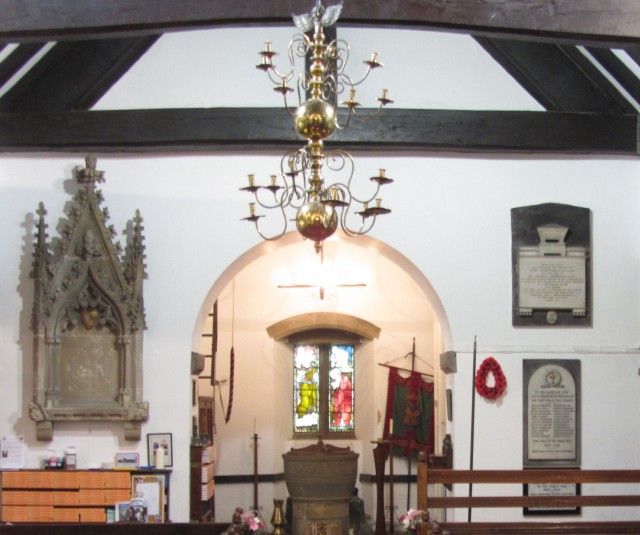 He was killed in France a few months later, aged only 21, but my great-aunt and her daughters cherished his memory for the rest of their lives. Now I firmly believe that it's up to my generation and those who follow to do the same.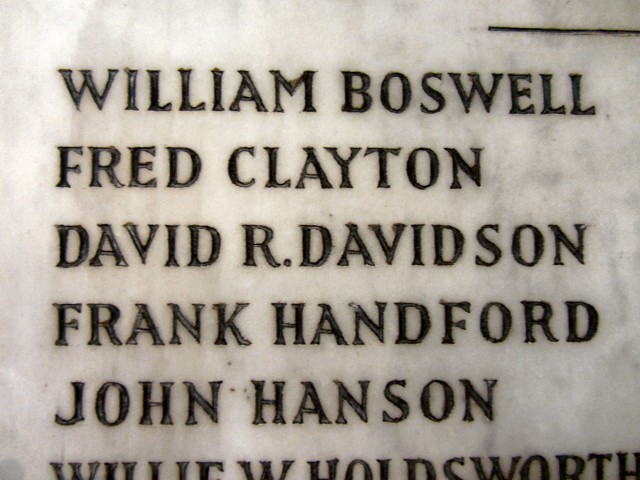 The photographs below show David's widow and step-daughters shortly before they emigrated to the USA in 1919 and years later, by which time they were living in California. I feel confident that he would have been very happy for them.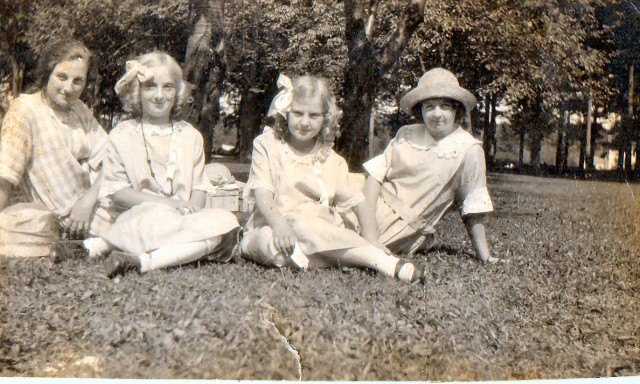 The following lines by A.E. Housman sum up better than I ever could the sacrifice of David and the thousands of other young men whose lives were cut short in that terrible war:
Here dead lie we because we did not choose to live and shame the land from which we sprung. Death, to be sure, is nothing much to lose, but young men think it is and we were young.
11 November, 2014 - Make the first comment on this story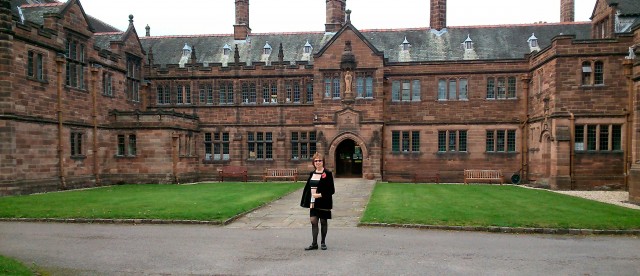 Until a couple of weeks ago, I'd never heard of Gladstone's Library in Hawarden. Now, I can't wait to go there again.  It's Britain's finest residential library, founded by Prime Minister William Ewart Gladstone and now, well over a century later, a fine tribute to his vision. The brochure invites visitors to 'Read, Write, Relax And Become Inspired' and I did all of those in the space of 24 hours. Should you wish to follow my example, you'll find all you need to know at www.gladstoneslibrary.org.
My being there last weekend was pure serendipity. My friend and fellow Ripon Writers' Group member Cathy Grimmer – seen above with James Runcie – won the stay in a competition and invited me along as her 'plus one'. I was agreeably surprised to find that everything was under one very large roof.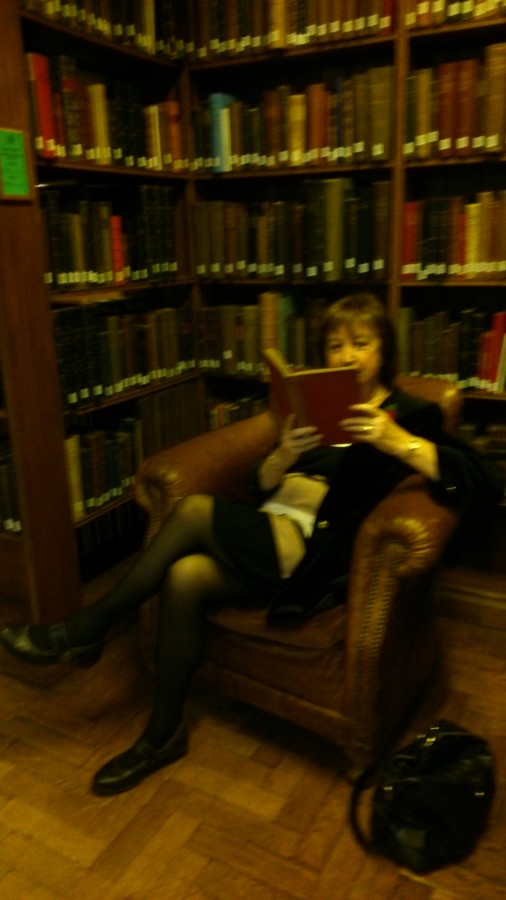 The actual library with its collection of more than a quarter of a million books is, of course, always going to be the star of the show. I could easily have devoted my whole stay to sitting in a comfortable leather armchair and reading through a tiny fraction of the volumes on offer. However, a full programme awaited us, as well as regular pauses for refreshment from the 'Food For Thought' coffee shop.
After a cup of tea and guided tour, we went to our first official session. Lucy Gough, who has written extensively for TV, radio and stage, had prepared a two hour workshop on writing radio drama. The ten of us seated around the table with Lucy read through Timothy West's spoof, 'This Gun That I Have In My Right Hand Is Loaded', which demonstrates in no uncertain terms how NOT to write for radio. This was followed by a study of the very different emotions that can be unleashed in individuals by a single piece of music. Lucy's advice was ALWAYS to start with sound, musical or otherwise, to set the mood for the play to follow. She went on to warn against the pitfalls of trying to place a play not specifically written with radio in mind. Pieces originally written for the stage of television simply will not do.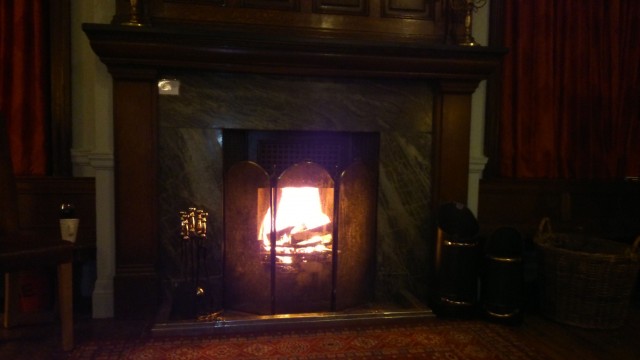 The reason for the title of our literary weekend became apparent after dinner, taken refectory style in a large and comfortable dining room. Although the weather continued to be unseasonably mild for the time of year, the log fire in the Gladstone Room was lit with a flourish and everyone gathered round, wine glass in hand, for the first 'round the hearth' session with the writers in residence.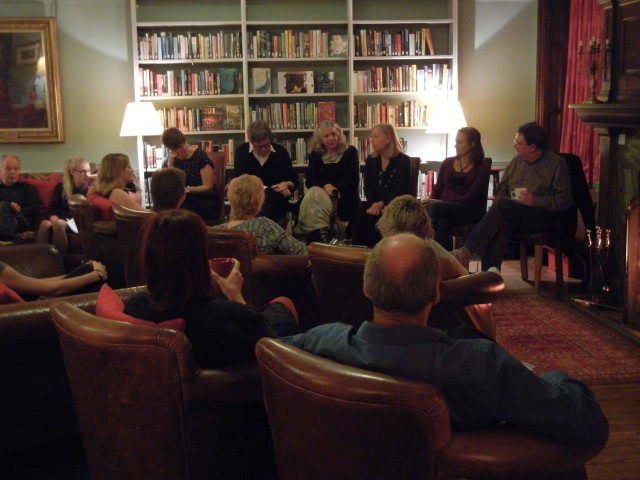 Flanked by staff member Louisa and Warden Peter Francis, these were – from left to right –  James Runcie (Grantchester Mysteries), Lucy Gough, Patricia Bracewell (Shadow On The Crown) and Rebecca Abrams (Touching Distance). All were more than willing to field questions about their work and to linger late into the night to chat with us all. (Thank you also, Patricia, for generously sharing this photograph with me.)  Cathy and I, eager not to miss a word, can be seen sitting in the middle of the front row.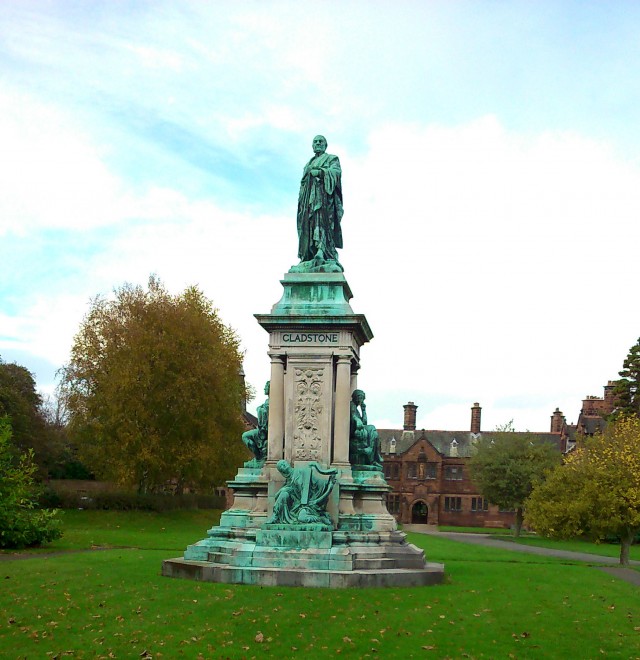 After a good night's sleep in our comfortable en suite accommodation and a hearty breakfast, there was time to stretch our legs in the extensive grounds before going to a talk by James Runcie.  His Grantchester novels and the television series based on them are set in post-war Britain, starting off in 1953. James freely admitted that his main character was loosely based on his own father. The late Robert Runcie  was Archbishop of Canterbury from 1980-1991 and, like Sydney Chambers, had served in the Scots Guards. James wanted his vicar turned detective to be as far away as possible from the Derek Nimmo  character in 'All Gas and Gaiters' and for the crimes he solves not to be 'cosy'. Decency, integrity, trust and loyalty all feature heavily in the stories and, while historical events play their part, they are carefully integrated rather than 'dumped'. (The Times of the day, now available electronically, is an invaluable resource.) James warned all potential writers of historical fiction to be vigilant against the inclusion of sloppy anachronisms and inaccurate biblical quotations – the latter possibly springing from the lack of religious background of most copy editors these days! Having novels adapted for television, whilst undoubtedly profitable, can also be a painful experience for a writer. James admitted that he had won some points but had had to let others go.
Lunch followed and then our final session 'round the hearth'. On this occasion, the discussion was all about inspiration, working methods and the need to be single minded – even selfish – about setting aside enough time to write. The writers in residence all agreed that very few authors can exist purely on the profits from their writing and almost all have other ways of earning a crust. Support from their nearest and dearest is also crucial and James Runcie – whose wife was also present at this session – quipped that the essential thing was to marry the right person in the first place.
To stretch our legs before the long drive back, we had a quick stroll through part of the grounds of Hawarden Castle, the former home of William Gladstone. Open to the public, they are impressive and it would be good to explore them further on our next visit.
If you're interested in forthcoming events at the Gladstone Library, I'd encourage you to visit the website www.gladstoneslibrary.org.
4 November, 2014 - Make the first comment on this story

The evening started so well! Thanks to the power of Sat Nav, finding the venue – the Drax Sports & Social Club – in daylight was a breeze. Well, it was apart from discovering that the post code we'd been given was the same as the one for the adjacent power station. However, common sense prevailed and we soon found ourselves tapping our feet to that irresistible salsa beat. The Humba Rumba team and Mambo con Rumbo combined to make it a night to remember. Many of our friends from Strictly Salsa and the Wetherby Engine Shed were there and we danced our socks off.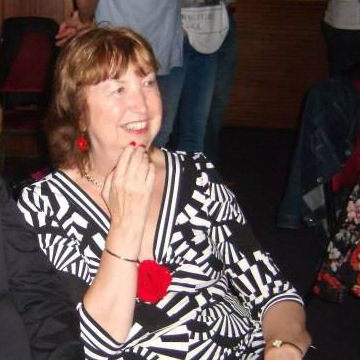 Sweaty conditions are inevitable on such a crowded dance floor and frequent trips to the bar are a necessity. That said, salseros aren't a very boozy bunch – everyone wants to get the complicated footwork and general styling right – and my tipple of choice on dance nights is J20, the orange and passion fruit variety.
Thank goodness for that! The return journey was in the dark, of course, and somewhere on the outskirts of York I missed a right hand turning. The Sat Nav recalibrated itself, but I started to lose the plot. The instructions always seemed to come slightly too late – or way too early – for me to grasp exactly which turning the bland voice intended me to take or, indeed, to identify it in time. So it was that, after much dithering, I was very grateful to find myself at last on familiar ground. The traffic lights at the end of Nunnery Lane were red and, as I pulled up, I became aware of another light, blue and flashing, behind me.
'Just an ambulance,' I remarked to my companion. 'I wonder why it isn't overtaking.' The answer came when my door was suddenly wrenched open and I was ordered to switch off the engine, hand over my keys and get out of the car. It was a fair cop. The young policeman informed me that the erratic nature of my driving had caught his attention and I could well see why. At that time on a Saturday night, far too many drivers lurch out of pubs and clubs and set off for home in their cars.
I told him truthfully that I'd consumed only soft drinks all evening and I think he was disposed to believe me, but nevertheless a breathalyser was produced and I blew into it as hard as I could. Result ZERO. His manner had been polite and pleasant all along and became even more so after that. Pausing only to ask me where I was heading and seek advice on the best route for me from his partner, a female officer called Jo, he sent me on my way.
It could all have been so different if I had been drinking alcohol and I'm very grateful to my father (a driving instructor) who made me promise never to consume as much as a wine gum before sitting behind the wheel of any motor vehicle. Thanks, Dad!
As a writer, I treasure every experience, and I suspect that a character in one of my short stories will soon be undergoing something very similar. Whether it turns out well or badly will remain to be seen!
22 September, 2014 - There is one comment on this story
If there's anything more useful than belonging to one writers' group, it's belonging to two. Double the inspiration, double the friendship and double the networking opportunities!
As a long standing member of Ripon Writers' Group, I retired to the back benches last year after nine years in various roles on the committee. I'm still finding my feet in York Writers, but I like what I've seen so far. The two groups have similar aims – to encourage and improve writing in all its forms – but different ways of going about it. Therein lies the interest.
As a spin off from my regular trips to York, I also sometimes take part in The Speakers' Corner, held on the second Wednesday evening of each month at the Golden Ball on Cromwell Road. There's generally a guest performer – this month it was Teeside writer and folk singer Sarah Dennis – and then the floor is open to anyone who wishes to sign up for a slot.  Depending on the numbers attending, the five minute limit for each contribution is flexible and sometimes there's the opportunity for a second round.
As well as being a regular attender at meetings in Ripon and York, I enjoy visiting other writers' groups from time to time – as an adjudicator, to give a talk or simply as a guest. Please let me know if you'd like me to visit yours!
20 September, 2014 - Make the first comment on this story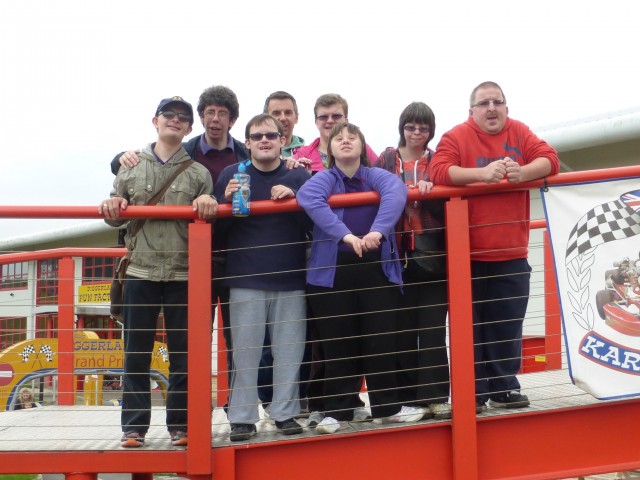 Today was divided into two very different sections, the first of which was complete joy. In my role as committee member of the Ripon Activity Project (RAP), I accompanied a large group to Diggerland on the outskirts of Castleford. The slogan 'Muddy Good Fun' is, I think, a very apt one and the faces of the members enticed out of the restaurant to have their photograph taken say it all.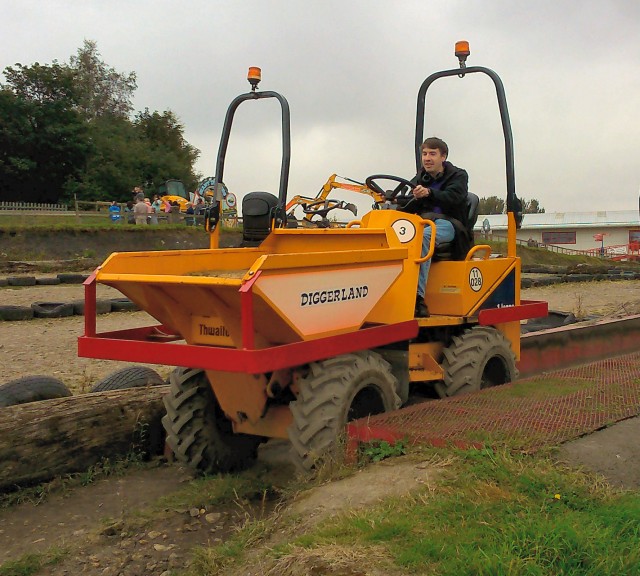 Fortunately, the day was a mild and dry one, so the fun was only as muddy as everyone cared to make it, but the opportunity to drive full sized equipment was eagerly seized upon.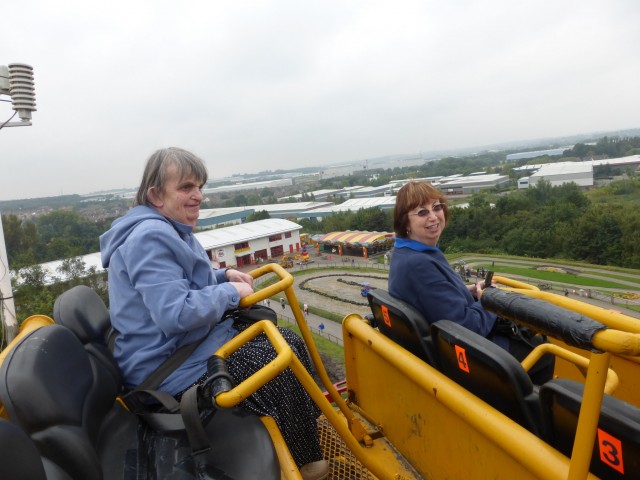 The less agile (or intrepid) amongst us could go up in the Sky Shuttle and view the proceedings from above!
Having waved off the rest of our group and, as it was only a few miles away, I took the opportunity to drive over to St Peter's in Hartshead. It has wonderful views over the West Yorkshire countryside, parts of it date back to Norman times and it has connections with Chartists, Luddites, the Brontes and even Robin Hood. However, that's not why I wanted to visit that little church.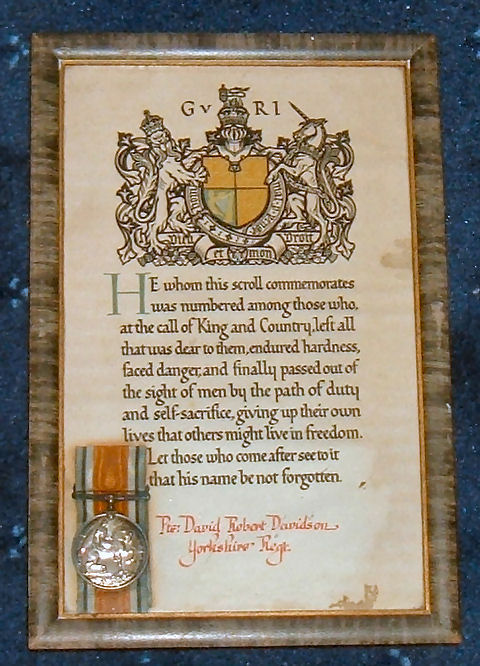 In 1916, a war widow aged 30 walked down that path to her second wedding. The bridegroom was David Robert Davidson, a local man ten years her junior, who wanted her to have the right to his army pension, should he also not survive. That was his way of looking after the family – for there were also three little daughters – of James Barker Burrows, who had been his friend.  Little is known about David's earlier life, but it appears that he had been a workhouse child, separated from his brother and sister and sent north to work in the mines. The marriage was to be a very short one, as David was killed in action in 1917. He's commemorated on the Arras memorial and also remembered now amongst the men of Hartshead who marched off to the Great War. His bride was my Great-Aunt Cissie.
In 1919, she and her daughters went across to the USA to join family members in Ohio and later moved to California, but they took David's photograph and medal with them and always remembered him with great affection. (As far as I can ascertain, he is the young soldier on the right hand side of the photograph behind the Lewis gun.) On the death of the last of that generation, both items returned to the UK and they are being kept as a sacred trust by one of my cousins until – if ever – a blood relative of David's come forward to claim them.

I wrote up this part of my family history for Down Your Way magazine and it appeared in the issue dated March 2011, but I'm very well aware that there are details missing and hope very much one day to be able to fill in the gaps.
13 September, 2014 - Make the first comment on this story
The last course I attended this year was Robin de Jongh's session on Online eBook Marketing, from which I learnt the importance of aiming for a niche. Robin stressed that, with the ever increasing number of books and websites appearing each year, the road to success involves a careful study of the potential audience as well as the competition. I can well believe that, as my only non-fiction book so far, Easy Money For Writers And Wannabes, continues to outsell any of my short story collections. At the AGM, it was good to see two of my friends enjoying success. Cathy Grimmer of Ripon Writers' Group was elected to the 2015 committee and Julia Pattison won the raffle for a free place at Swanwick next year. Hearty congratulations to both ladies!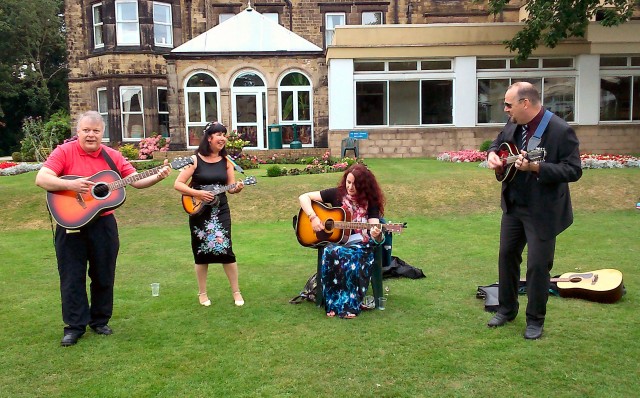 The traditional Dregs Party (an opportunity to contribute any drinks and snacks bought but not consumed during the week) took place on the lawn and was enlivened by a final performance by some of our Swanwick buskers.

No musician myself, I'm a great admirer of those who can play and sing, so you might be able to pick me out in the middle of the audience. Shortly afterwards, we all piled into the bar and then dinner to fortify ourselves (yet again!) for the evening ahead.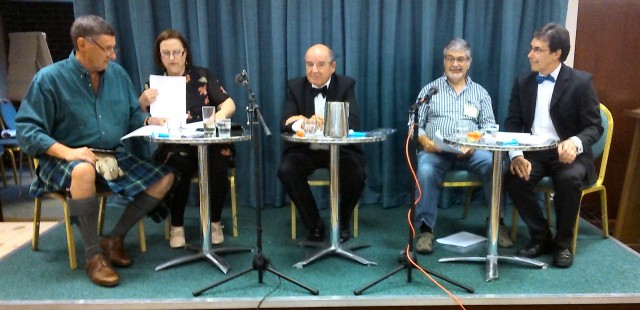 I should have known that we weren't in for a serious attempt at 'I'm sorry, I haven't a clue' when everyone in the audience was handed a kazoo. No show would be complete without musical numbers, but the panellists' faces when confronted by our renditions of The William Tell Overture and the theme tune from EastEnders were a sight to behold. From left to right, John Lamont, Lesley Deschner, Michael O'Byrne, Mike Berry and Phil Collins did their best against a background of rising hysteria.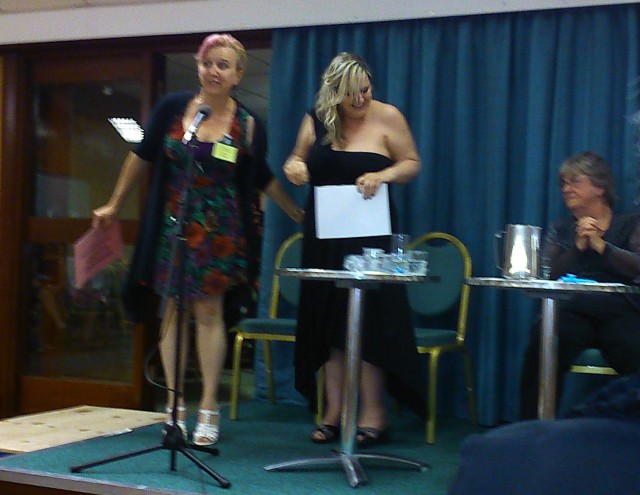 Cathy Grimmer was overwhelmed to have been voted Best Actress for her performance in 'Requiem', her own play, but the honour was very well deserved. Phil Collins won the Best Play award for the third year running. Will anyone beat him in 2015, I wonder! John Lamont – the handsome chap in the kilt (for those of my readers who don't know him) – led us in the singing of Auld Lang Syne and then it was off to the bar for a few farewell drinks before packing and bed. I can't believe it's all over for another year but look forward to keeping in touch with everyone until we reassemble next summer. Swanwick 2015 will take place from 8th to 14th August and it can't come soon enough for me!
15 August, 2014 - There are 2 comments on this story
Check Out My eBooks
Blog Categories
Links
Live From Twitter