Hello, and thank you for visiting my site. I hope that you'll return often and always find something of interest about my world and what inspires me to pick up a pen. (This is a figure of speech, unfortunately. My handwriting is terrible!) Here's what I've been up to recently...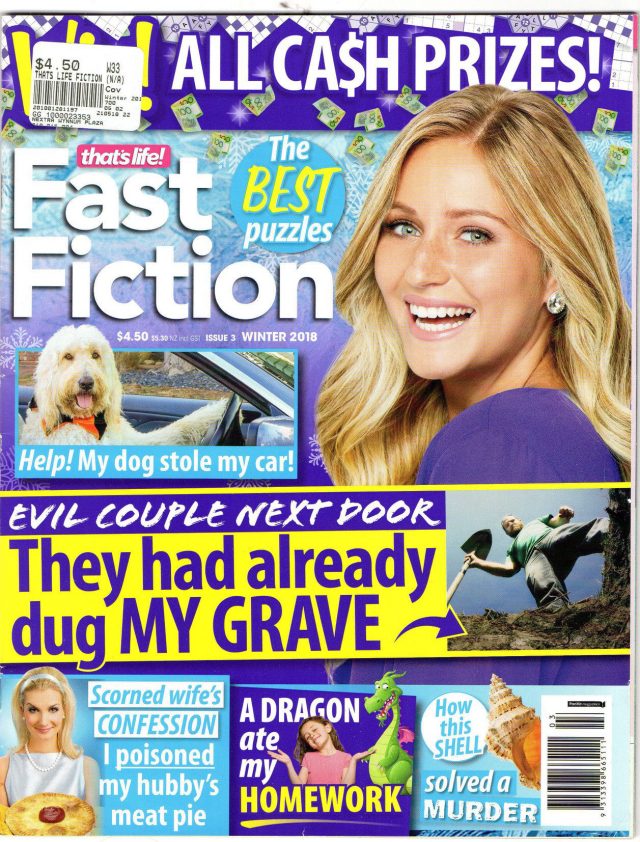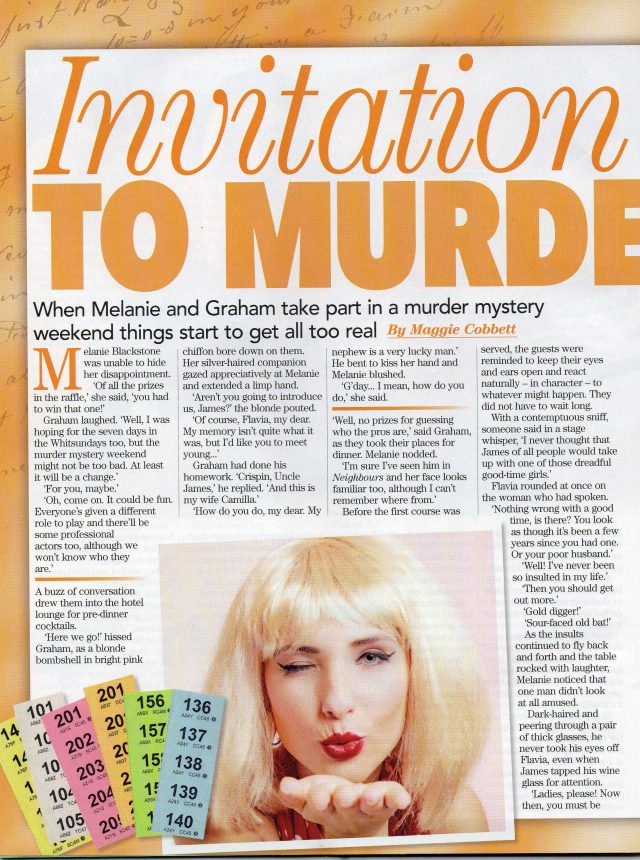 Submitting stories overseas is a new departure for me and I'm thrilled to report that one of my murder mysteries has just appeared in a magazine only available in Australia and New Zealand.
That's Life Fast Fiction is glossy, bright and pays well. What's not to like!
11 June, 2018 - Make the first comment on this story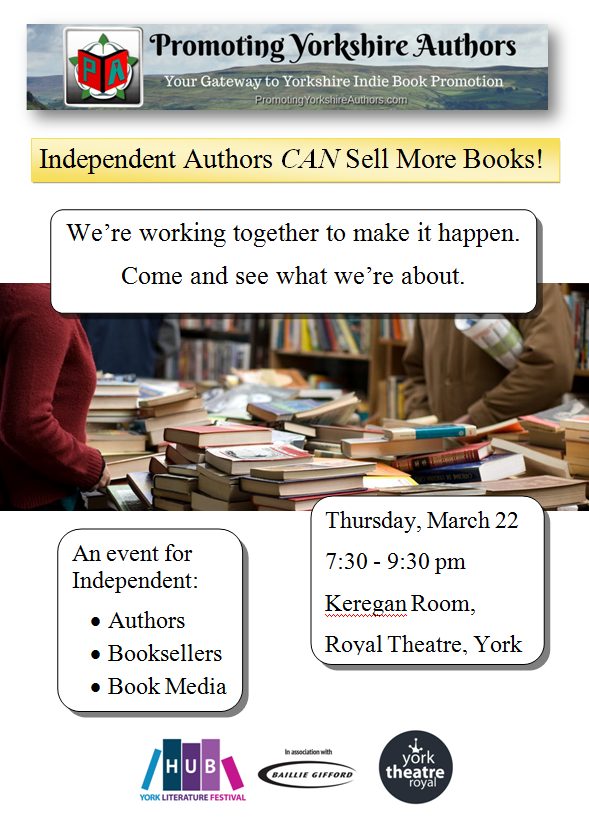 18 March, 2018 - Make the first comment on this story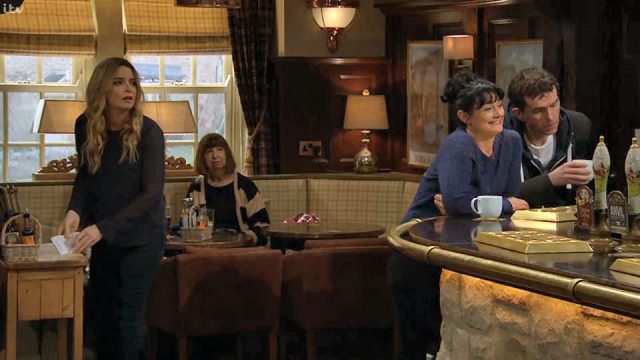 Here's a screenshot in which you can actually see me lurking in the background. As the episode was filmed several weeks ago and broadcast last Friday, I'm not giving away any secrets by saying that Chastity and Paddy were announcing 'their' pregnancy in the Woolpack. Supporting artists ('extras') are told how – or indeed whether to react to whatever is going on, so I'm not just being nosy.
One of the things I'm often asked by fans of the show is whether cast members are like the characters they portray. In the case of Emma Atkins, I'd say definitely not. Charity has a very hard shell and always puts herself first. Emma, on the other hand, is friendly, chatty and even relieved me of my suitcase on one occasion, carrying it off the minibus to the village set for me and all the way into the canteen.
Natalie Robb strikes me as very much like warmhearted Moira. She was first to the rescue when I fell flat on my back in the Emmerdale graveyard during the filming of Edna's funeral!
Mark Charnock, best known nowadays as pub chef Marlon, first came to my attention in his role as Cadfael's young assistant, Brother Oswin. I loved that series from start to finish and so was thrilled to bits to have the opportunity to chat about it with him one lunchtime. Amongst many other things, he told me how relieved he was to be cast as a novice and therefore not forced to have a tonsure* like the older monks. He still has a fine head of hair!
*Tonsure (/ˈtɒnʃər/) is the practice of cutting or shaving some or all of the hair on the scalp, as a sign of religious devotion or humility.
18 March, 2018 - Make the first comment on this story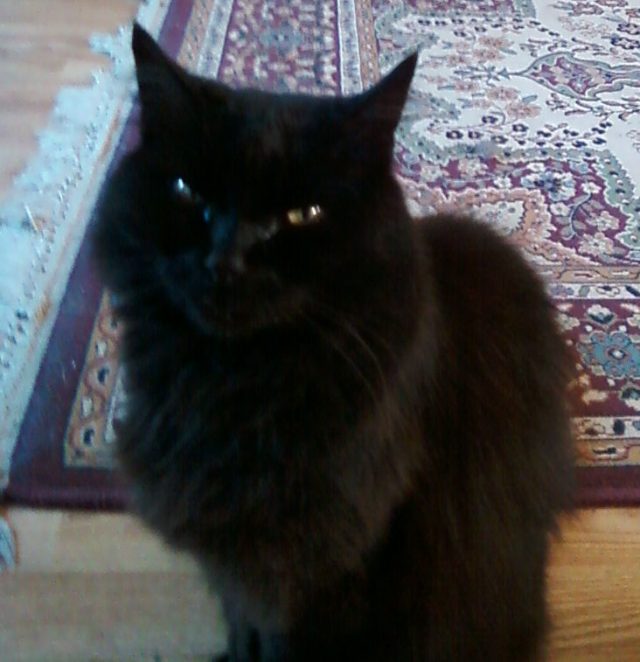 Almost seventeen years ago, a lady from the RSPCA arrived at our home with a pair of 'hard to place' kittens, offspring of a feral mother. It had never occurred to me before that black was the least favourite colour for would be adopters to request. Why? Goodness knows. Superstition about witches and their familiars, perhaps?
Given the chance to name one of them, our younger son immediately decided on Tom. Not the most imaginative name for a tom cat, I suppose, but it stuck. He was Thomas on formal occasions and his subsequent paperwork for the vet. His sister became Tabitha, Tab for short.
They were so shy that we hardly saw them for the first few weeks and kept accusing each other of leaving exterior doors open. The food we left out for them always disappeared overnight, though. Tab was much warier, but Tom gradually gained enough confidence to jump up onto the sofa beside me and allow himself to be stroked. Eventually, his sister followed suit, although not before opening up my right arm from wrist to elbow with her tiny claws the first time I attempted to pick her up. I still have the scars to prove it!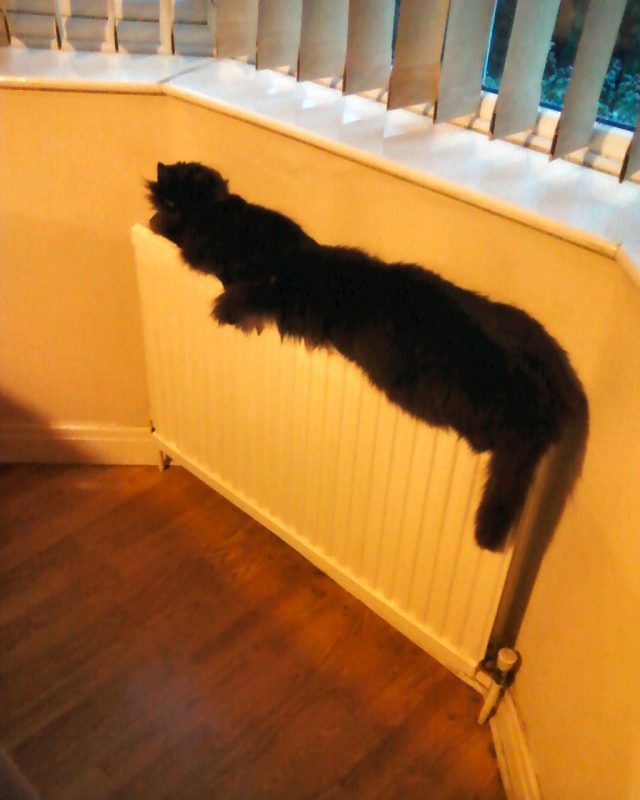 Tom and Tab squabbled as siblings will and he often elbowed her out of the way when treats or a warm lap were on offer, but they were always together. Will she miss him as much as we do? It's hard to tell with cats, but she must wonder where he is now. Unfortunately Tom, always the larger and bolder of the two, began to deteriorate last year. His back legs lost all their strength and he started to waste away. Towards the end, he was on three different types of medication, but the vet told us that there was no hope of improvement.
We console ourselves with the knowledge that he had a comfortable life far in excess of what might have been expected when he was born. Farewell, old chap. You'll never be forgotten.
16 March, 2018 - Make the first comment on this story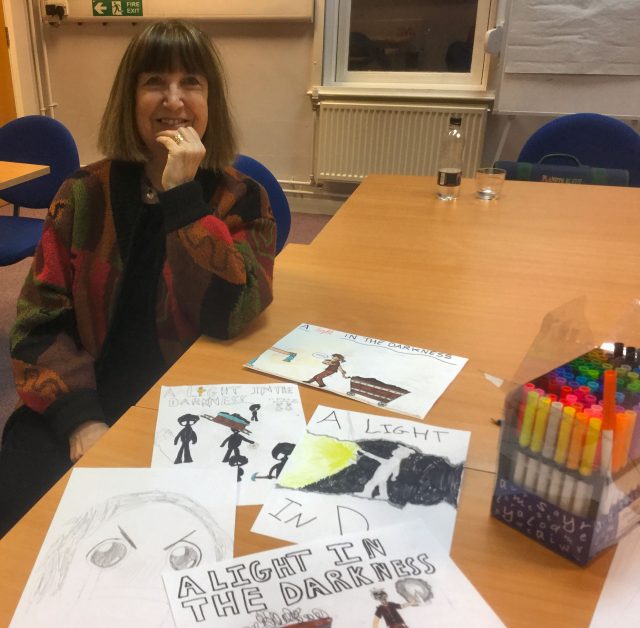 Well, that was fun! I showed some photographs about a turn of the (19th/20th) century workhouse and mining village, outlined my story, read some extracts and then let the Squigglers loose on the art materials provided. Very promising start. Thanks due to Shaun Doyle from Ripon Library (who also took the photo) and Vicki Lever from North Yorkshire Youth for their support and enthusiastic participation.
26 February, 2018 - Make the first comment on this story
I was very pleased to take part in this event in York last night and to meet so many pleasant and enthusiastic people.
The four workshops ran simultaneously, with Toni ringing a bell when it was time for the groups to move on. The spaces allocated on the top floor of Waterstones were comfortably far apart, which prevented any overlapping of sound, and plenty of chairs were provided.
With only a short time to spend with each group, I had to take a whistle stop approach to my subject but managed to cover all the main points as well as read out a few examples. Everyone left with a handout and – I hope – an increased understanding of the nature of flash fiction and what can be done with it.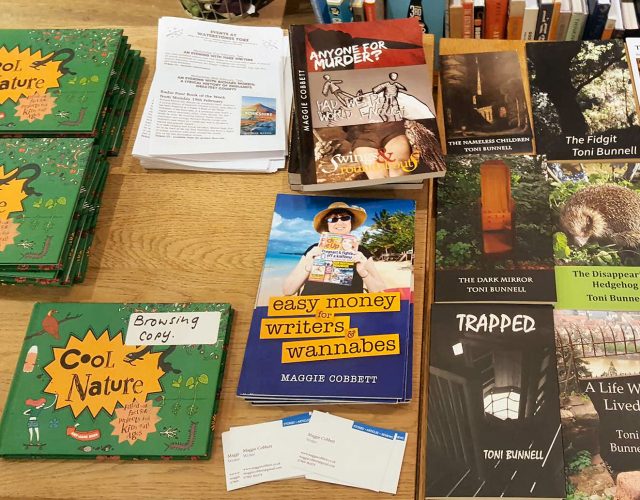 We sold a few books too!
22 February, 2018 - Make the first comment on this story
Check Out My eBooks
Blog Categories
Links
Live From Twitter