Hello, and thank you for visiting my site. I hope that you'll return often and always find something of interest about my world and what inspires me to pick up a pen. (This is a figure of speech, unfortunately. My handwriting is terrible!) Here's what I've been up to recently...
Writing is hard work. Relaxing in the company of like minded friends is always a joy.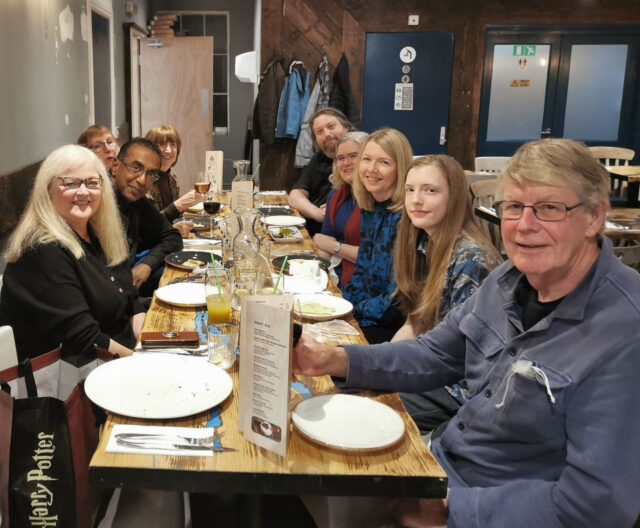 Last night saw the celebration of Write-On! Ripon's second anniversary at Portofino Ristorante on Kirkgate.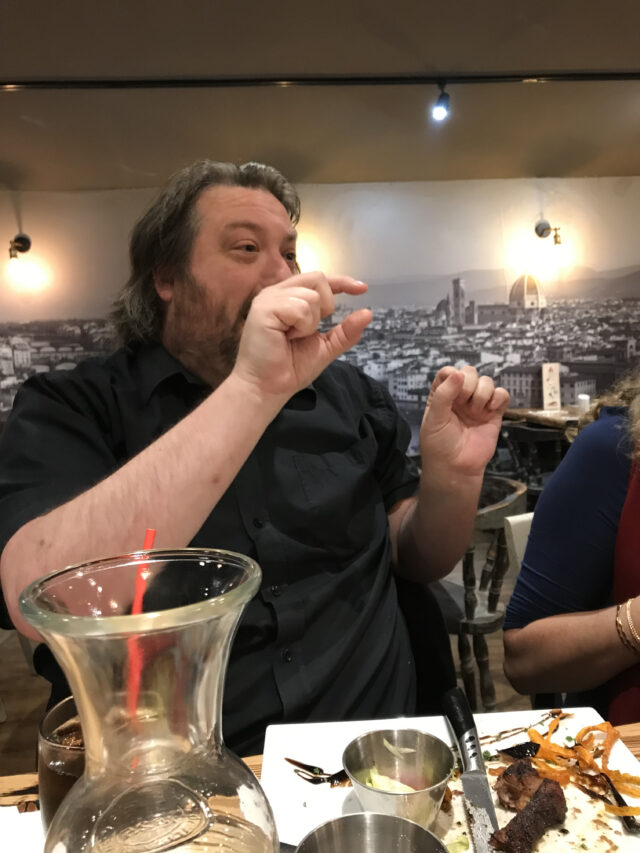 Not everyone was able to make it, but those of us who did certainly enjoyed it. The food was good, the wine flowed and so did the conversation.
27 October, 2023 - Make the first comment on this story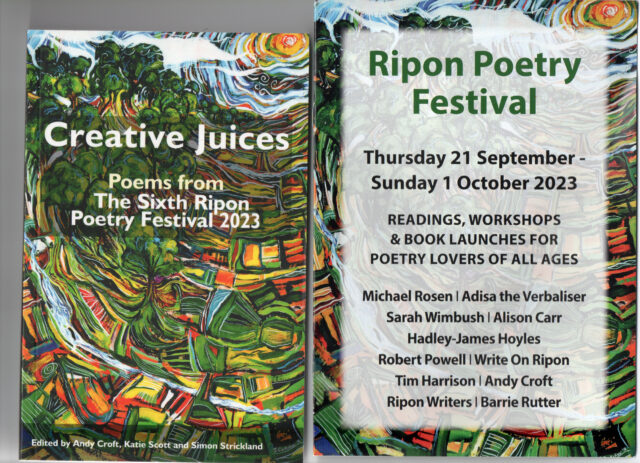 What a weekend! Actually it began for me on Thursday evening, when the two Ripon writing groups that I belong to co-hosted the open mic event to launch this year's festival.
The downstairs area of the Claro Lounge, where Write-On! Ripon meets on Tuesday afternoons, has never seen as many poetry lovers crammed into its many nooks and crannies. We even had to bring in chairs from the garden, so it was lucky that the afternoon had been a dry one. There were sad poems, happy poems, funny poems, angry poems – some using traditional forms and others the most free of free verse. Definitely something for everyone.
The same could be said of Saturday evening, when the launch of the 2023 anthology was held in the Ripon Arts Hub. Everyone who had had a poem chosen for inclusion was invited to read and I was delighted to meet up with a friend from the Swanwick Writers' Summer School. Penny Blackburn had travelled from Newcastle to take part in various activities throughout the day and we just managed (courtesy of my son Richard) to have a photo taken of the pair of us before she set off home.
24 September, 2023 - Make the first comment on this story
What an interesting evening I had yesterday, invited to view my contribution to Lawnswood School's 'alumni' wall. For non-Leeds friends, I should explain that the current co-educational school was created many years ago to replace two grammar schools, Lawnswood High for girls and Leeds Modern for boys. Apart from Old Mods John Craven and Alan Bennett, I think I'm the oldest contributor so far, but the wall will continue to evolve.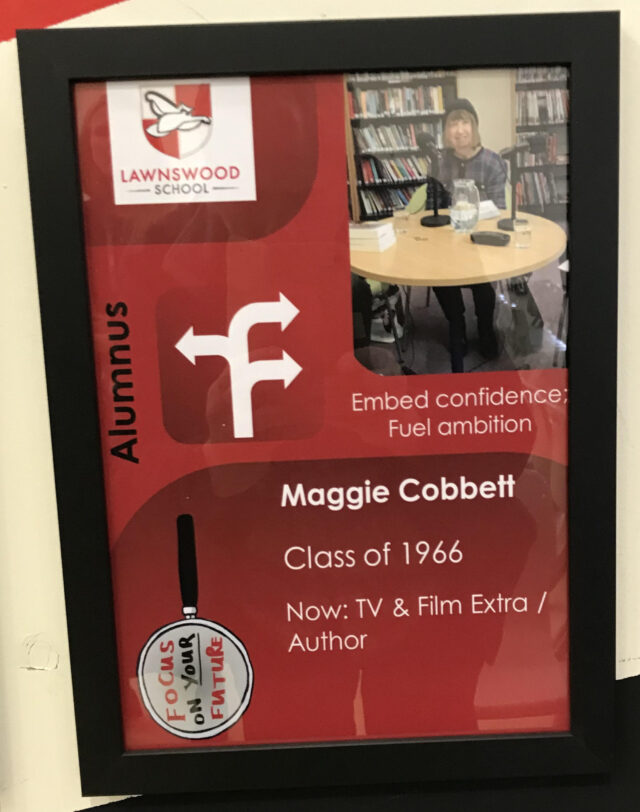 (In anticipation of people who remember their Latin grammar pointing out that I'm an 'alumna' rather than an 'alumnus', I know, but I thought it would be churlish to point it out.)
21 September, 2023 - Make the first comment on this story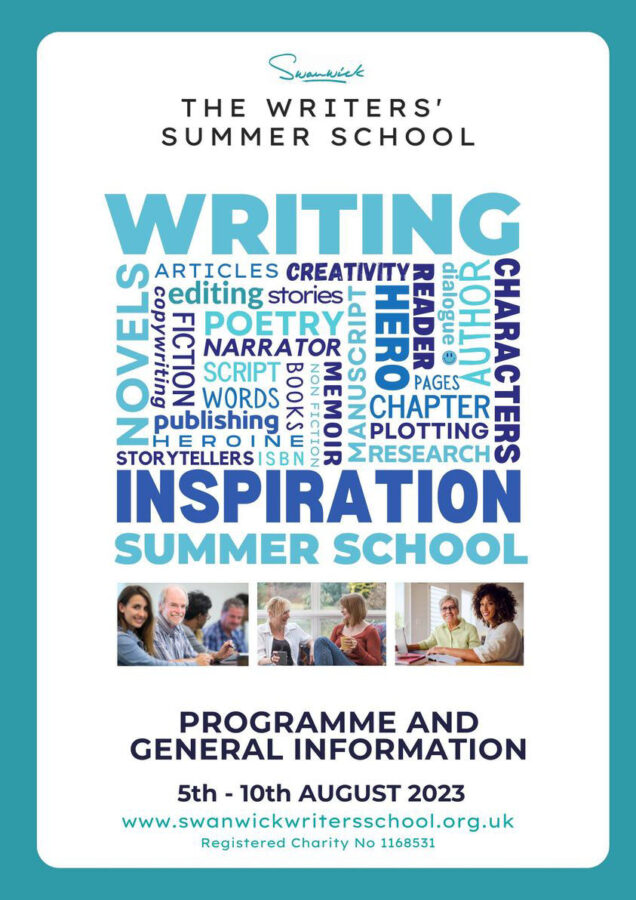 How quickly the time goes by at the Swanwick Writers' Summer School, even more so this year with the programme spread over a shorter period than usual. The magic was still there, though, and I thoroughly enjoyed it.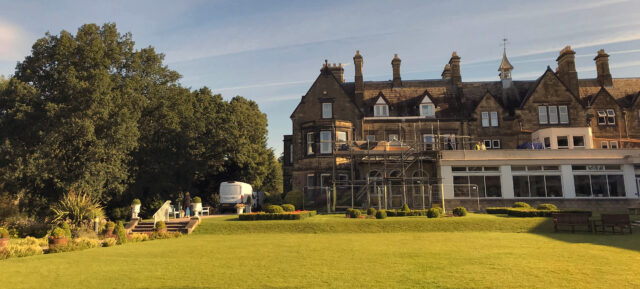 Some building work was going on at the main house, but the grounds of The Hayes were as well kept as ever. Despite a gloomy forecast, we had mostly fine weather and plenty of opportunity to sit outside with our drinks at different times of day.
As well as brushing up on several aspects of writing with tutors who are experts in their fields, I wore my purple lanyard with pride and – as an ambassador – did my best to make new Swanwickers feel welcome and help them to settle in. Fellow Ripon Writers' Group member Susan was amongst them and soon felt at home.
Having won second prize (£100 off this year's Swanwick fees) in the Val Penny/SpellBound books short story competition, I was very pleased to meet the SpellBound team of Sumaira Wilson and Nicola East before their course on digital publishing. The ladies had kind words to say about my writing and also encouraged me to submit my next project directly to them.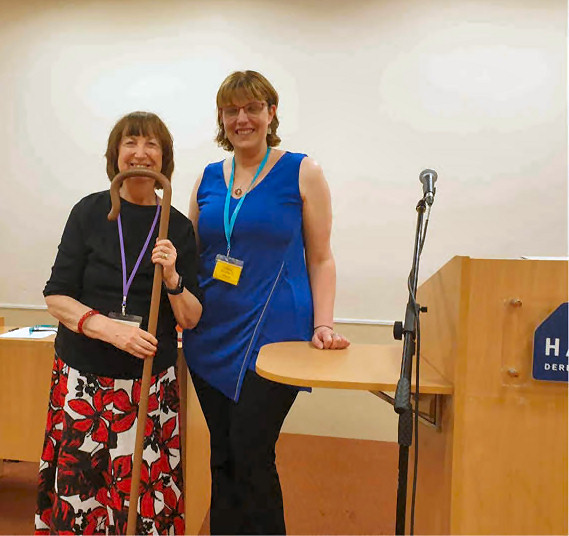 In the evenings, I enjoyed talks by Birmingham poet Roy McFarlane and romantic novelist Sue Moorcroft, who was accompanied by her agent Juliet Pickering. In addition, I took part in both the poetry and prose open mics, co-hosting the latter with Jen and making sure that no one ran over time. Harsh, perhaps, but it's the only fair way with so many Swanwickers keen to read their work.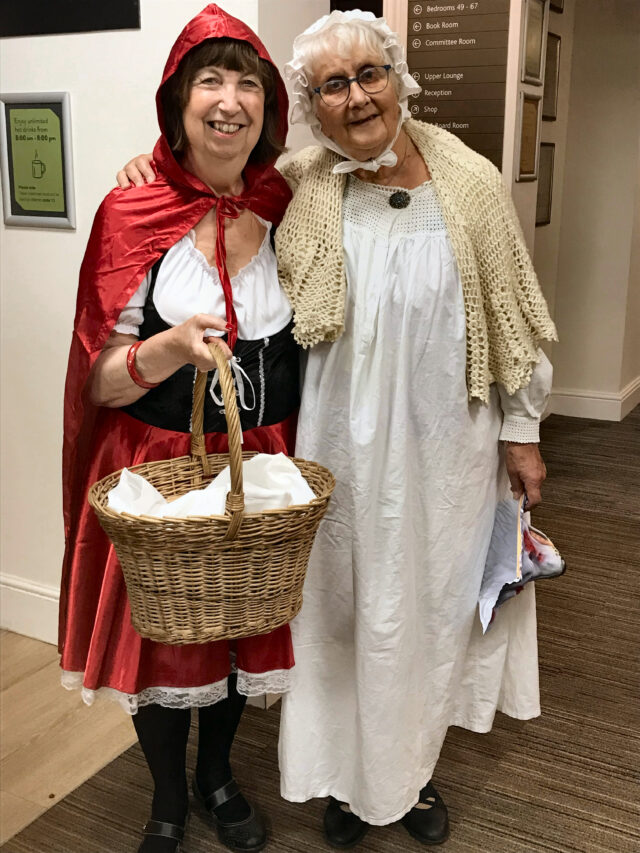 The fancy dress evening is always a good opportunity to pull out the stops. The theme was fairy tales this year and I found a willing partner. If you look closely at Liz's hand, you'll see that her Granny Wolf mask is at the ready.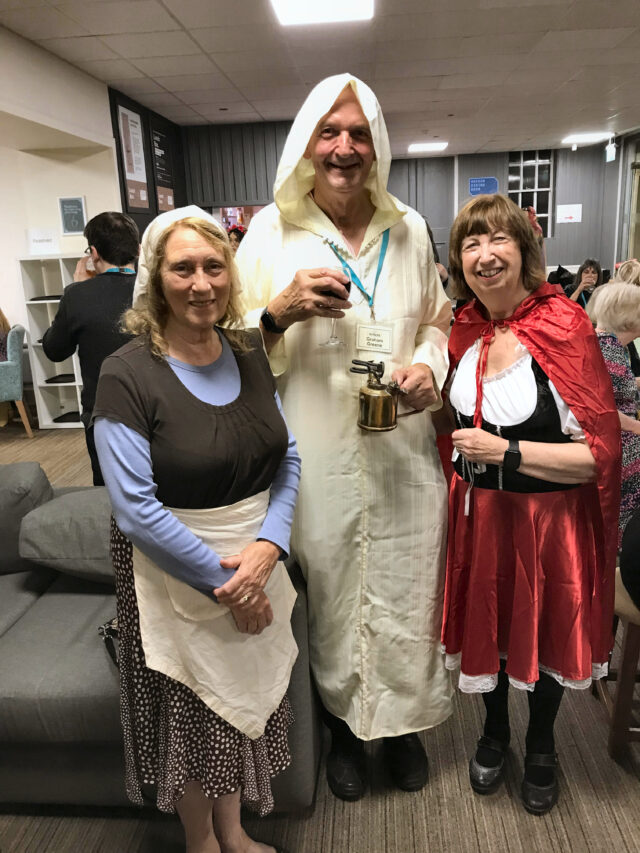 As ever, there was a weird and wonderful set of characters wandering around the bar, with some costumes showing a remarkable amount of ingenuity. Was Cinderella about to ask the genie for a ball gown or inspiration for her writing, I wonder.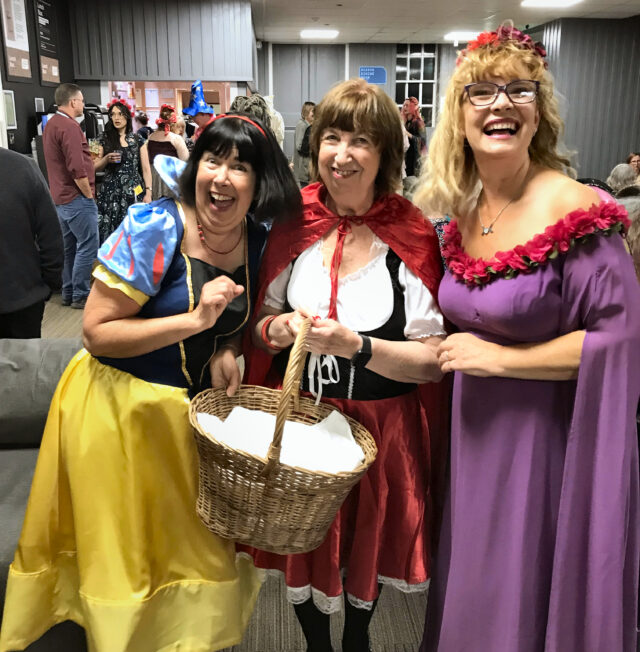 I knew that basket would come in handy one day. Bought in 2006 for a production by Ripon Amateur Operatic Society of 'Fidler on the Roof' – I was one of the mamas – it's never actually been used for shopping but came into its own that evening.
All too soon we were packing to go home, but not before enjoying PRINKS (pre-dinner drinks) on the lawn and the farewell evening with its awards and prize draws. The die-hards gathered in the bar or around the fire pit for a sing song, but I felt my comfortable bed calling me. I'm such a light weight these days!
11 August, 2023 - Make the first comment on this story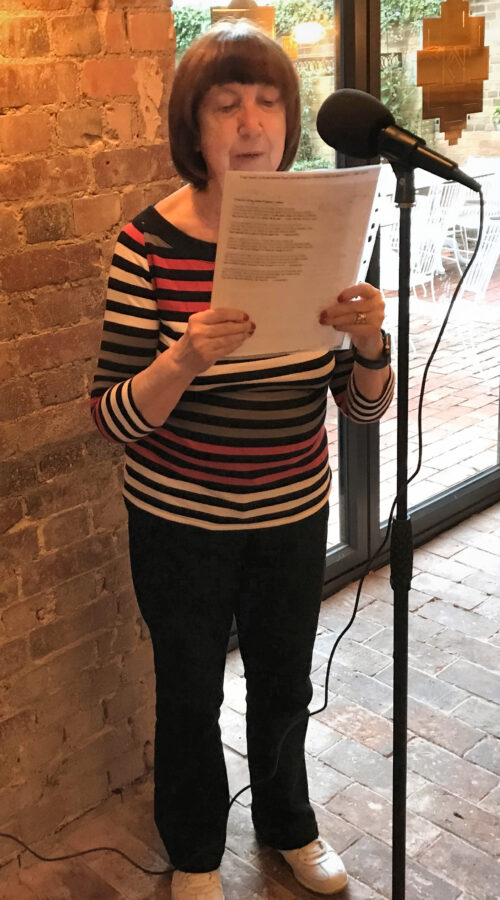 With the closure of the Curzon cinema, Write-On! Ripon Unleashed had to find a new venue and the lower ground area of the Claro Lounge fitted the bill perfectly.
Here am I, strutting my stuff as well as showing off a new hair do. It was a great evening all round!
4 August, 2023 - Make the first comment on this story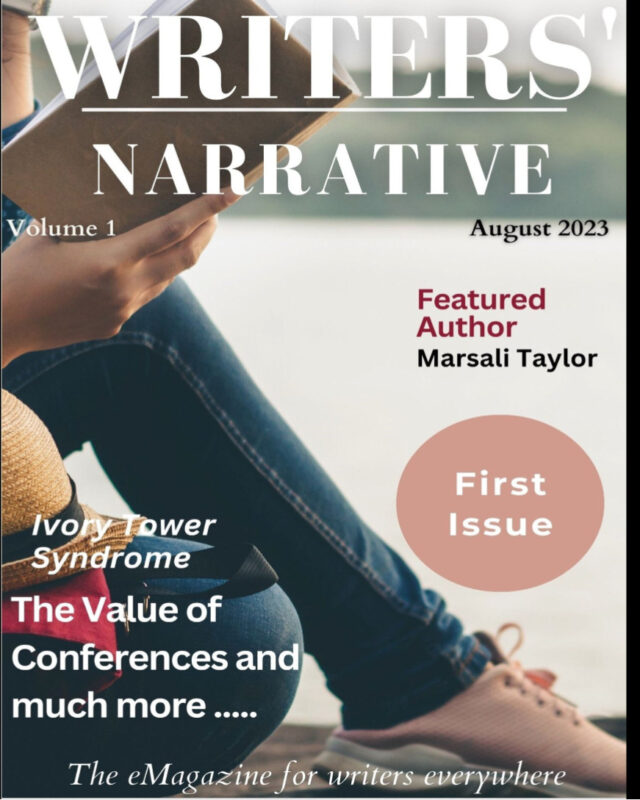 The demise of Writers' Forum left a gap in the market that this new emagazine is attempting to fill.
How successful it will be remains to be seen, but I'm happy to have an article on 'filler' writing included in the first issue.
At the moment, Writers' Narrative is available from Amazon for £1.99, but the aim is to make it free to download.
31 July, 2023 - Make the first comment on this story
For one thing, I'm back on my feet, although still having to take it easy. A slow plod is the best I can manage so far, but I'm working on that. It's wonderful to be fit enough to resume normal activities, including meetings of Ripon Writers' Group and Write-On! Ripon. (The latter group, following the much regretted closure of Ripon's Curzon cinema, now meets at the Claro Lounge in the Market Place.)
Secondly, with Swanwick Writers' Summer School 2023 only a few week's away now, I'm delighted to have come second in an associated competition. Prolific crime author Val Penny and her publishers Spellbound Books set the challenge to write a story with the theme of revenge. Mine, set around a baffling murder in Amsterdam, has given me £100 off the cost of my place at this year's School.
Amsterdam holds many fond memories for me and I was a great fan of the original Van der Valk television series with the late Barry Foster, both of which influenced the story.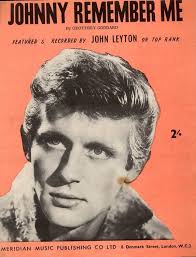 There is also a Whitby connection and a nod to singer John Leyton, who provided inspiration for one of the main characters. Who of my generation could forget his haunting rendition of 'Johnny, remember me'?
12 July, 2023 - Make the first comment on this story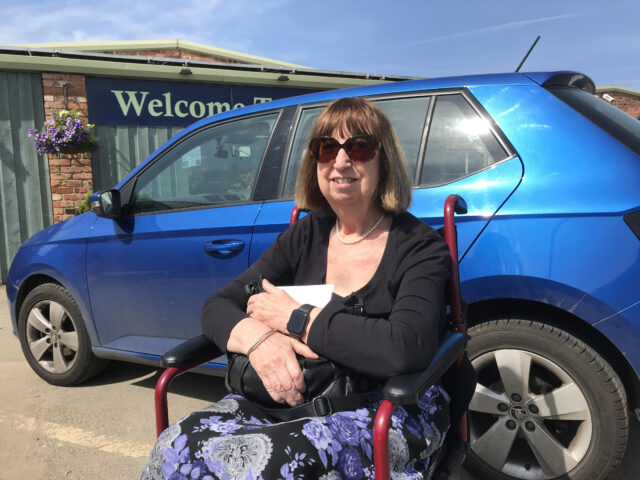 My Latin is rusty to say the least, so I hope I've got the plural right in the heading to this post. Hallux valgus sounds much more glamorous than 'bunion' and I had one on each foot operated on a couple of weeks ago, which is why I now only see the light of day when taken out in a wheelchair. (That's not strictly true, because I can hobble out into the garden, but I'm aiming for the sympathy vote.)
Apart from the post-op pain, the details of which will probably surface somewhere in my writing at a later date, my abiding memory is going to be of the vulnerability of the wheelchair bound. The men of Team Cobbett have been magnificent, but I now know what it's like to be fearful of being bumped into or let go on a slope, feeling the need to apologize for getting in other people's way and having conversations conducted over my head. Only four more weeks of this to endure if all goes well, but it's given me a fresh perspective on the needs of those less fortunate, with whom I can now empathize as well as sympathize. Not quite a Damascene moment but close.
Thinking about that, I've just reread Susan Coolidge's What Katy Did and enjoyed it just as much as when I was a child. A century and a half separate Katy Carr's experiences from mine, but there are definite parallels to be drawn and it's a very good read.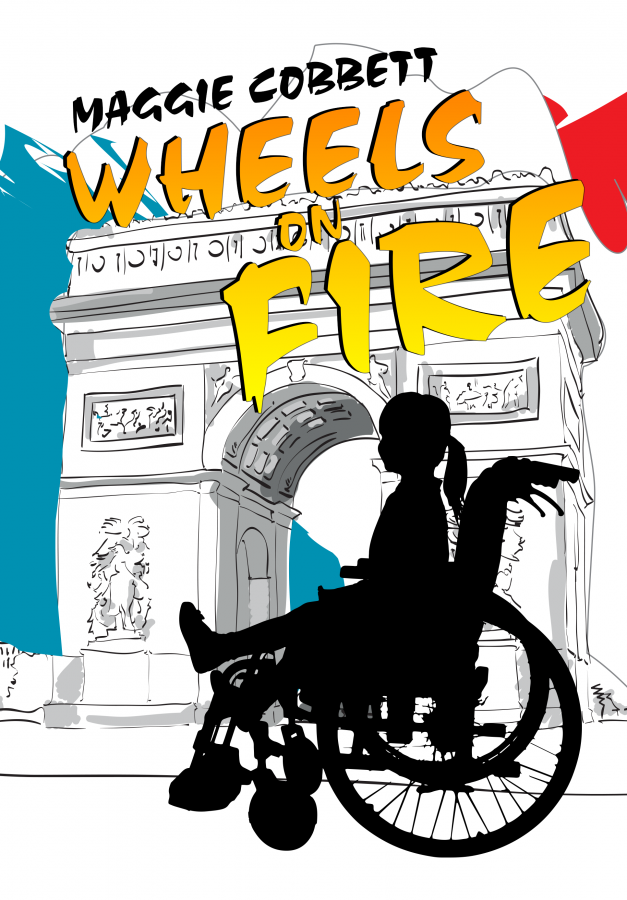 If you can't be famous, be infamous. Wheelchair bound after a tragic accident, revenge is on Kaz's mind when she joins the school trip to Paris…
I also thought about the heroine of the children's book I brought out a few years ago. which is still available from Amazon. The plan then was to follow up Kaz's story and my recent experience might give me the motivation I need to do just that. Watch this space!
31 May, 2023 - Make the first comment on this story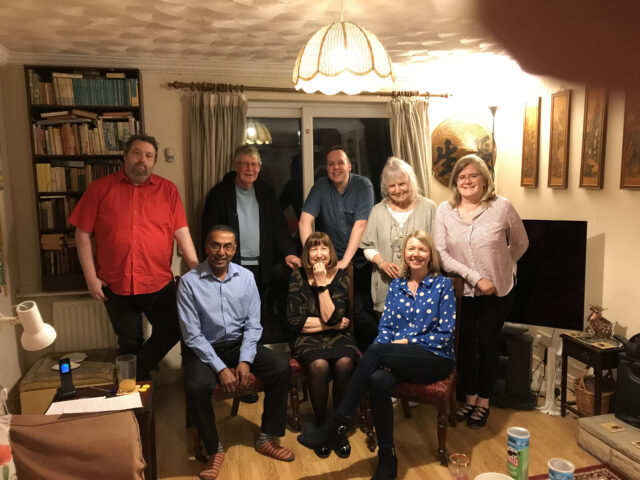 Wednesday saw the first meeting of a new quiz team drawn from local writers. Divided into two groups, we took it in turns to ask and answer questions prepared in advance and brought along to the gathering.
It was a very convivial evening and, I hope, the first of many. The idea is to have a pool of people willing to compete in local quizzes, of which there are many, under our (as yet undecided) group name. Something along the lines of the Eggheads, where a few members at a time take part.
Our pool is still very much open to new people.
13 May, 2023 - Make the first comment on this story
Check Out My eBooks
Blog Categories
Links
Live From Twitter