Hello, and thank you for visiting my site. I hope that you'll return often and always find something of interest about my world and what inspires me to pick up a pen. (This is a figure of speech, unfortunately. My handwriting is terrible!) Here's what I've been up to recently...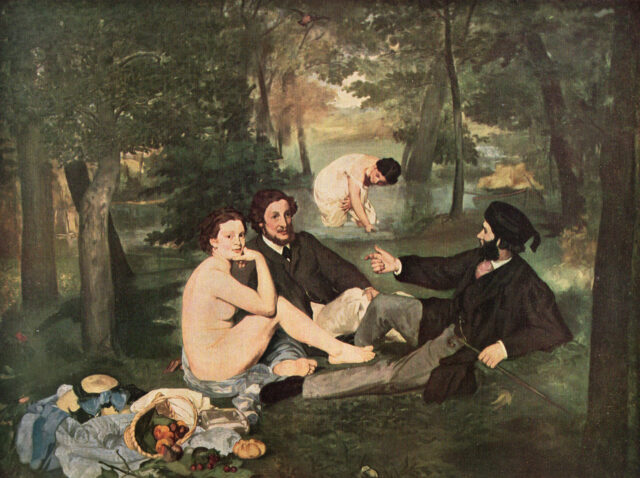 One of the competitions included in Ripon Writers' Group's rolling programme challenges members to find inspiration in any branch of the arts. Always a lover of the Impressionists, I took this infamous painting as my source this time around.
Le déjeuner sur l'herbe
"Come to a picnic in the Bois de Boulogne, Victorine," he said one day in 1863. "It will be quite an intimate affair; just the two of us, my brother and Suzanne's, maybe and another young lady."
"And not your wife?" I enquired acidly, although I already knew the answer to that question. Suzanne might accept my professional relationship with Monsieur M, but mix with me socially now that he'd finally made a respectable woman of her? No chance!
"I'm afraid not," he replied with a shrug. She wouldn't risk getting grass stains on one of her fine new dresses." Not a problem for me, I thought. My dresses were adequate, even pretty, some of them. But fine? No. Not on what I earned.
"Well, where exactly did you have in mind?" I asked. He stroked his beard, something he always did when pretending not to have the answer straightaway, and then said casually,
"Oh, by a stream or a lake. Then some of us can bathe if we've a mind to."
"I see." I did see too. As if that hadn't been his plan all along. Well, it wouldn't be the first time he'd feasted his eyes on me in the all together. An artist's model has to cast off any notions of modesty, you know, so it's lucky that I've always been comfortable in my own skin. Degas and Toulouse-Lautrec have both had an eyeful at different times. Several others too, if I'm honest. Well, how else was a red-haired girl from a poor background but with artistic ambitions of her own to support herself in Paris? I've always had a healthy appetite too and thought I could count on him, a man of considerable means, to put on a good spread for our woodland lunch. The polar opposite of an artist starving in a garret was Monsieur M. He was a toff and the only artist I knew who didn't actually have to sell his work to keep his family in style, although he did take great pride in his paintings. Having some of his best rejected by the stuffy Paris Salon as too risqué was a hard pill to swallow and I wasn't surprised when this latest painting, regarded by some critics as a scene of modern-day debauchery, made its first public appearance in the Salon des Refusés. It wasn't on its own, of course. Napoleon III set it up to stem a public outcry when more than half the submissions to the official Salon were turned down, but that's by the by.
Anyway, to get back to what I was saying, off we all went. The picnic wasn't up to much, just fruit and bread and not a patch on those that his and Monet's families enjoyed in their gardens, but this was going to be no mundane scene of everyday life. He wanted me, and only me, au naturel; not pretending to be a Greek goddess or the like, but as an ordinary young woman who just happened to be picnicking in the nude. There was to be no hanky panky. Men who've viewed the huge oil painting ever since might feel a stirring in their loins, but the way he posed our little group suggested that my companions hadn't really noticed my state of undress. Far from it, in fact. They hadn't even loosened their collars and he ordered them to appear deeply immersed in their conversation. Odd really, especially as one of them was sitting with his legs splayed out and my right foot was in pole position to give him a kick where the sun don't shine. Chin cupped in my hand, I was minding my own business and gazing thoughtfully away from the others as if trying to catch the eye of any passer by who chanced upon the strange scene. They'd have taken me for a prostitute, of course, and the other girl too, although she's never been named and therefore doesn't share in my notoriety. Given that she appears to be emerging from her bathe dry and almost fully clad, as well as having difficulty scrabbling back up the bank, the painting wouldn't have lost much if she'd been missed out altogether. The perspective is terrible, if you want my opinion as a fellow artist. She's far too big and appears almost to be floating above us. The background lacks depth too and you might well imagine that it had all been done in a studio rather than outdoors. As for the stark lighting, it's almost as though we're on a stage with a spotlight like the new one at the Paris Opera turned onto us. It wasn't for me to tell him that, of course, a man twelve years my senior and many social notches above me, but others have certainly done so since.
Some say that Monsieur M pinched the whole idea from an early 16th century Italian painting that's still hanging in the Louvre. Supposedly representing both art and music, Le Concert Champêtre (The Pastoral Concert) does have a similar grouping, but both women are naked. One of them is not only chubby, rather like Suzanne, in fact, but also facing forward. The cloth draped around her legs hides nothing of significance! Classical works can usually get away with it, but just imagine the reaction in 1863 if Monsieur M had posed me in all my glory like that. He didn't live to see the heyday of the 'artistic' postcards that made fortunes later on for vendors in Pigalle!
Another source of inspiration for our painting is said to have been an old engraving featuring the judgment of Paris. That one shows a naked water nymph seated in a pose very similar to mine and one of the river gods with her has his family jewels on display. It would have been interesting to see the reaction of either of my buttoned-up male companions, especially the dandy who didn't even remove his silly hat – I ask you, who wears a hat with a tassel at a picnic? – to a suggestion of that sort. No David he!
Anyway, the whole thing was considered a terrible affront to propriety by the Parisian elite who flocked to see it and it was something of a shock to me too. Had he put my head onto Suzanne's body? It certainly looked like that, but there was no doubting that it was my face. It was even worse when he painted me, naked again, of course, as the courtesan Olympia waiting for her next client. By then all Paris knew my name and it hasn't mattered how many times I've been painted with my clothes on, eating cherries, singing in the street, playing a guitar or even preparing to fight a bull. I'll always be remembered as the shameless fille de joie in those damned paintings. I've been told that respectable men hurried their wives past before themselves returning for a closer look!
At least I got some positive recognition later on, when the classes I took at the Académie Julian paid off and my self portrait was accepted for exhibition by the jury of the Paris Salon. That was in 1876, another year in which Monsieur M's work was not included. I don't want to be mean-spirited about all this, though. The sweetest success of all came in 1879 when he was approaching the zenith of his career and I, little Victorine Meurent from the back streets of Paris, had the honour and satisfaction of seeing a work of mine displayed in the same room as a Manet!
Footnote: Although Victorine Meurent exhibited in the Salon six times and was inducted into the Société des Artistes Français, her work has been all but erased from art history. Le Jour des Rameaux or Palm Sunday, recovered in 2004 and displayed in the Musée Municipal d'Art et d'Histoire de Colombes, a suburb of Paris, may be her only surviving painting, although I do hope not.
The competition was expertly adjudicated by well known York poet and lecturer Oz Hardwick, who had this to say about my entry, to which he awarded second place:
Manet's famous painting is indeed one of those which demands that the viewer ask what on earth is going on, and this is a very good response. As you say in your footnote, Meurent has pretty much vanished in the past 140 years, so it's good to give her a voice at last. And it's a convincing voice, which is experienced and wise, with a little bit of playfulness. That you have focused on her as the artist she was, as well as Manet's most frequently used model, gives you the chance to bring in the viewer's perspective as well as that of a participant in the scandalous scene (with its disappointing picnic). Yes, what was he thinking about when he added that figure leaving the water? Your speaker's reasoned connoisseurship gives her a real sense of authority. If there's one thing I'd have liked a bit more of (within the word limit – never easy), it would have been a bit more of the atmosphere in the Salon des Refusés: a quote from an outraged visitor or two would have let us enter into the crowd for a moment. That one point aside, there's something very appealing about animating these enigmatic silences in history and you do it rather neatly.
16 July, 2021 - Make the first comment on this story
19 April, 2021 - Make the first comment on this story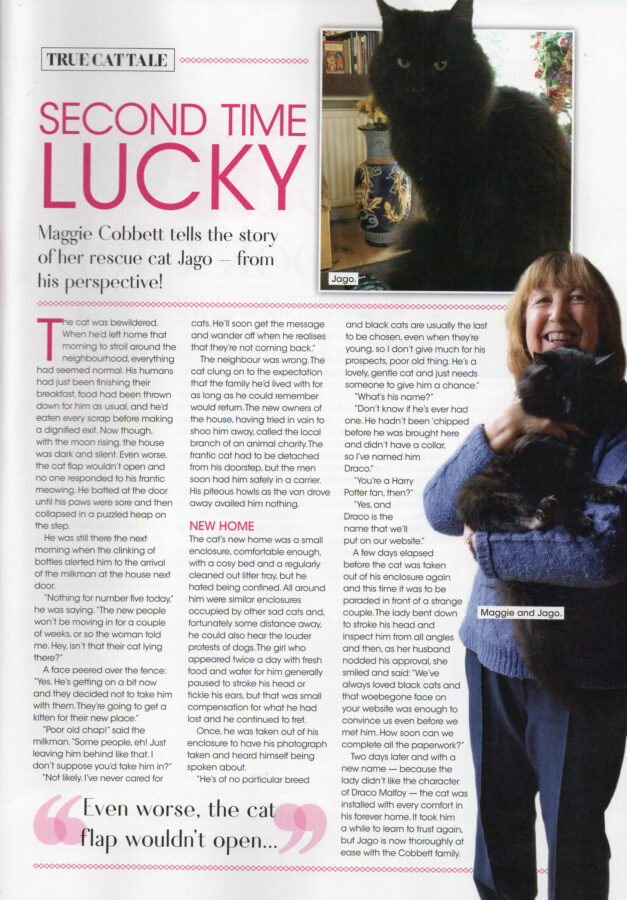 Jago has featured many times in my writing since he came to us and here he is again!
(May 2021 issue of Your Cat)
18 April, 2021 - There are 2 comments on this story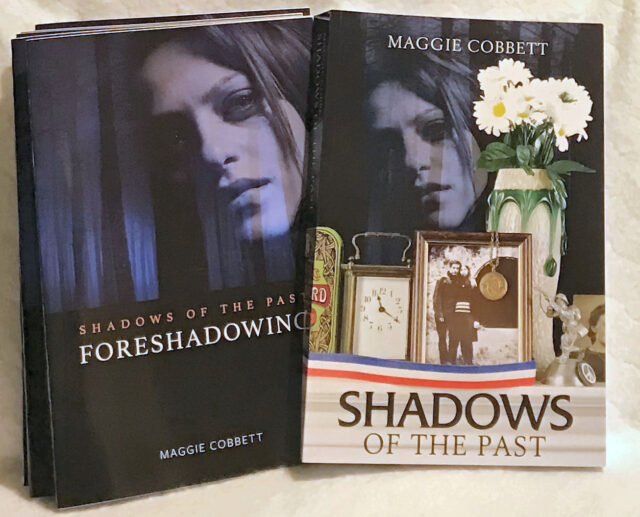 A working holiday in France for so little?
"It sounds too good to be true," says Daisy's mother, but her warning falls on deaf ears.
This short prequel to 'Shadows of the Past' reveals how the three English schoolgirls at the heart of the story are drawn into a sequence of events beyond their parents' worst nightmares. Old sins have long shadows and nowhere more so than in the village for which their daughters are now heading.
'Foreshadowing' gives a great deal of additional background information about Daisy, Kate and Ronnie before their disappearance. Why did the unlikely trio decide to cross the Channel together that summer and how, out of all the villages in France, did they have the misfortune to end up in Saint-André-la-Forêt? This prequel is already available to download free of charge from Amazon or Smashwords, but printed copies can only be obtained directly from me. For a limited period, I will enclose a complimentary copy with each signed copy of Shadows of the Past (£8.99 + £3.20 p&p in the UK) ordered through this website. Please contact me for further details.
24 February, 2021 - Make the first comment on this story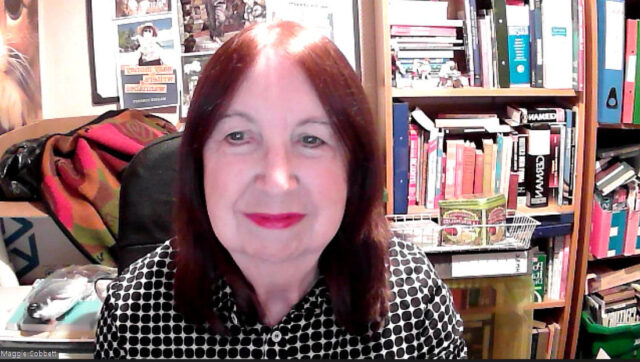 I have no doubt at all that most of us when on Zoom make some effort with our appearance. (Note how my hair has grown since lockdown!) The outfit chosen is important, of course, although only from chest height upwards unless you intend to move around a lot. Take care with it, though! If you wear all black and are also seated on a black highbacked chair or sofa, your friends or colleagues will see a disembodied head – always a disturbing sight!
Some also make huge efforts to curate their background. My study is always chaotic, but that's the way I like it, so what you see is what you get! Having said that, maybe I should have moved what appears to be a dead fish in the bottom left hand corner of the image.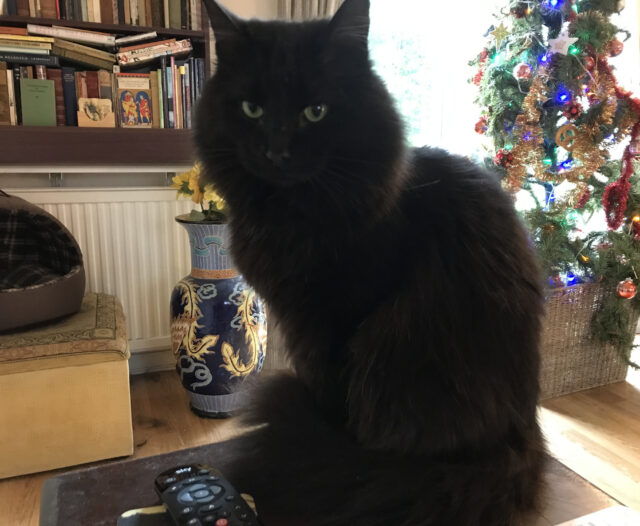 It's actually an electronic toy bought as a Christmas present for Jago, but it terrified him when it started flapping about on the carpet and is now waiting to go to a new home.
10 February, 2021 - Make the first comment on this story
As well as writing stories, articles, reviews and even the odd poem, I've always enjoyed submitting 'fillers' of all kinds. My little handbook Easy Money For Writers & Wannabes was a best seller when it first came out and, although publications have come and gone since then, is still a useful guide to the basics. There will always be a market for anecdotes, jokes, handy tips, amusing photographs and so on and they can be rewarded with prizes or cold hard cash. The former can range from an electric sander from a DIY magazine to a caddy full of loose leaf tea from The People's Friend, as in the image below.
I always enjoy reading stories by fellow contributors to TPF and the one mentioned above particularly caught my eye. What home spun fun children enjoyed before the advent of computer games!
7 February, 2021 - Make the first comment on this story
The inspiration behind A Locket Full of Love is a story very dear to my heart.
Readers of my novel Shadows of the Past know that a locket plays a significant part in that story too. It can be seen three times on the front cover: draped over the photograph of the young couple, worn by the girl and just glimpsed to the right in the photo of the older lady.
The true story behind the locket is just as poignant as the fictional accounts that I have woven around it. My maternal grandmother fell on hard times after losing her first husband, who left her with three children to bring up alone. Marrying my widowed grandfather and having his son and then two more babies to look after drove her further into poverty and the little jewellery she'd had was sacrificed to keep the family afloat. Her eldest son Albert, pictured below, swore that he'd buy her a gold locket as soon as he could afford it, but that was not to be. He went down with HMS Ardent during the Battle of Jutland in 1916, leaving his mother to mourn him until her own death in 1930. She did get the locket, though, deciding to devote the meagre compensation she was awarded for the loss of her son to its purchase. In due course the locket passed down to my own mother, who wore it throughout World War 2 while my father was away with the Army and she left it to me, her only daughter. I never knew either my grandmother or my uncle, but their memories and the locket are very precious to me. I also have the bronze memorial plaque my grandmother, like millions of other bereaved people, was sent. It's colloquially known as 'the Dead Man's Penny', which some believed bitterly was all that the government thought their sacrifice was worth.
29 January, 2021 - There are 2 comments on this story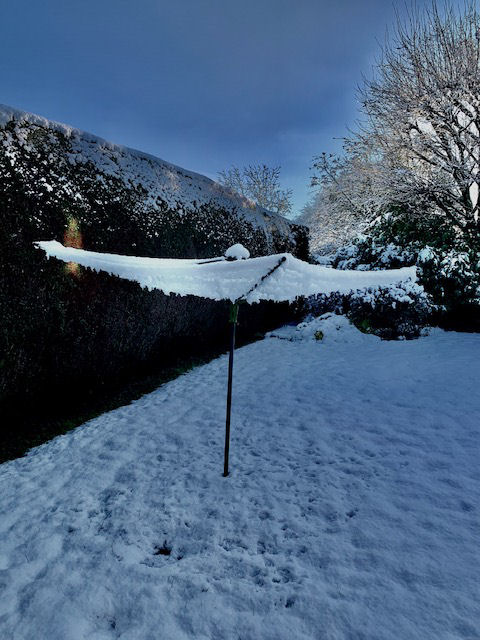 Photo courtesy of Bruce Cobbett
I'd like to wish everyone a Happy New Year and hope that it will be at least much happier than 2020 turned out to be. When we first went into lockdown in late March, a sunny spring stretched ahead and we thought it was only going to be for a few weeks anyway. How wrong we were!
Well into our third lockdown now and snowbound to boot, I can't say that 2021 is off to a good start. Brexit is done, a good or bad thing depending on your point of view, but a return to normal life seems a long way off. I shall accept vaccination against Covid-19 very gratefully when it's my turn – always assuming that I am still around to do so – and remain in a state of almost total hibernation until the recommended amount of time afterwards.
At least nothing but my own lack of motivation can prevent me from writing and I'm slowly emerging from the torpor brought on by over indulgence during the festive period. Zoom sessions with the various writers' groups to which I belong will be a big help in giving me a kick start. How can I confess in the face of others' diligence that I've hardly set pen to paper – fingers to keyboard, actually – so far this month? Time to get down to some of the projects that I promised myself last year to have finished before Swanwick (Writers' Summer School) and would have if my favourite week of the year hadn't been cancelled. Hopes pinned now on August 2021 as a goal to aim towards!
9 January, 2021 - Make the first comment on this story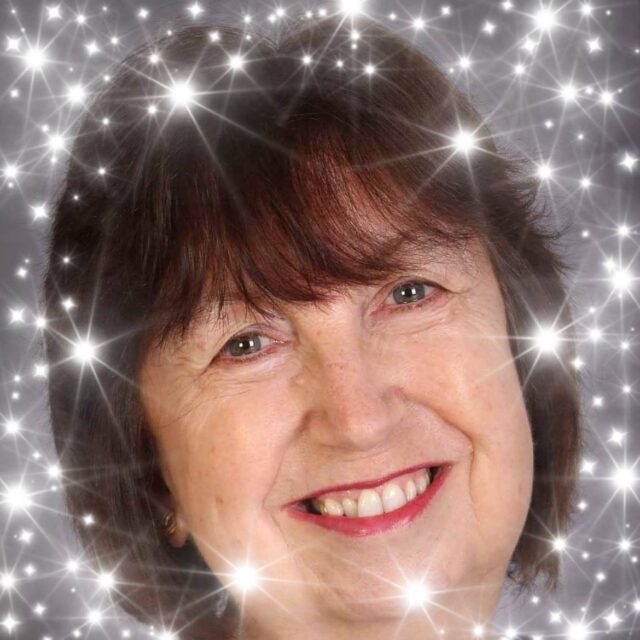 Well, that's it! We're out of the EU and 2020 is going out not with a bang – public firework displays strictly forbidden – but with a whimper. Whatever 2021 holds, I sincerely hope that it will be better for all of us than 2020 has been. Only time will tell!
Anyway, I'd like to extend my sincerest best wishes for a Happy New Year to all who visit this site. Wherever you are in the world, keep safe and keep well!
31 December, 2020 - Make the first comment on this story
Occasionally someone passes briefly through your life but leaves a deep impression. For me, writer Ken Ludmer is one of those people. We met by chance on a train in France when I was still a teenager, have spent only a few days in each other's company and yet we are good friends.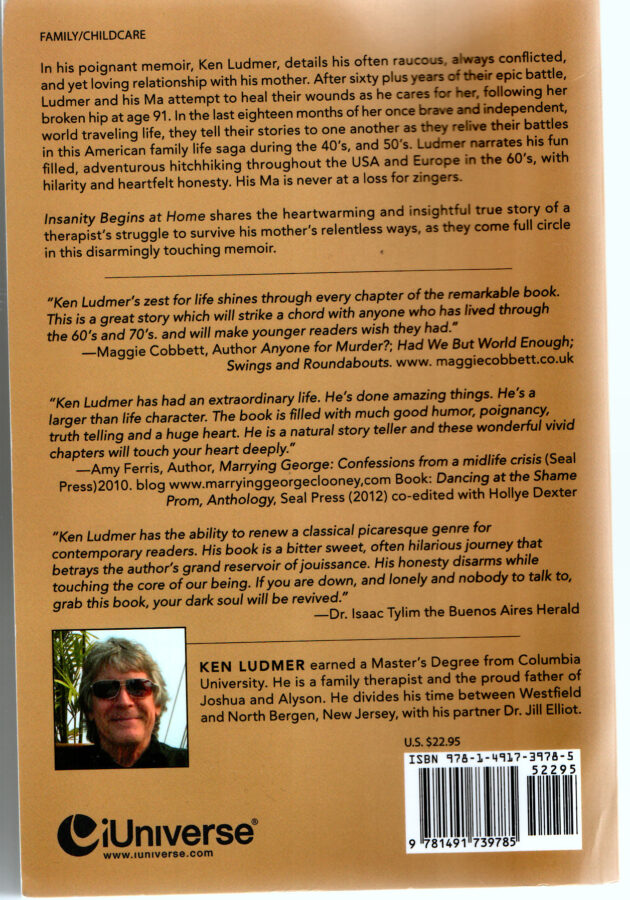 I was delighted when Ken asked me to read the proofs of his book a while back and happy to contribute to the reviews on the back cover.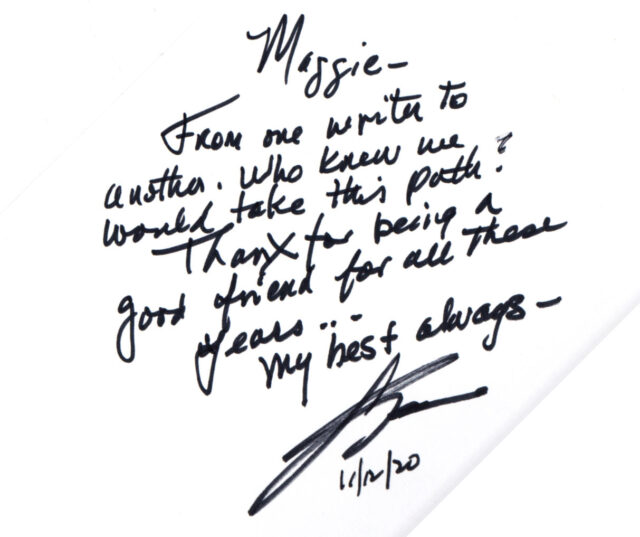 As proof of our ongoing friendship, here is what Ken has written inside the copy he sent me.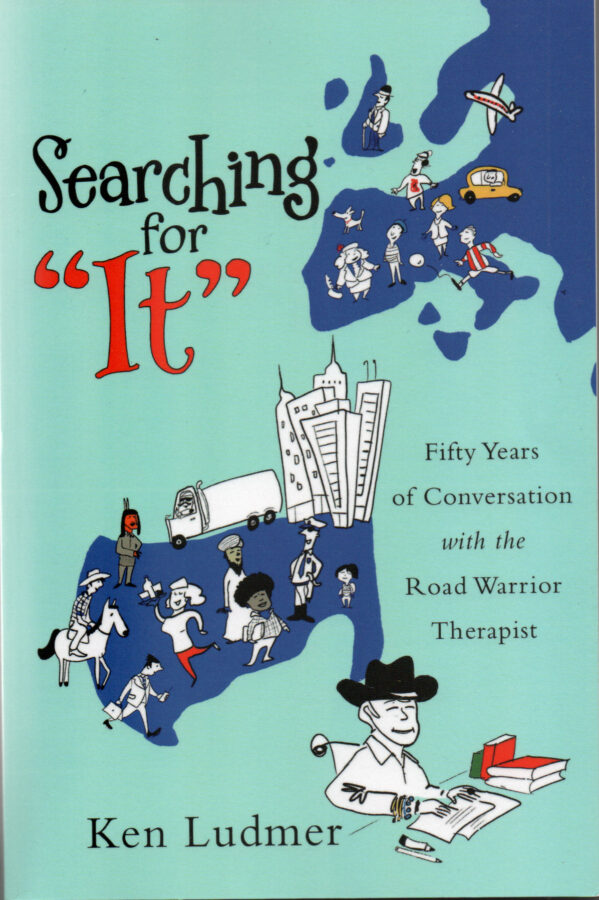 Ken's second book, more specialised but still a very entertaining read, should be a required text for would-be therapists.
2 December, 2020 - Make the first comment on this story
Check Out My eBooks
Blog Categories
Links
Live From Twitter