Hello, and thank you for visiting my site. I hope that you'll return often and always find something of interest about my world and what inspires me to pick up a pen. (This is a figure of speech, unfortunately. My handwriting is terrible!) Here's what I've been up to recently...
PYA (Promoting Yorkshire Authors) put on a show to thank the library staff for their support during the year. In a tea shop setting, with copious free refreshments for all, craft and games activities for children, a raffle, book sale and Santa's sack, we read out poetry, prose and even burst into song occasionally.

Seen from left to right are Bryan Pentelow, Helen Johnson, John Jackson and Kate Swann. Bryan and Kate read some of their poems, Helen gave an illustrated talk on Yorkshire customs at Christmas and John, who really looked the part, read extracts from A Christmas Carol.

Also from left to right, I read a story about a family's first Christmas in Australia from my Had We But World Enough Collection, the indefatigable Neelie Wicks – who set up the whole thing and provided just about everything that was required – took charge of Christmas hat and card making with the children, Paul Smith narrated the tea shop scenario and Vasiliki Scurfield read a very moving tale about a young girl's compassion for a German prisoner of war at Christmas.
NB I may have made a new fan during the morning, because the book I read from had disappeared by the time we bade the audience farewell. Happy reading, whoever you are!
22 December, 2019 - Make the first comment on this story
The Ripon Activity Project (RAP), for which I've volunteered for over 20 years, held its final meeting this month. Set up as a social group for adults with learning and/or physical disabilities in the days when little else was available for them, its membership has dwindled over the last couple of years and that – combined with the difficulty of finding new volunteers to run the activities – has sealed its fate.
However, RAP's remaining assets will be distributed amongst several other local organisations with similar aims, so it isn't all doom and gloom. Ripon is a small city and we shall certainly all keep in touch.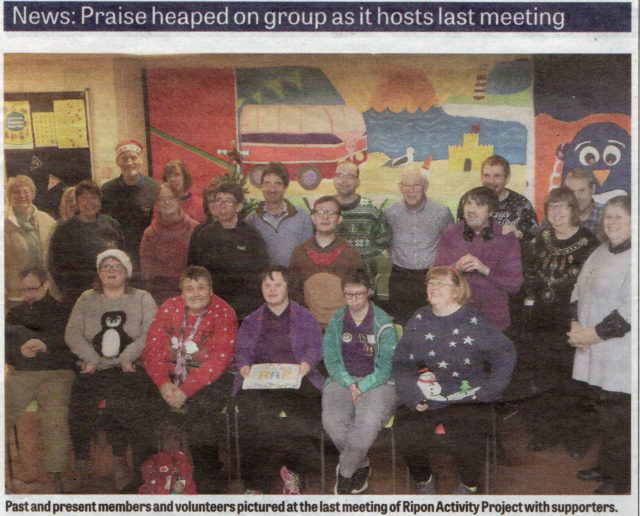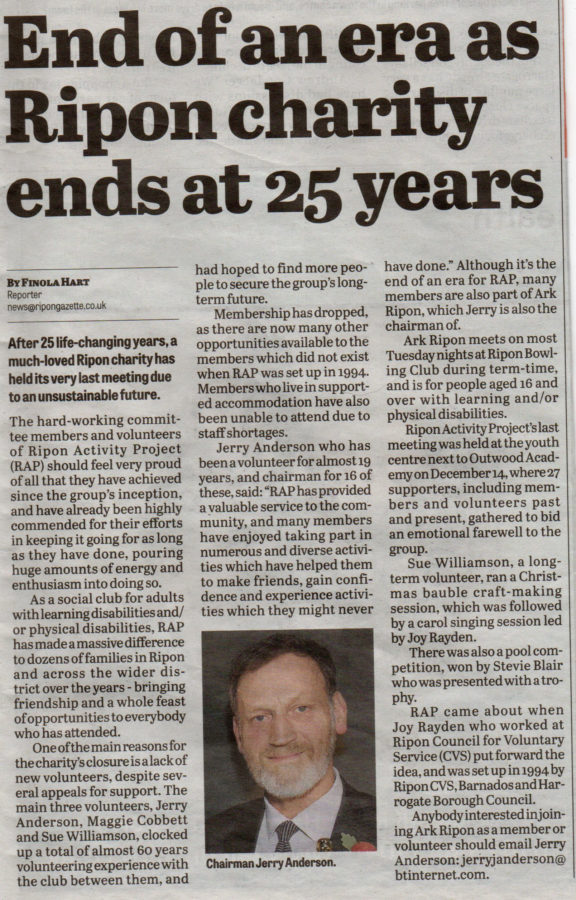 22 December, 2019 - Make the first comment on this story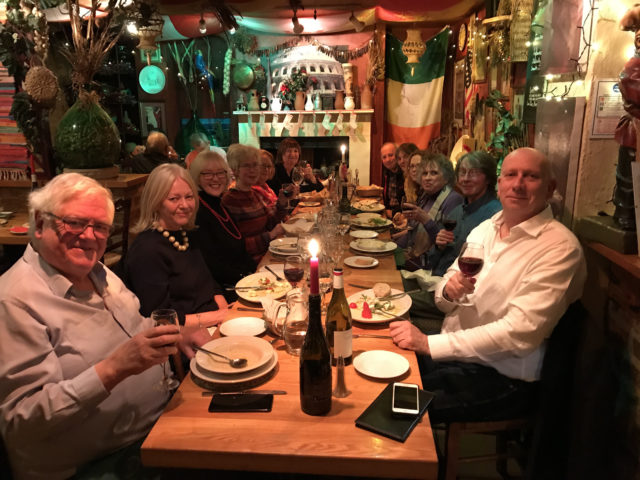 The venue chosen was Del Rio's, right next door to Micklegate Bar, which seemed to suit everyone. I particularly enjoyed its extensive range of vegetarian dishes. (Pubs are all very well, but I sometimes find myself faced with Hobson's choice for a starter or a main course. Give me an Italian, Chinese, Indian, Thai… any time!)
If you look hard, you can just about make me out at the far end of the table on the left, behind John, Louise, Pam G, Candy and Jane. On the other side of the table, from front to back, are Mark, Glyn, Dorothy, Ann, Pam H and Clive.
Members unable to join us missed a good evening. Better luck next time!
5 December, 2019 - Make the first comment on this story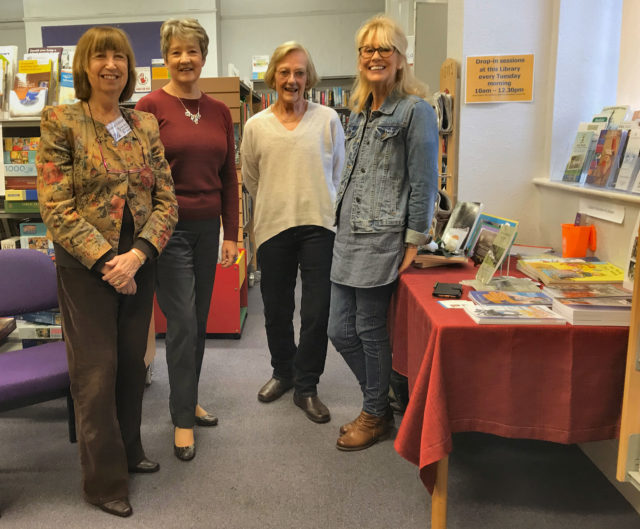 The morning saw me in Bedale Community Library with fellow PYA members Kate Swann, Marla Skidmore and Neelie Wicks. We all write very different things – Kate is a poet, Marla writes historical fiction and Neelie is a children's author – and left the audience with plenty of food for thought. (There was also real food in the shape of biscuits and a delicious cake!)
Later on, I was over in Harrogate to adjudicate HWC's short story competition and I enjoyed that too. It's always interesting to read the work of other groups and some of the entries were so good that I'd love to have written them myself.
27 November, 2019 - Make the first comment on this story
We spent a couple of happy years in Bedale after our move to North Yorkshire and next week I'll be back. It will be interesting to see if there are any familiar faces in the audience and, less likely, perhaps, if they remember me from our boys' playgroup and nursery school days.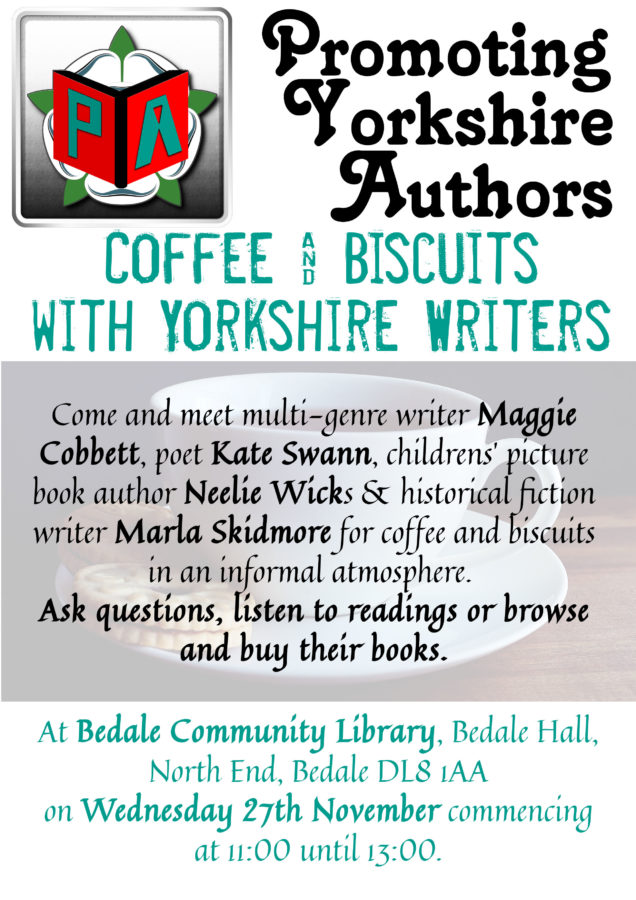 The event takes place in the splendid surroundings of Bedale Hall, part of which functions as a community run library.
22 November, 2019 - Make the first comment on this story
Glad to say that my presentation went very well and the audience had lots of questions.
Easy Money For Writers & Wannabes is still my best seller and for a very good reason. Readers have already earned substantial amounts by following my advice!
14 November, 2019 - Make the first comment on this story
Of all the cats that have shared my life, Jago has been the unluckiest. Adopted from the Blue Cross just over a year ago, he's spent more time at the vet's than all the rest put together. Thank heavens for pet insurance!
The latest mishap involved a badly cut paw and umpteen bandages, all of which came off so…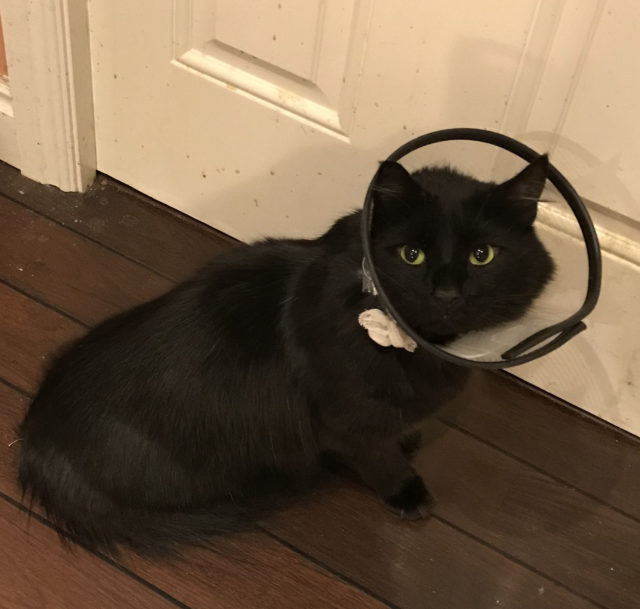 It's going to take a great deal of tender loving care and treats to get me back into his good books.
31 October, 2019 - Make the first comment on this story
Fiction is my first love, 'fillers' and features joint second and poetry, I'm afraid, brings up the rear. That's partly because, although I've had some success in that field, I don't really consider myself a 'proper poet' by modern standards. As a lover of rhyme and metre, I'm aware that most of my poems are out of step with contemporary fashion.
HOWEVER, Ripon Writers' Group was invited to contribute to the 3rd Ripon Poetry Festival, so I threw my hat into the ring and saw two of my poems, Care in the Community and Payback Time included in this year's anthology. How soulful do I look here! Seven other members were also successful, including Lindsay Trenholme who won first prize.
As if that were not enough, a few of us also took part in the opening event of this year's Festival, which piggybacked onto a wine and cheese evening at a local supermarket. I dug into my back catalogue for that one and read To My Writing Partner, the sonnet that won first prize in the 2006 poetry competition for a free place at 'Swanwick' and started my annual pilgrimage to the wonderful Writers' Summer School. It seemed to go down well with the audience, even those who'd only really come for the more tangible tastings on offer. At any rate, they listened patiently and gave me a generous round of applause.
There was also a tribute session one afternoon for the late Elizabeth Spearman and David McAndrew, both of whom had been instrumental in setting up the Festival in 2017, and both Carol Burdett Mayer and Kate Swann launched their new poetry collections at the Curzon during the final afternoon.
All in all, this year's Festival has been a great showcase for Ripon Writers' Group, which has been in existence for almost 40 years!
16 October, 2019 - Make the first comment on this story
Sally Wainwright's television series about Anne Lister, 'the first modern lesbian', and her partner Ann Walker captivated me to such an extent that I decided to have a day out in Halifax.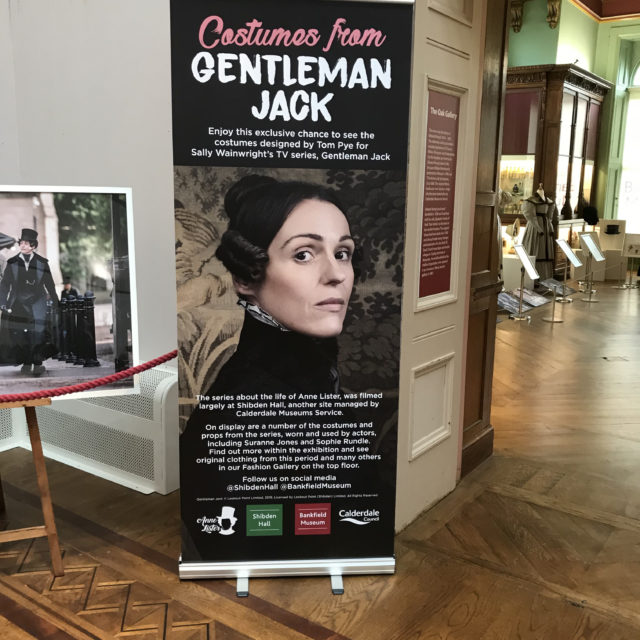 The first port of call was Bankfield Museum, interesting enough in its own right but particularly so at the moment because of its exhibition of costumes from the show.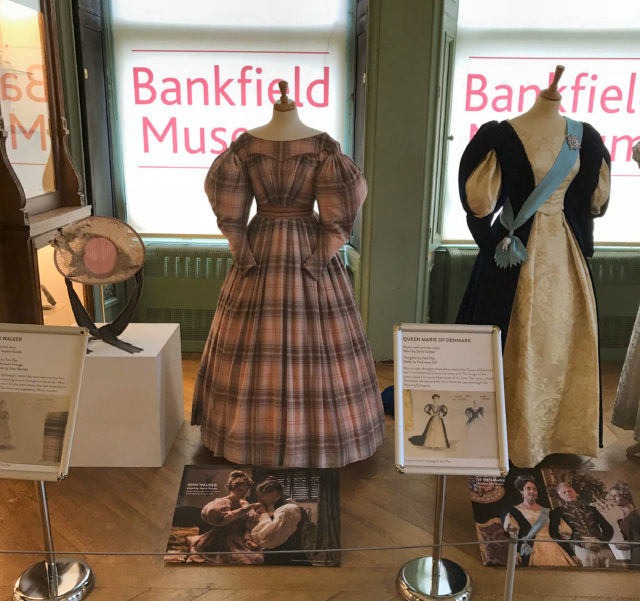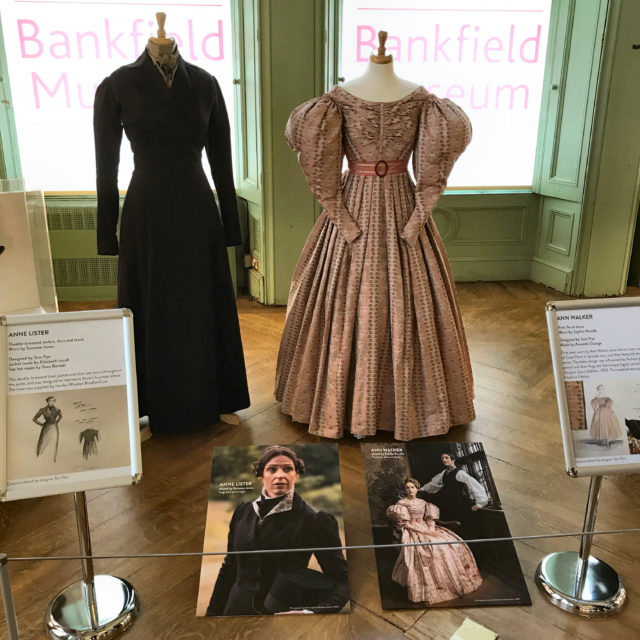 Enormous attention to detail had resulted in a stunning collection of early to mid 19th century outfits. The masculine garb worn by Suranne Jones as Anne Lister could scarcely be more strikingly different from that of the other ladies.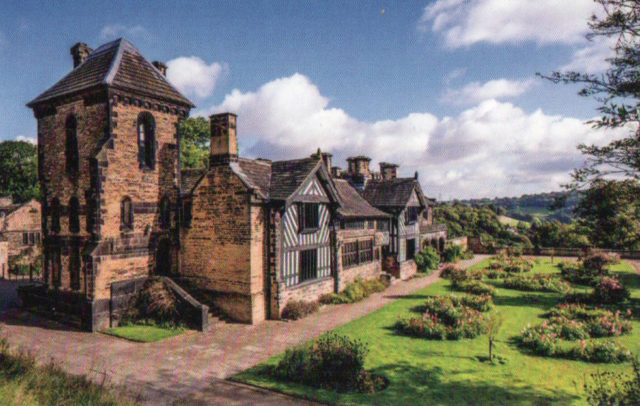 From there, it was a very short drive to Shibden Hall. The image above is copied from my entrance ticket, valid for a year.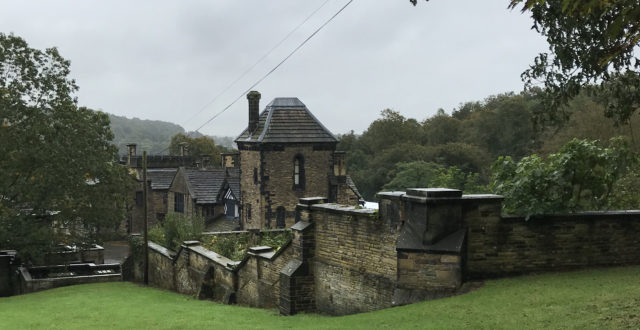 It was a steep walk down from the upper car park.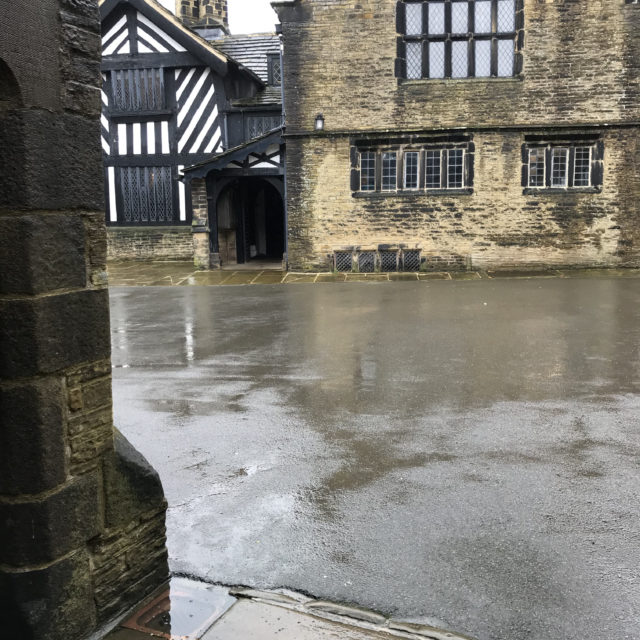 The queues that had built up over the summer had subsided and only a few other visitors were wandering around. This may have had something to do with the rain, but it didn't stop me getting a real feel for the place.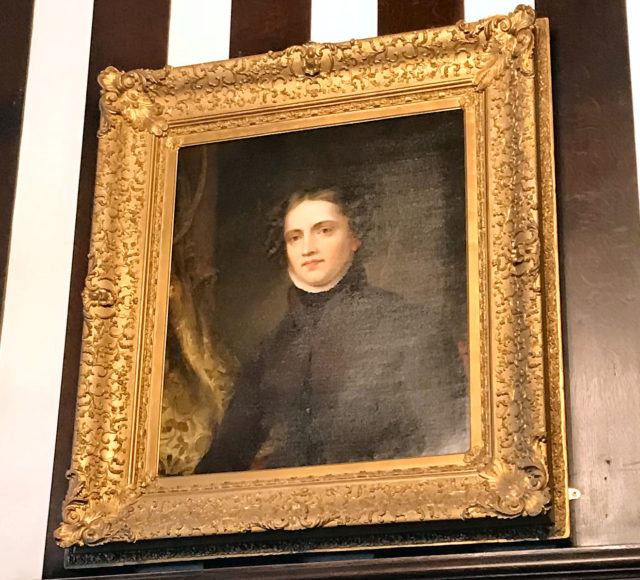 Every aspect of the old building where Anne wrote many of the millions of words preserved in her diary, painstakingly transcribed and translated over decades by Helena Whitbread, spoke of her devotion to Shibden and determination to transform it into the stately home of her dreams. She poured a fortune (much of it Ann Walker's) into the hall and grounds. One can only speculate about what else would have been done if Anne's life had not been cut short by illness whilst the two women were on their travels.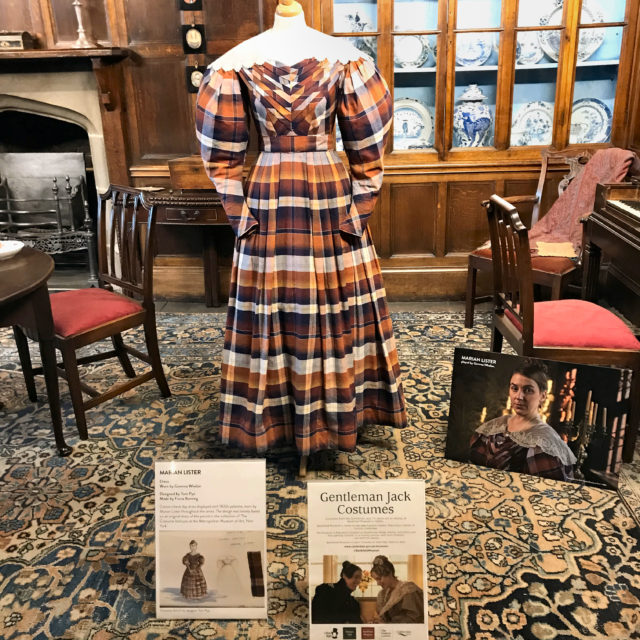 According to the TV series, her sister Marian, like the rest of the family, was completely baffled by Anne.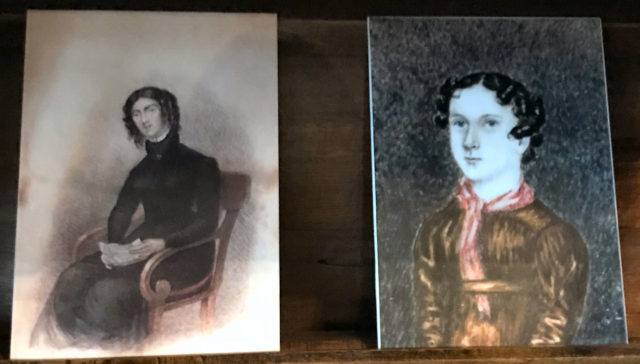 Her aunt, also called Anne and seen here in the portrait on the right, must certainly have wondered about her.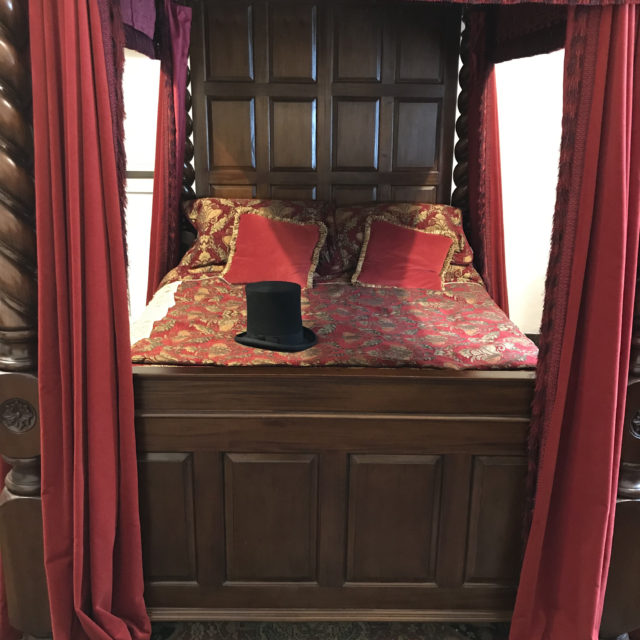 Not the actual bed shared by Anne and her female lovers but very like it, I should think.
The theme song written and recorded by Belinda O'Hooley and Heidi Tidow has infected me like an 'ear worm'. If you aren't familiar with it yet, I strongly suggest looking it up! This is just one of many links…
4 October, 2019 - Make the first comment on this story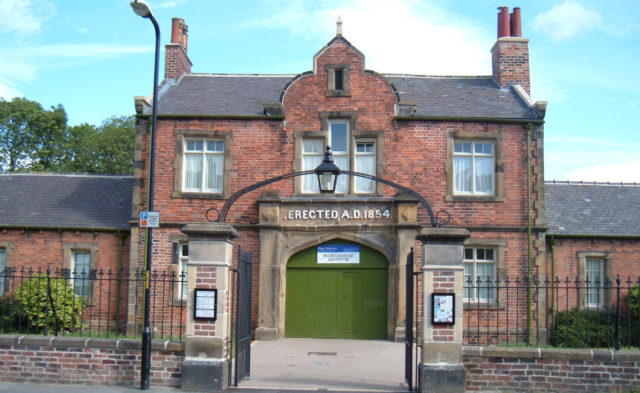 It's hard to think of a more appropriate venue for my illustrated talk. During the two years that I was writing 'Workhouse Orphan', I made a good many visits to the Ripon Workhouse Museum for research purposes and to get the general feel of the place. The Museum continues to expand and is well worth a visit for families and anyone interested in social history.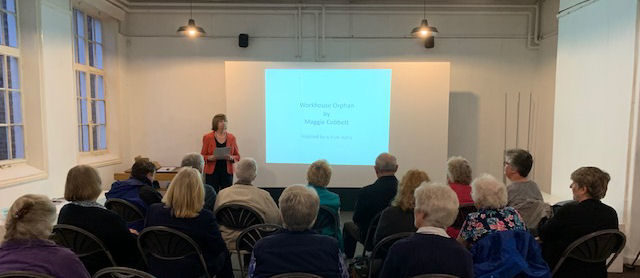 My book has been on sale in the shop there for several months, so quite a few audience members had already read it and arrived prepared with their questions and comments. Others quickly became engaged and we had a lively discussion afterwards.
26 September, 2019 - There are 2 comments on this story
Check Out My eBooks
Blog Categories
Links
Live From Twitter