Hello, and thank you for visiting my site. I hope that you'll return often and always find something of interest about my world and what inspires me to pick up a pen. (This is a figure of speech, unfortunately. My handwriting is terrible!) Here's what I've been up to recently...
Fiction is my first love, 'fillers' and features joint second and poetry, I'm afraid, brings up the rear. That's partly because, although I've had some success in that field, I don't really consider myself a 'proper poet' by modern standards. As a lover of rhyme and metre, I'm aware that most of my poems are out of step with contemporary fashion.
HOWEVER, Ripon Writers' Group was invited to contribute to the 3rd Ripon Poetry Festival, so I threw my hat into the ring and saw two of my poems, Care in the Community and Payback Time included in this year's anthology. How soulful do I look here! Seven other members were also successful, including Lindsay Trenholme who won first prize.
As if that were not enough, a few of us also took part in the opening event of this year's Festival, which piggybacked onto a wine and cheese evening at a local supermarket. I dug into my back catalogue for that one and read To My Writing Partner, the sonnet that won first prize in the 2006 poetry competition for a free place at 'Swanwick' and started my annual pilgrimage to the wonderful Writers' Summer School. It seemed to go down well with the audience, even those who'd only really come for the more tangible tastings on offer. At any rate, they listened patiently and gave me a generous round of applause.
There was also a tribute session one afternoon for the late Elizabeth Spearman and David McAndrew, both of whom had been instrumental in setting up the Festival in 2017, and both Carol Burdett Mayer and Kate Swann launched their new poetry collections at the Curzon during the final afternoon.
All in all, this year's Festival has been a great showcase for Ripon Writers' Group, which has been in existence for almost 40 years!
16 October, 2019 - Make the first comment on this story
Sally Wainwright's television series about Anne Lister, 'the first modern lesbian', and her partner Ann Walker captivated me to such an extent that I decided to have a day out in Halifax.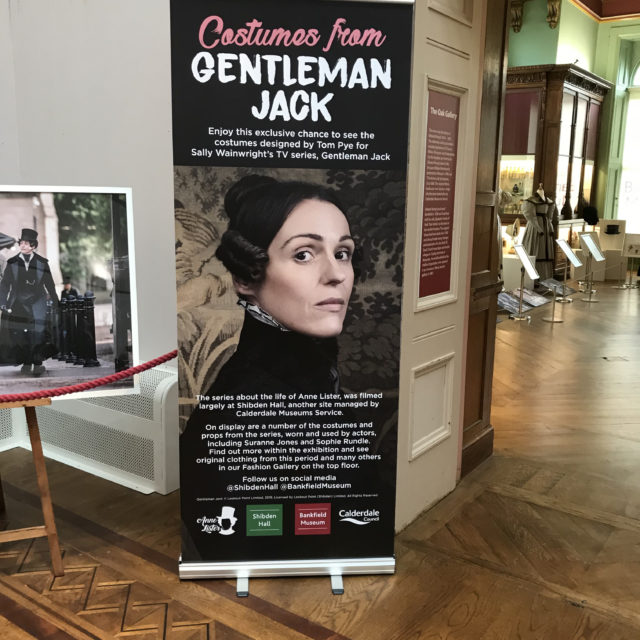 The first port of call was Bankfield Museum, interesting enough in its own right but particularly so at the moment because of its exhibition of costumes from the show.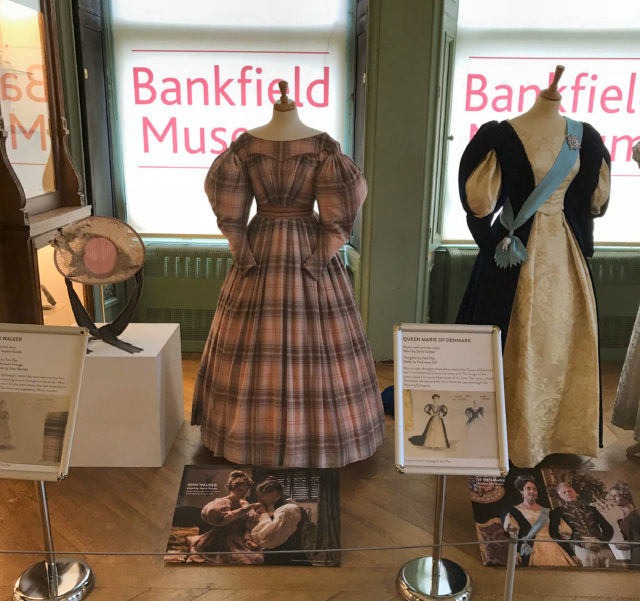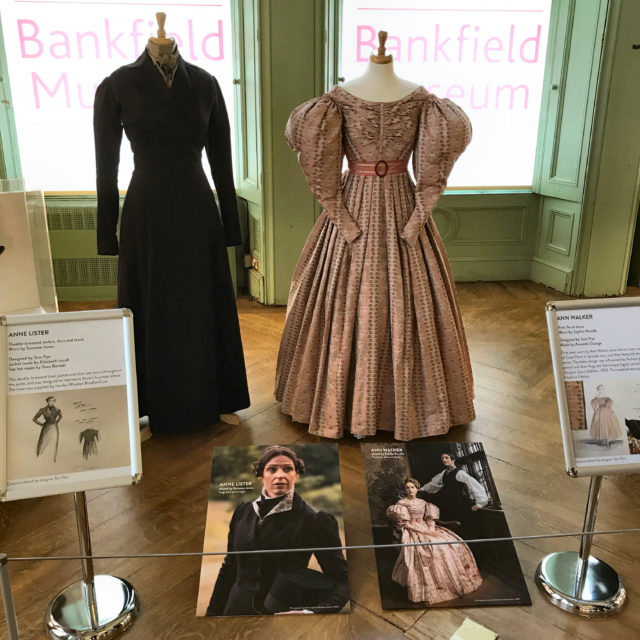 Enormous attention to detail had resulted in a stunning collection of early to mid 19th century outfits. The masculine garb worn by Suranne Jones as Anne Lister could scarcely be more strikingly different from that of the other ladies.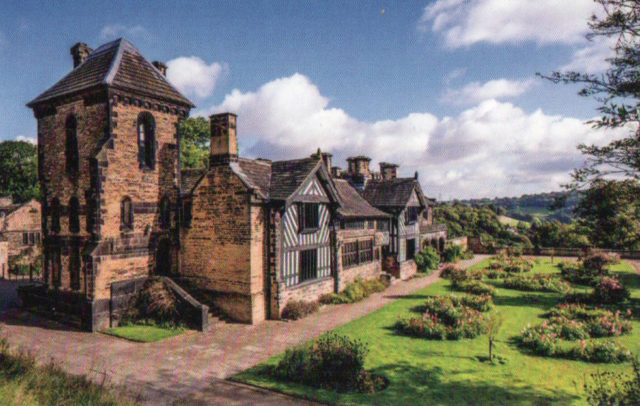 From there, it was a very short drive to Shibden Hall. The image above is copied from my entrance ticket, valid for a year.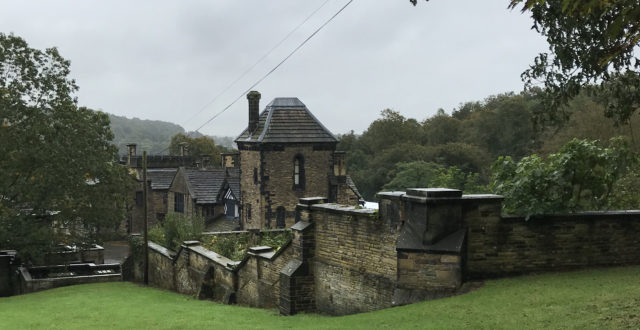 It was a steep walk down from the upper car park.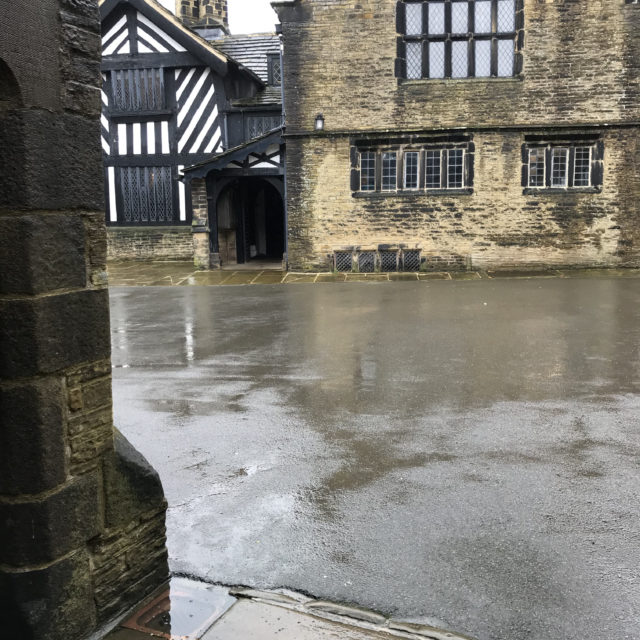 The queues that had built up over the summer had subsided and only a few other visitors were wandering around. This may have had something to do with the rain, but it didn't stop me getting a real feel for the place.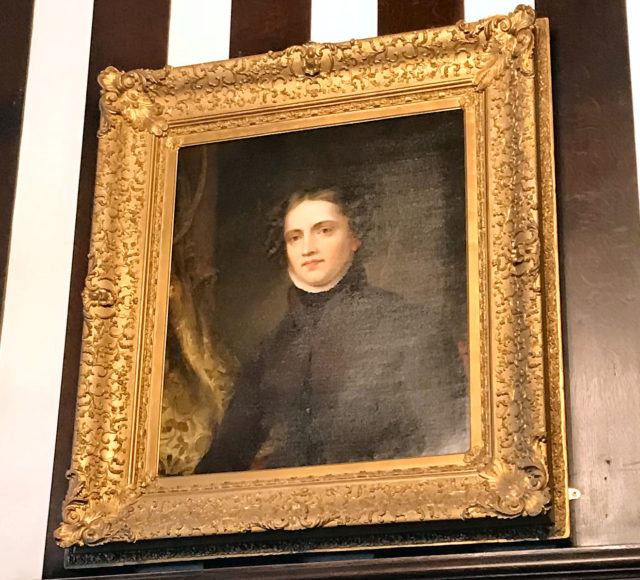 Every aspect of the old building where Anne wrote many of the millions of words preserved in her diary, painstakingly transcribed and translated over decades by Helena Whitbread, spoke of her devotion to Shibden and determination to transform it into the stately home of her dreams. She poured a fortune (much of it Ann Walker's) into the hall and grounds. One can only speculate about what else would have been done if Anne's life had not been cut short by illness whilst the two women were on their travels.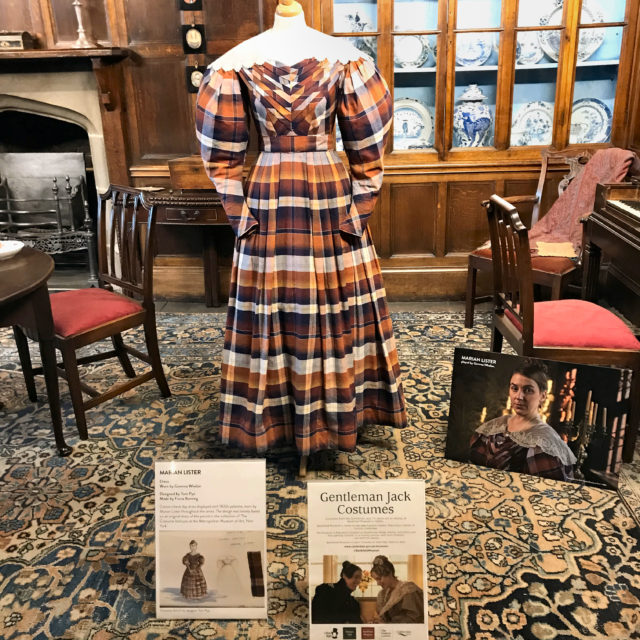 According to the TV series, her sister Marian, like the rest of the family, was completely baffled by Anne.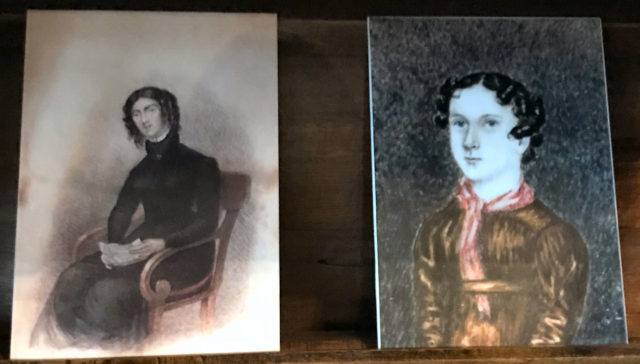 Her aunt, also called Anne and seen here in the portrait on the right, must certainly have wondered about her.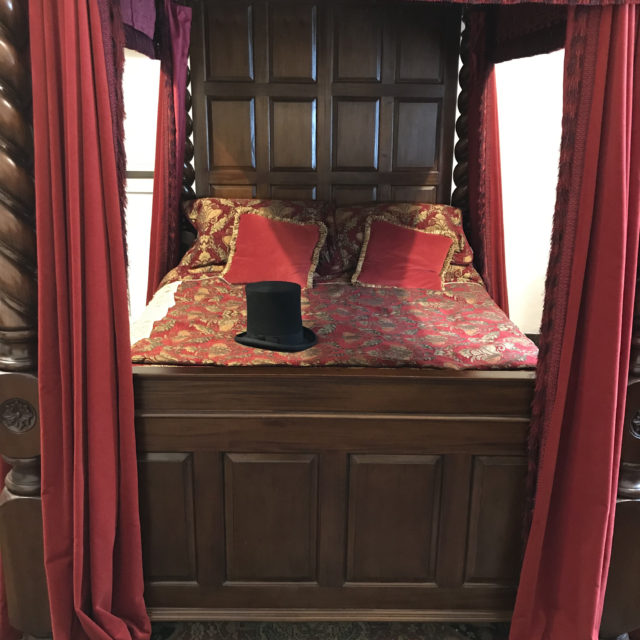 Not the actual bed shared by Anne and her female lovers but very like it, I should think.
The theme song written and recorded by Belinda O'Hooley and Heidi Tidow has infected me like an 'ear worm'. If you aren't familiar with it yet, I strongly suggest looking it up! This is just one of many links…
4 October, 2019 - Make the first comment on this story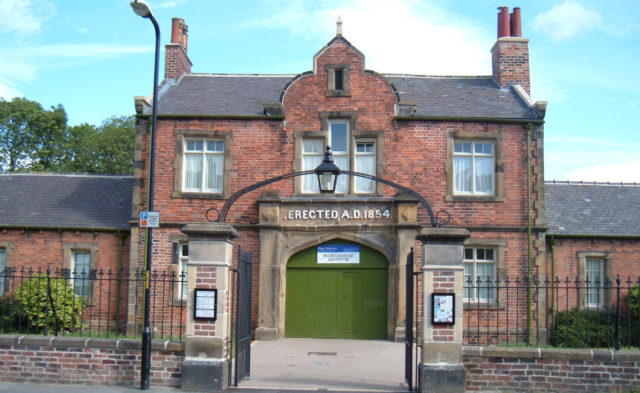 It's hard to think of a more appropriate venue for my illustrated talk. During the two years that I was writing 'Workhouse Orphan', I made a good many visits to the Ripon Workhouse Museum for research purposes and to get the general feel of the place. The Museum continues to expand and is well worth a visit for families and anyone interested in social history.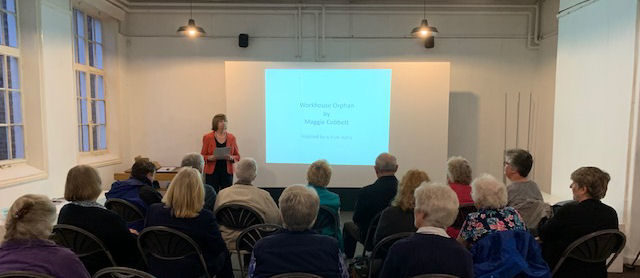 My book has been on sale in the shop there for several months, so quite a few audience members had already read it and arrived prepared with their questions and comments. Others quickly became engaged and we had a lively discussion afterwards.
26 September, 2019 - There are 2 comments on this story
Those of you who've followed my blog for a while may recall my visit to Belfast a couple of years ago, during which I followed an itinerary that was similar in many respects to this year's. You may also recognise my outfit. Being restricted by Flybe to one small piece of cabin luggage and a handbag certainly concentrates the mind on what is practical for one of these short breaks and 'recycling' is definitely a feature here.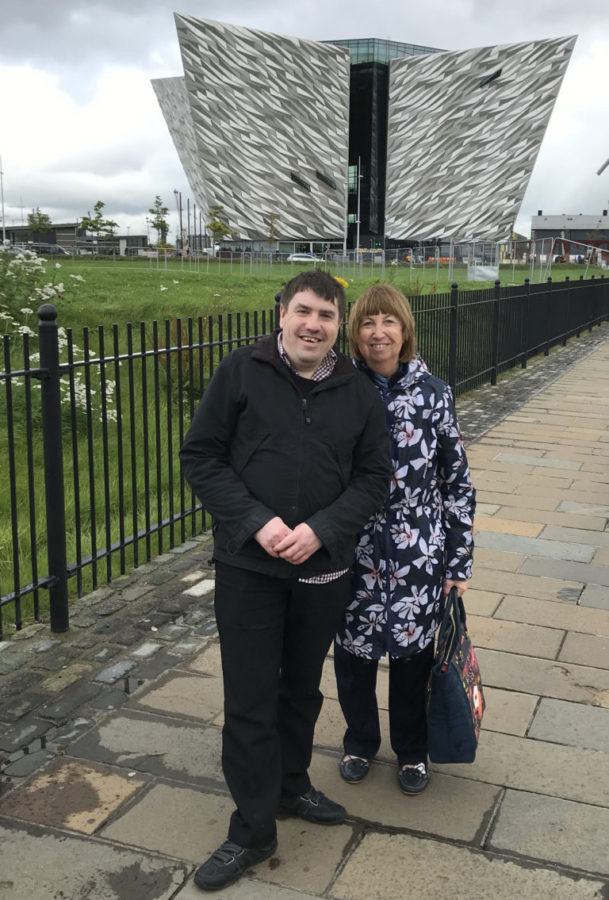 The main point of this exercise was to fulfil a promise made to our younger son to take him to the Titanic Museum and he certainly enjoyed that. His smile speaks volumes, I think.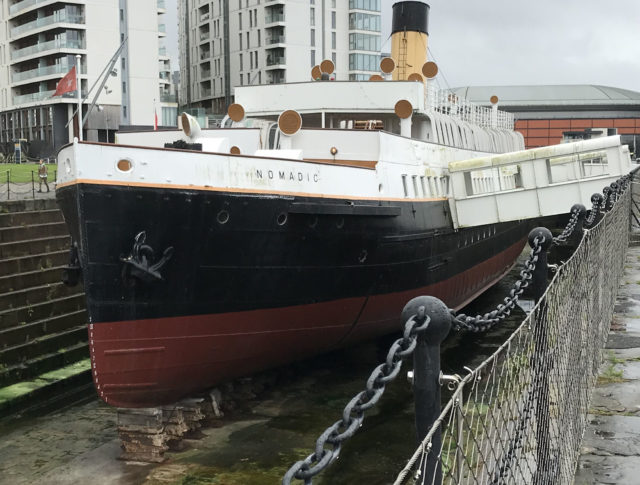 We also visited the Nomadic, formerly tender ship for (mainly 1st and 2nd class) passengers embarking at Cherbourg and now restored to its former glory.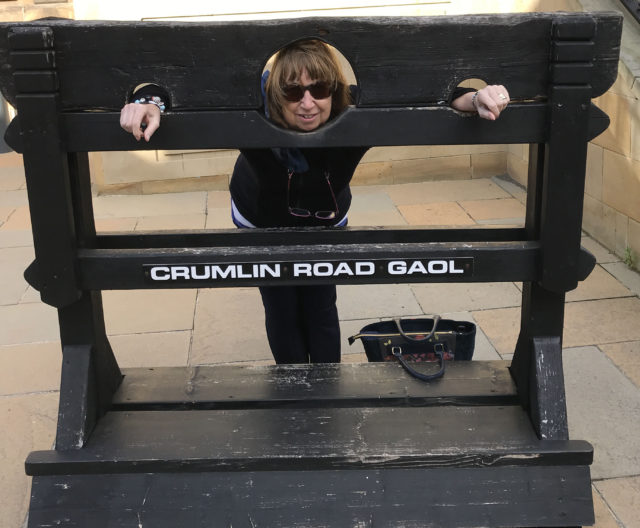 We took a hop on hop off bus tour round the main sights of the city, including the murals along the Falls Road, Shanklin Road and the towering 'peace wall', still in place all these years after the Good Friday agreement. It's a grim reminder of the fragility of the current peace and, as though we needed a further reminder, we stopped off at Crumlin Road Gaol. Facing the derelict courthouse, also closed for over 20 years, it offers guided tours and I wish I could 'unsee' some of the images, particularly that of the condemned man's cell and execution chamber. It struck us as very odd that the Gaol is now a popular venue for concerts, weddings and other celebrations. If it really is haunted, as many will tell you, the ghosts of the men, women and even children incarcerated there for almost two centuries must look on in total disbelief.

The weather was mixed, but we didn't let that put us off taking a day excursion to the Antrim coast, which was very worthwhile. The highlight was the Giant's Causeway, very windy but fortunately dry. Our coach driver encouraged us to climb up onto the rocks, which some people did, despite the best efforts of National Trust volunteers to discourage them. Whether that was for their own safety because of the strong wind or fear of damage to such an important heritage site wasn't clear, but plenty ignored the warnings. We were more circumspect, not wanting our day to be ruined by a broken ankle or, indeed, a broken neck! It's very hard to believe that the hexagonal basalt columns weren't cut out by modern machinery rather than volcanic activity millennia ago. There is also the legend of the Irish giant Finn McCool, of course, and his creation of a causeway to Scotland in order to challenge another giant, Benandonner.
Our tour, courtesy of McComb's Coach Travel Ltd., also took in Carrickfergus Castle, the famous rope bridge at Carrick-a-Rede and the Bushmills Distillery. In between the various stops, the scenery was stunning and our driver Patrick treated us to a very comprehensive commentary as well as – he admitted himself – some appalling jokes.
We stayed at the Premier Hotel in Waring Street, which is comfortable and has exceptionally friendly and helpful staff. The adjoining restaurant was very handy when aching feet refused to go any further in search of dinner and offered good choices at reasonable prices. Rhubarb and custard sundae proved to be a firm favourite with our son!
14 September, 2019 - Make the first comment on this story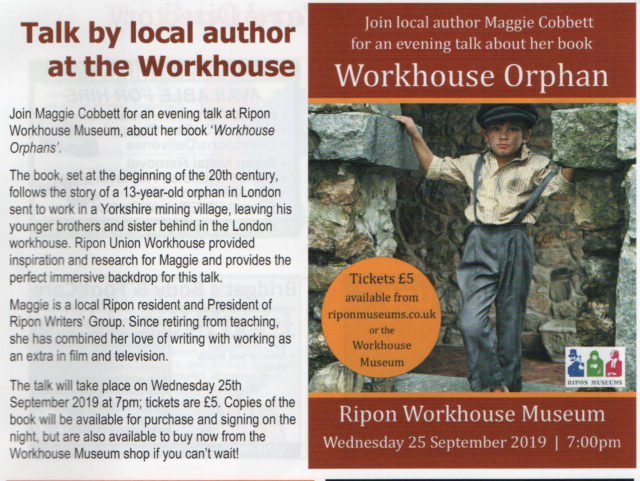 It's hard to think of a more appropriate venue and I'm very happy to support the Ripon Museum Trust.
1 September, 2019 - Make the first comment on this story
'Bill's Last Night', my 5-minute drama for Swanwick's Page to Stage event (see previous post for full details) is now available to view on You Tube.
Many thanks to Steve Barnett for his expert editing!
27 August, 2019 - There is one comment on this story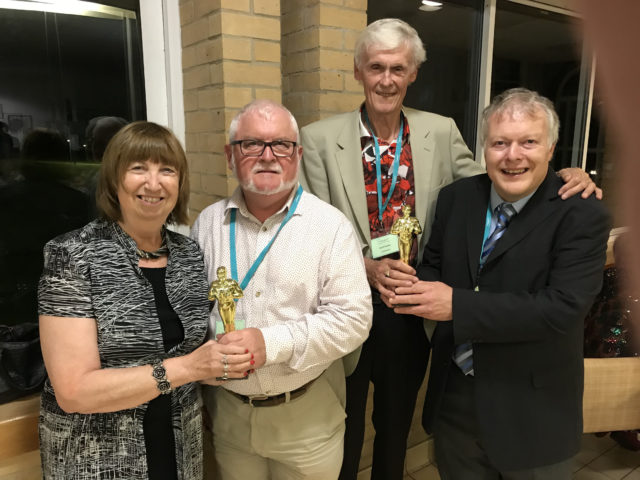 This was my 14th consecutive attendance at the Writers' Summer School and what a week it's been! The crowning moment for me was winning the award for Best Drama in the annual Page to Stage event with my five-minute script Bill's Last Night. This wouldn't have been achieved without the great team I was given to bring it to life. Neil Zoladkiewicz directed, Andy Cain was a very convincing prison chaplain and Geoff Parkes gave a stellar performance as long term prisoner Bill. Geoff also won the Swanny – the School's very own version of an Oscar – for Best Performance in a Drama.
So, what else did I get up to during the week? I stuffed envelopes for the Committee, handed out room keys, led a guided tour for White Badgers (new Swanwickers), hosted a dinner table for them the first evening, acted as an Ambassador all week, did some shifts in the Book Room, ran a one hour session on Writing Fillers, co-hosted the Prose Open Mic session, read at the Poetry Open Mic, dressed up as Cher for the Flower Power evening with Lance Greenfield Mitchell as my Sonny… Oh yes, attended some courses too. The one thing I didn't do much of was actual writing, apart from penning an entry for Fran Tracey's competition! More of that later.
Difficult choices always have to be made with so many attractive options running at once, but I decided on the following this year: Crime Plotting by Bettina Von Cossel, Promoting Your Work by Val Penny, Crime Fiction by Amit Dhand (better known as AA Dhand) and Writing Sex by Fran Tracey. All were both instructive and entertaining and no, I didn't win Fran's competition!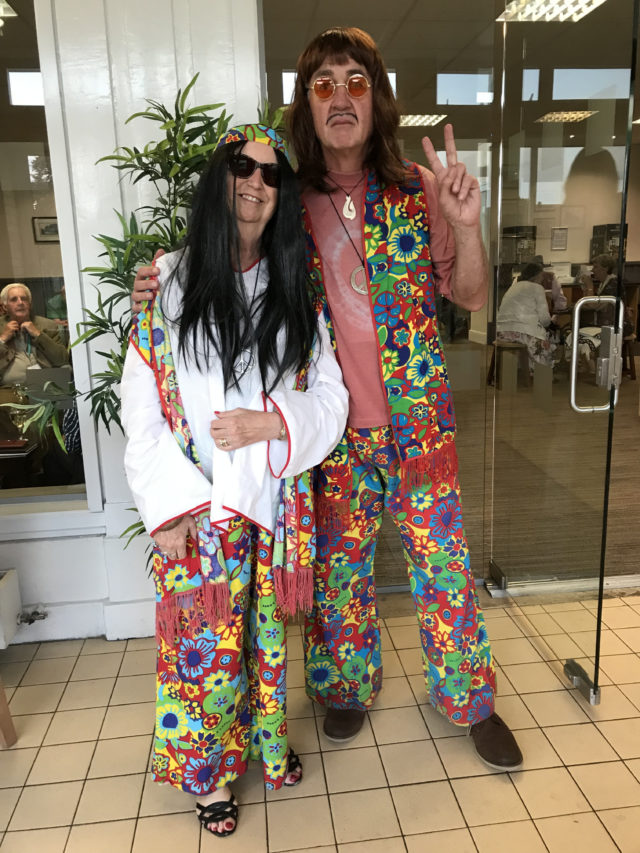 The evenings were just as full as the days, and I very much enjoyed listening to the guest speakers – Paul Dodgson, Hope Adams, John Townsend and Fabio Tartarini – as well as In Conversation With… hosted by Simon Hall. This year's line up consisted of Amit Dhand, Alison Chisholm and Sophie Hannah. Buskers' Night and the Swanwick Farewell are always a must and can be counted on for a varied and, at times, hilarious line up. There is so much musical as well as literary talent amongst the delegates and tutors!
Socialising with friends old and new in the beautiful grounds of The Hayes, at mealtimes and in the bar is always a huge part of Swanwick week. Sad as always to say goodbye, I'm consoling myself with the thought that the countdown to Swanwick 2020 has already begun.
Much more went on, of course. Please click on the images below to see the captions.
18 August, 2019 - There are 2 comments on this story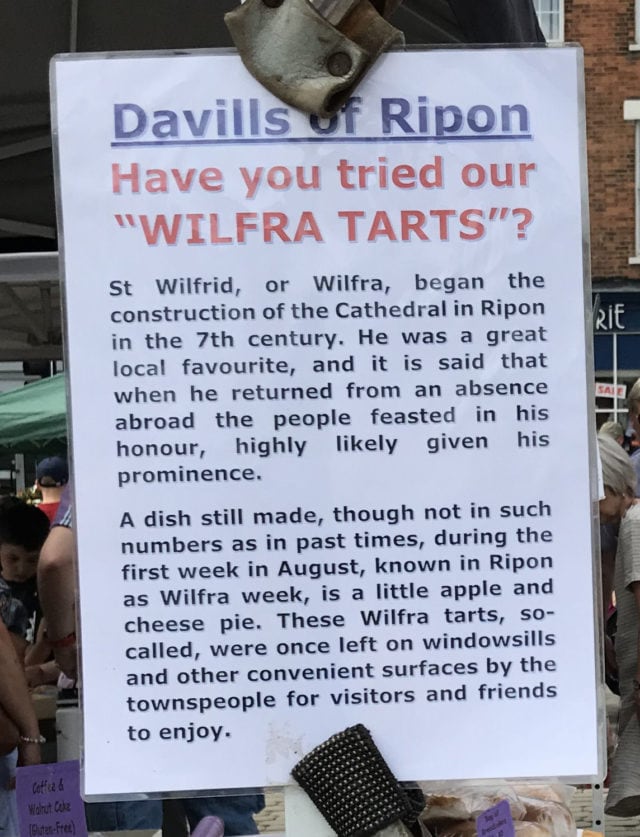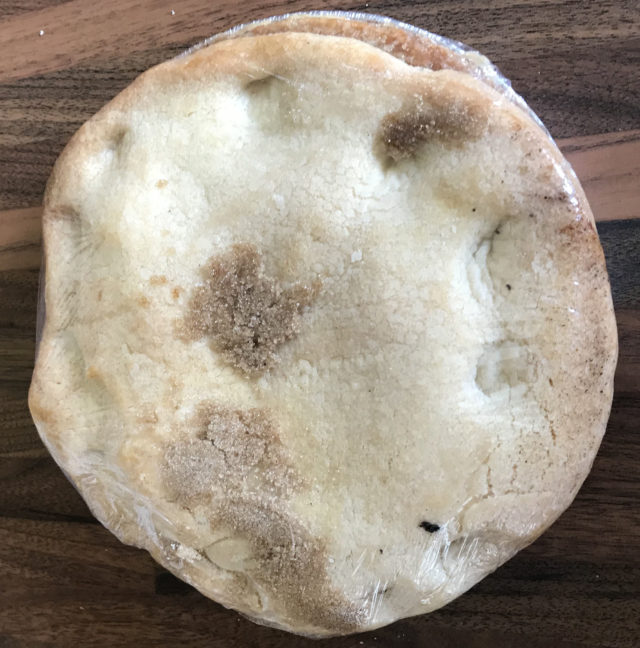 Not only do Riponians eat, drink and make merry on Saint Wilfrid's Day, but there's a grand procession through the ancient streets, a fair on the Market Place and jollifications in various other parts of our little city. This year, we were also blessed with fine weather.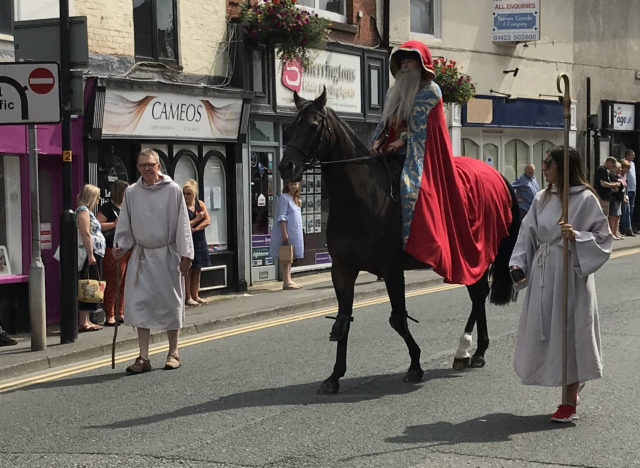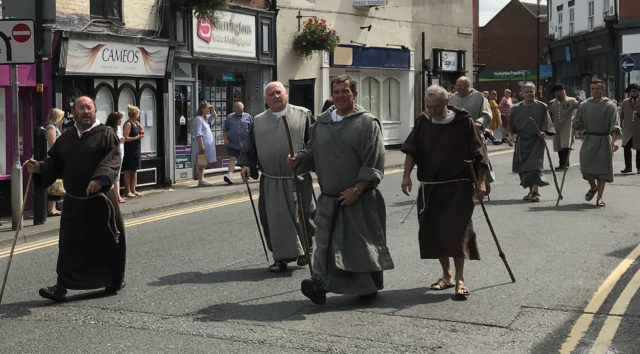 Traditionally represented by a man in a bishop's mitre, Saint Wilfrid has been played in recent years by a woman. This began as a necessity – no suitable male rider and horse could be found in 2017 – but it raises few eyebrows now.
Other photos follow. Please click on the links to see them full size.
5 August, 2019 - Make the first comment on this story
I always look forward to my week at Swanwick – this will be my 14th consecutive attendance – and it looks as though I'll be busier than ever this year.
.
As well as the above session straight after breakfast on Tuesday morning, I'll be handing out keys, taking a group of new Swanwickers (White Badgers) on a tour of the venue (Hayes Conference Centre), acting as a welcome ambassador, helping Jen Wilson with the Prose open mic AND THAT'S NOT ALL.
I'm pleased and proud that the five-minute play I submitted to this year's Page to Stage has been chosen for performance. Can't wait to see what its director and cast make of it. They'll be chosen (not by me) from all those who put themselves forward to take part.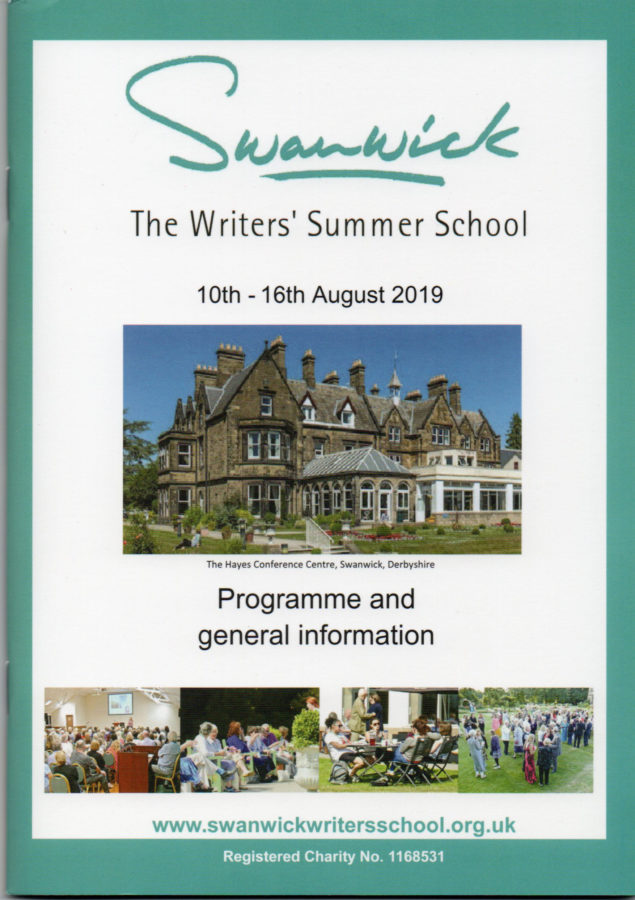 I'm really looking forward to catching up with old friends and making some new ones.
30 July, 2019 - Make the first comment on this story
You might just about spot me towards the back of this beaming group of staff, volunteers and authors on the day when Benedicte Page of The Bookseller magazine handed over a Golden Nibby to library supervisor Abigail Turner. On her left is Fraser Hutchinson of the Reading Agency.
Harrogate's naming as 'Library of the Year' has been partially attributed to its 'strong programme of events'. As a member of PYA (Promoting Yorkshire Authors), I have been involved in several of these over the last few months, facilitated by the ever helpful Jane Rigoso (seen here on the right of the photo) and look forward to more in the future. Watch this space!
27 July, 2019 - Make the first comment on this story
Check Out My eBooks
Blog Categories
Links
Live From Twitter