Back To The Fruit Bowl!
~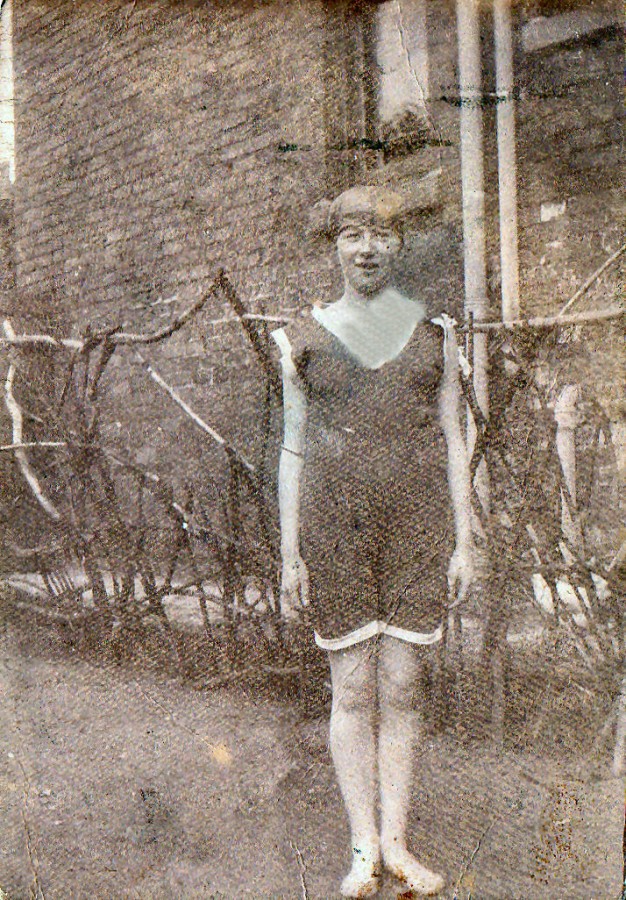 Fans of the American cartoonist Cathy Guisewise might already be familiar with the following joke:
A woman bursts out of the changing room clutching a discarded garment and screaming,
"$125 for this? Every year the bathing suits get smaller and the prices get higher!"
"Didn't fit, huh?" sympathises her friend.
"Are you kidding? If it had, I'd have paid $500!"
I fear it's no different on this side of the pond. With Christmas barely gone and Valentine cards and Easter eggs already in the shops, a high proportion of the female half of the UK population is in search of flattering beachwear. Oh dear! Whatever happened to the earnest resolve to practise push ups and Pilates? It's that time of year again that most of us associate with wobbly bits that haven't seen daylight for months, cellulite like cottage cheese and bikinis that just won't stay put where they should. To those of us with less than perfect figures and dreading the sight of rebellious flesh spilling out of badly fitting tops or bottoms, it's an annual pilgrimage of torture and humiliation and we wonder whether liposuction might be the answer.
Our grandmothers' and mothers' bathing costumes weren't so much designed as engineered. Boned, trussed and reinforced, they did a good job of holding in and lifting up. Modern stretch fabrics are much less forgiving and many styles don't even have bra cups, leaving our assets uncomfortably flattened.  Even worse, some have such high cut legs that we'd have to wax our eyebrows to wear them decently.
There is no shortage of advice from columnists and retailers, of course, beginning with the exhortation to identify our own body shape. These days, I regret to say, this is very unlikely to resemble an hourglass. Off with the forgiving layers of winter woollies and back to the fruit bowl! Are we a pear, apple, peach, banana, strawberry or grapefruit? I've come across all these in fashion magazines, together with cello, cornet (the ice cream variety), lollipop, skittle, bell, goblet and brick. Maybe it would be better to concentrate on the fruity images, the pear and the apple being the easiest for most of us to visualise. Woe betide the poor water melon!
Once a decision has been made on that score, the annual quest to find the most becoming outfit can begin. Ideally, rather than giving our torsos the appearance of a quart crammed into a pint pot, the right blend of pattern, shape and support will convince everyone else on the beach that we haven't put on an ounce since our teens. Dropping from a generous size 16 to a skinny 10 is a big ask, but hope springs eternal, as they say.
Unfortunately, despite the miracle of Lycra, which has extraordinary tensile strength and was, I believe, developed by NASA, disappointment awaits. Take the choice of pattern. Black is boring, other plain fabrics show every lump and bump and loud colours, particularly floral prints suitable for the Caribbean, can look very gaudy in cooler climes. Who wants to look like Carmen Miranda in Scarborough? I'm personally still inclined to the view that vertical stripes have a slimming effect, although there is a school of thought that favours the horizontal. Maybe diagonal stripes would be a good compromise? Whichever is chosen, however, lines can bend in a very unflattering way over problem areas.
Some styles have inbuilt skirts, which always put me in mind of the dancing hippos in Disney's Fantasia. If, despite exploring the options of ruching, boning, belting or decorative wings just above the love handles, we still gasp with horror at our image in the garish light of that chamber of horrors optimistically known as the fitting room, a bored sales assistant may offer us a length of fabric to match the final swimsuit on our shortlist.  Tied however cunningly around an ample bottom, this will fool no one. Our mood already soured, we may as well carry a banner to tell the world that it's there to conceal our failure to stick to punishing eating and exercise regimes.
So far, I'm assuming that we've gone for a one piece to hide our muffin top and squishy bits. The bolder amongst us, dazzled by the airbrushed photographs in celebrity magazines, might still decide to opt for a bikini and good luck with that! Others pitch for the halfway house that is the curiously named tankini. Being a two piece, this has been uncharitably called 'a bikini for fat people', although it does offer a great deal more coverage. The downside is that the looser tops, designed to conceal  wide hips and bulging tummies, do have a tendency to creep up in the water and provide shots that may well end up on Facebook or, if we're really unlucky, YouTube. This is, of course, only a problem for those of us who, having first taken the precaution of checking that the fabric of our new swimwear doesn't become transparent when wet, actually intend to swim in it. For posing at the side of the pool with a pina colada, the tankini is fine; no need to suck in our stomachs if we think we're under observation from a sun tanned hunk in a leopard print thong.  He is unlikely to be our partner, who will have had his own issues ever since Daniel Craig strutted his stuff in a pair of pale blue budgie smugglers. It's ironic that men of a certain age continue to favour skimpy beachwear – Peter Stringfellow being a prime example – while teenage boys generally go for knee skimming board shorts. However, I digress.
If we ladies still feel too exposed, the next line of defence short of a burka is a sarong, kaftan or a floaty little number called a beach cover- up. Fashionistas generally advise that these should be worn with high heeled strappy sandals, although it's hard to imagine anything less appropriate for walking on sand, pebbles or the slippery tiles around a swimming pool. Never mind, girls! They'll be so much more elegant than flip-flops for those of us who don't mind a visit to the nearest A & E department.
So, we women of more mature years will continue to watch teenage beach bunnies and super models romping around in their zero size bikinis and ask ourselves if they're really as happy as they look. They are, of course, but the inexorable march of time will see most of them one day in wrap around skirts, vertically striped swimsuits, tankinis and cover-ups. There is a small degree of comfort in that.
As a final thought, here's a quotation from Pretty Face by American author Mary Hogan, who grew up in Southern California:   
The beach is nature's practical joke: The Earth is nearly three-fourths ocean, and barely one-fourth of its population look good in a bathing suit. If even that many.