Hello, and thank you for visiting my site. I hope that you'll return often and always find something of interest about my world and what inspires me to pick up a pen. (This is a figure of speech, unfortunately. My handwriting is terrible!) Here's what I've been up to recently...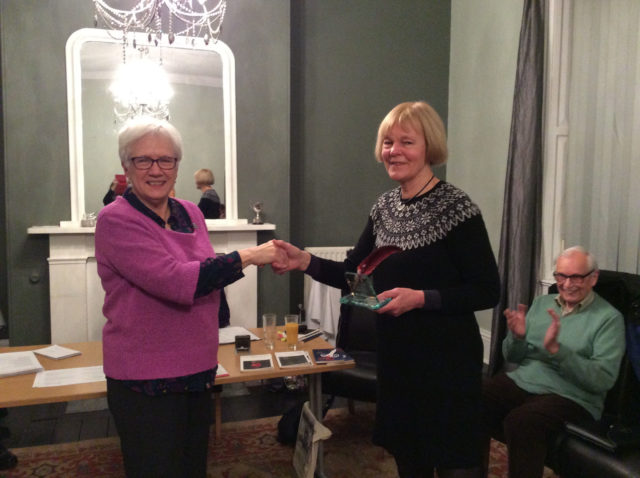 No, that isn't yours truly receiving a trophy from Carole Bromley. That distinction went to Ripon Writers' Group's Chair, Sheila Whitfield, for her poem about the traditional craft of dry stone walling. BUT, and it's a big BUT, I was placed joint third.
Why should that be such a big deal, you might ask. Well, it's because my entry, 'Not a Hope', listed all the reasons why I wouldn't expect to get anywhere in a poetry competition. Prizes these days tend to go to writers of free verse, with traditional forms disdained as hopelessly old fashioned. I disagree, as you'll realise if you read on. Much of what I hear today, whether at an adjudication or an open mic, I only know is a poem because that's what I'm told it is. Beautifully crafted and full of clever imagery it may be but, devoid of both rhyme and metre, it's indistinguishable to my ear from prose.
Carole said that she placed my poem, submitted anonymously, because its writer 'succeeds in writing a tongue in cheek, brilliant poem which makes her point powerfully and wittily'. I hope you agree. Comments very welcome.
NOT A HOPE
To write an ode is her intent,
But inspiration, heaven sent
To those of a poetic bent,
Has quite forgotten where she lives;
An oversight that always gives
A chance to better poets than she
To craft their entries, while she sighs
And wonders why she even tries.
Her pen is chewed beyond repair
And nothing beckons but despair.
Her friends evoke both place and time
In part or para or half- rhyme.
She knows their poems can't fail to chime
With any judge of modern verse.
That's not her style, for she is cursed
With love for both full rhyme and metre
And something strongish by the litre
To drown her sorrows when they beat her.
9 January, 2019 - There are 2 comments on this story
Comment on this story
Check Out My eBooks
Blog Categories
Links
Live From Twitter