Hello, and thank you for visiting my site. I hope that you'll return often and always find something of interest about my world and what inspires me to pick up a pen. (This is a figure of speech, unfortunately. My handwriting is terrible!) Here's what I've been up to recently...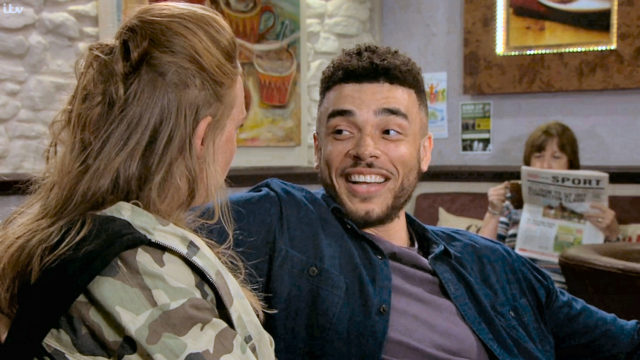 This is just a quickie for people who say they've never seen me in Emmerdale. Here I am in that famous cafe on Main Street, sitting on my own like Betty No Mates with a copy of the Hotten Courier and a rapidly cooling mug of coffee. Oh, the glamour!
16 July, 2019 - Make the first comment on this story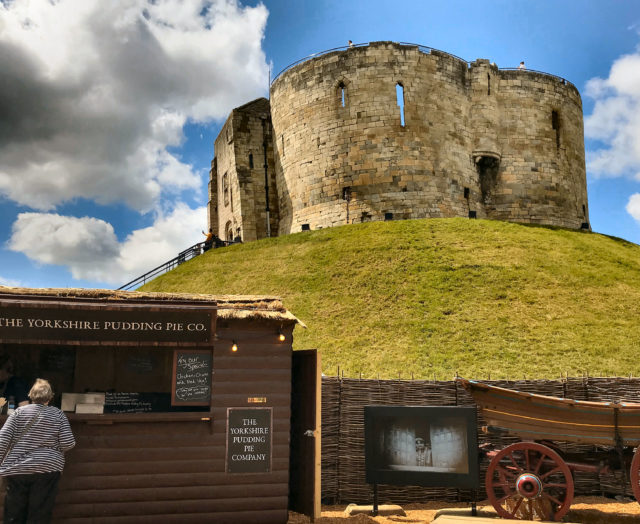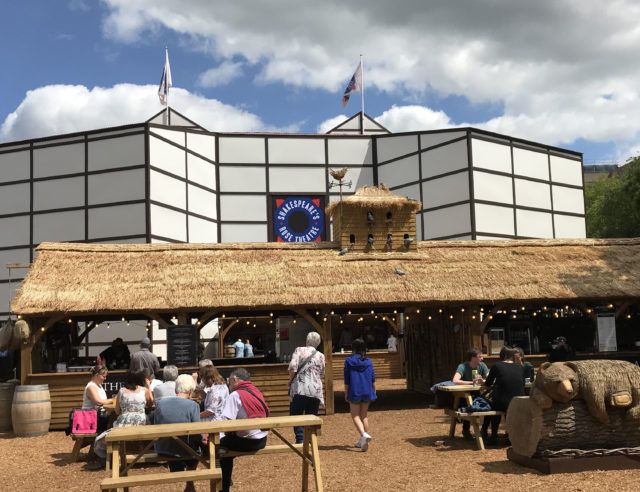 For the second year running, a mock up of Shakespeare's Rose Theatre has appeared in York, adjacent to one of its most iconic spots. Once part of York Castle, Clifford's Tower has a grim history stretching back over 1000 years.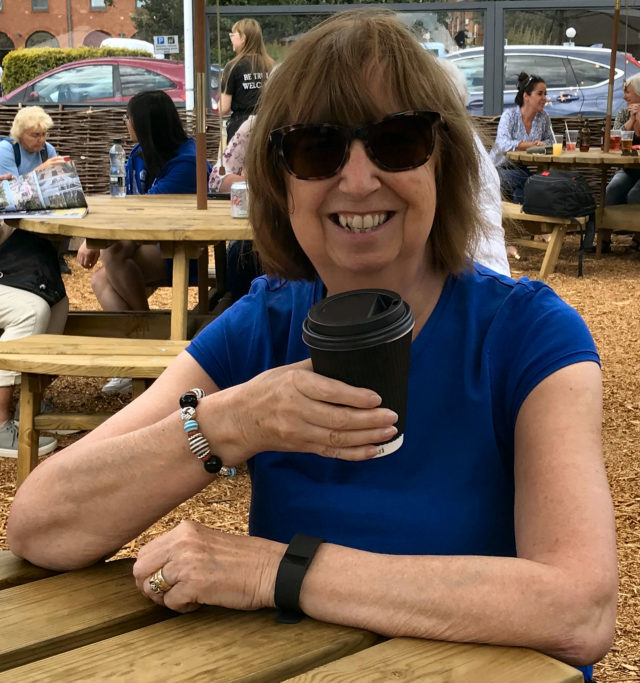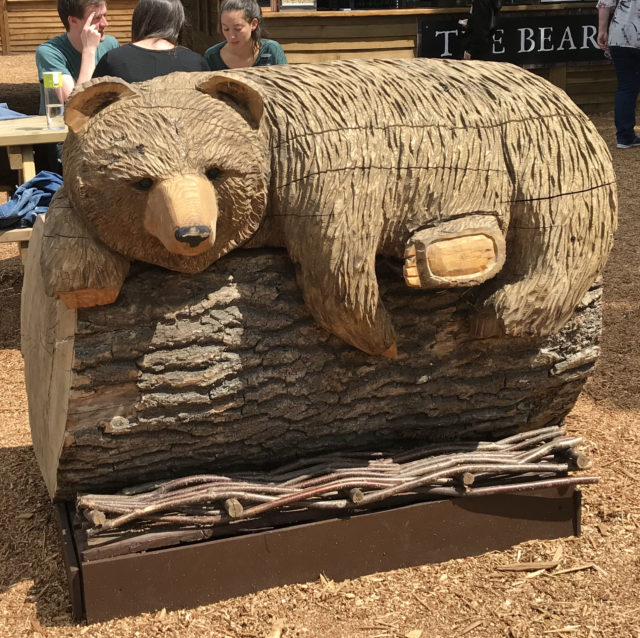 No bear baiting these days, thank goodness!
Surrounded by a 'village' with stalls, an Elizabethan style garden and an outdoor stage for itinerant performers – we were entertained by 'Mad Alice' to the grisly history of hanging and the Plague/Black Death while we had our lunch – the Rose Theatre has a schedule of matinee, evening and special schools performances throughout the summer. Our visit took place on a warm and sunny afternoon, which was fortunate. Although the galleries are blessed with a roof, the wind can really whistle through them some days, as I discovered last year.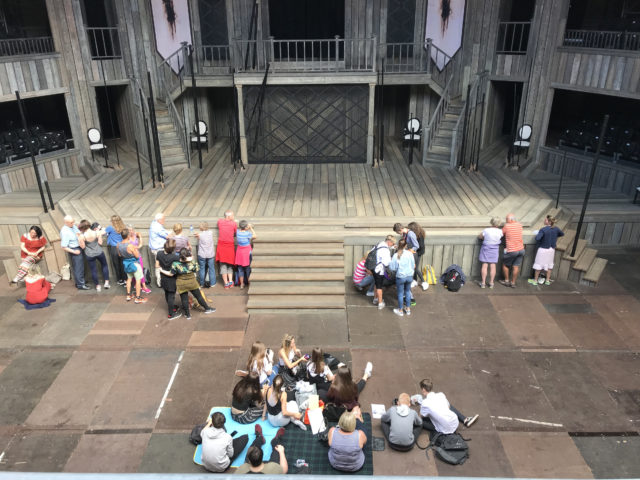 The 'groundlings' were also lucky for this performance and had plenty of room to sit down or lean on the stage. (During sell out sessions, they can be packed in like a football crowd, must remaining standing throughout and are not allowed umbrellas on even the wettest days for fear of blocking the view of the stage from the seated areas.) There can be perks, though, for those anxious to be close to the action. We saw one chap singled out by Hamlet, who bounded off the stage and gave him the full 'What a piece of work is man' speech from very close quarters indeed, and a girl was presented by Ophelia with a daisy. Imagine that at the Old Vic!

I very much enjoyed the performance, with David Oakes in the part of the gloomy Dane backed by a strong cast. Having struggled throughout to remember why his face was so familiar, I discovered later that he'd played the part of Prince Albert's brother in the latest TV drama about Queen Victoria. Photography is strongly discouraged, but I allowed myself this shot of the finale. Over exposed, I know, but the sunshine was so strong that some cast members were squinting when at the front of the stage. The only other drawback was that lines were occasionally difficult to hear, which may have been for technical reasons. I know the play well enough for that not to be a major problem for me, but some of the people around me were struggling
The other plays being staged in rotation this year are Henry V, The Tempest and Twelfth Night, with actors often having a major role in one play and a minor one in another. To satisfy the increasing demand for 'diversity', casting is colour blind and, for some roles, also gender blind. Horatio, for example, was played by a woman. Quite a reverse from the situation in Shakespeare's day, but I think he might have approved.
4 July, 2019 - Make the first comment on this story
Nothing for ages and then literary events come along one behind the other!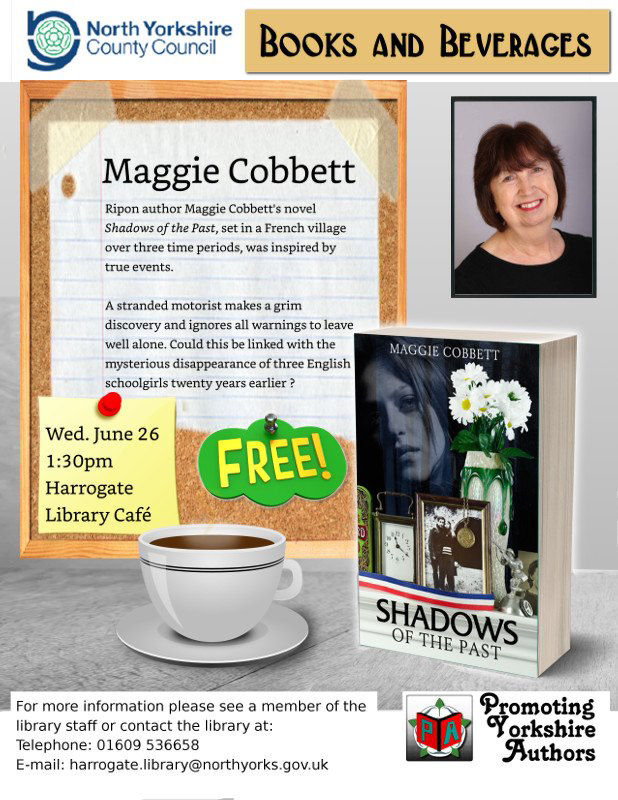 Every alternate Wednesday afternoon is booked at Harrogate Library for one or more PYA authors to strut their stuff and this week it was my turn. I spent as much time talking about my inspiration for the novel and its recently released prequel 'Foreshadowing' as I did about 'Shadows of the Past' itself and was happy to answer the many questions fired at me by the audience.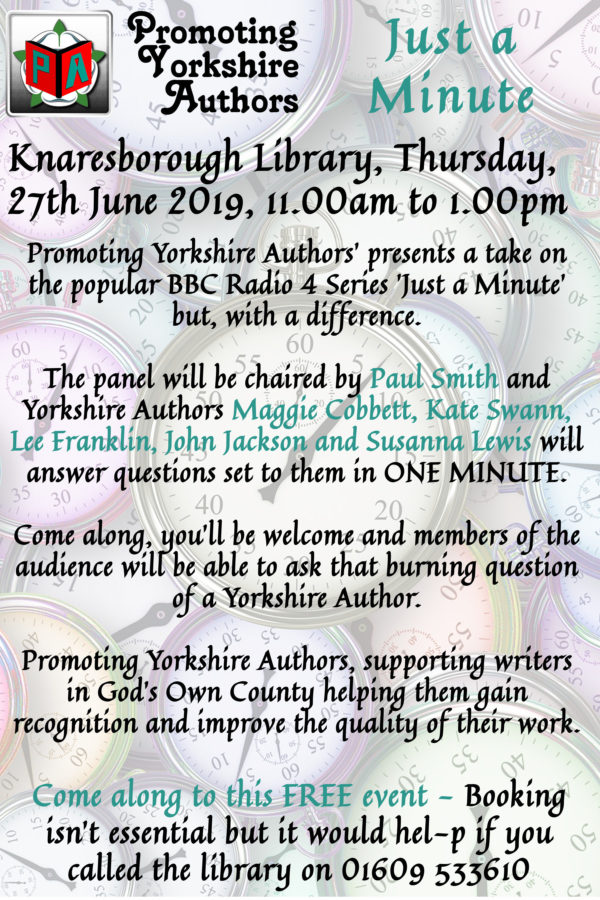 This morning saw me in Knaresborough taking part in a second PYA version of 'Just a Minute' with Paul Smith chairing this time. The other participants were romantic novelist John Jackson,blogger Susanna Lewis, horror writer Lee Franklin and poet Kate Swann, so a fair spread of genres! We did tackle some serious topics, but there was a great deal of hilarity as well.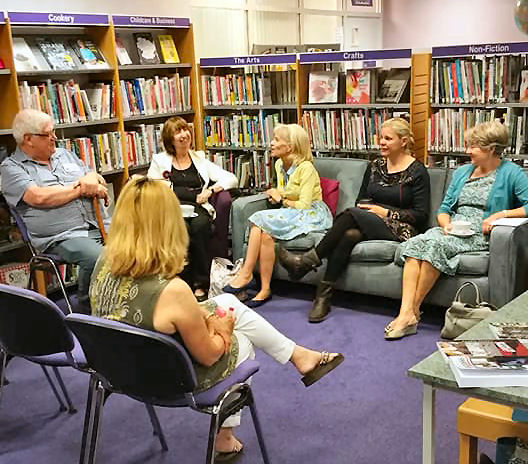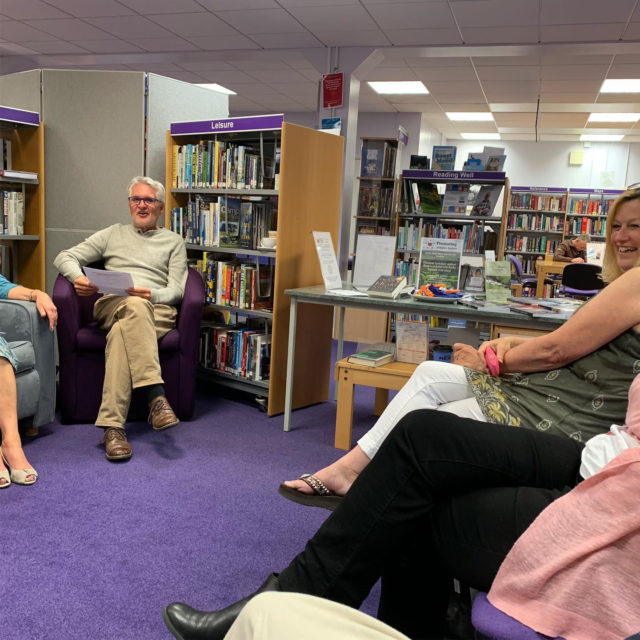 27 June, 2019 - Make the first comment on this story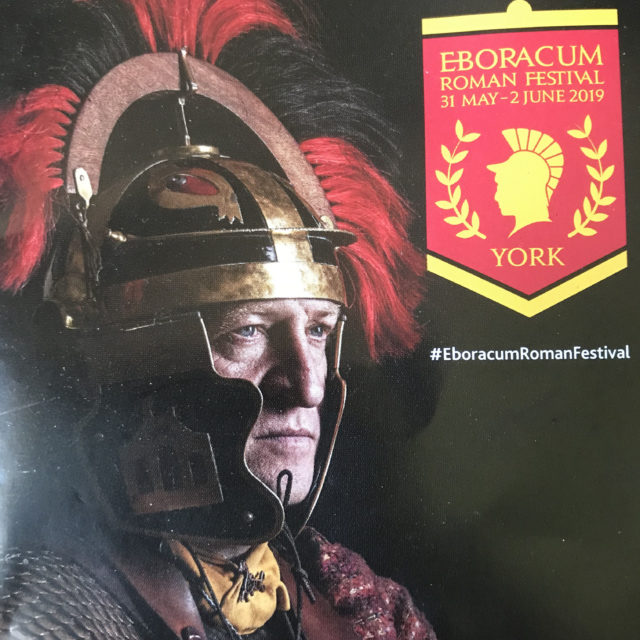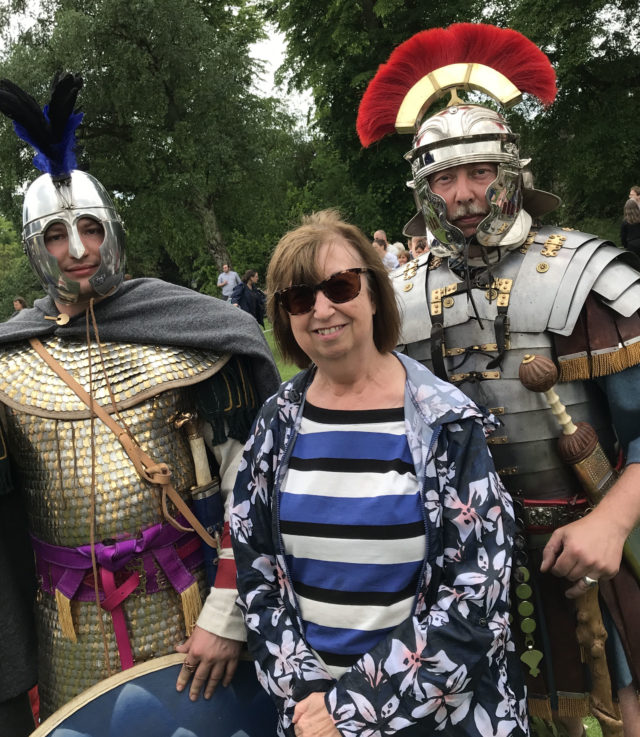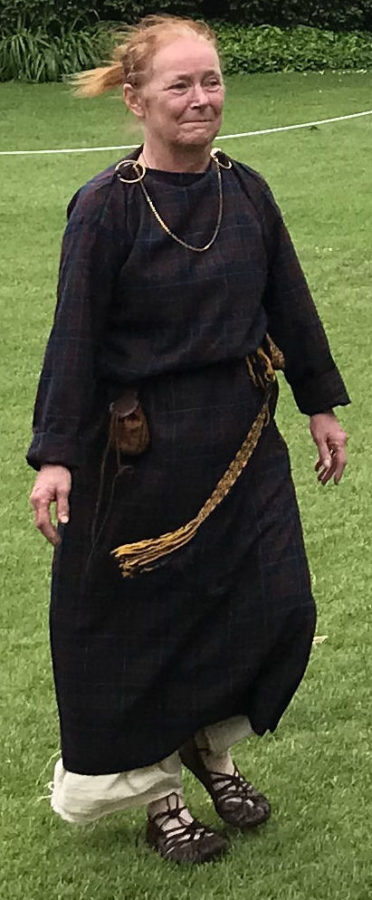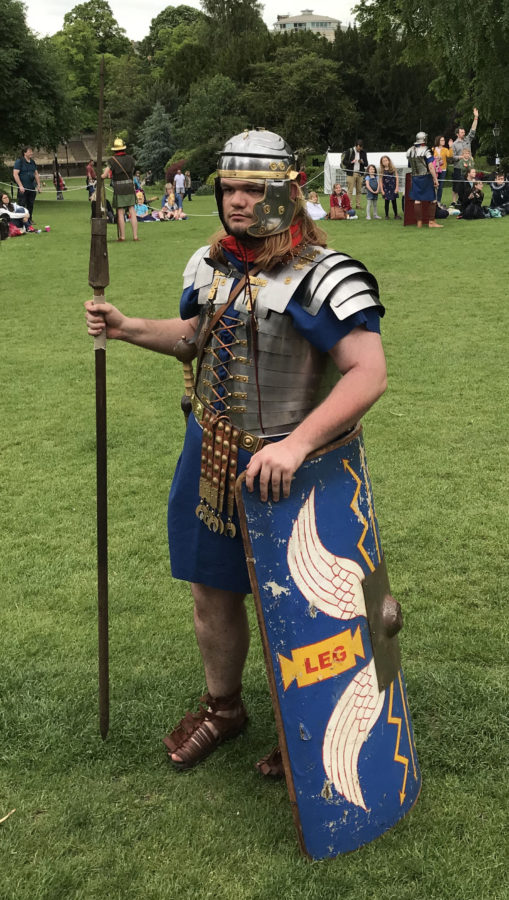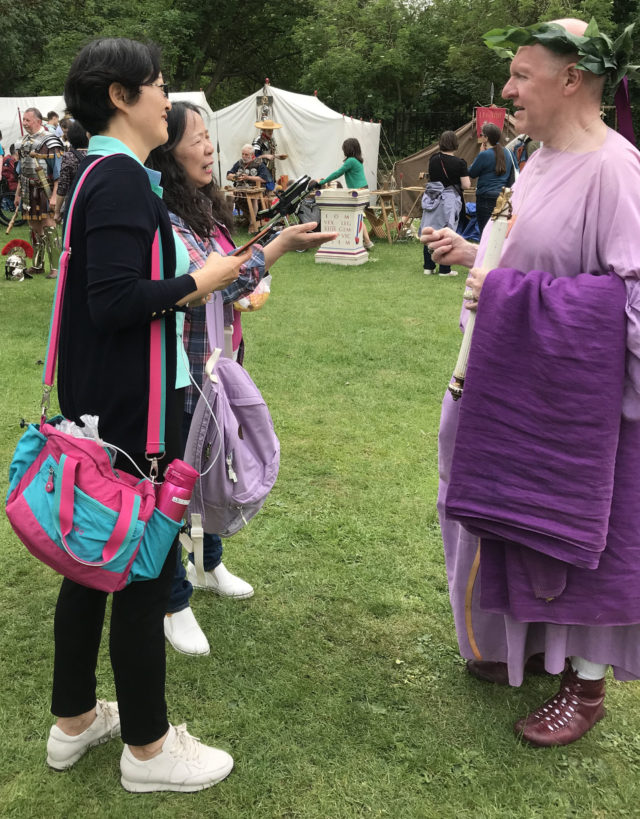 Fortunate to live within a 40 minute drive of York – Eboracum for four centuries under the Romans – I spend a lot of time there and love the way that the city celebrates its long heritage. This year's Roman festival was wonderful and so I thought I'd share with you some of the photographs I took during the day. They include examples from the living history camp, parade, ladies' fashion show highlighting the difference between social classes, military manoeuvres and kids' army. Despite windy conditions and the occasional light shower, a good time was definitely had by all.
Please click on each image to see it full size.
3 June, 2019 - Make the first comment on this story
Invited to 'An Evening with Andy Hamilton' at the Leeds City Varieties, I didn't really know what to expect but was happy to go along for two reasons. First of all, I've had a great deal of enjoyment over the years from Andy as a performer – his role as Satan in 'Old Harry's Game' is unforgettable – and as a writer of shows such as 'Drop the Dead Donkey' and 'Outnumbered'.
The second reason was that, although a Leeds girl born and bred and familiar with the Grand Theatre, the Civic Theatre – now Leeds City Museum – the Empire and the Theatre Royal, both long gone, I'd never actually been inside the City Varieties before. During my schooldays the former music hall, which had opened in 1865, had become notorious for shows in which variety acts played second fiddle to striptease. Advertised in the Evening Post with catchy names such as 'Strip for Action', 'Halt! Who Goes Bare?' and 'The Naughtiest Night of Your Life', they were, or so my mother said, patronised mainly by dirty old men in raincoats. The nearest I ever got to the place was a coffee bar round the back in Swan Street, generally known to its regulars as the Egg and Bacon. It was said – and this may have been why it was so popular with teenage boys – that some of the strippers came across during their breaks, although I don't remember ever seeing any.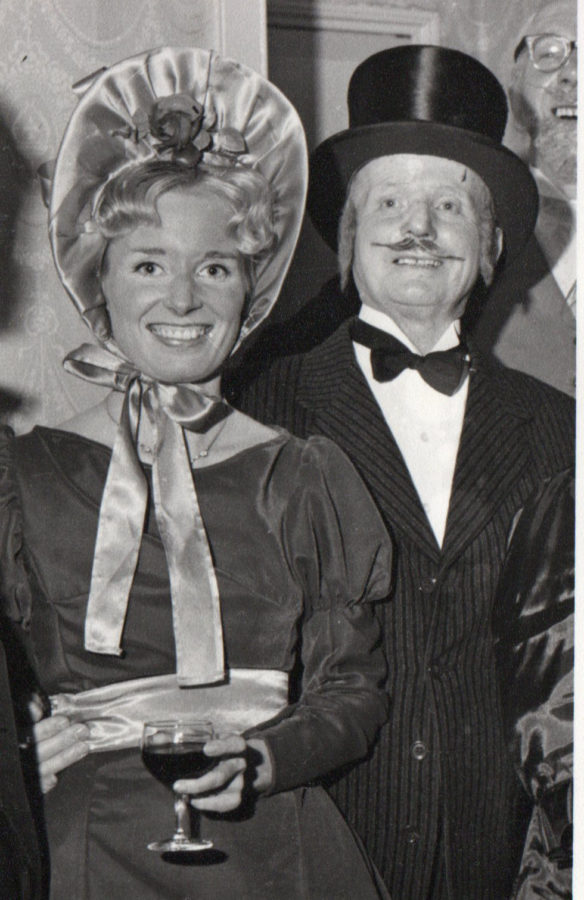 Curiously, the theatre was also the venue for the BBC television series 'The Good Old Days', chaired by the flamboyant Leonard Sachs. The audience for that was generally made up of people my parents' age, dressed up in hired costumes of the period. My father did some work at one time for the gentleman in the photo, a businessman called Clifford Seed, seen here with his daughter Shirley.
There is no trace of a front entrance on the Headrow these days. Instead, everyone has to find their way round to the aforementioned Swan Street, where a new one has been built. Our old coffee bar has become a Bagel Nash, by the way.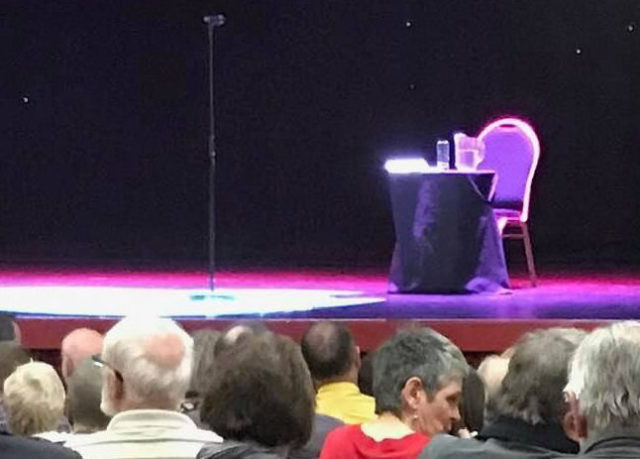 The interior of the City Varieties is splendid, with much red and gold in evidence. Stern notices forbade any filming during the show, though. Not wanting to risk being thrown out, I only took this shot of the set before Andy came on stage. Despite complaining several times about his creaking knees, he never actually sat on the chair.
Andy was probably right to state that the audience was composed mainly of Radio 4 listeners well over 40, but that wasn't necessarily a bad thing. At least most of us were familiar with the people and programmes to which he referred. He told a fair few jokes, often against himself, and several funny anecdotes but spent more of the time asking and fielding questions about absolutely anything. He even encouraged us to write some more questions down during the interval and leave them on the stage for him to answer during the second part of the show. I did wonder what would happen if no one took him up on it, but plenty did and he answered them all with very good humour. For the record, his own favourite comedians are Billy Connolly and Roy Hudd.
With very little scripted in advance, every show on Andy's tour will be different, but I feel certain that they'll be just as enjoyable as the one that I was privileged to attend. Do go along if you can.
23 May, 2019 - Make the first comment on this story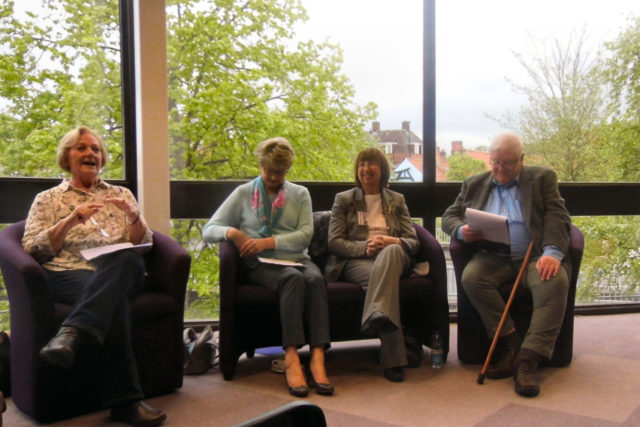 This afternoon's PYA event at Northallerton Library was fun. Organised by Neelie Wicks and chaired by John Jackson, the five of us on the panel had just a minute to answer each question. These ranged from discussion of our own motivation, strengths and weaknesses as writers, marketing strategy (always a tough one), literary pilgrimages and favourite authors. The photo above shows Marla Skidmore, Kate Swann and myself highly amused by something, although I can't remember what. Maybe that's just as well!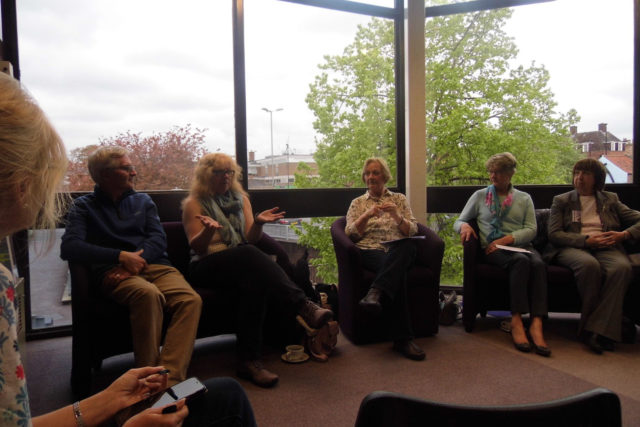 Neelie is just visible on the left with Paul Smith and Rosemary Kind, who has captured our attention with one of her answers.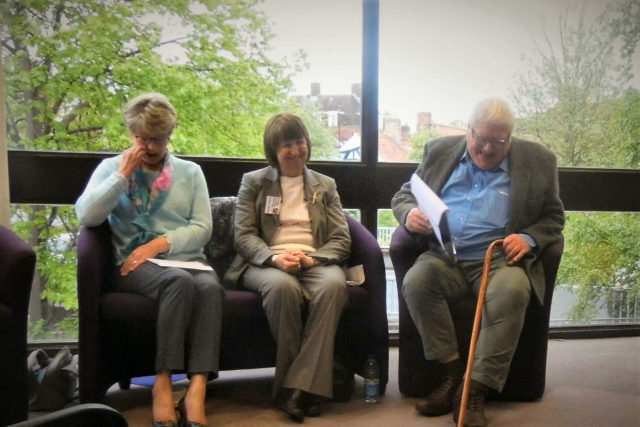 We didn't stay serious for long, though, and the audience also fired a few questions at us.
For the record, here are some of the questions with my own answers:
Q.What literary pilgrimages have you been on? A. Venice, in search of 'Miss Garnet's Angel'.
Q. What is your writing Kryptonite? A. Inability to settle down into one genre.
Q. Do you view writing as a spiritual practice? A. No. My feet are firmly on the ground most of the time.
Q. Does a big ego help or hurt writers? A. Needs to be kept under control when dealing with magazine editors. The choice is often accept the criticism or don't see yourself in print.
Q. Do you think somebody could be a writer if they don't feel emotions strongly? A. Maybe, but I couldn't, at least not when writing fiction. Much of it comes from my own experiences or those of people close to me and I really care what happens to my characters. I laugh and weep with them.
8 May, 2019 - Make the first comment on this story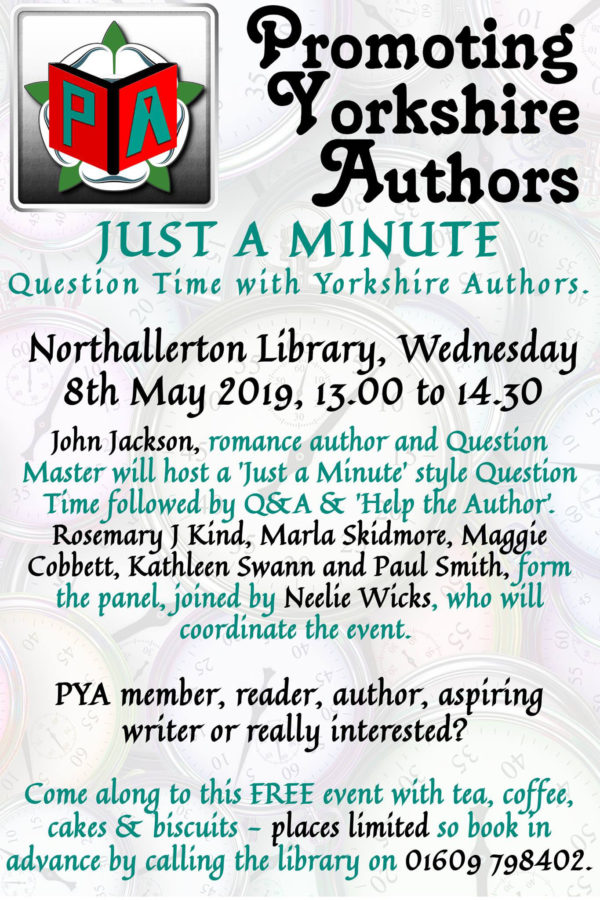 Two very different events and I'm looking forward to participating in both. I'll let you know later how it all went!
7 May, 2019 - Make the first comment on this story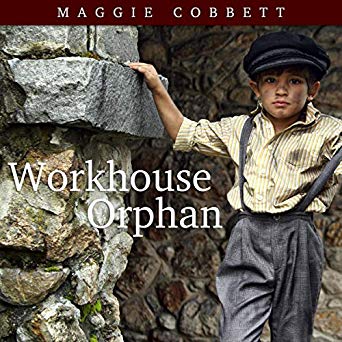 It's taken a while, but it's finally here. (Scroll down to see the post about the recording.)
If you're already familiar with the book, you'll notice something different about the cover of the audio version. Yes, it's square! That's a requirement of ACX and involved quite a lot of jiggery pokery with the original.
A free sample is available to listen to on Audible and I do hope that it will stimulate bumper sales. You can find it by copying and pasting the following link: https://www.audible.co.uk/search?keywords=Maggie+Cobbett&ref=a_hp_t1_header_search
I also have a few free promotional credits to give away on a first come, first served basis. If you'd like one and would consider writing a review, please get in touch.
23 April, 2019 - Make the first comment on this story
Promoting books is just as hard, if not harder, than writing them and I'm always keen to try out new ways of doing so.
Following the advice of other PYA (Promoting Yorkshire Authors) members, I gave BookHippo a try, succeeded at my second attempt and am now proud to be one of its featured authors!
BookHippo (unlike many other promotional websites) makes no charge, although donations are requested in order to keep on expanding.
18 April, 2019 - Make the first comment on this story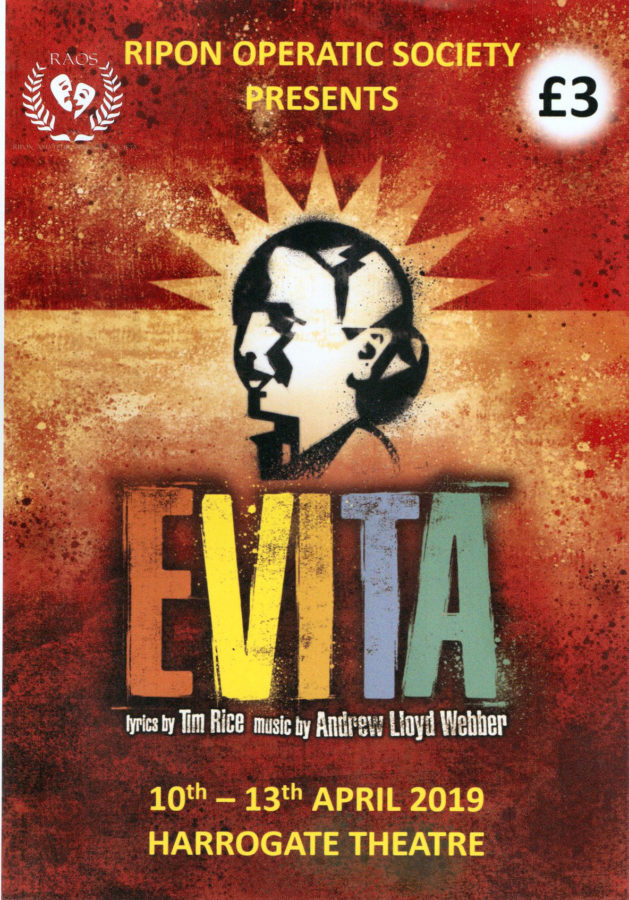 I always enjoy a good musical and the Ripon Operatic Society's production of 'Evita' was no exception. So good I saw it twice, in fact. Once at the dress rehearsal and again later in the week.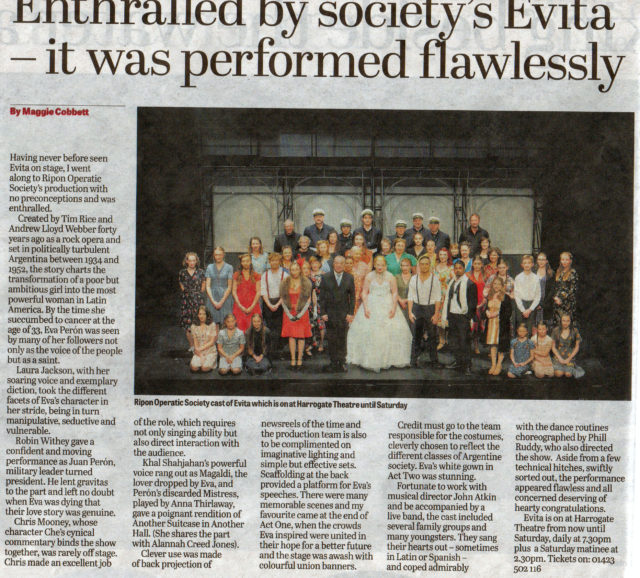 It was my absolute pleasure to review the show for the local papers. This is how my review appeared, only lightly edited. The Society has the full version, but I'd be happy to send a copy to anyone else who wishes to see it.
13 April, 2019 - Make the first comment on this story
Check Out My eBooks
Blog Categories
Links
Live From Twitter