Hello, and thank you for visiting my site. I hope that you'll return often and always find something of interest about my world and what inspires me to pick up a pen. (This is a figure of speech, unfortunately. My handwriting is terrible!) Here's what I've been up to recently...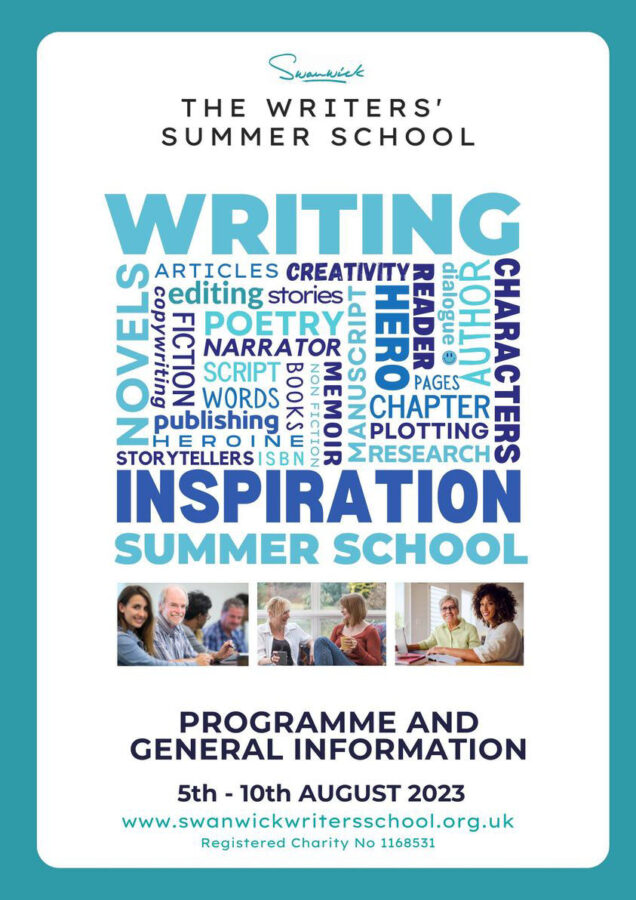 How quickly the time goes by at the Swanwick Writers' Summer School, even more so this year with the programme spread over a shorter period than usual. The magic was still there, though, and I thoroughly enjoyed it.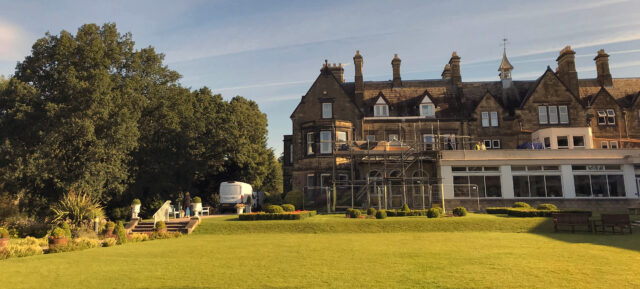 Some building work was going on at the main house, but the grounds of The Hayes were as well kept as ever. Despite a gloomy forecast, we had mostly fine weather and plenty of opportunity to sit outside with our drinks at different times of day.
As well as brushing up on several aspects of writing with tutors who are experts in their fields, I wore my purple lanyard with pride and – as an ambassador – did my best to make new Swanwickers feel welcome and help them to settle in. Fellow Ripon Writers' Group member Susan was amongst them and soon felt at home.
Having won second prize (£100 off this year's Swanwick fees) in the Val Penny/SpellBound books short story competition, I was very pleased to meet the SpellBound team of Sumaira Wilson and Nicola East before their course on digital publishing. The ladies had kind words to say about my writing and also encouraged me to submit my next project directly to them.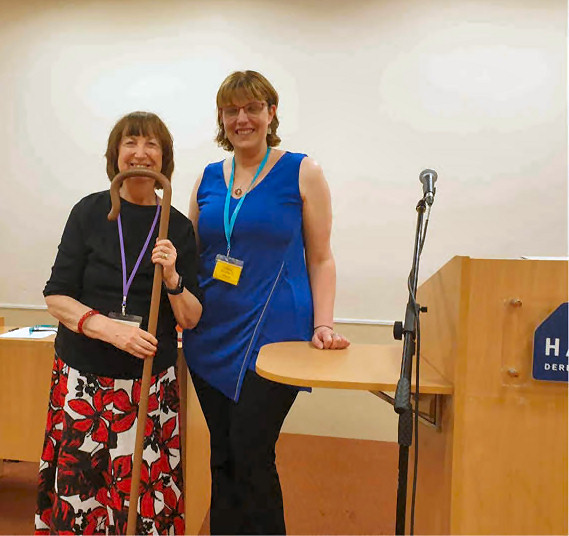 In the evenings, I enjoyed talks by Birmingham poet Roy McFarlane and romantic novelist Sue Moorcroft, who was accompanied by her agent Juliet Pickering. In addition, I took part in both the poetry and prose open mics, co-hosting the latter with Jen and making sure that no one ran over time. Harsh, perhaps, but it's the only fair way with so many Swanwickers keen to read their work.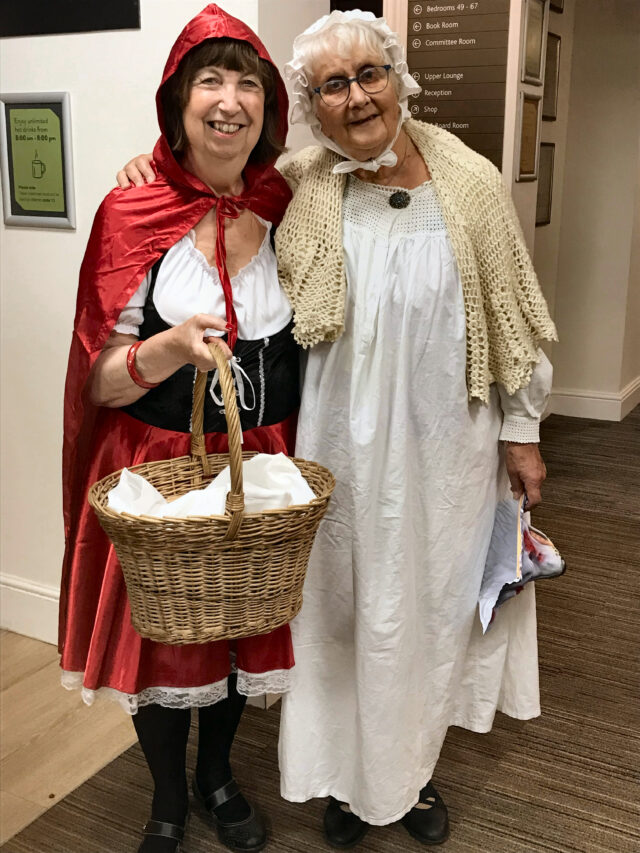 The fancy dress evening is always a good opportunity to pull out the stops. The theme was fairy tales this year and I found a willing partner. If you look closely at Liz's hand, you'll see that her Granny Wolf mask is at the ready.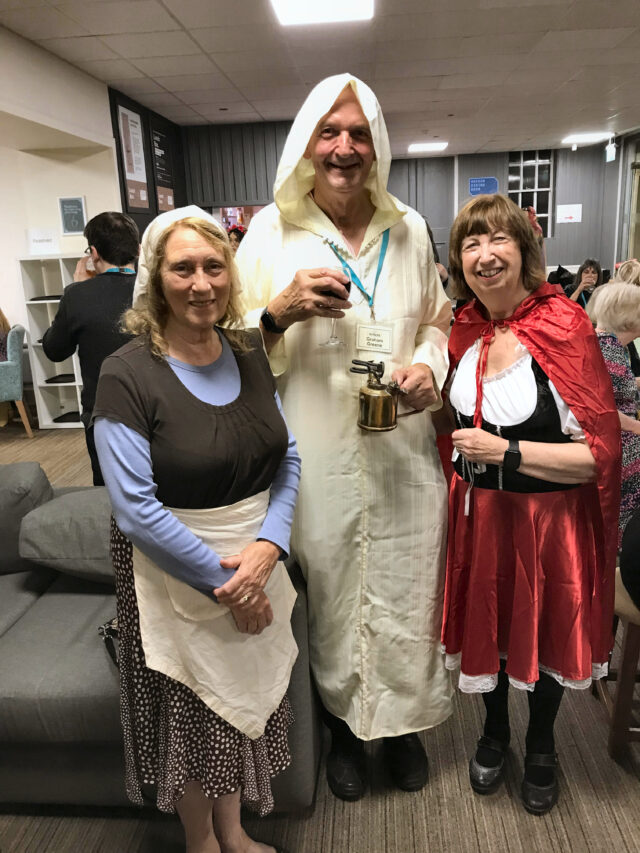 As ever, there was a weird and wonderful set of characters wandering around the bar, with some costumes showing a remarkable amount of ingenuity. Was Cinderella about to ask the genie for a ball gown or inspiration for her writing, I wonder.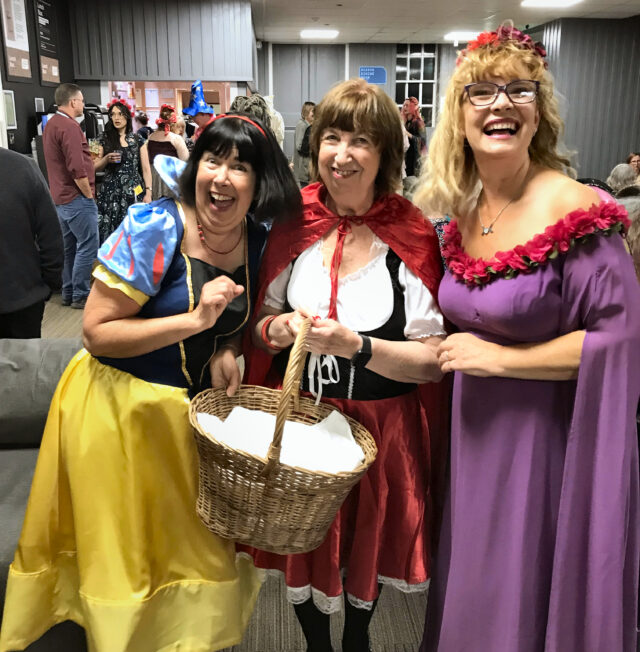 I knew that basket would come in handy one day. Bought in 2006 for a production by Ripon Amateur Operatic Society of 'Fidler on the Roof' – I was one of the mamas – it's never actually been used for shopping but came into its own that evening.
All too soon we were packing to go home, but not before enjoying PRINKS (pre-dinner drinks) on the lawn and the farewell evening with its awards and prize draws. The die-hards gathered in the bar or around the fire pit for a sing song, but I felt my comfortable bed calling me. I'm such a light weight these days!
11 August, 2023 - Make the first comment on this story
Comment on this story
Check Out My eBooks
Blog Categories
Links
Live From Twitter