Hello, and thank you for visiting my site. I hope that you'll return often and always find something of interest about my world and what inspires me to pick up a pen. (This is a figure of speech, unfortunately. My handwriting is terrible!) Here's what I've been up to recently...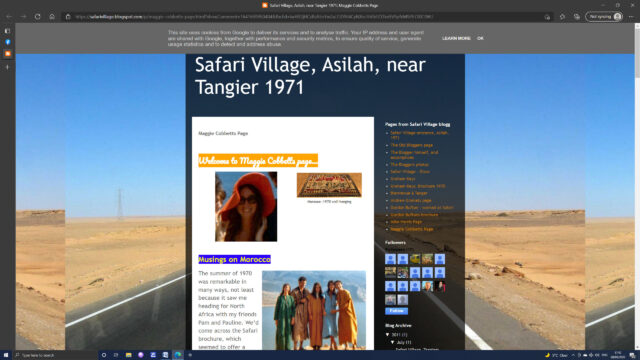 It's strange how your past can catch up with you when you least expect it. Browsing the internet in an idle moment, I came across a blog about the short-lived Safari holiday company with which I travelled to Morocco in the dim and distant past. Memories of those few weeks have never left me and now I know that others feel exactly the same. Blog creator Bob Friendship has been kind enough to let me have my own page and you can see the whole thing by following this link: Safari Village, Asilah, near Tangier 1971: Maggie Cobbetts Page
What a time we had, bouncing along desert roads in specially adapted Bedford trucks, riding camels on the beach, bartering for all kinds of things in the teeming markets of Fez and Marrakech, taking tea with Berber tribesmen up in the Rif mountains… I don't know why I've never written a novel about my adventures in Morocco. Maybe now would be a good time to make a start!
8 January, 2022 - There is one comment on this story
Comment on this story
Check Out My eBooks
Blog Categories
Links
Live From Twitter