Hello, and thank you for visiting my site. I hope that you'll return often and always find something of interest about my world and what inspires me to pick up a pen. (This is a figure of speech, unfortunately. My handwriting is terrible!) Here's what I've been up to recently...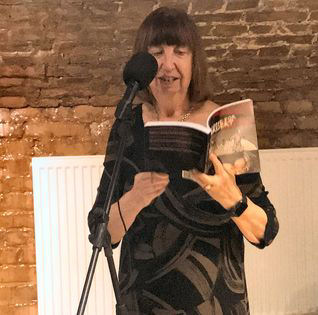 Our open mic sessions at the Curzon have become a regular feature of Ripon's cultural calendar and here I am again in its 'cavern of creativity'. It's a joy to gather so many writers under one roof and hear an eclectic mix of poetry and prose. Anyone unused to performing in public can expect a very supportive audience and the proximity of the bar is another bonus!
On this occasion, I chose to read three poems and a piece of flash fiction from my 'Anyone For Murder?' collection.
With the Platinum Jubilee and Ripon Theatre Festival both taking place in June, we've decided that Write-On-Ripon! Unleashed 4 will take place on Thursday, 7th July. Posters will be appearing shortly.
30 May, 2022 - There are 2 comments on this story
Comment on this story
Check Out My eBooks
Blog Categories
Links
Live From Twitter