Hello, and thank you for visiting my site. I hope that you'll return often and always find something of interest about my world and what inspires me to pick up a pen. (This is a figure of speech, unfortunately. My handwriting is terrible!) Here's what I've been up to recently...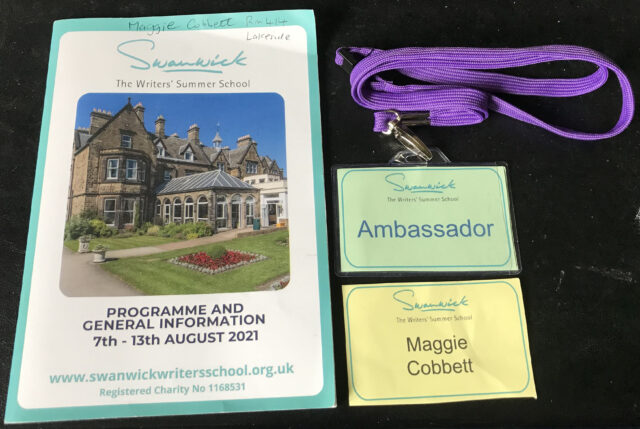 After last year's disappointing cancellation due to the pandemic, I had an extra spring in my step when I arrived at The Hayes this year, unpacked and took my wares to the Book Room. As an 'old hand', it was my honour and privilege to help new Swanwickers (White Badgers) find their feet by co-hosting a guided tour and a table at dinner on the first evening. The opening speaker was Toby Faber of Faber & Faber, grandson of the founder, who provided an interesting outline of the history of the publishing firm. Afterwards, as ever, there was a choice of activities.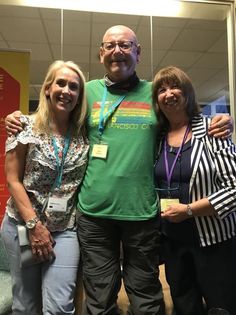 Mine was to head for the bar, catch up with old friends and keep an eye out for any White Badgers looking lost and/or lonely.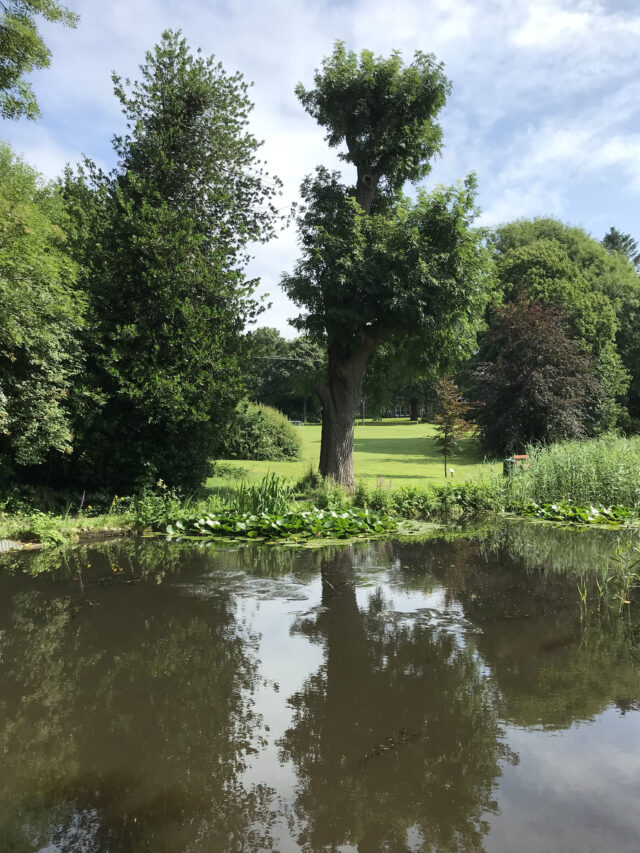 My first appearance at 'Swanwick' was in 2006, when I was lucky enough to win a free place through the Poetry Competition. ('To My Writing Partner' is still available to read on this website.) Seeing the week as a unique opportunity and determined not to waste a moment, I was completely burned out by the Tuesday lunchtime. Nowadays – and this is my 15th time at the School – I know how to pace myself. Taking time out to stroll around the lake or sit reading on a bench is a welcome break from attending courses and workshops. That said, of course, there was a wonderful range open to us all. My first choice was Simon Whaley's four-part course 'The Complete Article Writer', which gave me a lot of new ideas to work on for expanding my range. Second was 'SHOW Stopping Story Writing', the block capitals of the first word being deliberate. "Show! Don't tell!" was Bettina von Cossel's advice and no one could have dreamed up finer examples of doing just that. Spencer Meakin's two-part course on writing about LGBTQ+ characters took me down (for me) largely unexplored avenues and gave a lot of food for thought. Ingrid Jendrzejewski's wide experience of judging as well as winning many writing competitions made her the ideal person to show us how to improve our chances of being placed.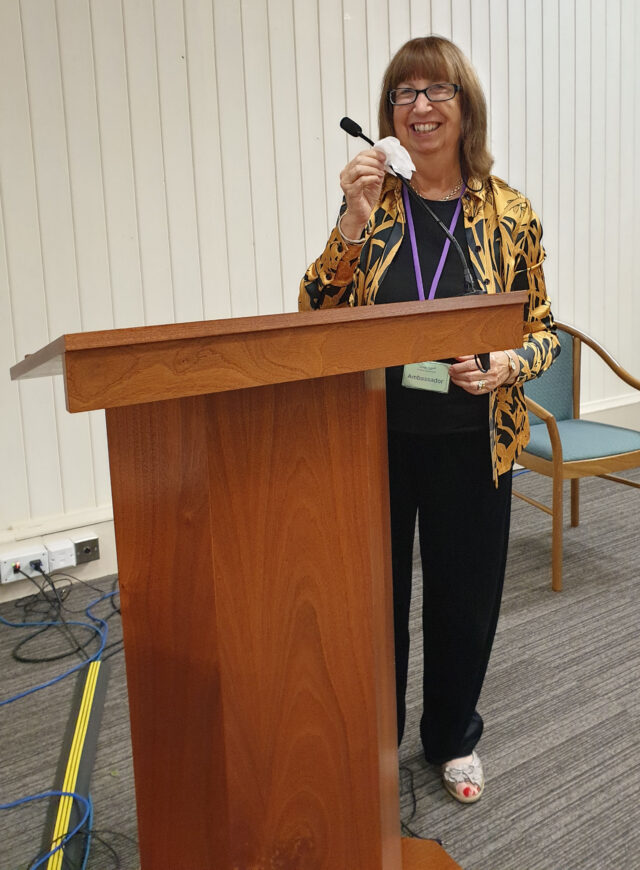 'Work' over for the day, I made the most of the entertainment on offer and helped out where I could. At the Prose Open Mic, for example, I was handed the task of sanitising the microphone between participants.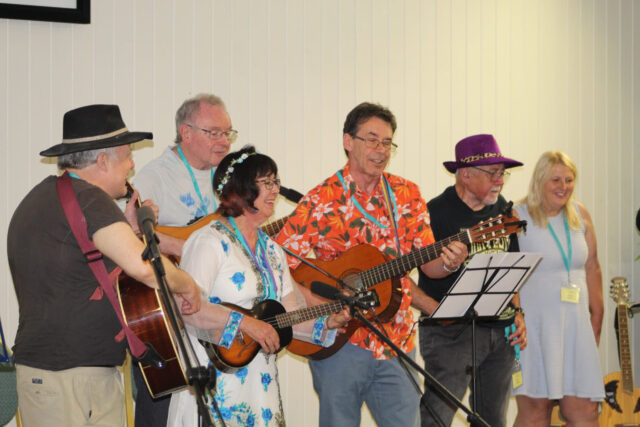 At Buskers' Evening, I was charged with taking photographs.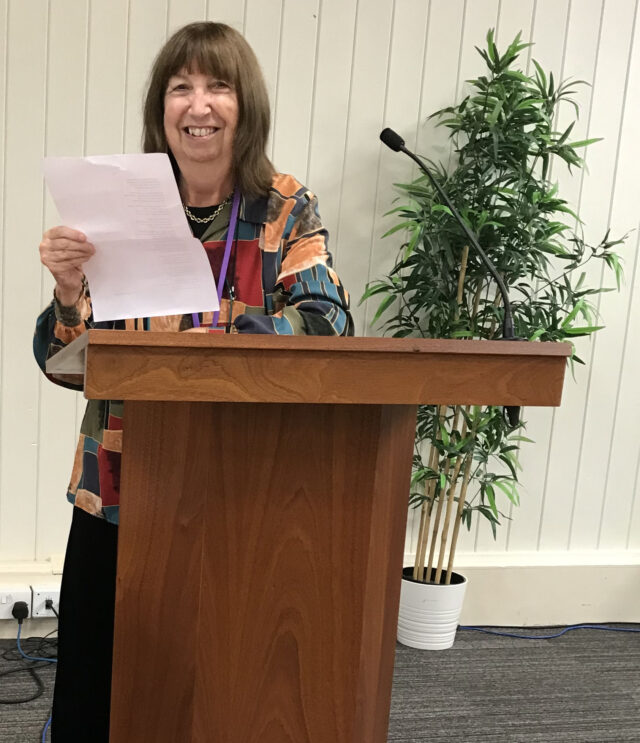 However, I did get to strut my stuff at the Poetry Open Mic and dress up for the 'Roaring Twenties' evening.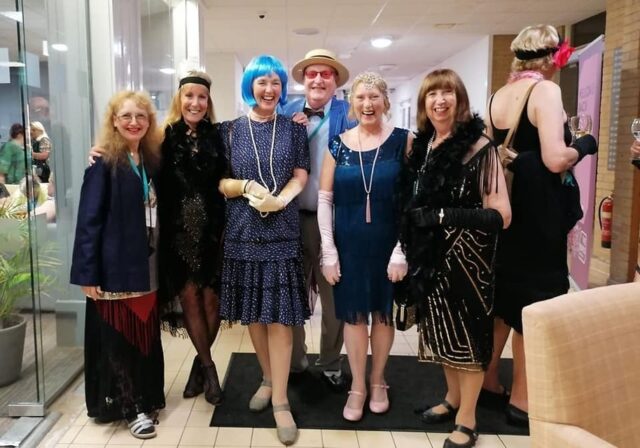 We scrubbed up quite well, don't you think? The disco that ended the evening included a free Charleston lesson, but I'd been on my feet long enough by then and sloped off to bed. The boa I'd hired from Jolly Jesters in the village left a trail of black feathers wherever I went and I still spotted a few on the final morning!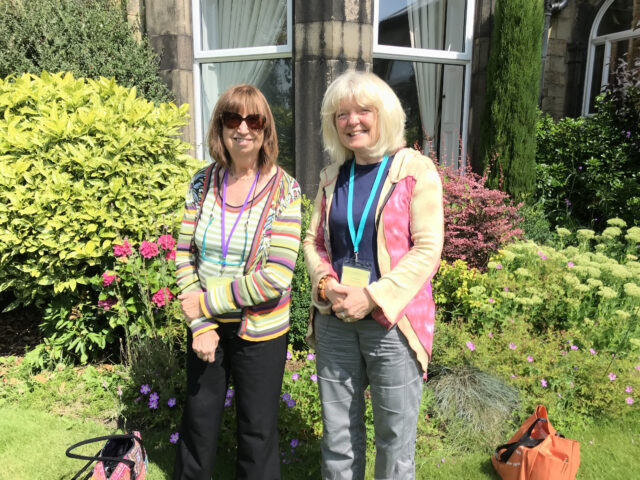 As a member of both Ripon Writers' Group and York Writers, it was good to have friends from each along with me. Above with Lindsay from RWG and below with John, Toni and Pam from YW.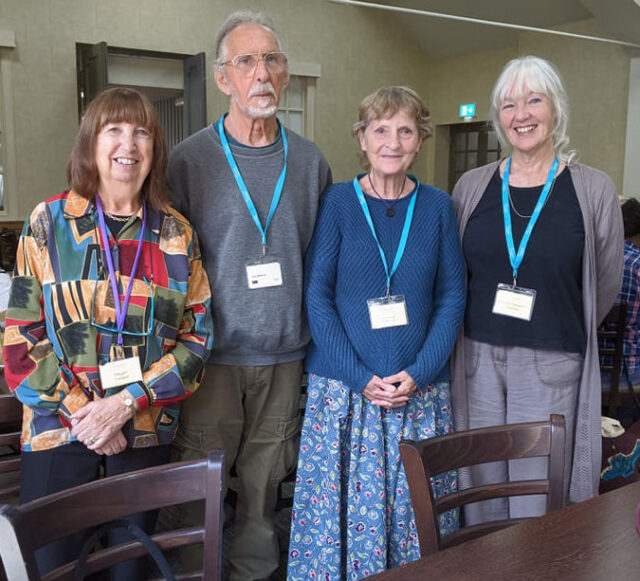 The photo above was taken in one of the dining rooms at lunchtime. I used to find three cooked meals a day overwhelming and was delighted this year to be offered sandwiches, salads, crisps and chocolate bars at midday. They were easily transported outdoors on fine days and The Hayes had provided picnic tables and extra benches in its extensive grounds.
I took no direct part in 'Page to Stage' this year – scroll down to Swanwick 2019 for my finest hour! – although I very much enjoyed the plays, submitted in advance but cast and rehearsed with breakneck speed. Julian Unthank's talk on scriptwriting for TV was absorbing and I also enjoyed what Derbyshire writer Sarah Ward had to say about why we love a ghost story. To my shame, I missed Helen Mort's contribution to Monday evening but heard from others that it was very good. Given the string of awards she's won for her poetry, it must have been.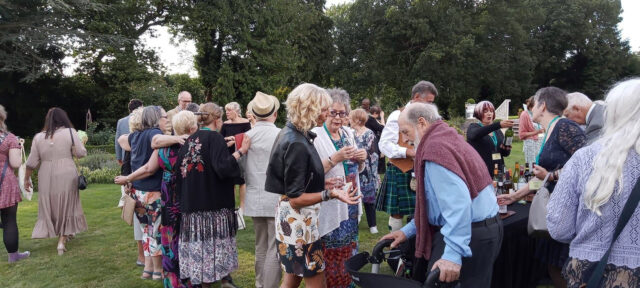 Gloom usually sets in for me on Thursday afternoon, knowing that soon 'Swanwick' will be over for this year but, sandwiched between the AGM and the Farewell, comes the Dregs Party.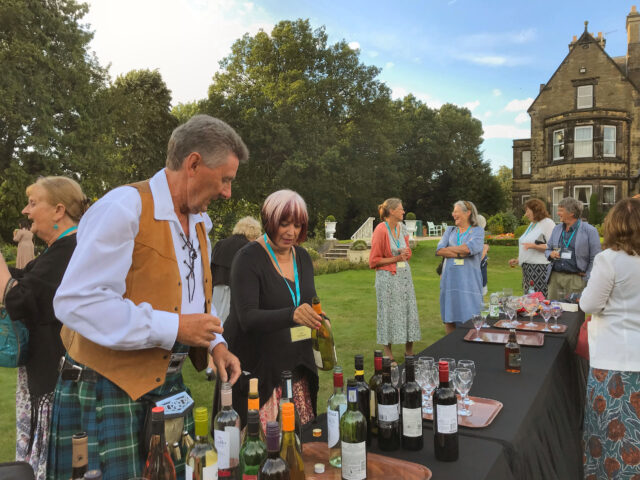 This is an opportunity to share any leftover drinks and snacks. Finery is optional, but some of us really push the boat out and cameras are snapping away the whole time.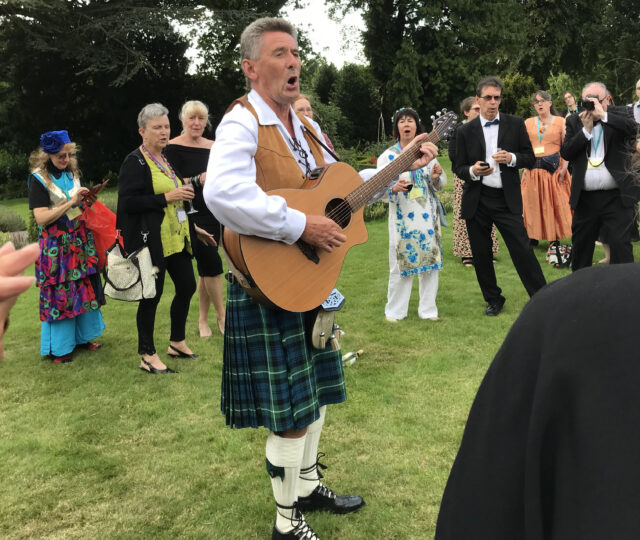 Covid19 regulations having banned communal singing indoors, John Lamont led us in his own unforgettable version of the Proclaimers' hit. 'I will write 500 words…' has become the School's unofficial anthem and is usually accompanied by much stamping on the floor of the Main Conference Hall. It doesn't work quite as well on grass, but we got there!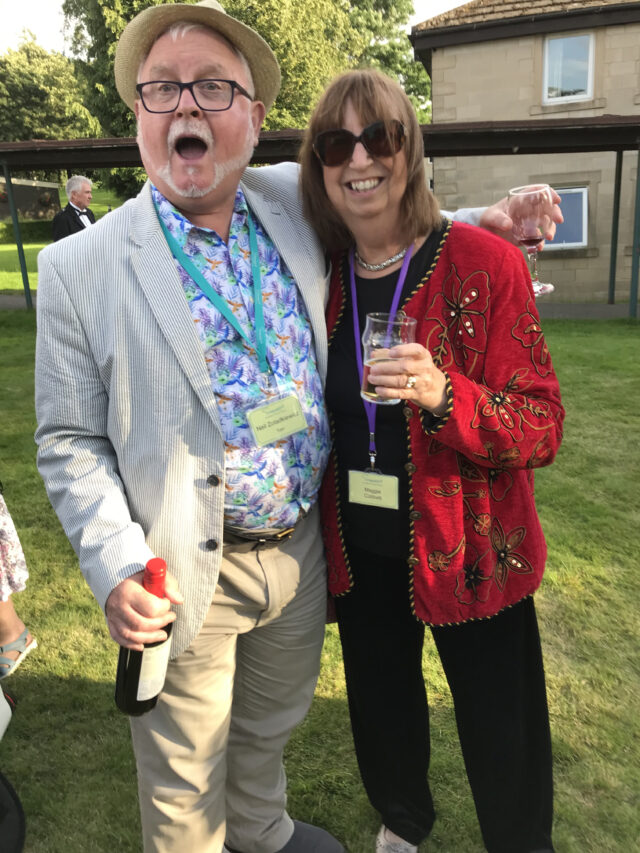 It's hard to part with friends old and new, knowing that most of us are unlikely to meet again in the flesh for another year. (Thank heavens for Facebook, Whats App, Zoom etc!)
However, the School will rise Brigadoon-like from the mist on Saturday, 13th August 2022 and, all being well, I shall be there. The countdown has already begun.
PS Covid19 reared its ugly head right at the end of the week and many of us are now being tested, but I for one wouldn't have missed a minute of Swanwick 2021.
15 August, 2021 - There are 6 comments on this story
Comment on this story
Check Out My eBooks
Blog Categories
Links
Live From Twitter