Hello, and thank you for visiting my site. I hope that you'll return often and always find something of interest about my world and what inspires me to pick up a pen. (This is a figure of speech, unfortunately. My handwriting is terrible!) Here's what I've been up to recently...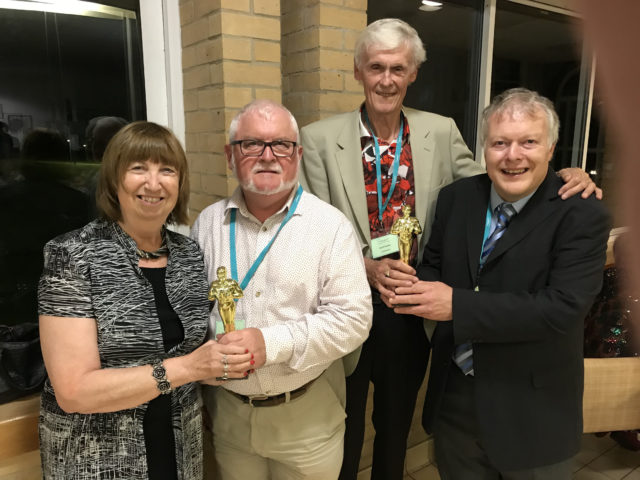 This was my 14th consecutive attendance at the Writers' Summer School and what a week it's been! The crowning moment for me was winning the award for Best Drama in the annual Page to Stage event with my five-minute script Bill's Last Night. This wouldn't have been achieved without the great team I was given to bring it to life. Neil Zoladkiewicz directed, Andy Cain was a very convincing prison chaplain and Geoff Parkes gave a stellar performance as long term prisoner Bill. Geoff also won the Swanny – the School's very own version of an Oscar – for Best Performance in a Drama.
So, what else did I get up to during the week? I stuffed envelopes for the Committee, handed out room keys, led a guided tour for White Badgers (new Swanwickers), hosted a dinner table for them the first evening, acted as an Ambassador all week, did some shifts in the Book Room, ran a one hour session on Writing Fillers, co-hosted the Prose Open Mic session, read at the Poetry Open Mic, dressed up as Cher for the Flower Power evening with Lance Greenfield Mitchell as my Sonny… Oh yes, attended some courses too. The one thing I didn't do much of was actual writing, apart from penning an entry for Fran Tracey's competition! More of that later.
Difficult choices always have to be made with so many attractive options running at once, but I decided on the following this year: Crime Plotting by Bettina Von Cossel, Promoting Your Work by Val Penny, Crime Fiction by Amit Dhand (better known as AA Dhand) and Writing Sex by Fran Tracey. All were both instructive and entertaining and no, I didn't win Fran's competition!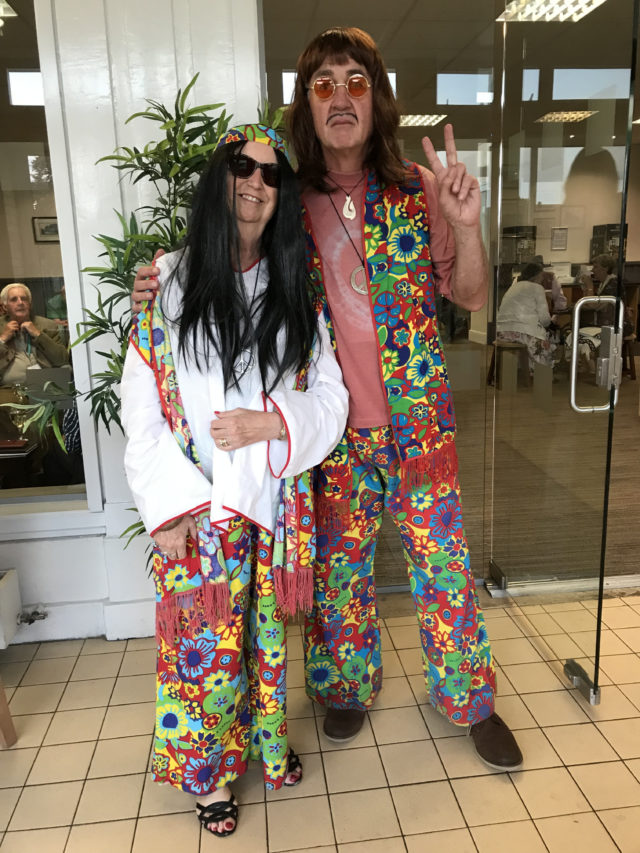 The evenings were just as full as the days, and I very much enjoyed listening to the guest speakers – Paul Dodgson, Hope Adams, John Townsend and Fabio Tartarini – as well as In Conversation With… hosted by Simon Hall. This year's line up consisted of Amit Dhand, Alison Chisholm and Sophie Hannah. Buskers' Night and the Swanwick Farewell are always a must and can be counted on for a varied and, at times, hilarious line up. There is so much musical as well as literary talent amongst the delegates and tutors!
Socialising with friends old and new in the beautiful grounds of The Hayes, at mealtimes and in the bar is always a huge part of Swanwick week. Sad as always to say goodbye, I'm consoling myself with the thought that the countdown to Swanwick 2020 has already begun.
Much more went on, of course. Please click on the images below to see the captions.
18 August, 2019 - There are 2 comments on this story
Comment on this story
Check Out My eBooks
Blog Categories
Links
Live From Twitter