Hello, and thank you for visiting my site. I hope that you'll return often and always find something of interest about my world and what inspires me to pick up a pen. (This is a figure of speech, unfortunately. My handwriting is terrible!) Here's what I've been up to recently...
Those of you who've followed my blog for a while may recall my visit to Belfast a couple of years ago, during which I followed an itinerary that was similar in many respects to this year's. You may also recognise my outfit. Being restricted by Flybe to one small piece of cabin luggage and a handbag certainly concentrates the mind on what is practical for one of these short breaks and 'recycling' is definitely a feature here.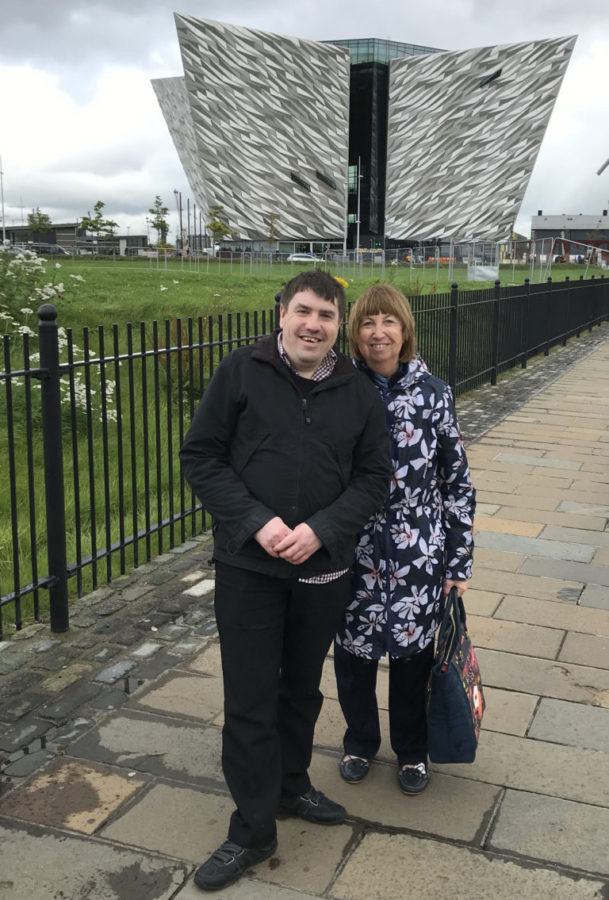 The main point of this exercise was to fulfil a promise made to our younger son to take him to the Titanic Museum and he certainly enjoyed that. His smile speaks volumes, I think.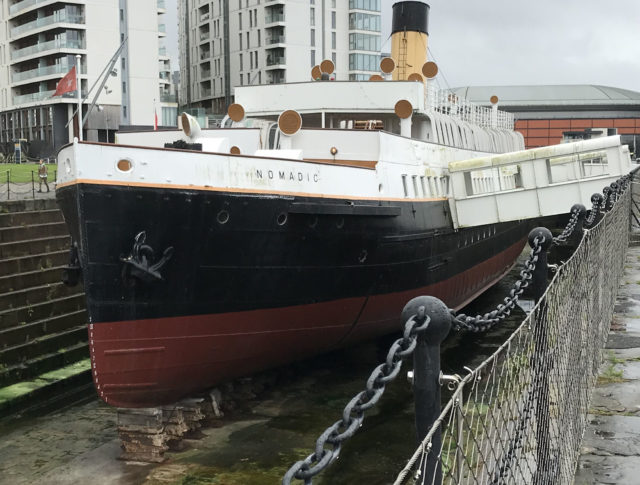 We also visited the Nomadic, formerly tender ship for (mainly 1st and 2nd class) passengers embarking at Cherbourg and now restored to its former glory.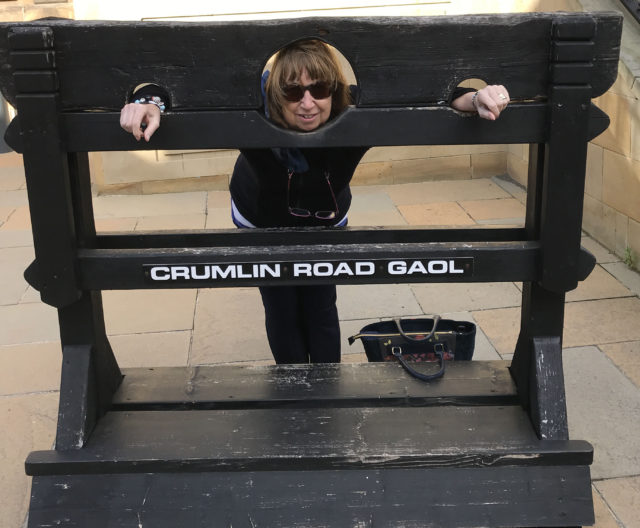 We took a hop on hop off bus tour round the main sights of the city, including the murals along the Falls Road, Shanklin Road and the towering 'peace wall', still in place all these years after the Good Friday agreement. It's a grim reminder of the fragility of the current peace and, as though we needed a further reminder, we stopped off at Crumlin Road Gaol. Facing the derelict courthouse, also closed for over 20 years, it offers guided tours and I wish I could 'unsee' some of the images, particularly that of the condemned man's cell and execution chamber. It struck us as very odd that the Gaol is now a popular venue for concerts, weddings and other celebrations. If it really is haunted, as many will tell you, the ghosts of the men, women and even children incarcerated there for almost two centuries must look on in total disbelief.

The weather was mixed, but we didn't let that put us off taking a day excursion to the Antrim coast, which was very worthwhile. The highlight was the Giant's Causeway, very windy but fortunately dry. Our coach driver encouraged us to climb up onto the rocks, which some people did, despite the best efforts of National Trust volunteers to discourage them. Whether that was for their own safety because of the strong wind or fear of damage to such an important heritage site wasn't clear, but plenty ignored the warnings. We were more circumspect, not wanting our day to be ruined by a broken ankle or, indeed, a broken neck! It's very hard to believe that the hexagonal basalt columns weren't cut out by modern machinery rather than volcanic activity millennia ago. There is also the legend of the Irish giant Finn McCool, of course, and his creation of a causeway to Scotland in order to challenge another giant, Benandonner.
Our tour, courtesy of McComb's Coach Travel Ltd., also took in Carrickfergus Castle, the famous rope bridge at Carrick-a-Rede and the Bushmills Distillery. In between the various stops, the scenery was stunning and our driver Patrick treated us to a very comprehensive commentary as well as – he admitted himself – some appalling jokes.
We stayed at the Premier Hotel in Waring Street, which is comfortable and has exceptionally friendly and helpful staff. The adjoining restaurant was very handy when aching feet refused to go any further in search of dinner and offered good choices at reasonable prices. Rhubarb and custard sundae proved to be a firm favourite with our son!
14 September, 2019 - Make the first comment on this story
Comment on this story
Check Out My eBooks
Blog Categories
Links
Live From Twitter