Hello, and thank you for visiting my site. I hope that you'll return often and always find something of interest about my world and what inspires me to pick up a pen. (This is a figure of speech, unfortunately. My handwriting is terrible!) Here's what I've been up to recently...
UPDATE
Delighted to say that the evening advertised below went very well, with about 30 people in attendance. Everyone who wished to read had the opportunity, some a couple of times, and there was a good variety of genres and themes. A similar event is now scheduled for Monday, 4th April.
Towards the end of last year I joined Write-On Ripon, a group that meets on Tuesday afternoons in the Hive café and this will be its first major event.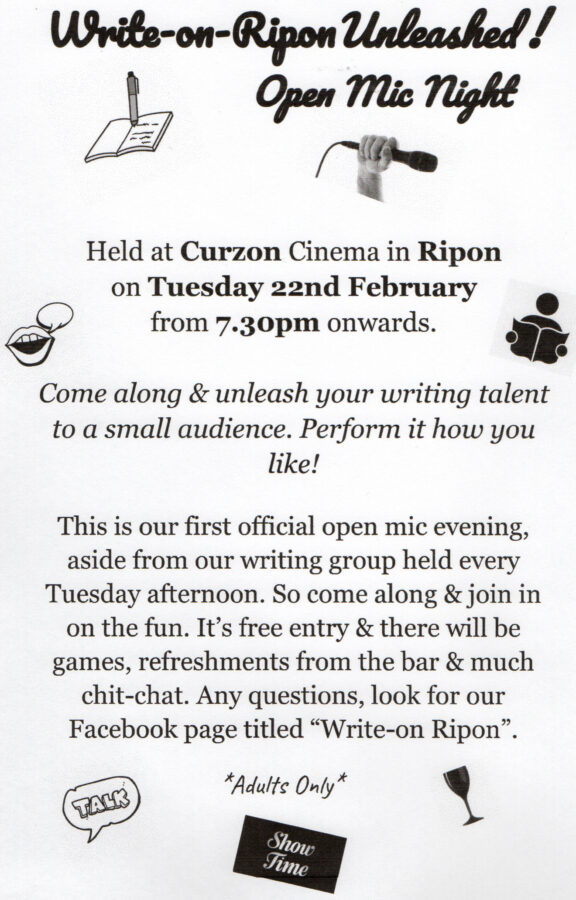 As the current Chair of Ripon Writers' Group, I should like to stress that the groups are not in any way in competition with each other. The Open Mic night has been planned so as not to clash with the regular RWG meeting and anyone and everyone is welcome to take part.
5 February, 2022 - Make the first comment on this story
Comment on this story
Check Out My eBooks
Blog Categories
Links
Live From Twitter