Hello, and thank you for visiting my site. I hope that you'll return often and always find something of interest about my world and what inspires me to pick up a pen. (This is a figure of speech, unfortunately. My handwriting is terrible!) Here's what I've been up to recently...
We spent a couple of happy years in Bedale after our move to North Yorkshire and next week I'll be back. It will be interesting to see if there are any familiar faces in the audience and, less likely, perhaps, if they remember me from our boys' playgroup and nursery school days.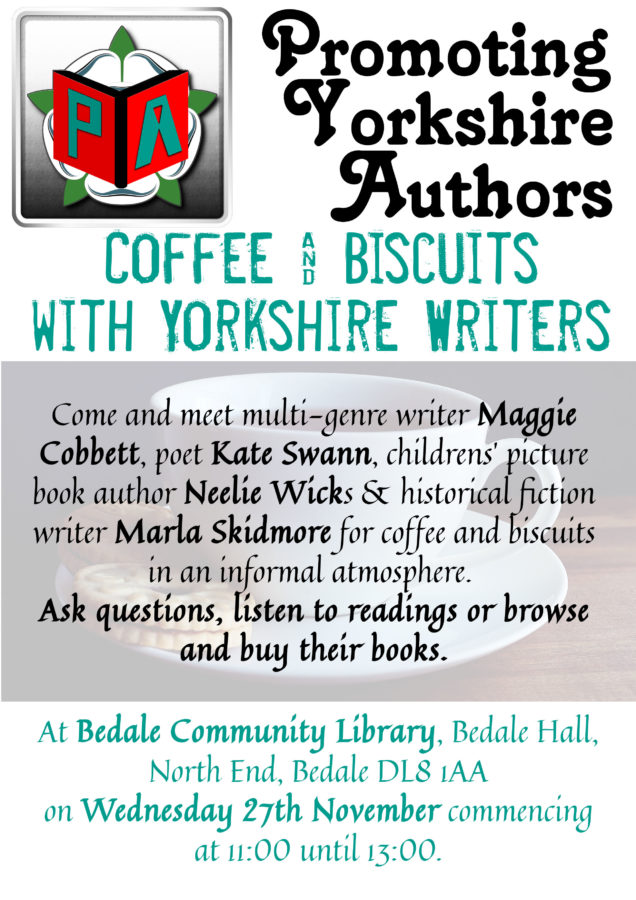 The event takes place in the splendid surroundings of Bedale Hall, part of which functions as a community run library.
22 November, 2019 - Make the first comment on this story
Glad to say that my presentation went very well and the audience had lots of questions.
Easy Money For Writers & Wannabes is still my best seller and for a very good reason. Readers have already earned substantial amounts by following my advice!
14 November, 2019 - Make the first comment on this story
Fiction is my first love, 'fillers' and features joint second and poetry, I'm afraid, brings up the rear. That's partly because, although I've had some success in that field, I don't really consider myself a 'proper poet' by modern standards. As a lover of rhyme and metre, I'm aware that most of my poems are out of step with contemporary fashion.
HOWEVER, Ripon Writers' Group was invited to contribute to the 3rd Ripon Poetry Festival, so I threw my hat into the ring and saw two of my poems, Care in the Community and Payback Time included in this year's anthology. How soulful do I look here! Seven other members were also successful, including Lindsay Trenholme who won first prize.
As if that were not enough, a few of us also took part in the opening event of this year's Festival, which piggybacked onto a wine and cheese evening at a local supermarket. I dug into my back catalogue for that one and read To My Writing Partner, the sonnet that won first prize in the 2006 poetry competition for a free place at 'Swanwick' and started my annual pilgrimage to the wonderful Writers' Summer School. It seemed to go down well with the audience, even those who'd only really come for the more tangible tastings on offer. At any rate, they listened patiently and gave me a generous round of applause.
There was also a tribute session one afternoon for the late Elizabeth Spearman and David McAndrew, both of whom had been instrumental in setting up the Festival in 2017, and both Carol Burdett Mayer and Kate Swann launched their new poetry collections at the Curzon during the final afternoon.
All in all, this year's Festival has been a great showcase for Ripon Writers' Group, which has been in existence for almost 40 years!
16 October, 2019 - Make the first comment on this story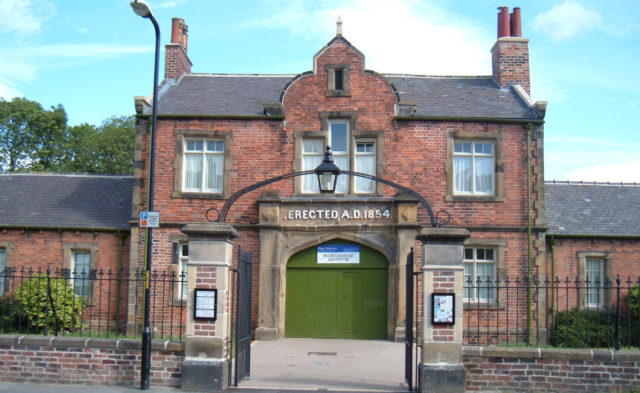 It's hard to think of a more appropriate venue for my illustrated talk. During the two years that I was writing 'Workhouse Orphan', I made a good many visits to the Ripon Workhouse Museum for research purposes and to get the general feel of the place. The Museum continues to expand and is well worth a visit for families and anyone interested in social history.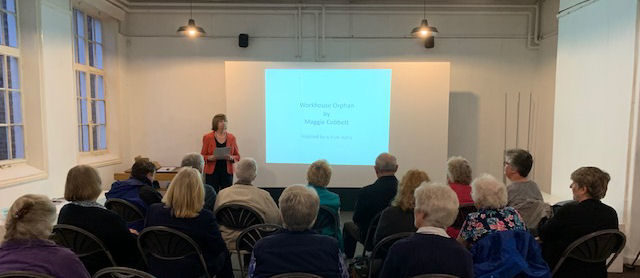 My book has been on sale in the shop there for several months, so quite a few audience members had already read it and arrived prepared with their questions and comments. Others quickly became engaged and we had a lively discussion afterwards.
26 September, 2019 - There are 2 comments on this story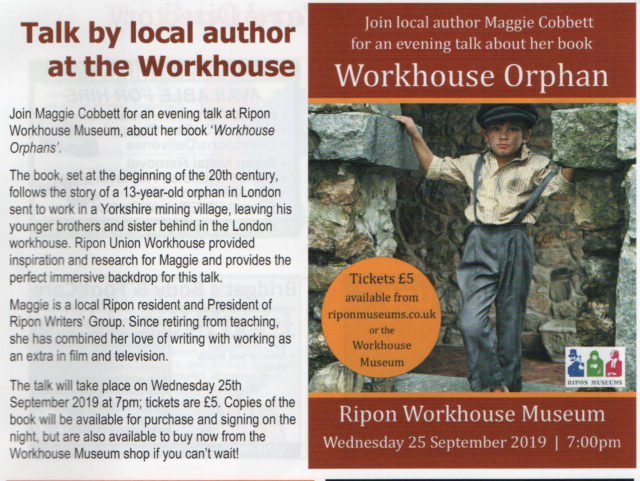 It's hard to think of a more appropriate venue and I'm very happy to support the Ripon Museum Trust.
1 September, 2019 - Make the first comment on this story
'Bill's Last Night', my 5-minute drama for Swanwick's Page to Stage event (see previous post for full details) is now available to view on You Tube.
Many thanks to Steve Barnett for his expert editing!
27 August, 2019 - There is one comment on this story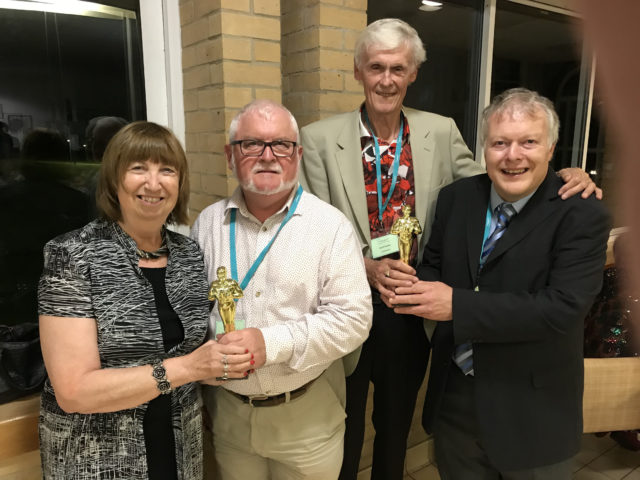 This was my 14th consecutive attendance at the Writers' Summer School and what a week it's been! The crowning moment for me was winning the award for Best Drama in the annual Page to Stage event with my five-minute script Bill's Last Night. This wouldn't have been achieved without the great team I was given to bring it to life. Neil Zoladkiewicz directed, Andy Cain was a very convincing prison chaplain and Geoff Parkes gave a stellar performance as long term prisoner Bill. Geoff also won the Swanny – the School's very own version of an Oscar – for Best Performance in a Drama.
So, what else did I get up to during the week? I stuffed envelopes for the Committee, handed out room keys, led a guided tour for White Badgers (new Swanwickers), hosted a dinner table for them the first evening, acted as an Ambassador all week, did some shifts in the Book Room, ran a one hour session on Writing Fillers, co-hosted the Prose Open Mic session, read at the Poetry Open Mic, dressed up as Cher for the Flower Power evening with Lance Greenfield Mitchell as my Sonny… Oh yes, attended some courses too. The one thing I didn't do much of was actual writing, apart from penning an entry for Fran Tracey's competition! More of that later.
Difficult choices always have to be made with so many attractive options running at once, but I decided on the following this year: Crime Plotting by Bettina Von Cossel, Promoting Your Work by Val Penny, Crime Fiction by Amit Dhand (better known as AA Dhand) and Writing Sex by Fran Tracey. All were both instructive and entertaining and no, I didn't win Fran's competition!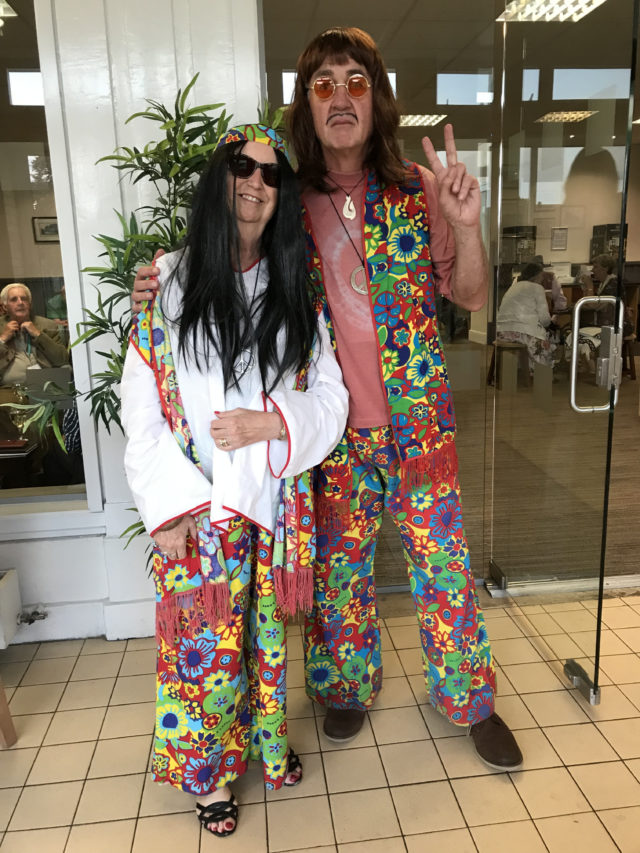 The evenings were just as full as the days, and I very much enjoyed listening to the guest speakers – Paul Dodgson, Hope Adams, John Townsend and Fabio Tartarini – as well as In Conversation With… hosted by Simon Hall. This year's line up consisted of Amit Dhand, Alison Chisholm and Sophie Hannah. Buskers' Night and the Swanwick Farewell are always a must and can be counted on for a varied and, at times, hilarious line up. There is so much musical as well as literary talent amongst the delegates and tutors!
Socialising with friends old and new in the beautiful grounds of The Hayes, at mealtimes and in the bar is always a huge part of Swanwick week. Sad as always to say goodbye, I'm consoling myself with the thought that the countdown to Swanwick 2020 has already begun.
Much more went on, of course. Please click on the images below to see the captions.
18 August, 2019 - There are 2 comments on this story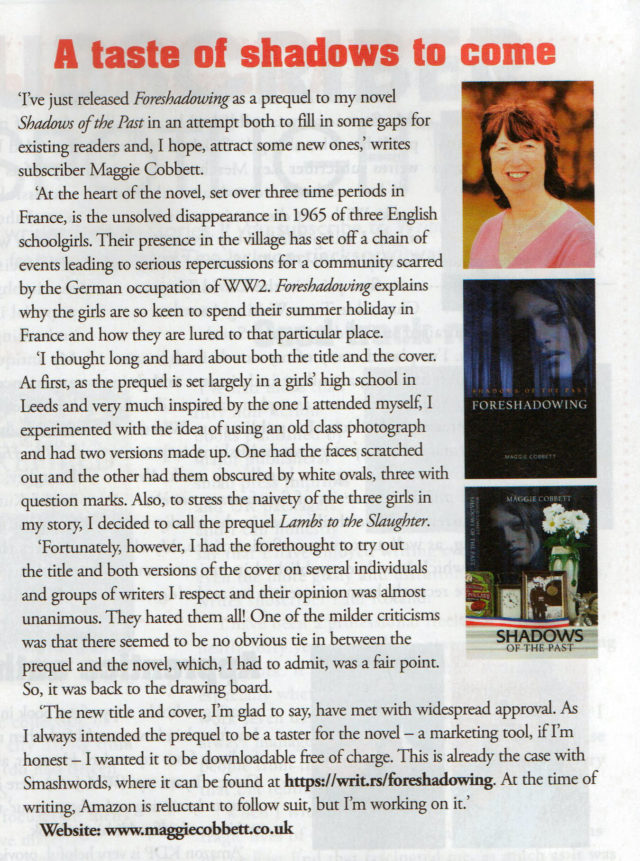 I've been a subscriber to Writing Magazine for many years and it's always good to get a mention. Glad to say that events have moved on since I submitted the above and 'Foreshadowing' is now also available free of charge from Amazon.
30 July, 2019 - Make the first comment on this story
Many of my stories have appeared in TPF over the last few years, but this is the first time I've had the honour of being included in the annual. This story is about the way in which some young women new to London explore the city and make friends along the way. I'd love to expand the idea into a novel one day.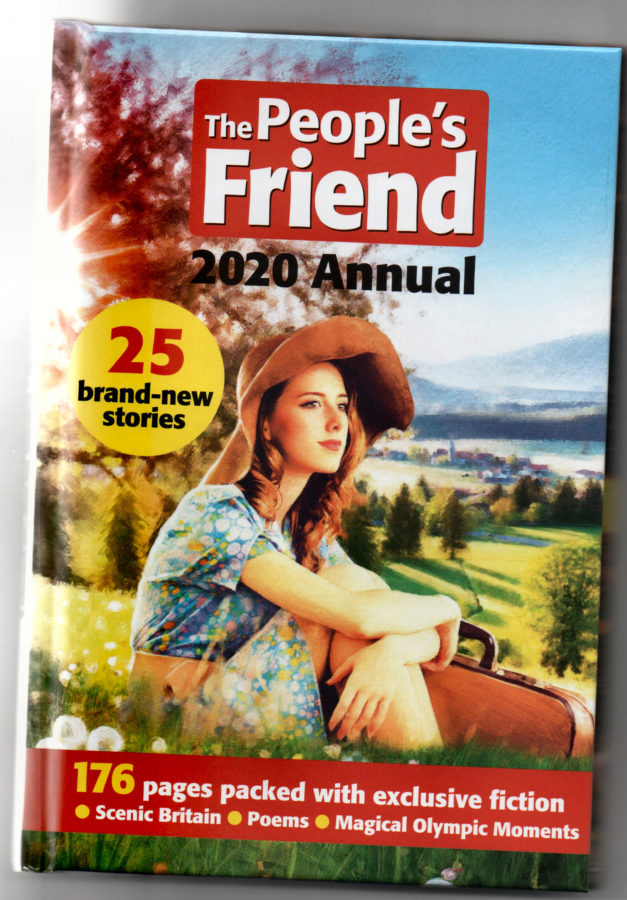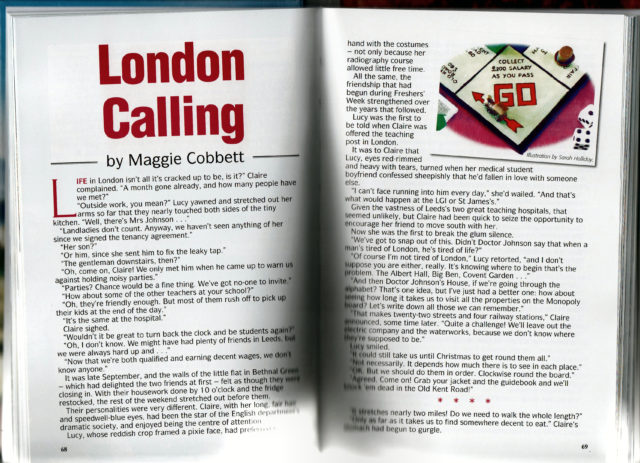 24 July, 2019 - Make the first comment on this story
Nothing for ages and then literary events come along one behind the other!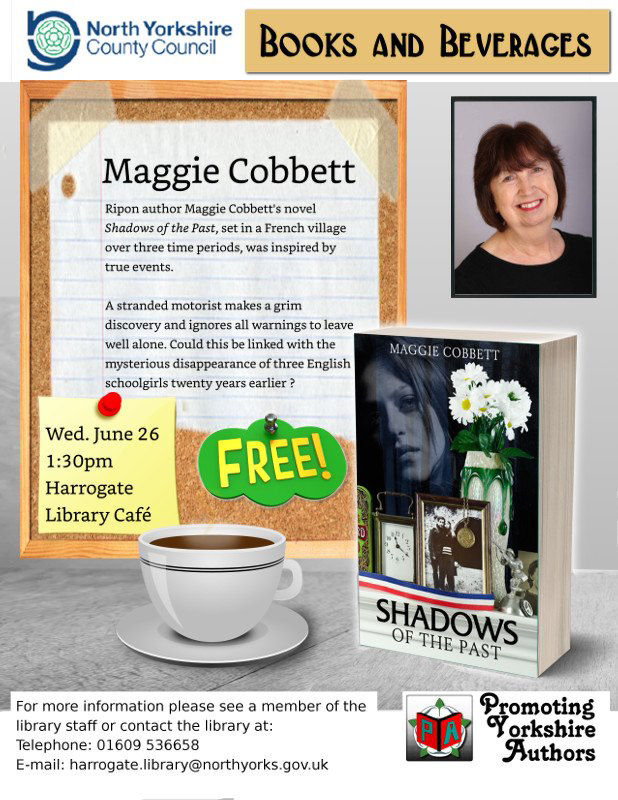 Every alternate Wednesday afternoon is booked at Harrogate Library for one or more PYA authors to strut their stuff and this week it was my turn. I spent as much time talking about my inspiration for the novel and its recently released prequel 'Foreshadowing' as I did about 'Shadows of the Past' itself and was happy to answer the many questions fired at me by the audience.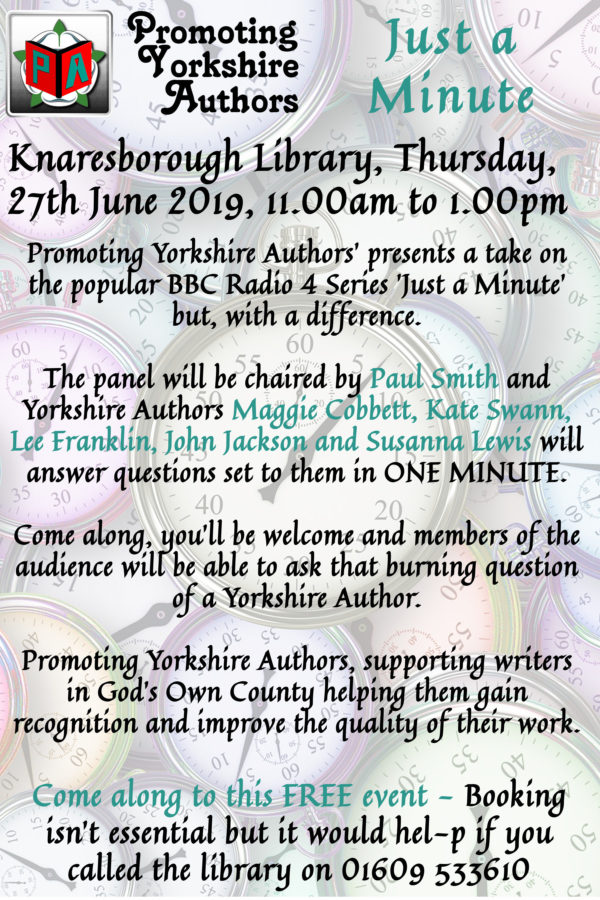 This morning saw me in Knaresborough taking part in a second PYA version of 'Just a Minute' with Paul Smith chairing this time. The other participants were romantic novelist John Jackson,blogger Susanna Lewis, horror writer Lee Franklin and poet Kate Swann, so a fair spread of genres! We did tackle some serious topics, but there was a great deal of hilarity as well.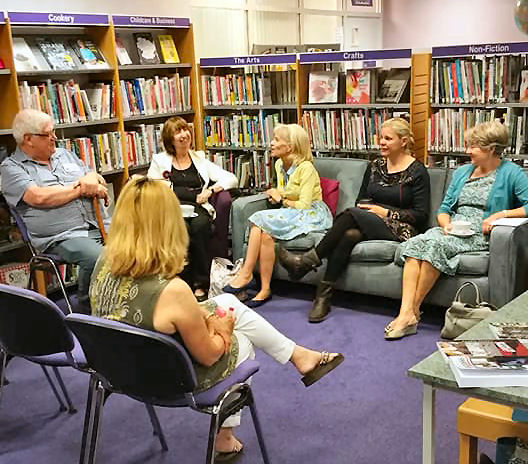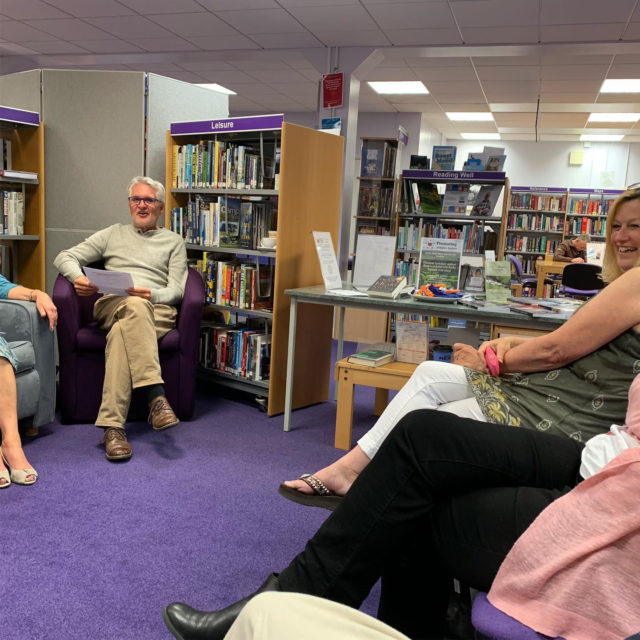 27 June, 2019 - Make the first comment on this story
Check Out My eBooks
Blog Categories
Links
Live From Twitter