Hello, and thank you for visiting my site. I hope that you'll return often and always find something of interest about my world and what inspires me to pick up a pen. (This is a figure of speech, unfortunately. My handwriting is terrible!) Here's what I've been up to recently...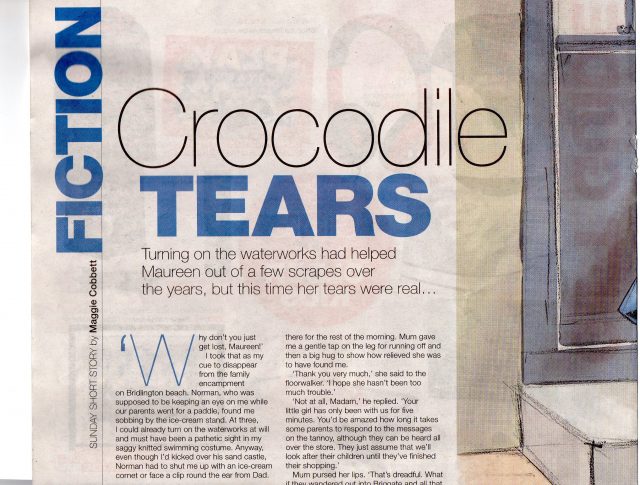 This week saw some of my fiction featured in a beautifully illustrated double page spread in Love Sunday, the supplement to the Sunday People. If you'd like to read the full story, please let me know. My A4 scanner isn't up to it, but I'd be more than happy to send you the original Word document.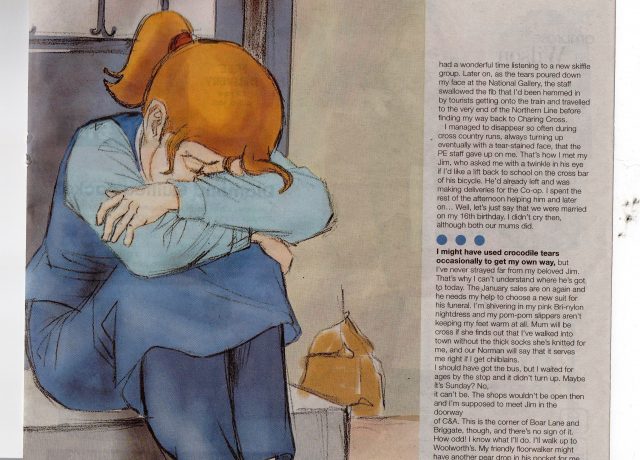 'Crocodile Tears' is a poignant tale that spans almost a lifetime, from Maureen as a toddler astray on Bridlington beach to a confused elderly lady lost in Leeds city centre. We're often told to write about what we know and those two places are still very fresh in my memory. Most of my childhood holidays were spent in 'Brid', as we called it. The mother of one of our neighbours in Leeds used to put us up for the week as well as taking care of me in the evenings to give my parents a break.
The cash office of Woolworth's on Briggate, to which Maureen is taken when she loses her mum in the Christmas crowds, is where I worked for several years as a Saturday girl and the bargains to be had round the corner at C & A's January sale were eagerly anticipated all year round. It saddens me to think that both those stores, which once had branches all over the country, are long gone. The latter was always known to my family as C & A Modes, with Modes pronounced to rhyme with 'roads'. Whether that was through tradition or ignorance of French, I'm not sure. It isn't in the story, but I thought I'd mention it anyway.
What happened to Maureen in the end was inspired by memories of an aunt who suffered from dementia. Fortunately, the people who came across her early one morning sitting outside a pub in her night attire were just as kind and helpful as the policeman who finds Maureen.
13 November, 2017 - There is one comment on this story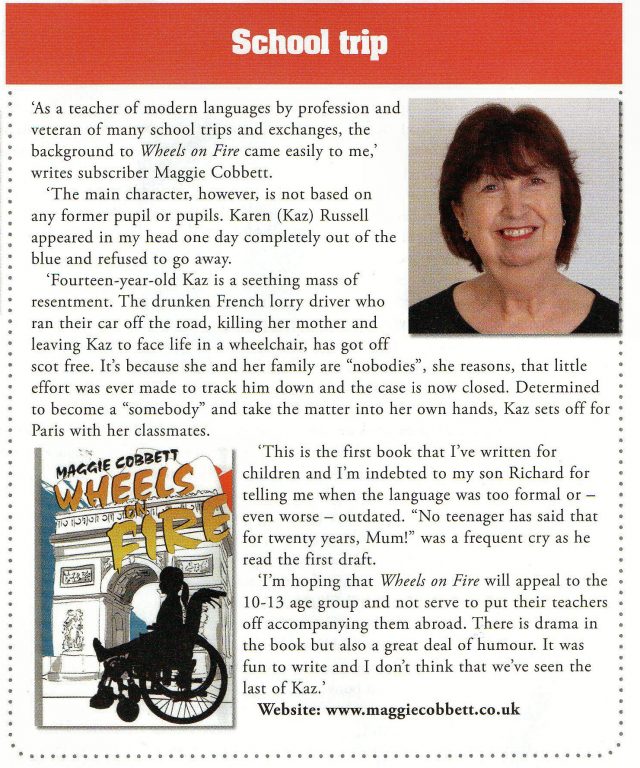 31 October, 2017 - Make the first comment on this story
As the result of the readings at Waterstones (see below), I was invited to run a creative writing session for the Inklings, a long established student society. The choice of topic(s) being left to me, I decided on a three part approach, interspersed with written exercises and feedback.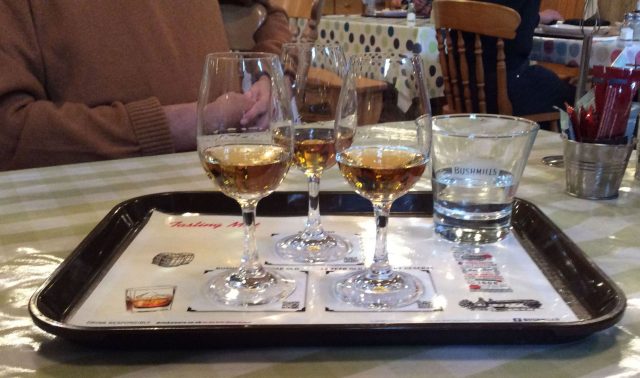 We began with flash fiction, which turned out to be the most popular. Having read out a few examples, I set them the task of writing a piece that included the expressions liquid lunch (see above image for the general idea), titfer and glitterati. These weren't chosen at random, but from a Writing Magazine competition that I won a few years ago and, as it turned out, are no longer widely used – at least amongst today's students. However, once I'd defined them, the Inklings came up with some very entertaining work.
Exploiting incidents in my own life and those of family, friends, colleagues (and even passing acquaintances) came next and I explained how these had led to dozens of short stories and articles, as well as my partly autobiographical novel, Shadows of the Past. The Inklings had no difficulty in finding memories of their own to serve as a starting point for some extended writing.
With time marching on, I was only able to skim over the lucrative opportunities offered by the 'fillers' market and then to challenge the students to guess what the main character of my children's novel Wheels on Fire was planning in the way of revenge on the French. No one came up with the correct answer, but some were very close.
The two hours flew by and I hope that the Inklings enjoyed the session as much as I did.
16 October, 2017 - Make the first comment on this story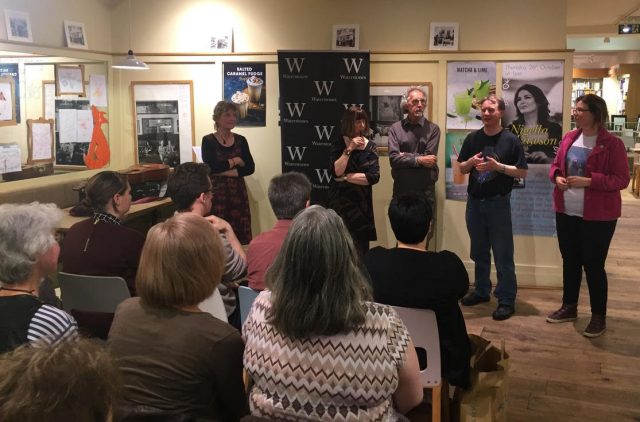 It's always a pleasure to take part in a literary event with friends and here I am in Waterstones cafe with fellow members of York Writers. We were all gratified to see more people in attendance than seats available! Left to right in the photograph are Toni Bunnell (who organised the evening), yours truly, John Walford, Andy Humphrey and Sarah Dixon. Some of us plan meticulously, whilst others take a more 'seat of the pants' approach and we all write in different genres. Toni, a well known local folk singer, provided a musical accompaniment to her reading from The Nameless Children. John explained his own approach to writing and read a story from his Time Machine collection. Andy, a seasoned performance poet, barely glimpsed at the text as he read from Satires and A Long Way to Fall. Sarah read the opening chapter of her children's book Alfie Slider and shared both her motivation for writing it and how she had succeeded in getting it into print. They all fielded questions from the audience too.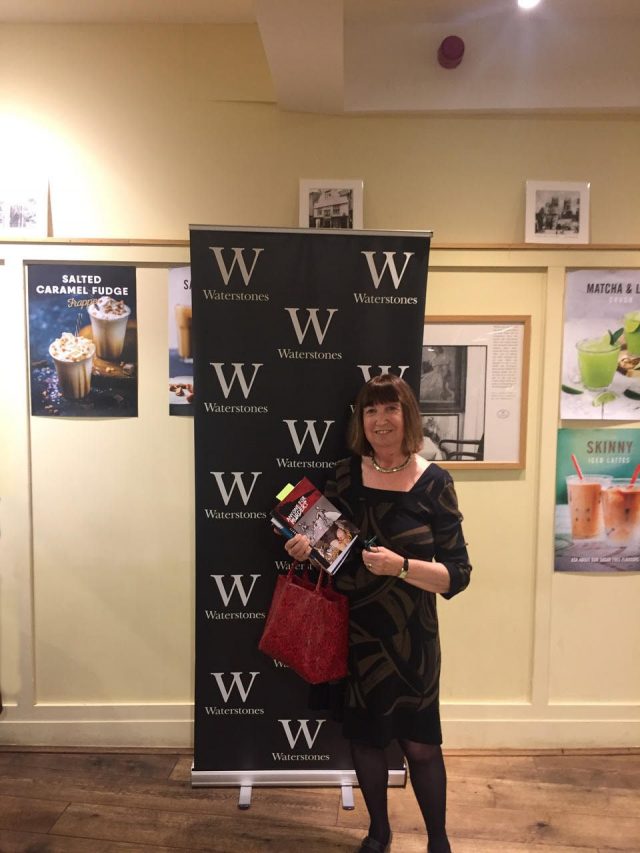 Toni had allotted us fifteen minutes each, which gave me time to read a couple of stories from my Anyone For Murder? collection. I'd deliberately chosen two of the more lighthearted tales and it was good to hear the audience laughing. Only in the right places, I'm glad to say!
20 September, 2017 - Make the first comment on this story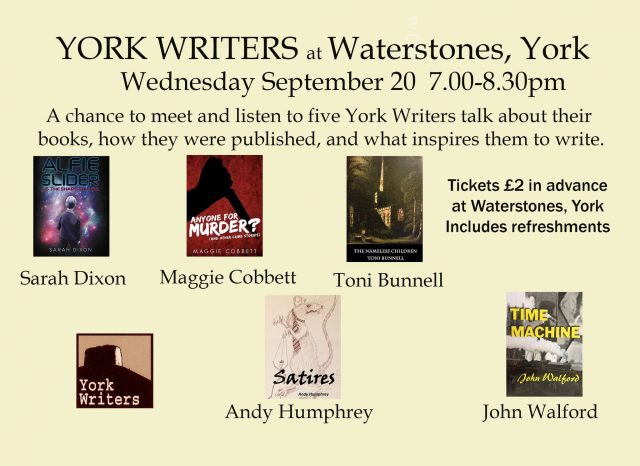 This is the first of a number of events in which I'm taking part this autumn. Do come along to Waterstones if you possibly can. It would be good to see rows of friendly faces!
11 September, 2017 - Make the first comment on this story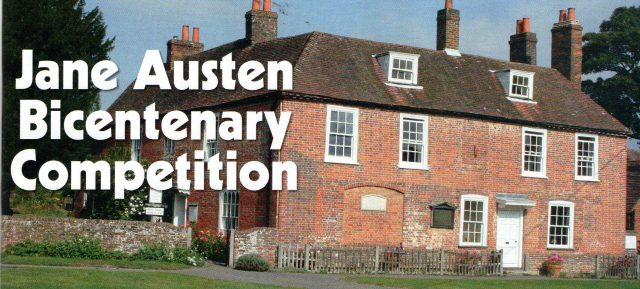 Many congratulations to Julie Noble, who won a weekend in Austen country for her 500-word alternative ending to 'Emma'.
I chose 'Pride and Prejudice' and am proud to discover that my entry was shortlisted. If you'd like to read it, go to 'Stories and Poetry' and see what I dreamed up for Mary, the ugly duckling amongst the Bennet sisters.
4 September, 2017 - Make the first comment on this story
Check Out My eBooks
Blog Categories
Links
Live From Twitter