Hello, and thank you for visiting my site. I hope that you'll return often and always find something of interest about my world and what inspires me to pick up a pen. (This is a figure of speech, unfortunately. My handwriting is terrible!) Here's what I've been up to recently...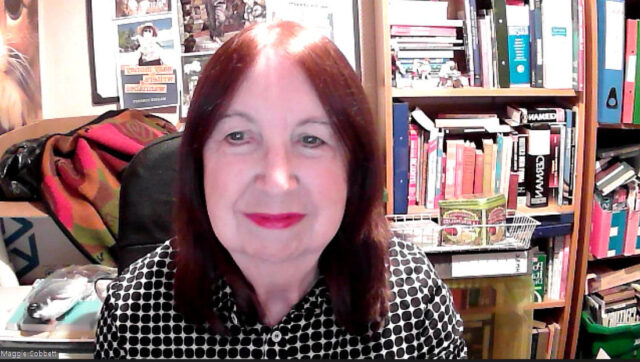 I have no doubt at all that most of us when on Zoom make some effort with our appearance. (Note how my hair has grown since lockdown!) The outfit chosen is important, of course, although only from chest height upwards unless you intend to move around a lot. Take care with it, though! If you wear all black and are also seated on a black highbacked chair or sofa, your friends or colleagues will see a disembodied head – always a disturbing sight!
Some also make huge efforts to curate their background. My study is always chaotic, but that's the way I like it, so what you see is what you get! Having said that, maybe I should have moved what appears to be a dead fish in the bottom left hand corner of the image.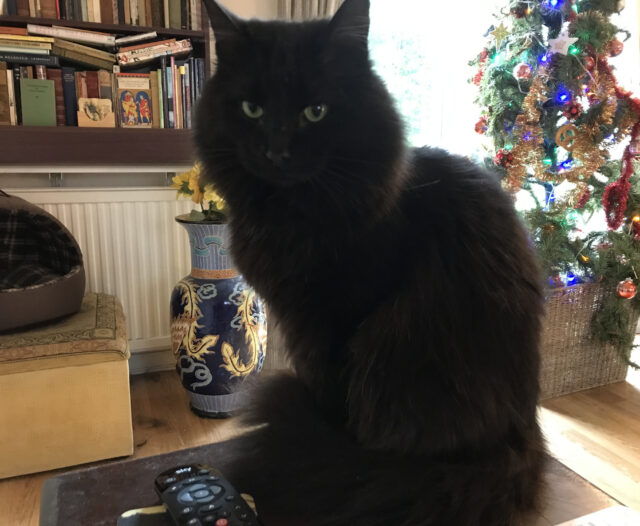 It's actually an electronic toy bought as a Christmas present for Jago, but it terrified him when it started flapping about on the carpet and is now waiting to go to a new home.
10 February, 2021 - Make the first comment on this story
As well as writing stories, articles, reviews and even the odd poem, I've always enjoyed submitting 'fillers' of all kinds. My little handbook Easy Money For Writers & Wannabes was a best seller when it first came out and, although publications have come and gone since then, is still a useful guide to the basics. There will always be a market for anecdotes, jokes, handy tips, amusing photographs and so on and they can be rewarded with prizes or cold hard cash. The former can range from an electric sander from a DIY magazine to a caddy full of loose leaf tea from The People's Friend, as in the image below.
I always enjoy reading stories by fellow contributors to TPF and the one mentioned above particularly caught my eye. What home spun fun children enjoyed before the advent of computer games!
7 February, 2021 - Make the first comment on this story
The inspiration behind A Locket Full of Love is a story very dear to my heart.
Readers of my novel Shadows of the Past know that a locket plays a significant part in that story too. It can be seen three times on the front cover: draped over the photograph of the young couple, worn by the girl and just glimpsed to the right in the photo of the older lady.
The true story behind the locket is just as poignant as the fictional accounts that I have woven around it. My maternal grandmother fell on hard times after losing her first husband, who left her with three children to bring up alone. Marrying my widowed grandfather and having his son and then two more babies to look after drove her further into poverty and the little jewellery she'd had was sacrificed to keep the family afloat. Her eldest son Albert, pictured below, swore that he'd buy her a gold locket as soon as he could afford it, but that was not to be. He went down with HMS Ardent during the Battle of Jutland in 1916, leaving his mother to mourn him until her own death in 1930. She did get the locket, though, deciding to devote the meagre compensation she was awarded for the loss of her son to its purchase. In due course the locket passed down to my own mother, who wore it throughout World War 2 while my father was away with the Army and she left it to me, her only daughter. I never knew either my grandmother or my uncle, but their memories and the locket are very precious to me. I also have the bronze memorial plaque my grandmother, like millions of other bereaved people, was sent. It's colloquially known as 'the Dead Man's Penny', which some believed bitterly was all that the government thought their sacrifice was worth.
29 January, 2021 - There are 2 comments on this story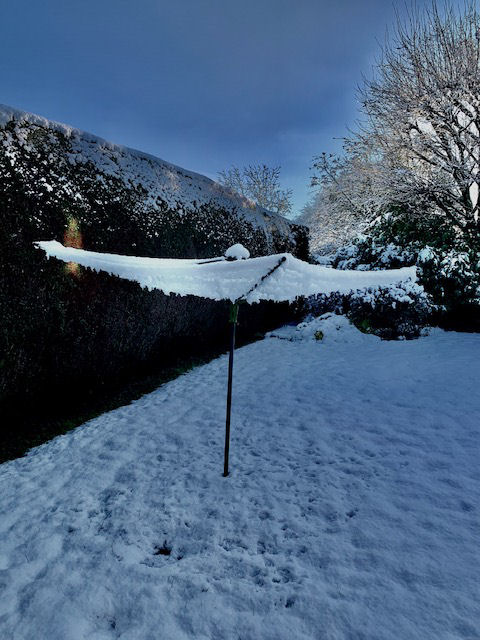 Photo courtesy of Bruce Cobbett
I'd like to wish everyone a Happy New Year and hope that it will be at least much happier than 2020 turned out to be. When we first went into lockdown in late March, a sunny spring stretched ahead and we thought it was only going to be for a few weeks anyway. How wrong we were!
Well into our third lockdown now and snowbound to boot, I can't say that 2021 is off to a good start. Brexit is done, a good or bad thing depending on your point of view, but a return to normal life seems a long way off. I shall accept vaccination against Covid-19 very gratefully when it's my turn – always assuming that I am still around to do so – and remain in a state of almost total hibernation until the recommended amount of time afterwards.
At least nothing but my own lack of motivation can prevent me from writing and I'm slowly emerging from the torpor brought on by over indulgence during the festive period. Zoom sessions with the various writers' groups to which I belong will be a big help in giving me a kick start. How can I confess in the face of others' diligence that I've hardly set pen to paper – fingers to keyboard, actually – so far this month? Time to get down to some of the projects that I promised myself last year to have finished before Swanwick (Writers' Summer School) and would have if my favourite week of the year hadn't been cancelled. Hopes pinned now on August 2021 as a goal to aim towards!
9 January, 2021 - Make the first comment on this story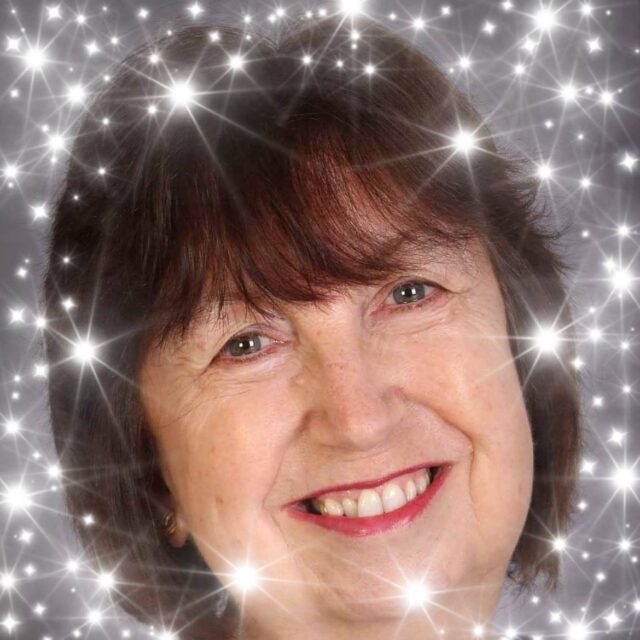 Well, that's it! We're out of the EU and 2020 is going out not with a bang – public firework displays strictly forbidden – but with a whimper. Whatever 2021 holds, I sincerely hope that it will be better for all of us than 2020 has been. Only time will tell!
Anyway, I'd like to extend my sincerest best wishes for a Happy New Year to all who visit this site. Wherever you are in the world, keep safe and keep well!
31 December, 2020 - Make the first comment on this story
Occasionally someone passes briefly through your life but leaves a deep impression. For me, writer Ken Ludmer is one of those people. We met by chance on a train in France when I was still a teenager, have spent only a few days in each other's company and yet we are good friends.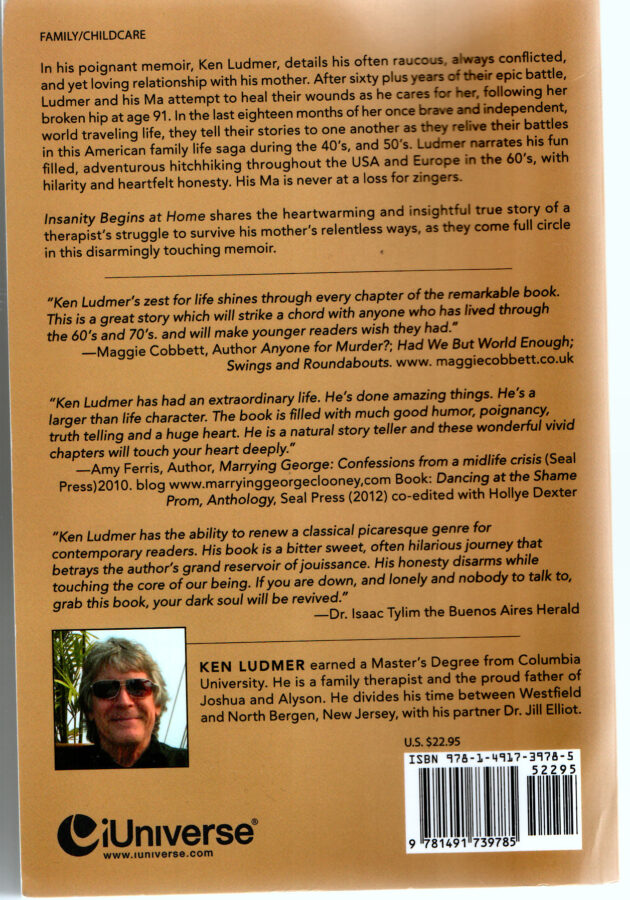 I was delighted when Ken asked me to read the proofs of his book a while back and happy to contribute to the reviews on the back cover.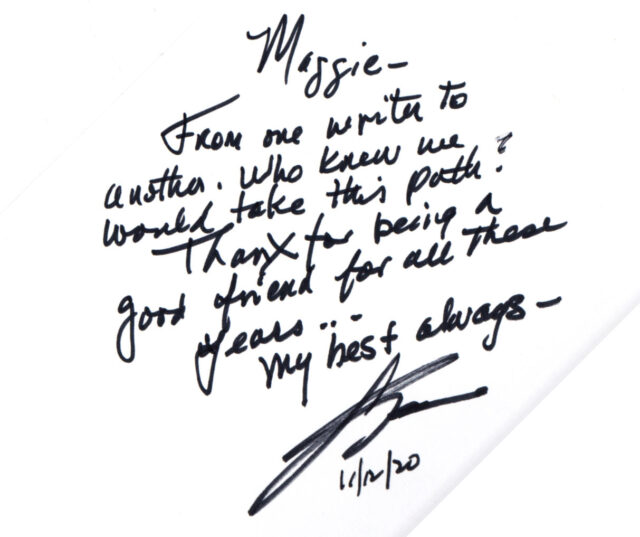 As proof of our ongoing friendship, here is what Ken has written inside the copy he sent me.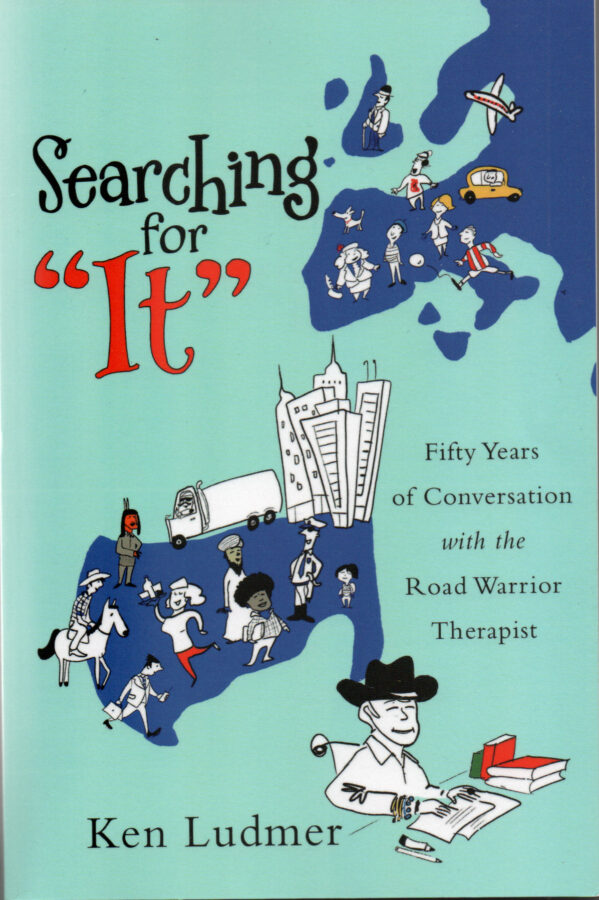 Ken's second book, more specialised but still a very entertaining read, should be a required text for would-be therapists.
2 December, 2020 - Make the first comment on this story
This week began very well for me, when I was featured on TPF's website as 'Writer of the Week'.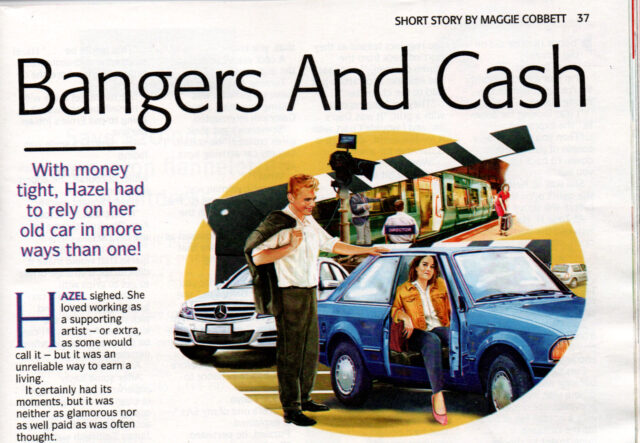 My latest story, inspired by my television work, appeared today and I'm delighted with the illustration created by Sailesh Thakrar. One might almost wonder if Sailesh is psychic, because we've never met and yet the main character is wearing a jacket almost identical to one I've worn several times on set. What do you think?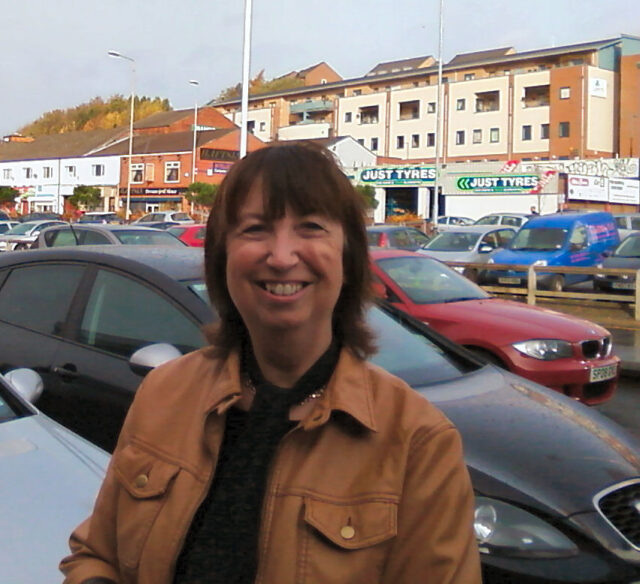 Spot me in the background of Emmerdale's Woolpack?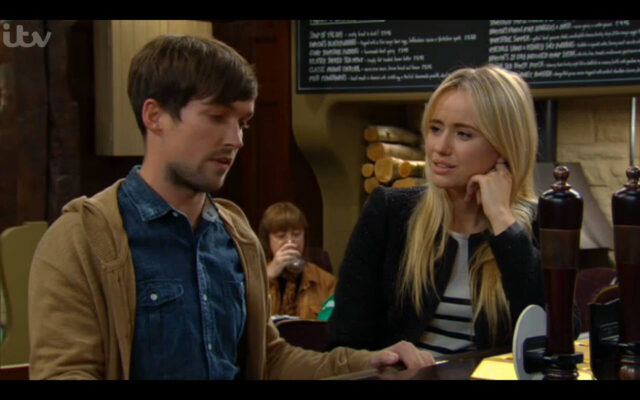 There are many good things about writing stories for The People's Friend and I shall list a few:
The Fiction team is ever receptive to new and experienced writers alike.
Each writer, once his/her first submission is accepted, is allocated an individual editor.
The editors are unstinting with their advice and support.
Writers are paid on acceptance of a story.
The magazine does not demand all rights.
To top it all, I heard from my editor today that another of my stories has been accepted. WATCH THIS SPACE!
18 November, 2020 - Make the first comment on this story
I'd love to say that the last couple of months have been productive, but the truth is that writing has taken a back seat. Oddly enough, the more time that I have on my hands, the less I seem to achieve. Stories begun and abandoned, the odd 'filler' sent in and that's about it. When the pandemic is over and I'm back in my usual routine, I shall treasure every moment available to me to write and curse myself for all the time I've wasted.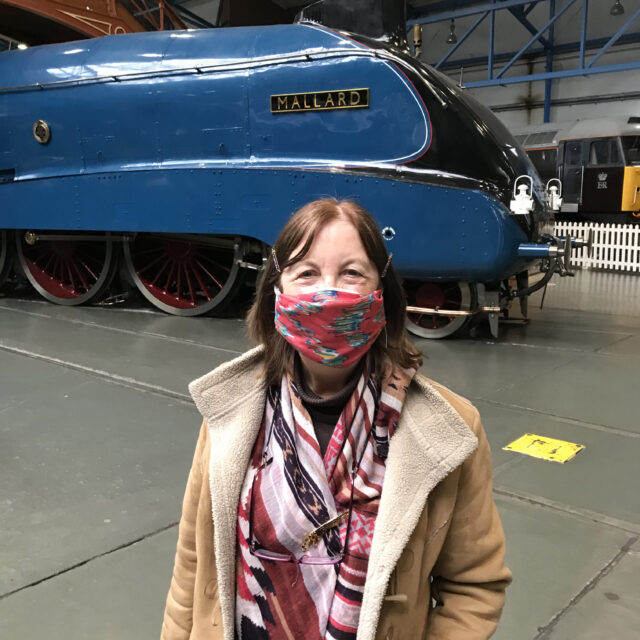 So, what has been going on? No physical meetings with the writers' groups I belong to, the odd few hours here and there over a meal, drinks or coffee with a few friends – now restricted to one at a time and al fresco – and just one outing for a socially distanced encounter in York Railway Museum with some visiting relatives. Trying to catch up on family news while remaining six feet apart and wearing masks was tricky to say the least.
Deprived of community events, however, we did make the most of Halloween at home, which is something we haven't bothered with since our boys were small. Out came the fancy dress, the ghoulish decorations and some very homespun games, topped off by watching 'The Witches' on television. Our black cat Jago, who needed no special costume to look the part, was very bored by it all. No one called at the door, but the sweets bought for Trick or Treaters didn't go to waste!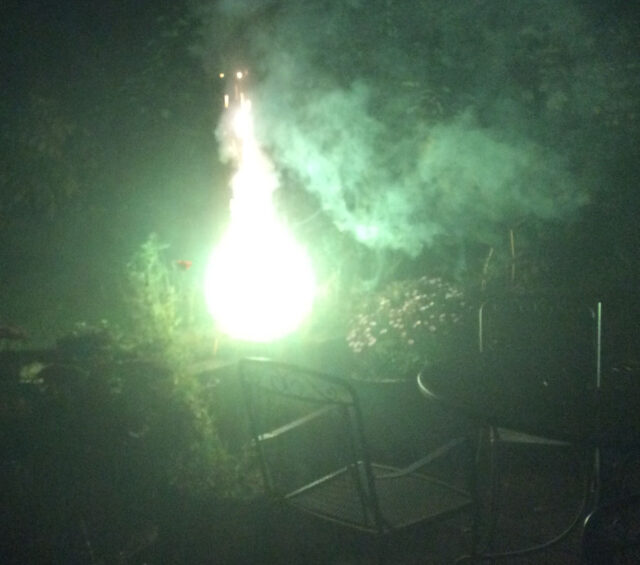 On Bonfire Night, out of consideration for those around us – both people and animals – we restricted ourselves to setting off a few non-bangers in the back garden and I alone enjoyed a slab of parkin. (I'm also the only member of the family who relishes sprouts at Christmas.)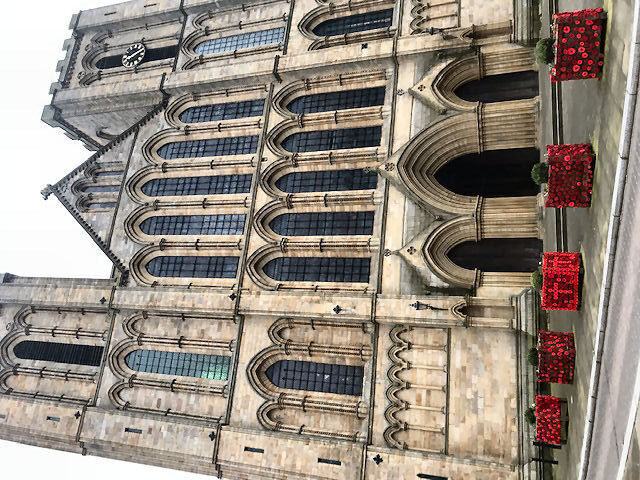 Having watched various pared down acts of remembrance on television, I observed the two minute silence on Armistice Day from a bench behind Ripon Cathedral. It was all a far cry from the glorious displays of 2019 but had a poignant dignity about it.
So, what do the next few weeks hold? Shall we really be out of lockdown on 2nd December? Will the shops re-open in time to buy gifts for everyone or will it all happen by mail order? That's anyone's guess at the moment.
12 November, 2020 - Make the first comment on this story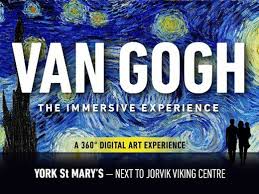 Ever a fan of Vincent van Gogh's post-impressionist paintings, I was thrilled to discover that the York exhibition at St Mary's, the deconsecrated church next to the Jorvik Viking Centre, was re-opening, albeit with safety measures in place due to the continuing pandemic.
The afternoon began well. Our booking was for two o'clock and, despite some difficulty finding a parking space, we arrived at the venue about twenty minutes early. Pleased to find no queue outside, we donned our face masks and headed down the dark corridor to the reception area.
Peering at us through the gloom, a young woman checked off our names, indicated where we might sanitise our hands and told us that we could go straight through the curtain into the main area. There we found already well spaced out van Gogh themed deckchairs, chose a couple in the centre and settled down to wait. Given our early arrival, we weren't surprised to see only one other person seated in the vast space. He looked up at us, nodded and appeared to go back to sleep. I could see why, because the area was flooded with soothing music. Projections of famous paintings were appearing on the wall at the far end of the building and drifting all the way round, which we thought impressive for a pre-show. They were very colourful, some animated, and we particularly liked the illusion of raindrops splashing into puddles on the stone floor and leaves making their way up the medieval stone pillars of the church.
Two o'clock came and went, a few other people drifted in and there was an air of expectancy. Surely it was time for the main show to begin? By twenty past two, I was feeling restless as well as very hot and sticky behind my mask and got up to study the mock up of Vincent's famous bedroom at the back of the auditorium. It was excellent and, as it turned out, the best part of the experience for me that afternoon.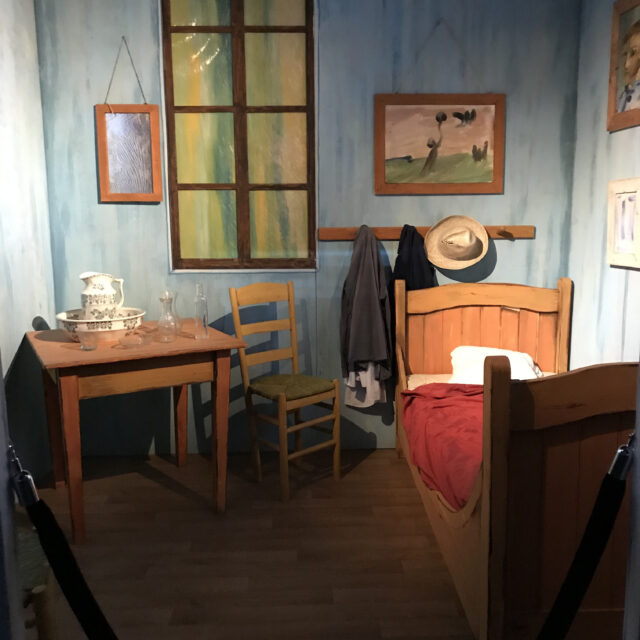 No guidelines had been given as to what to expect and, some time after returning to my deckchair, I became aware of the fact that the moving images and odd bits of commentary were beginning to feel familiar. People old enough to remember when cinemas had continuous performances will understand what I mean by the phrase, 'This is where we came in.'
The realisation seemed gradually to dawn on other people too and it took one brave soul to move towards the exit sign for a mass exodus to ensue. Still masked, we passed a large animated vase of flowers, a table on which lay a few colouring in sheets for children, disposable gloves and stumpy crayons and then a sign offering a virtual reality experience for an extra £3. No one seemed to be manning* that, though, so we shuffled past and found ourselves heading up a flight of steps into the tiny gift shop.
*Is that now considered a sexist expression? If so, I apologise.
My disappointment stems entirely from the lack of guidance given to us that afternoon. If there were signs telling us what to expect, we missed them in the gloom and we saw no staff members between the reception area and the gift shop. I should like to go back, the better to appreciate the features that I've read about since in various rave reviews. Waiting for 'the show to begin', I'd paid scant attention to many of the images drifting past us and even closed my eyes at times or checked my phone. Next time I shall appreciate the whole 'immersion' experience of seeing every wall and even the floor beneath me flooded with images. I shall enjoy seeing framed paintings moving in such a way as to be brought to life with trees swaying in the breeze, boats sailing by and even a train that appears to be entering the auditorium. I shall marvel at paintings folding away to reveal more paintings and flocks of birds flying around the walls. Knowing that I can sit through the 35-minute loop as many times as I like will be a relaxing rather than puzzling experience.
Once sated with all that, I shall track down a member of staff, don the special eye mask and hair cap prescribed and lose myself in the virtual reality of Vincent van Gogh's France. Next time!.
738 words
30 September, 2020 - Make the first comment on this story
Sadly, August 2020 will be recalled with very little pleasure by most people, myself included. My heart has gone out to examination candidates embroiled in the shambles surrounding their 'results' as well as business people and travellers whose lives remain on a roller coaster with no end in sight. The cancellation of the Writers' Summer School, the high spot of every year since 2006 for me, pales in comparison but was nevertheless a huge disappointment.
With most normal activities curtailed, not going stir crazy has been quite a challenge. However, some people have worked very hard behind the scenes to provide 'virtual' substitutes for their normal programmes and I'm particularly grateful to the dedicated staff of Ripon Community Link, the Swanwickers who organised the 'virtual book room' and Peter Page, Ripon Writers' Group's indefatigable Secretary.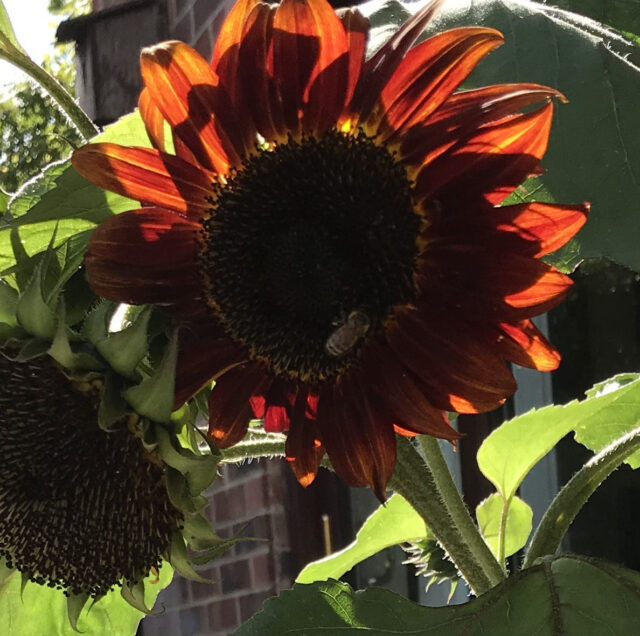 There have, of course, been compensations. The sunflowers in our back garden – a 'blush' variety – have reached triffid-like proportions and provided both colour for us and a source of nourishment for the bees. The tomato plant donated earlier in the summer by our good neighbours is groaning with ripe fruit* and the same neighbours have been kind enough to share their plum harvest. *Yes, I'm aware that knowledge is knowing that a tomato is a fruit. Wisdom is not putting it into a fruit salad!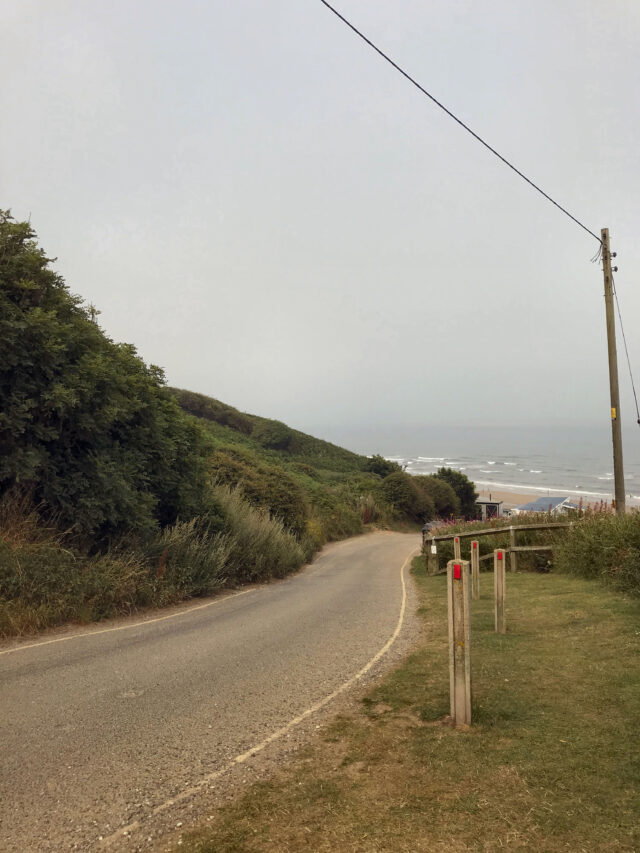 We haven't ventured far from home, preferring to walk along the canal or riverside, but we did manage a brief visit to the east coast. More popular resorts being ludicrously crowded with 'staycationers', we walked down to the sands at Hunmanby Gap. (Hardened by childhood holidays in Bridlington, I was the only one to venture into the North Sea for a paddle!)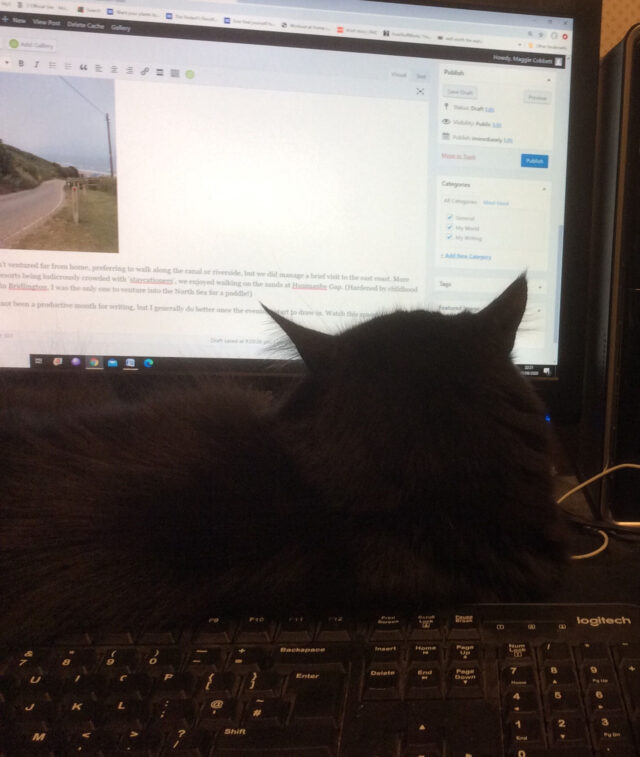 This has not been a productive month for writing, but I generally do better once the evenings start to draw in. No doubt Jago, who loves having his family at home almost all the time, will continue as my co-editor. Watch this space!
3 September, 2020 - Make the first comment on this story
Check Out My eBooks
Blog Categories
Links
Live From Twitter