Hello, and thank you for visiting my site. I hope that you'll return often and always find something of interest about my world and what inspires me to pick up a pen. (This is a figure of speech, unfortunately. My handwriting is terrible!) Here's what I've been up to recently...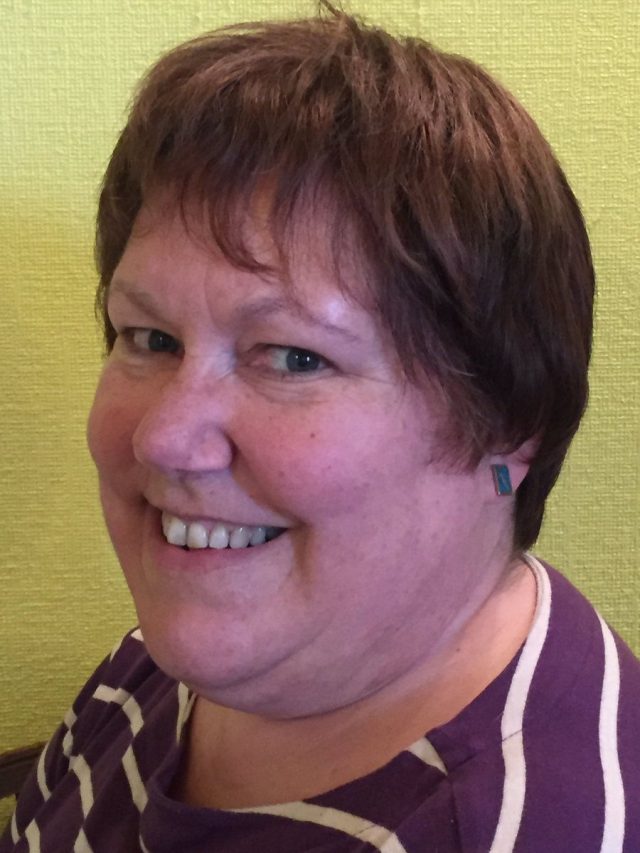 Today I'm more than happy to hand over my blog to Val Penny, whose debut crime novel, Hunter's Chase, is published by Crooked Cats Books. I'll leave it to Val herself to tell you all about it: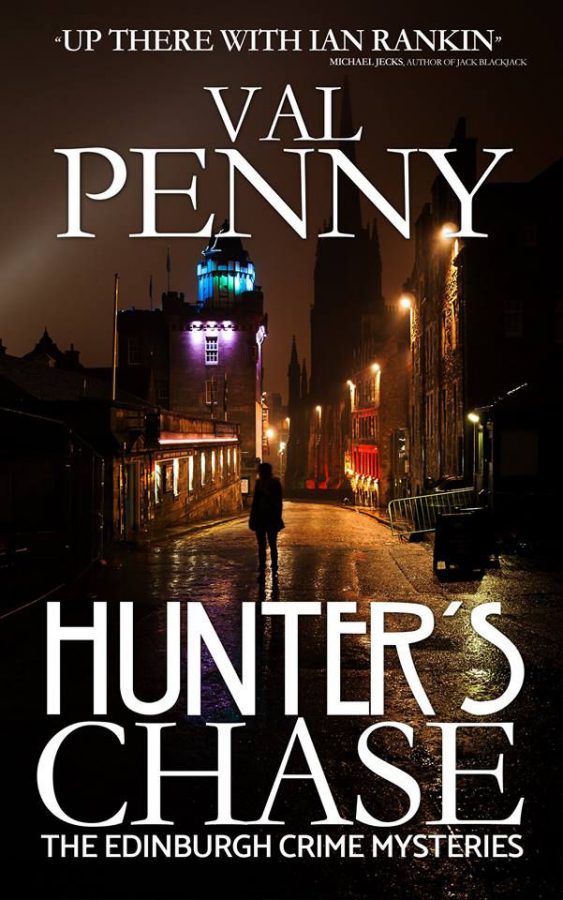 The story is set in Edinburgh, the capital of Scotland. I think setting is very important to a novel and did consider creating an imaginary town for my main protagonist, Detective Inspector Hunter Wilson. However, I know the city of Edinburgh well as I lived there for many years and it has everything a writer could need. It is a diverse city with all different kinds of buildings and people. It is small enough that characters can move around it quickly and large enough for it to be credible that anything I want to happen there, could happen.
Edinburgh is also a beautiful city with a castle, a palace and a cathedral, wealthy homes, horrible slums, fine restaurants, fast food outlets and idiosyncratic pubs. It is home to an Olympic size pool, the National Rugby Team and two famous football teams. It is also home to The Edinburgh International Festivals, what more could I or my characters want?
I chose Edinburgh, the capital of Scotland, as the setting for my novel 'Hunter's Chase', it is a beautiful city of around half a million people. The city is situated on the south banks of the Firth of Forth. There are some lovely views across the Forth from Edinburgh to the county of Fife on the north of the river. There are three bridges crossing the Firth of Forth: the oldest is the Forth Rail Bridge, built in the nineteenth century, the Forth Road Bridge was built in the twentieth century and the most modern, a bridge for road traffic was completed in the early part of this century, named the Queensferry Crossing.
The delegated parliament of Scotland, is where Hunter's nemesis, Sir Peter Myerscough serves as Justice Secretary. The Scottish Parliament has wide powers over how the people of Scotland are governed and meets in the Scottish Parliament Building, in the Holyrood district of the city. Following a referendum in 1997, in which the Scottish electorate voted for devolution, the current Parliament was convened by the Scotland Act of 1998 which sets out its powers as a devolved legislature. Since September 2004, the official home of the Scottish Parliament has been a new Scottish Parliament Building in the Holyrood area of Edinburgh. The Scottish Parliament building was designed by Spanish architect Enric Miralles. There was much concern at the time as the building was completed many years late and several times over budget.
Hunter Wilson is divorced. He lives in a flat in Leith, an area to the north of the City and drinks in his local pub, the Persevere Bar. His home is also close to one of the main soccer grounds in Edinburgh, the Hibernian Football Ground. Hibernian Football Club, commonly known as Hibs, is a Scottish professional football club based in Leith.
The other main character, Detective Constable Tim Myerscough is Sir Peter Myerscough's son. He lives across the city from Hunter, in the south-west of the city. He moves into a flat Gillespie Crescent between Tollcross and Bruntsfield. His local pub in the Golf Tavern, off the Bruntsfield Links.
A wonderful free activity to do all year round is to play golf on Brunstfield Links. It is believed to be one of the oldest sites of golf as it pre-dates the seventeenth century, the short hole course was founded in 1895. Situated south of Melville Drive, there are two courses available to play on. A summer short 36 hole course (open end of April to September) and a 9 hole winter course (open October to end of April).
DC Tim Myerscough's father, Sir Peter Myerscough, lives even further to the south in the Morningside district of Edinburgh. From his large house he has fine views across the Pentland Hills. The Pentland hills are situated just outside of Edinburgh. The reservoirs are picturesque and each hill is slightly different. If you are fit enough, you can go on top of all of the hills in one day.
Edinburgh is such a diverse and cultural city, home to The Edinburgh International Festivals that represent all aspects of art, three universities and several colleges and the Scottish national rugby ground at Murrayfield. It is the perfect place to situate 'Hunter's Chase' and the cases DI Hunter Wilson has to solve.
myBooks.to/HuntersChase

I wish Val the very best of luck with both this novel and those that will undoubtedly follow. Her contact details are below.
www.authorvalpenny.com
www.facebook.com/valerie.penny.739
Friends of Hunter's Chase – www.facebook.com/groups/296295777444303
https://twitter.com/valeriepenny
25 January, 2018 - Make the first comment on this story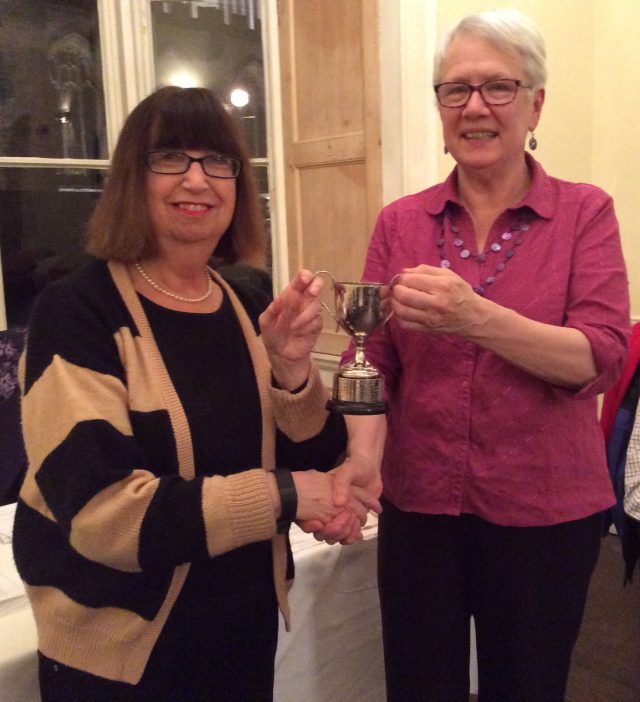 I've always been very grateful for the support of Ripon Writers' Group and was delighted last night to receive the President's Cup.
The Cup is awarded each year to the member with the most points in our rolling programme of internal competitions.
24 January, 2018 - Make the first comment on this story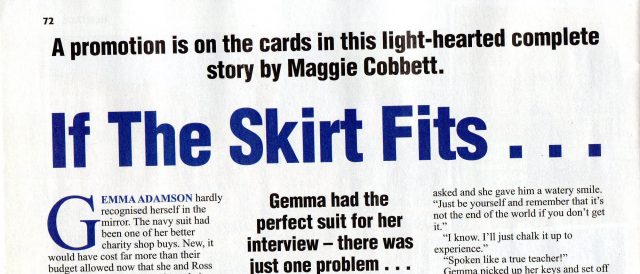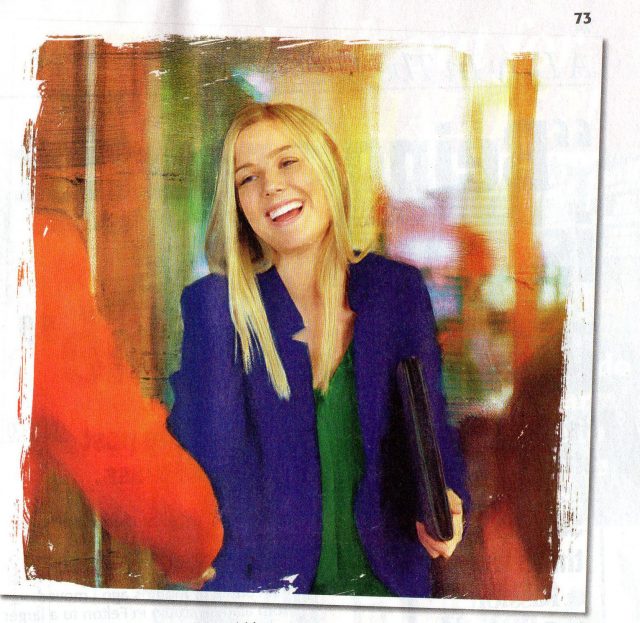 2018 has got off to a good start for me with the publication of the above story in The People's Friend Special No. 151. Based on an anecdote told to me last year – every writer needs ears like a bat and a handy notebook – it tells of a young teacher trying for promotion. Interviews are daunting enough without half your carefully chosen outfit going missing just beforehand!
4 January, 2018 - Make the first comment on this story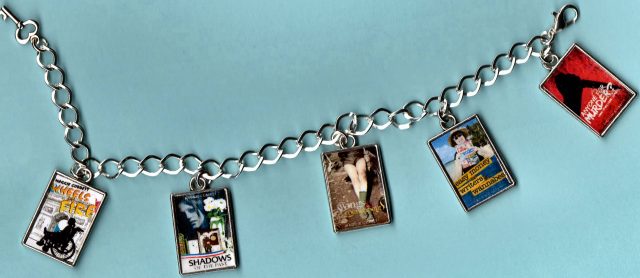 Looking for a gift for an author? What could be better than a charm bracelet featuring their very own book covers? Amongst all the wonderful things I was given this year by family and friends, this has to be my absolute favourite!
25 December, 2017 - Make the first comment on this story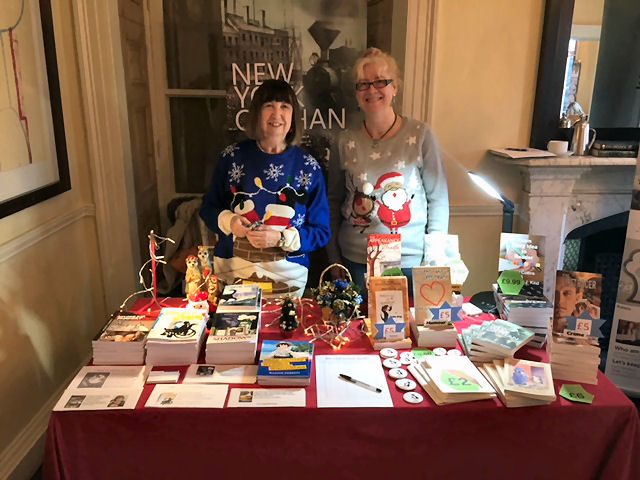 The support of other writers is very important to me and I lend mine to them whenever possible. Rosemary J. Kind and I decided to share a stall at this year's Ripon Cathedral Christmas Fair and had a very interesting day chatting to everyone who came our way.
I'd feared initially that being in the Deanery rather than the Cathedral itself might prove to be a disadvantage. Not so. The footfall was constant and shoppers had the advantage of neither being hustled along nor trying to look over other people's heads to see what was on offer. We sold a lot of books and also had a sign up sheet for a free prize draw/mailing list.
Customers were happy to give us their views on what they enjoyed (or didn't enjoy) reading and were very positive about what we had on offer. Ros and I cover most genres between us and were generally able to come up with something for everyone. The only lady with whom we failed utterly – and we're still laughing about it – turned down one of Ros's novels on the grounds that she didn't like the feel of the cover and mine because it was too heavy. Well, no one can win 'em all!
27 November, 2017 - Make the first comment on this story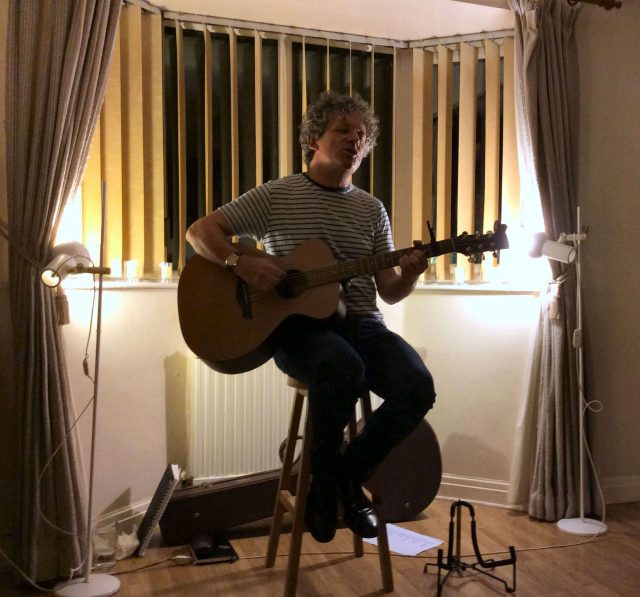 I first met radio dramatist Paul Dodgson at the Writers' Summer School (Swanwick) in August and was very impressed by both the courses he ran (scroll down for details) and his talent as a raconteur and musician. That being so, I was delighted to offer my home as one of the venues for Paul's promotional tour to publicise his new book.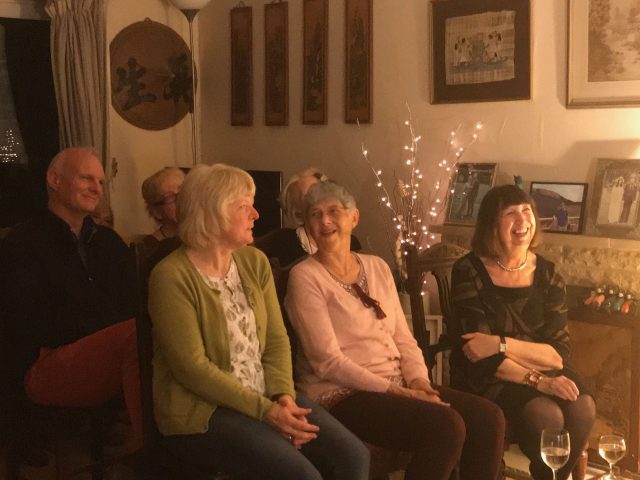 If our sitting room had had elastic sides, I'd have invited a great many more people. As it was, those I was able to cram in all thoroughly enjoyed Paul's songs and stories. They charted his musical experiences – not all of them successful – from his early teens to appearing solo on the stage of the Bristol Old Vic. At times we were encouraged to join in, which we did with gusto. There were also quiet, reflective moments.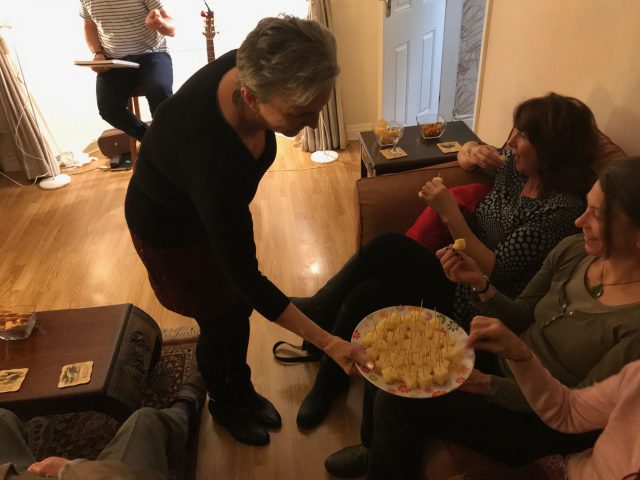 The cheese and pineapple on sticks handed round by Cathy Grimmer raised a good few laughs, as it was intended that they should. No prawn cocktail or Black Forest gateau, though.
Paul is crowd funding his book, The Road Not Taken, through Unbound and I for one can't wait to read it. More details can be found at www.ontheroadnottaken.co.uk
3 November, 2017 - There are 4 comments on this story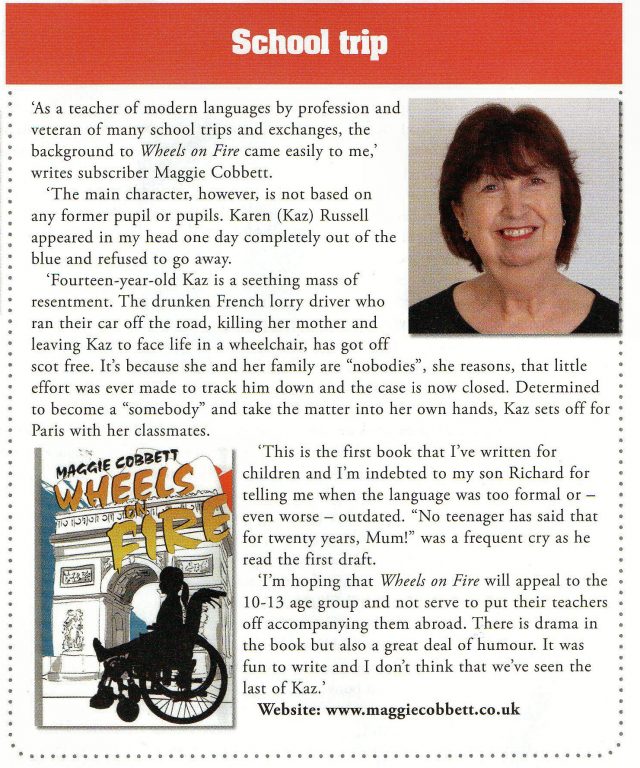 31 October, 2017 - Make the first comment on this story
'Never let the truth get in the way of a good tale,' was a piece of advice I heard more than once during my first visit to Belfast. I don't know if the Irish are all natural born storytellers, but those I met over the four days of my visit certainly were. From tour guides to barmen, from taxi drivers to the security staff at the airport, I think they must all have kissed the Blarney Stone and I don't think I've ever met friendlier or more helpful people. Any talk of 'the troubles' was very much in the past tense and I really hope that their optimism will prove to be justified.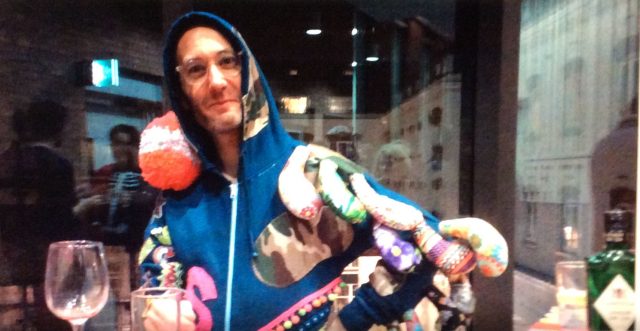 My first evening was spent at the MAC (Metropolitan Arts Centre) for the opening of an exhibition curated by Dr John Walter. Shonky: The Aesthetics of Awkwardness is a group show of international artists that includes painting, sculpture and video, performance and installation.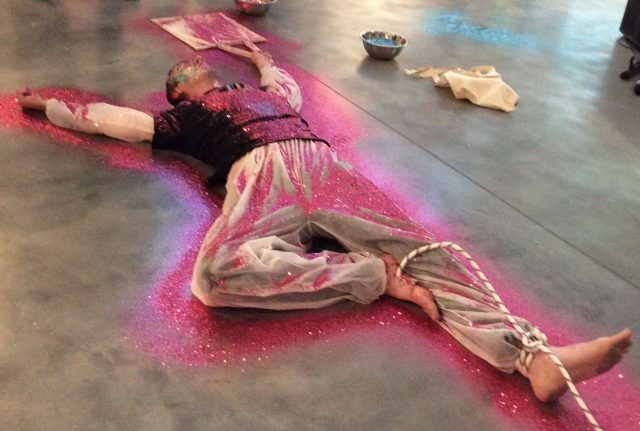 To be honest, my own taste in art doesn't extend far past the Impressionists, but I found plenty to enjoy all the same. The mostly young crowd was full of enthusiasm for the works on display and I was even asked for the first time in decades if I'd got any weed! (For the record, I hadn't.)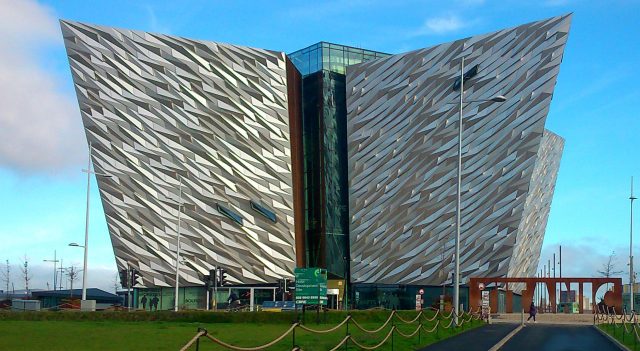 The Titanic exhibition devoted to 'the pride of Belfast' is unmissable as well as extremely moving. Housed in a building designed to match the size of the hull, it contains nine interactive galleries that tell visitors just about anything they might want to know about the history of the liner from its construction and launch in 1911 to its rediscovery at the bottom of the Atlantic in 1985. It seemed to me that the collision with the iceberg and the reasons for Titanic's sinking were rather glossed over, but that wouldn't stop me from recommending a tour.
Berthed close by is the fully restored Nomadic. A quarter of the size of its 'big sister', it was originally fitted out in similar style and used as a tender for 1st and 2nd class passengers. Having seen active service during both World Wars, it then spent decades as a floating Parisian restaurant and disco before returning to Belfast. It's the last remaining White Star Line ship anywhere in the world and well worth a visit.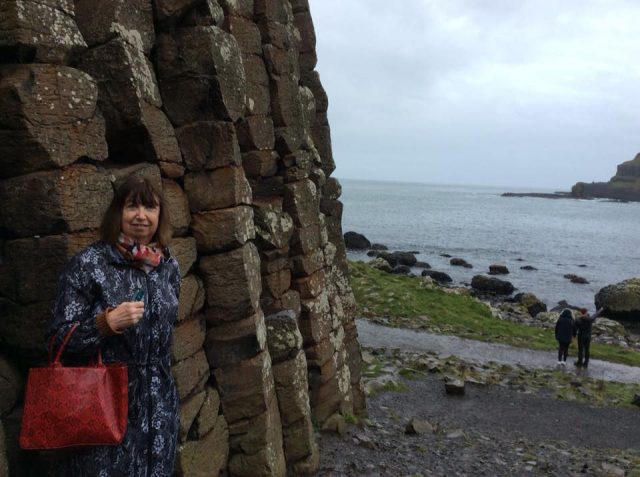 Story telling went into overdrive on the Giant's Causeway. Who wouldn't believe in the legend of the giant Finn McCool? Well, maybe those who subscribe the idea of long gone alien civilisations.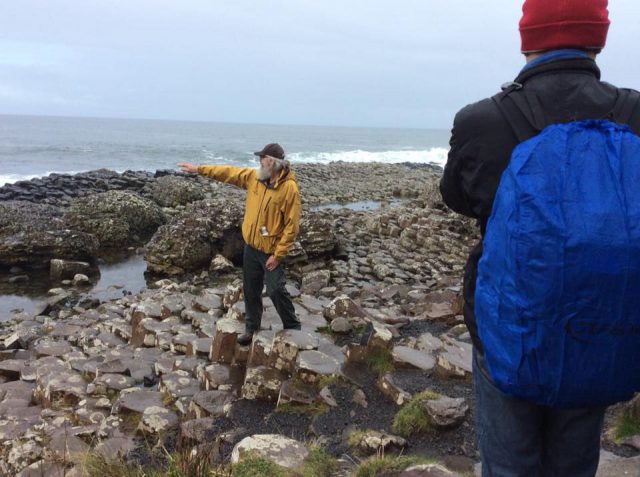 The idea that all those rock formations, particularly the perfectly hexagonal columns, had come about due to volcanic activity seemed to me, no geologist, the most improbable. Slippery with algae, they couldn't tempt me to walk on them, although I did hear tell of a tourist who had done the whole tour in stiletto heels. Maybe in her case the visit to the Bush Mills distillery came first; in mine it was a very welcome second.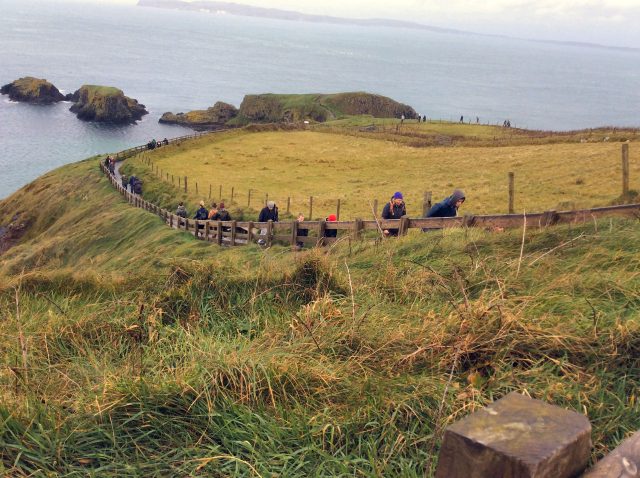 If only I'd thought to wear my FitBit! Generally a reluctant walker, I certainly covered more than the recommended 10 000 steps a day during my time in Ireland.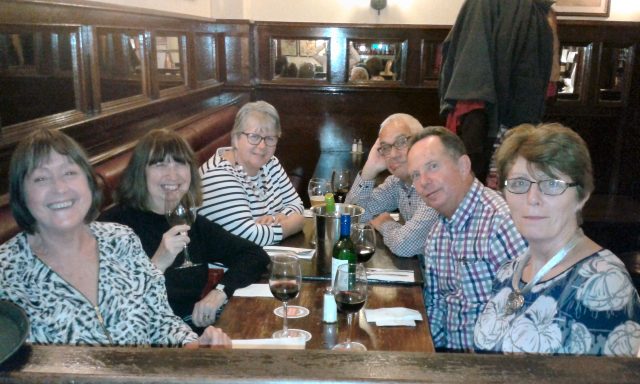 In the evenings, though, it was all about the 'craic'. Belfast has more places to eat, drink and make merry than you can shake a stick at. The photo above was taken at the Morning Star, an alehouse turned gastropub dating from 1810 and with the proud boast that its food is all sourced locally.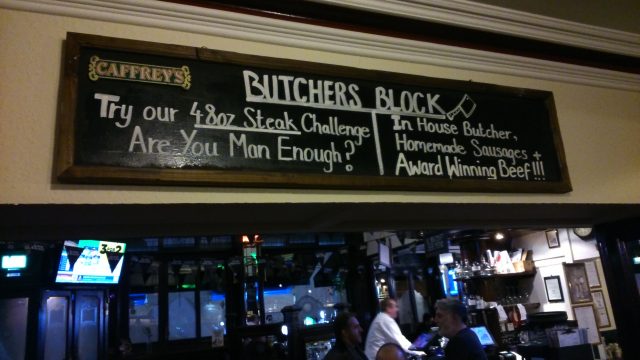 I'd love to know how many enthusiastic carnivores have taken up the 48 oz Steak Challenge and whether it came with chips!
26 October, 2017 - There are 2 comments on this story
As the result of the readings at Waterstones (see below), I was invited to run a creative writing session for the Inklings, a long established student society. The choice of topic(s) being left to me, I decided on a three part approach, interspersed with written exercises and feedback.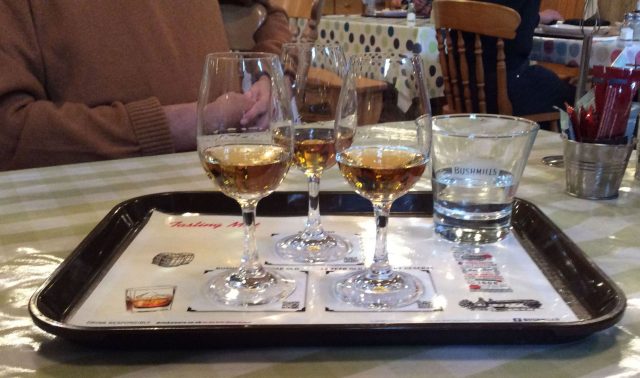 We began with flash fiction, which turned out to be the most popular. Having read out a few examples, I set them the task of writing a piece that included the expressions liquid lunch (see above image for the general idea), titfer and glitterati. These weren't chosen at random, but from a Writing Magazine competition that I won a few years ago and, as it turned out, are no longer widely used – at least amongst today's students. However, once I'd defined them, the Inklings came up with some very entertaining work.
Exploiting incidents in my own life and those of family, friends, colleagues (and even passing acquaintances) came next and I explained how these had led to dozens of short stories and articles, as well as my partly autobiographical novel, Shadows of the Past. The Inklings had no difficulty in finding memories of their own to serve as a starting point for some extended writing.
With time marching on, I was only able to skim over the lucrative opportunities offered by the 'fillers' market and then to challenge the students to guess what the main character of my children's novel Wheels on Fire was planning in the way of revenge on the French. No one came up with the correct answer, but some were very close.
The two hours flew by and I hope that the Inklings enjoyed the session as much as I did.
16 October, 2017 - Make the first comment on this story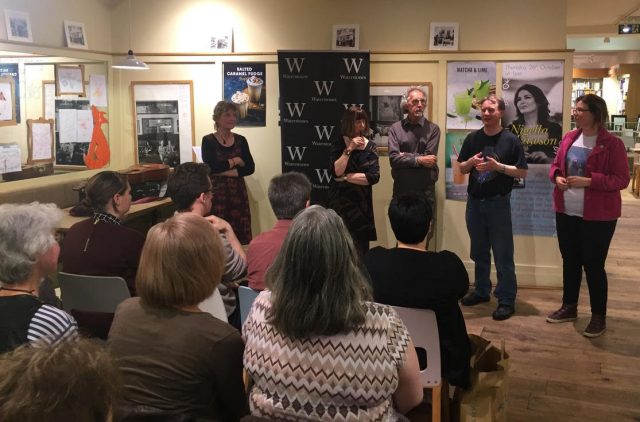 It's always a pleasure to take part in a literary event with friends and here I am in Waterstones cafe with fellow members of York Writers. We were all gratified to see more people in attendance than seats available! Left to right in the photograph are Toni Bunnell (who organised the evening), yours truly, John Walford, Andy Humphrey and Sarah Dixon. Some of us plan meticulously, whilst others take a more 'seat of the pants' approach and we all write in different genres. Toni, a well known local folk singer, provided a musical accompaniment to her reading from The Nameless Children. John explained his own approach to writing and read a story from his Time Machine collection. Andy, a seasoned performance poet, barely glimpsed at the text as he read from Satires and A Long Way to Fall. Sarah read the opening chapter of her children's book Alfie Slider and shared both her motivation for writing it and how she had succeeded in getting it into print. They all fielded questions from the audience too.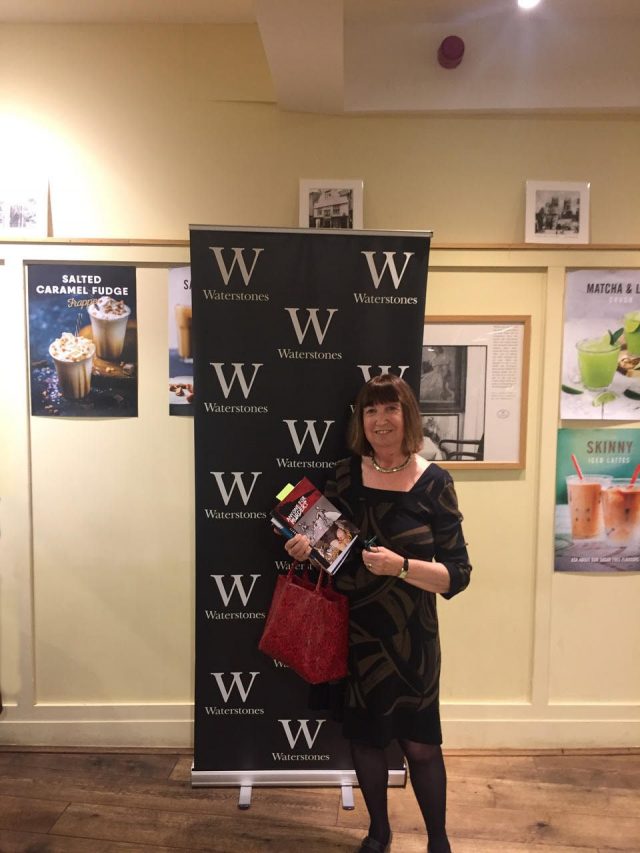 Toni had allotted us fifteen minutes each, which gave me time to read a couple of stories from my Anyone For Murder? collection. I'd deliberately chosen two of the more lighthearted tales and it was good to hear the audience laughing. Only in the right places, I'm glad to say!
20 September, 2017 - Make the first comment on this story
Check Out My eBooks
Blog Categories
Links
Live From Twitter